Sony Mirrorless Black Friday Camera Deals (A7 III, A7 II, A6000)
3D Insider is ad supported and earns money from clicks, commissions from sales, and other ways.
Sony's mirrorless cameras have revolutionized the photography industry, allowing both hobbyists and professionals to get DSLR quality in a more compact package. Black Friday is set to provide a number of deals on cameras, but with mirrorless arguably being the future of the industry, now could be the perfect time to grab one of the Sony's finest products in recent years.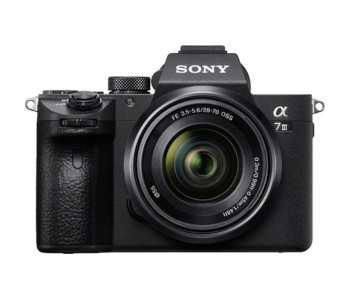 Sony Alpha a7 iii Mirrorless Camera with FE 28-70 mm F3.5-5.6 OSS Lens
Original Price: $2199.99
Black Friday Price: $1999.99
The Sony Alpha a7 iii is the latest iteration of the camera that put mirrorless technology on the map. This camera has become somewhat iconic in the photography space, with many enthusiasts dubbing it the DSLR killer thanks to its impressive features and its high-quality design.
The camera features a 24-megapixel full-frame sensor, allowing it to capture stunning photos that can be blown up to ridiculous sizes without losing quality. The a7 iii also has an ISO range of 100-51,200, with extended levels as low as 50 and as high as 204,800.
The camera can also shoot video at 4k up to 30fps, making it an excellent option if you are looking to shoot both photos and videos. 1080p formats are also available at up to 120fps if you need to capture faster-moving objects.
As for battery life, you should be able to take around 700 photos before needing to charge the NP-FZ100 battery, which should be more than enough for a day of casual shooting. If you are a professional, however, you might want to consider investing in more batteries, so that you can simply swap them out when needed on more intense shoots.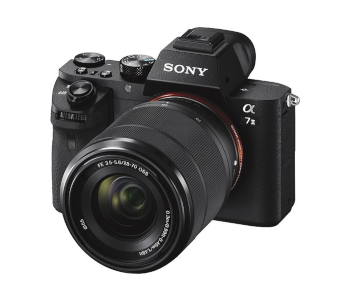 Sony Alpha a7 ii Mirrorless Camera with 28-70mm Lens – Black
Original Price: $1599.99
Black Friday Price: $999.99
The Sony a7 ii may not be the latest version of the famed a7 lineup, but it remains an excellent option for both enthusiasts and professionals nonetheless. It is also arguably a steal at the price found above, as you will be hard-pressed to find another camera offering comparable specs at this price point.
In terms of appearance, the a7 ii looks much the same as the newer model. This means the ergonomic grip and lightweight shell are still present, as are the well-placed buttons and dials, allowing you to adjust the various settings of the camera on the fly with ease.
The a7 ii also features a 24-megapixel full-frame sensor, just like the newer model, and has an ISO range of 50-25,600. This means it can capture very high-quality imagery, making it more than capable of handling most professional shoots and hobbyist photography.
Lastly, the a7 ii can shoot about 350 photos before running out of juice, which is impressive but not comparable to the latest model. More batteries can, of course, be purchased if needed though, so this is hardly the end of the world.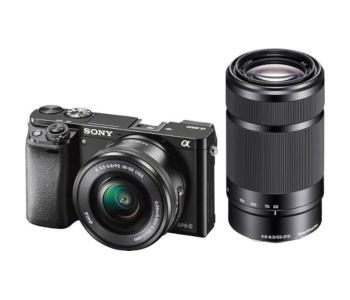 Sony Alpha a6000 Mirrorless Camera Two Lens Kit with 16-50mm and 55-210mm Lenses – Black
Original Price: $999.99
Black Friday Price: $599.99
If the a7 is out of your price range or is simply a bit too much for your needs, the a6000 could be a better option. This camera doesn't quite match the a7 in terms of performance, but its compact form factor makes it a fantastic option if you do a lot of traveling, with its ability to change lenses, giving you plenty of control over your shoots.
The offer listed here also comes with two different lens kits, including the standard 16-50mm option and a telephoto 55-210mm option. This gives you options straight out of the box, with more lenses likely to be available in other Black Friday deals as well.
The a6000 uses a 24-megapixel crop sensor, which means it isn't full-frame like on the a7. This won't have much of an impact if you are a casual photographer, but it does mean you will be more limited if you decide to edit your photos using software such as Photoshop.
Battery life for the a6000 is around 310 shots, which should be fine for general shooting. However, you might want to invest in a spare battery just in case.
Finally, the a6000 also comes with built-in WiFi and NFC, meaning you can quickly transfer files to your computer and other devices using a wireless connection. This not only eliminates the need for cables, but it also simplifies the entire file transfer process, which is very useful if you are shooting on the go.