6 Best Sony Prime Lenses in 2020
3D Insider is ad supported and earns money from clicks, commissions from sales, and other ways.
Sony's cameras are a staple of mirrorless photography. You're buying into a mature platform with excellent DSLR or APS-C offerings if you go for one. Photographers appreciate Sony's alpha-series cameras for impeccable autofocus, useful built-in image stabilization, and a diverse offering of lenses.
This review focuses on the six best Sony prime lenses that are currently available. Primes have a fixed focal length but compensate for this with brighter apertures and exceptional sharpness. The lenses we've selected cover everything from general use to macro photography, so discovering your new favorite won't be hard.
Budget
Sony E 50mm f/1.8 OSS
4.3/5.0
Type: Portrait prime
Focal length: 50mm
Fast autofocus & negligible distortion.
Check Amazon
Best Value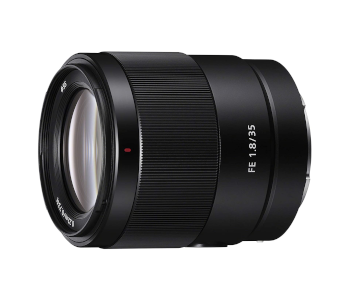 Sony FE 35mm f/1.8
4.5/5.0
Type: Standard prime
Focal length: 85mm
This has excellent flare resistance.
Check Amazon
Top Pick
Sony FE 85mm f/1.4 GM
4.8/5.0
Type: Portrait prime
Focal length: 85mm
It has no distortion or CA issues.
Check Amazon
Sony Prime Lenses Comparison Table
1. Best Overall – Sony FE 85mm f/1.4 GM
View on Amazon
Editor's Rating: 4.8/5
Do you need a portrait prime with impeccable optics that's capable of rendering wickedly sharp images for gigantic billboards? Then feast your eyes on the FE 85mm f/1.4 GM! It's a lens renowned for corner-to-corner image fidelity and some of the best bokeh you can expect from a conventional lens. It's not cheap, but the lens's excellence far exceeds its price.
Overview of Features
The FE 85mm f/1.4 GM is on par with similarly-specced DSLR lenses regarding weight and size. It might make your a6600 front-heavy but will balance nicely on an a7 model. The barrel is made from strong polycarbonate, and several seals prevent the ingress of moisture or dust. We were surprised by the lens's relatively basic glass configuration as only eleven elements in eight groups are needed.
Sony installed a Super Sonic wave Motor to drive the FE 85mm f/1.4 GM's autofocus. A second dedicated sensor is there to speed up its performance. The AF is keen and reliable but isn't quicker than those seen on similar lenses from other manufacturers. Photographers who prefer focusing manually will find the ring a delight to use since it's knurled, responsive, and allows for a great deal of precision. There's also a narrow ring that manually adjusts the aperture in thirds of an F-stop. It's clicky by default, but you can disable this for video shooting.
The FE 85mm f/1.4 GM is among the sharpest lenses we've ever tested. Its resolution is already spectacular at f/1.4, reaching even greater heights only to peak at f/2.8. More impressive are the corners, which keep up with the center throughout the lens's aperture range. There's a sharp drop in resolution from f/11 to f/16 on account of diffraction. Even then, the numbers are so good that there's no need to worry about detail loss.
The bokeh produced by the FE 85mm f/1.4 GM is extraordinary. On the one hand, you've got silky bokeh balls with mild edges and an even texture that keep their shape at low apertures due to the diaphragm's 11 blades. On the other, the background blur is smooth, while the razor-thin depth of field f/1.4 brings lets you focus on and isolate fine details. There's no distortion, and chromatic aberration never exceeds 0.5 pixels in width.
What We Didn't Like
It's challenging to find any fault with the FE 85mm f/1.4 GM. It shows 1.5 stops of light falloff at f/1.4, which is easily corrected either in-camera or with Lightroom. A high price is its only other drawback.
Tech Specs
Dimensions: 3.5 x 3.5 x 4.2″
Weight: 1.8 lbs
Type: Portrait prime
Focal length: 85mm
Maximum aperture: f/1.4
Minimum aperture: f/16
Minimum focus distance: 2.6′
Angle of view: 29°
Image stabilization: No
Pros
World-class sharpness throughout regardless of aperture
Excellent build quality and weather sealing
Creates wonderful bokeh thanks to 11-bladed diaphragm
No distortion or CA issues
Cons
Pricey
Some vignetting at f/1.4
2. Best Value – Sony FE 35mm f/1.8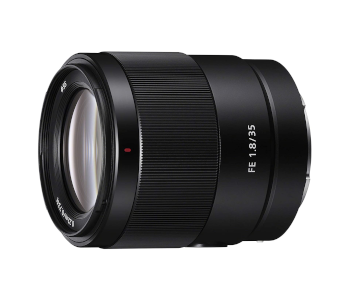 View on Amazon
Editor's Rating: 4.5/5
Photographers in need of a walkaround lens for urban & everyday photography needn't look further than the FE 35mm f/1.8. It offers a superb balance of optical quality and accessibility, complimented with a lightweight build and a useful focal length. Add a respectable max aperture, and you've got a versatile lens that does well in any venue, regardless of the weather.
Overview of Features
The FE 35mm f/1.8 is markedly smaller and lighter than our overall winner, balancing well on Sony's smaller mirrorless cameras. It's a great buy if you have such a camera as the 35mm focal length roughly translates to 50mm on APS-C bodies. Sony doesn't explicitly state that the lens is weather-sealed, but it won't be ruined if it gets wet. Its body is a combination of metal & plastic, while the supplied hood is petal-shaped.
The lens uses a linear drive motor to great effect as it's one of the quickest on our list to focus accurately. A focus hold button on the barrel's side is handy for keeping a fixed distance within easy reach. You may also reassign it to perform other functions, such as turning on Eye AF. Focusing manually is a pleasure as movement on the scale corresponds linearly with focal point adjustment.
The FE 35mm f/1.8's sharpness is commendable for the price. You'll get detailed & contrasty group portraits or images of food from the get-go as central sharpness is already high at f/1.8. The corners aren't as well-defined but catch up to the rest of the picture by f/4. Visual quality starts dropping after that at a snail's pace, so only f/22 isn't recommended.
We were impressed with the FE 35mm f/1.8's resistance to flares. You can shoot into the sun and get attractive 18-pointed stars with minimum veiling flare. You'll notice some barrel distortion in RAW images that the camera can correct for when shooting JPEGs. Out-of-focus highlights are pleasant and transition smoothly without onion rings or harsh fringes.
What's Bad About It?
The FE 35mm f/1.8 has issues with both longitudinal and lateral chromatic aberration. This is most evident in contrasting shots, like when the sun falls on someone's hair, or branches are set against a cloudy sky. There's also some vignetting when the lens is wide open. You can get rid of lateral CA and vignetting by stepping down, while LoCA is harder to resolve.
Tech Specs
Dimensions: 2.6 x 2.6 x 2.9″
Weight: 10 oz
Type: Standard prime
Focal length: 85mm
Maximum aperture: f/1.8
Minimum aperture: f/22
Minimum focus distance: 8.7″
Angle of view: 63°
Image stabilization: No
Pros
Excellent value for the money
Accurate autofocus & useful focus hold button
Excellent flare resistance
Great central sharpness
Cons
Visible chromatic aberration in high-contrast scenes
Some vignetting at f/1.8
3. Sony FE 135mm f/1.8 GM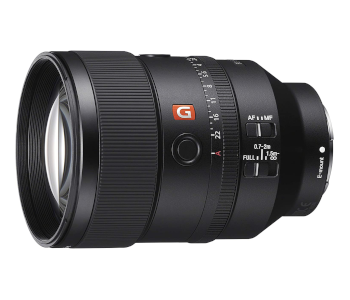 View on Amazon
Editor's Rating: 4.8/5
Sony doesn't manufacture many telephoto primes, and those it did offer until the FE 135mm f/1.8 GM came along are astronomically expensive. Its price is nothing to scoff at either, but the value you get by paying it is tremendous. This is one of the sharpest lenses in existence today, has superb build quality, and is otherwise optically sound. You'll love it for portraiture, wildlife, and even indoor sports photography or video.
Overview of Features
The FE 135mm f/1.8 GM is part of the GM series of Sony's premium-quality lenses, reflected in its physical characteristics. The lens is dust-and moisture-proof & has a deep barrel-shaped hood that improves flare resistance. Its glass array is made up of 13 elements in 10 groups. One of the components is XA or extreme anamorphic and lets you take portraits without distorting your subject's face. A fluorine coating on the front element prevents grime and fingerprints.
Sony maximized the FE 135mm f/1.8 GM's autofocus speed by dividing its glass into two groups, each driven by a separate motor. The result is a fast, quiet, and accurate system ideal for hockey or basketball. You may even use it for videos and get minimal hunting thanks to the bright max aperture. Speaking of which, a thin aperture ring lets you switch the setting manually either with hard stops or smoothly for noiseless video shooting.
The FE 135mm f/1.8 GM's sharpness has yet to be surpassed. This might sound like an exaggeration, but we have yet to test a lens with better central resolution. The corners and extreme edges follow close behind, except at f/4 where the center surges upward to record-breaking levels. Uniformity is maintained throughout the remainder of the range. F/22 is the only setting that sees a steep decline in resolution, but it's still usable since there was so much detail, to begin with.
We were satisfied with the FE 135mm f/1.8 GM's other optical features. You'd expect a lens with XA elements to display onion rings in out-of-focus highlights, but the "worst" you'll get from this one is a mild cat's eye effect in the corners at f/1.8. Its 11-bladed diaphragm makes for wonderfully smooth bokeh balls even at low apertures. You'll see negligible amounts of chromatic aberration & pincushion distortion irrelevant for real-world use. Vignetting is controlled well, as are ghosting and artifacts.
Are There Drawbacks?
The FE 135mm f/1.8 GM is the most expensive lens on review. It also lacks image stabilization. That won't be a problem if you have a newer a7 or a9 camera, but you will need to use a tripod with older models that lack the feature.
Tech Specs
Dimensions: 3.5 x 3.5 x 5″
Weight: 2.1 lbs
Type: Telephoto prime
Focal length: 135mm
Maximum aperture: f/1.8
Minimum aperture: f/22
Minimum focus distance: 2.3′
Angle of view: 18°
Image stabilization: No
Pros
One of the sharpest prime lenses ever made
Quick and accurate autofocus
Beautiful bokeh even at low apertures
No real-world issues with chromatic aberration and distortion
Cons
No image stabilization
Expensive
4. Sony FE 20mm f/1.8 G
View on Amazon
Editor's Rating: 4.6/5
The release of the FE 20mm f/1.8 G made 2020 a fantastic year for Sony lovers interested in landscape photography despite everything else. It's a competitive lens with surreal central sharpness, impressive bokeh, and well-rounded optical features. Look no further if you need a workhorse that can brave challenging environments and leave you with award-winning nature photos.
Overview of Features
The FE 20mm f/1.8 G is another well-built lens with excellent weather sealing and sophisticated internals. Its form factor is small, considering the fourteen elements in twelve groups that make it work. These include extra-low dispersion and aspherical glass that reduces chromatic aberration and cuts down on internal reflections leading to artifacts. It has the same focus hold button seen in other advanced Sony lenses.
Focusing is similar to the telephoto prime above since it's divided in tow and driven by dual motors. It's slightly slower as wide-angle primes don't need to find focus instantly. However, accuracy and silent operation are on the level of Sony's best. You can get close to smaller subjects as the close-focusing distance is just 7.1 inches measured from the sensor. Manual focus is done by wire but mimics a DSLR lens successfully.
The FE 20mm f/1.8 G's sharpness results are unusual. The center and inner third are phenomenally detailed, approaching and even exceeding the 135mm f/1.8 GM at f/5.6! However, the periphery trails far behind and manages to catch up only when diffraction becomes evident. This would be a mark against lesser lenses, but the corners & edges aren't soft so much as the center is far better than average.
Sony did an amazing job engineering the FE 20mm f/1.8 G's aperture. Its bokeh and background quality are outstanding for a wide-angle lens. Even more impressive is the fact that bokeh balls don't take on a cat's eye shape on the edges, a feat telephoto lenses have yet to repeat. There's slight distortion and chromatic aberration, both of which your camera or Lightroom will correct with ease. Flare resistance isn't perfect as shooting into the sun produces some veiling. However, the effect is artistic rather than bothersome.
What We Didn't Like
The FE 20mm f/1.8 G exhibits strong vignetting at f/1.8. It reaches three stops and is barely affected by in-camera correction, so you'll either have to use external programs or step down to address the issue.
Tech Specs
Dimensions: 2.9 x 2.9 x 3.3″
Weight: 13.2 oz
Type: Wide-angle prime
Focal length: 20mm
Maximum aperture: f/1.8
Minimum aperture: f/22
Minimum focus distance: 7.1″
Angle of view: 94°
Image stabilization: No
Pros
Phenomenal central sharpness
Exceptional bokeh for a wide-angle lens
Responsive autofocus
Lightweight and compact
Cons
Pronounced vignetting at f/1.8
5. Sony FE 90mm f/2.8 Macro G OSS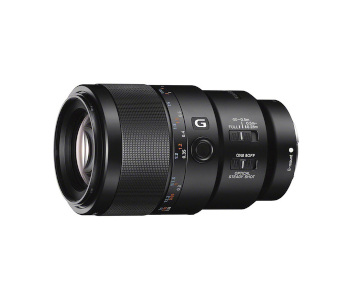 View on Amazon
Editor's Rating: 4.5/5
Macro photographers who use Sony cameras aren't spoiled for choice when it comes to macro lenses, so it's fortunate that the FE 90mm f/2.8 Macro G OSS is an excellent mainstay. It's the only lens on review with image stabilization, has outstanding central sharpness, and can shoot subjects at 1:1 magnification from eleven inches away.
Overview of Features
The first thing you'll notice is the lens's size & weight, which are reminiscent more of full-frame DSLR lenses than more svelte mirrorless models. Sony hasn't skimped on build quality, as evidenced by the FE 90mm f/2.8 Macro G OSS's metal barrel. The focus hold button makes an appearance, as does a distance gauge useful for manual tweaking. The lens is weather-sealed and arrives with a circular hood that slots in via bayonet.
Macro shooters primarily use manual focus, and that's where the FE 90mm f/2.8 Macro G OSS shines. Its ring is wide and metal with comfortable knurling and precise action. It focuses by wire but mimics a mechanical model perfectly. Autofocus is responsive and won't frighten subjects if you wish to use it. A limiter will improve its already quick performance too. Image stabilization provides four stops of correction and is more effective for portraits than macro work.
The FE 90mm f/2.8 Macro G OSS has a wickedly sharp central third. Disappointingly, its corners are soft at f2.8. They step in line quickly as they jump in quality at f/4. The gap keeps shrinking until the image becomes even at f/8. Lower apertures are usable until f/22 when diffraction makes too big of an impact.
There's little vignetting with the FE 90mm f/2.8 Macro G OSS, and chromatic aberration of either kind isn't problematic. Nine blades and a hair-thin depth of field make for beautiful background and highlight rendition. The lens isn't completely free from distortion, but the little pincushion distortion it does exhibit won't even impact architecture photos.
What's Bad About It?
The FE 90mm f/2.8 Macro G OSS has a metal mount and looks tough, but it isn't weather-sealed. That's unusual and unfortunate since it means you won't get to use it in the rain. You'll have to handle the lens with care since its barrel scratches easily.
Tech Specs
Dimensions: 3.1 x 3.1 x 5.1″
Weight: 1.3 lbs
Type: Macro lens
Focal length: 90mm
Maximum aperture: f/2.8
Minimum aperture: f/22
Minimum focus distance: 11″
Angle of view: 27°
Image stabilization: Yes
Pros
Excellent central sharpness
Exceptional manual focusing experience
No distortion, vignetting, or CA issues
Effective image stabilization
Cons
Barrel prone to scratching
No weather sealing
6. Best Budget Option – Sony E 50mm f/1.8 OSS
View on Amazon
Editor's Rating: 4.3/5
The E 50mm f/1.8 OSS is an affordable portrait prime meant to be used with APS-C cameras you can still mount on full-frame models if you don't mind the imposed crop. It has an excellent price to performance ratio since it delivers detailed images and has few optical shortcomings. You even get image stabilization, making the lens a fine choice for handheld photography in challenging light.
Overview of Features
The E 50mm f/1.8 OSS is the smallest & lightest lens on our list, unsurprising since it's geared towards APS-C a6xxx cameras. The body is plastic and available either in black or silver. The design is functional but as basic as it gets since a focus ring is the only manual control. We love the accompanying lens hood since it's deep and greatly helps with flare resistance.
Autofocus performance is the E 50mm f/1.8 OSS's best feature. It's among the quickest performers we've tested, locking on to subjects and keeping them in focus despite rapid or unpredictable movement. Not that people having their portrait taken will move that much, but it's a boon if you plan on using the lens for street photography. Built-in image stabilization will help in urban environments since it lets you leave the tripod at home and provides three stops of compensation.
The E 50mm f/1.8 OSS's sharpness is at odds with its affordability. The center is already keen at f/1.8 and reaches excellent levels by f/4. The edges and corners show less detail when wide open and continue to improve slowly until diffraction sets in at f/11. Taking it another step down results in usable pics, but we wouldn't recommend f/22 as there's too much detail loss brought on by diffraction.
The E 50mm f/1.8 OSS isn't distortion-free, but it does come close as there's less than 0.5% pincushion distortion you'd only notice in lab tests anyway. It renders pleasing bokeh without onion rings and blurs backgrounds so that color transition smoothly from one another. We wouldn't advise shooting directly into the sun but having it close by has a negligible effect on flare, especially if you use appropriate filters.
Are There Drawbacks?
The E 50mm f/1.8 OSS has strong vignetting when wide open. Portraits look nicer when natural light falloff draws the eye towards the subject's face, but the effect is too pronounced even for that and should be corrected. Chromatic aberration is visible in contrasting shots, and LoCA can be seen on bokeh balls towards t the edges at high apertures.
Tech Specs
Dimensions: 2.4 x 2.4 x 2.4″
Weight: 7.1 oz
Type: Portrait prime
Focal length: 50mm
Maximum aperture: f/1.8
Minimum aperture: f/22
Minimum focus distance: 1.3′
Angle of view: 32°
Image stabilization: Yes
Pros
Excellent picture clarity for little money
Fast autofocus
Negligible distortion
Effective image stabilization
Cons
Pronounced vignetting and chromatic aberration at f/1.8