6 Best Sony Vlogging Camera Picks for 2020
3D Insider is ad supported and earns money from clicks, commissions from sales, and other ways.
Sony is currently the best manufacturer on the market if you're looking for a comprehensive vlogging camera. Their newest release, the ZV-1, is a camera that focuses on vlogging almost exclusively. Hopefully, it's the first of many and a cue for other manufacturers to start making similar cameras for this fast-growing creative segment to embrace. You're in for a treat even if you don't want to use a camera exclusively for vlogging since all of Sony's offerings come with excellent autofocus, high burst rates, and other indispensable photo features.
We've assembled the six best Sony vlogging camera choices and bring a detailed rundown of everything you need to know about each in this detailed guide. You'll find out what makes each good for vlogging and which cameras have more to offer. Delve deeper into each model's specifics and choose the Sony vlogging camera that best fits your style and needs.
Budget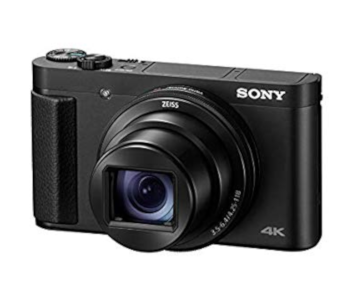 Sony HX99
4.0/5.0
Type: Compact
Battery capacity: 370 shots
Pleasing color and white balance.
Check Amazon
Best Value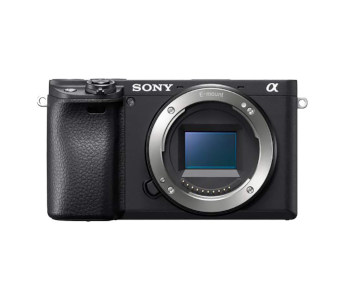 Sony Alpha a6400
4.6/5.0
Type: Mirrorless
Battery capacity: 410 shots
Comes with multiple log profiles.
Check Amazon
Top Pick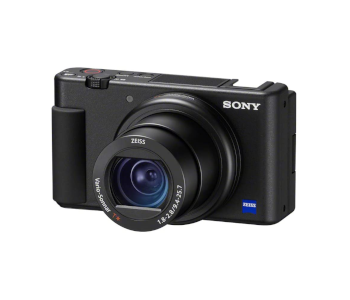 Sony ZV-1
4.9/5.0
Type: Compact
Battery capacity: 260 shots
Can create super-slow-motion videos.
Check Amazon
Sony Vlogging Cameras Comparison Table
1. Best Overall – Sony ZV-1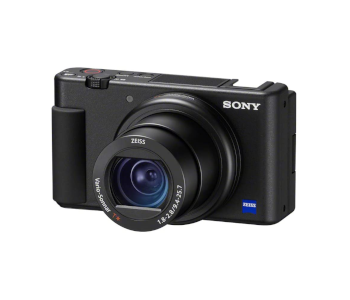 View on Amazon
Editor's Rating: 4.9/5
Sony's ZV-1 is the first camera designed specifically for content creators. It leaves out features you'd take for granted on much less expensive stills cameras in favor of becoming laser-focused on delivering the best front-oriented video recording experience possible. It's effortless to operate from both sides, has excellent autofocus with face & eye detection, and comes with a competent microphone.
Overview of Features
Everything from the ZV-1's build to the layout of its controls has been designed to accommodate vlogging. This is most evident in the disproportionately large REC button you can easily reach with your left index finger when facing the camera. Other controls are sparse as you can set many of the camera's operations to work automatically. The body is made from composite materials that promote heat dissipation, meaning you can record for long stretches without it getting hot.
Users familiar with stills cameras will notice the lack of a viewfinder and control ring. Neither are necessary for vlogging, and the former would only take up space the ZV-1 employs better with an excellent internal microphone. It has three capsules that hone in on audio in front of the camera and even comes with a small deadcat that successfully muffles wind noise. A hotshoe mounted on the left accommodates external microphones if that's not enough.
The ZV-1's autofocus is lightning-fast and designed to respond best to people's faces and eyes. Best of all, it persists if the subject turns her head and can track her flawlessly after locking on. There's also a special product showcase mode that ignores face detection and focuses on the item that's closest to the camera. Now you can place a product in front of your face and freely talk about it while the ZV-1 keeps the image sharp.
The ZV-1 records videos in 4K at 30fps. These are automatically balanced to accentuate a variety of natural skin tones. The lens has a maximum aperture of f/1.8 and can produce a shallow depth of field. It can do so with a button press that instantly shifts the camera to max aperture while adjusting ISO and the ND filter to compensate for the extra light.
You can create time-lapses and extreme slow-motion video since the ZV-1 reaches a whopping 1,000 fps if you use a lower resolution. Its videos have an 8-bit color output, and you have two log profiles to choose from if you plan on perfecting a video's look in post. The ZV-1 has both digital and physical image stabilization for smooth handheld videos without a gimbal. Turning the digital kind on crops 4K videos slightly, but it's a small price to pay.
What We Didn't Like
The ZV-1 lacks a headphone port, surprising given its vlogger-centric design. The built-in speaker is too quiet to give an accurate representation of what the audio will sound like to audiences, so you'll have to tweak its levels afterward. The flip screen articulates fully and gives a detailed preview of what the sensor sees. However, its touch functionality is limited to focus point selection. This partially undermines the ZV-1's ease of use while vlogging since it forces you to navigate its menus with the D-pad.
Tech Specs
Dimensions: 4.2 x 2.4 x 1.7 in.
Weight: 10.4 oz.
Type: Compact
Sensor: 1-inch
Battery: 260 shots
ISO range: 100 – 12,800
Max still resolution: 20.1 MP
Max video resolution: 4K, 30fps
The Pros
Outstanding set of video features aimed at content creators
Quality build that accommodates shooting from the front
Can create super-slow-motion videos
Product showcase mode
The Cons
No headphone jack
Limited touch capabilities
2. Best Value – Sony Alpha a6400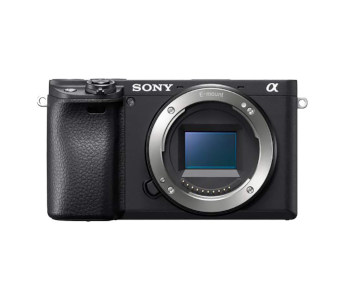 View on Amazon
Editor's Rating: 4.6/5
The Alpha a6400 is a well-rounded camera that costs as much as the ZV-1 but offers a broader set of features vloggers and photographers will appreciate. It has excellent autofocus and easily connects to your smartphone for video & photo sharing to social media. Add crisp 4K video, and you've got a fantastic-mid range camera you can whip out in any situation.
Overview of Features
You'll be familiar with the A6400's appearance and control layout if you've worked with its predecessor. It has a practical design that concentrates a slew of dials and buttons on the right side for straightforward single-handed operation. Sony doesn't claim the a6400 is waterproof, but you can get away with shooting in a drizzle if your vlog calls for it. The record button isn't as convenient to press as the ZV-1's, but you can remap one of several c buttons to remedy this.
The a6400 has a decent electronic viewfinder and a bright LCD touchscreen. The screen doesn't articulate. Rather, it flips out and faces forward for vlogs and selfies. It has the same limitations as the ZV-1''s screen and is used primarily for autofocus correction. You'll have to navigate Sony's menus with the D-pad. They aren't as convoluted as they used to be, but the number of options at your disposal is extensive nevertheless.
Sony takes pride in the a6400's autofocus. It's one of the fastest performers currently available as it can lock onto targets in as little as 0.02 seconds. That's assuming you have enough light to work with, but the camera does well in challenging conditions. It excels at tracking faces and can reliably focus on the eyes of people and animals alike. Best of all, most autofocus features are as responsive for video as they are for stills.
4K videos recorded with the a6400 are crisp and rich in detail. Default settings and the Hybrid Log Gamma profile make for vivid video footage that's sure to pop and satisfy your audience. You may also want to consider the two flat log profiles that produce a seemingly bland picture but retain much more color and contrast information you can recover while editing. The a6400 has a built-in intervalometer for precise control over time-lapse videos. Stepping down to 1080p lets you create slow-motion videos at 12fps.
What's Bad About It?
The LCD's placement is unfortunate if you're using an external microphone since the hotshoe is directly in front of it and the mic will obstruct your view. Luckily, you can mitigate this by buying adapters, but you shouldn't be forced to in the first place. The camera has no in-body image stabilization, so the best you can hope for is to pair it with a lens that does.
Tech Specs
Dimensions: 4.7 x 2.6 x 2.4 in.
Weight: 18.3 oz.
Type: Mirrorless
Sensor: Micro Four Thirds
Battery capacity: 410 shots
ISO range: 100 – 32,000
Max still resolution: 24.2 MP
Max video resolution: 4K, 30fps
The Pros
Great value for the money
Outstanding autofocus speed and accuracy
Records detailed and vibrant 4K videos
Comes with multiple log profiles
The Cons
External microphone blocks part of the screen
No image stabilizations
3. Sony RX100 VII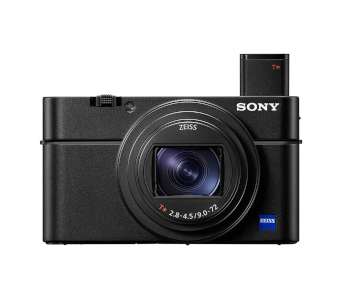 View on Amazon
Editor's Rating: 4.7/5
The RX100 VII was Sony's best high-end compact vlogging camera until the ZV-1 came out in June. It's still an impressive performer with impeccable autofocus and smooth, stabilized videos. While the ZV-1 is the better vlogging camera, we wholeheartedly recommend picking up the RX100 VII if you're also into travel, urban, or action photography.
Overview of Features
The seventh camera in Sony's RX100 series differs little from the sixth in its outward appearance. It has a thin metal body with a subtle thumb rest and no textured grip, so you might want to accompany it with a gimbal when vlogging. On the other hand, the RX100 VII is a camera you can make your own thanks to four customizable buttons and a control scheme that's easy to learn even if you're only familiar with smartphone operation.
We commend Sony for trying to make the RX100 VII's menus more intuitive. There are still pages of settings to sift through, but they're broken up into logical tabs and color-coded for easier remembering. You can also populate My Menu with frequently-used settings and save three versions of it for stills, video, and playback modes. Finally, the lens's focus ring can perform several functions, including ISO and EV compensation changes.
The RX100 VII benefits from the same Real-time Tracking and Eye AF modes seen on the professional a9 and now on the ZV-1. There are enough AF points to cover most of its frame. Selecting one causes the camera to stick to what's underneath it, be that a person, pet or inanimate object. You can turn away from the camera or shift your head abruptly without negatively impacting video clarity.
We'd be remiss if we didn't briefly mention the RX100 VII's excellent image quality. Its white balance is admirable across various lighting sources, and a wide dynamic range lets you pair azure skies with shady trees without losing detail. Burst shooting is its most impressive feature as the RX100 VII can snap 20 frames per second without the EVF blacking out. You can ramp this up to a ridiculous 90fps, but only for seven pics at a time.
The RX100 VII records oversampled 4K video from a 5.5K sensor, resulting in sharp and detailed footage. It's the first camera in the RX100 series to feature a 3.5mm jack for external audio recording and can put out video through HDMI. You don't need a gimbal since the RX100 VII has optical and digital image stabilization.
Are There Drawbacks?
The RX100 VII is a mediocre performer when subjected to light extremes. It lacks an ND filter, so shooting in bright light might lead to overexposed footage. On the other hand, autofocus slows down noticeably when there's not enough illumination. You can plug in a microphone, but there's no hotshoe or mount on which it could rest.
Tech Specs
Dimensions: 4.0 x 2.3 x 1.7 in.
Weight: 10.7 oz.
Type: Compact
Sensor: 1 inch
Battery capacity: 260 shots
ISO range: 100 – 12,800
Max still resolution: 20.1 MP
Max video resolution: 4K, 30fps
The Pros
Excellent autofocus and subject tracking
High-speed burst shooting
Has external microphone input
Extensive customization options
The Cons
Performance adversely impacted by lighting extremes
No mic mount
4. Sony a7 III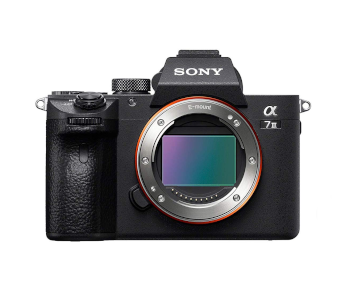 View on Amazon
Editor's Rating: 4.5/5
Sony's vlogging camera offerings are mostly compact cameras. However, the company also offers excellent mirrorless cameras for the discerning blogger who wishes to exercise precise controls over her videos. The a7 III is a sturdily-built camera that has inherited the a9's class-leading autofocus. It shoots oversampled 4K video, has a long-lasting battery, and exemplary low-light performance.
Overview of Features
The first thing you'll notice about the a7 III if you've only dealt with compact cameras before is its generous size. There's a protruding grip textured for easier handling as well as an indentation for your thumb, both of which ensure comfort and rock-solid one-armed handling.
There's much more real-estate to work with too, a fact Sony mostly capitalizes on by outfitting the a7 III with four customizable buttons, several dials, and an AF joystick. We hope that future iterations will also take more advantage of the top left side.
Sony has also implemented the Recall Custom Setting function. It lets you create three separate profiles and bring them up by long-pressing a button. You can create intricate profiles with different drive properties, ISO values, autofocus presets, and more. This speeds up your workflow dramatically since you get to seamlessly switch from shooting action-packed clips to presenter-style ones without having to fiddle with several parameters.
The camera has an older-model electronic viewfinder that delivers good preview quality, especially if you're trying to frame a shot in glaring light. You can select AF points on the tiltable touchscreen while looking through the EFV. They cover 93 percent of the frame and make acquiring a target easy.
We've already written extensively about the merits of Real-Time and Eye AF, so it's enough to state that the system works and you'd expect on the a7 III both in photo and video mode.
The quality of videos made with the a7 III is enhanced by oversampling, this time from 6k original footage. The downsampled video doesn't suffer from pixel binning or rolling shutter and looks fantastic. The a7 III has a back-illuminated sensor and a high ISO threshold. It performs exceptionally well in low light and delivers noiseless footage at ISO 3,200 or lower.
What We Didn't Like
The a7 III's screen isn't as vlogger-friendly as those on other reviewed Sony cameras. It doesn't flip or articulate and can't face forward. You can't switch instantly from stills to video shooting if you've been firing off burst shots since the buffer needs to be empty first. This is a situational drawback that could nevertheless cause you to miss crucial filming opportunities.
Tech Specs
Dimensions: 5 x 3.8 x 2.9 in.
Weight: 33.3 oz.
Type: Mirrorless
Sensor: 35mm
Battery capacity: 760 shots
ISO range: 100 – 51,200
Max still resolution: 24.2 MP
Max video resolution: 4K, 30fps
The Pros
Excellent build quality and handling
Same responsive autofocus system as high-end Sony cameras
Lots of customization options and three complete presets
Works well in low light
The Cons
Screen can't face forward
Switching from photo to video mode requires empty buffer
5. Sony a6100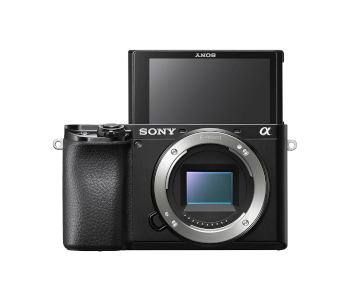 View on Amazon
Editor's Rating: 4.3/5
The a6100 is the updated version of the venerable a6000 Sony released last year. It brings the old newbie favorite up to speed by introducing 4K video, Sony's newest autofocus advancements, and better low-light results. It's a camera that delivers great automated results while giving you enough tools to grow as a videographer once you're more comfortable. We just wish that REC button wasn't placed so awkwardly.
Overview of Features
The first improvement you'll notice if you had an a6000 is the new model's improved shell. It's made from magnesium instead of plastic and sports moisture as well as dust resistance. Sony doesn't claim the a6100 is waterproof, but it won't let you down if the weather turns sour. The controls are fittingly simple for a beginner camera. You get two dials, a rotating D-pad for more accessible menu item selection, and two customizable buttons.
Accurate color reproduction and detail recovery are the a6100's best features. Colors look lifelike and natural in sunlight while shooting in dimly-lit conditions introduces a welcome tinge of warmth. Wide dynamic range comes into its own when you're working on travel vlogs since highly-contrasting environments like beaches or promenades at night look inviting and intricate.
The a6100 doesn't have the a6400's autofocus, but it isn't a slouch either. More than 400 phase-detect points cover 83% of the frame and pick up on movement in an instant. Subject tracking is on point as the camera keeps designated targets in focus even if they start moving abruptly.
The a6100's 4K videos look fantastic for a camera in its price point. They're slightly cropped, so make sure your framing is correct. HD is also an option and a better one in some situations since it supports slow-motion at 120fps. A port for an external microphone is another welcome improvement over the a6000. No monitoring headphones are supported, though.
What's Bad About It?
The a6100's screen flips around and is a better fit for vlogs than the one seen on the a7 III. However, it's barely usable in bright light and is partially obstructed by the EVF's large eyecup. The REC button placement is horrible. It's located on the camera's right side, next to an eyelet used to attach a strap. There's barely room to reach the button, and it's indented so that you can only press it with your fingernail.
Tech Specs
Dimensions: 4.7 x 2.6 x 2.3 in.
Weight: 10.1 oz.
Type: Mirrorless
Sensor: APS-C
Battery capacity: 420 shots
ISO range: 100 – 32,000
Max still resolution: 24.2MP
Max video resolution: 4K, 30fps
The Pros
Solid build quality and simple layout
Wide dynamic range and excellent color fidelity
Great autofocus tracking for stills & videos alike
Decent video quality
The Cons
Terrible REC button placement
Dim screen
6. Best Budget Option – Sony HX99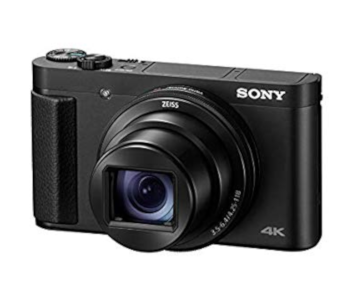 View on Amazon
Editor's Rating: 4/5
Our last and most affordable Sony camera recommendation combines a travel-ready design with excellent zoom capabilities and 4K video. The HX99 is appealing to vloggers eager to capture-far away sights or subjects while photographers will like its respectable burst mode and pop-out viewfinder. We wouldn't recommend using this camera in low light, but it can make sharp, memorable clips if enough illumination is provided.
Overview of Features
The HX99 embodies Sony's simplistic and approachable CyberShot design philosophy. It's the lightest camera on review with pocketable dimensions to boot. A substantial grip helps you keep a firm hold on the camera but doesn't extend farther than the lens while it's fully retracted. There's little space for physical controls, so the sticks to the basics with two dials a handful of buttons, and the rotating D-pad.
We were pleasantly surprised by the HX99's EVF and touchscreen. The viewfinder is a pop-up model that collapses when using the screen in selfie mode so it doesn't interfere with your overview. It offers only 0.50x magnification but is bright otherwise. The screen is usable outdoors and easy to set in a front-facing position. Its touch capabilities are limited to focus point selection and image scrolling in the media library.
The 30x zoom lens at its core is the most compelling reason to buy an HX99. It has a close focusing distance and a reasonable f/3.5 at its brightest focal length, so it's adequate for macro photography. Zoom in during a sunny day, and you can get detailed footage of landmarks, animals, and any other subject that's challenging to reach. The lens's widest focal length corresponds to 24mm, which is wide enough to make establishing shots for product review and tutorial videos.
It's noteworthy that the HX99 costs less than $500 yet offers good-looking 4K video. It's a strong performer out of the box since automatic white balance and color settings produce saturated and warm results. There's no headphone jack, so you'll have to depend on the stereo microphones for sound. The camera shoots 4K at 30, 25, or 24fps while 1080p ramps it up to 120 for smooth-slow motion clips.
Are There Drawbacks?
The HX99 has a MicroSD card slot, which most users will find to be a nuisance. It's not a good performer in dim light; the autofocus slows down noticeably, and raising the ISO above 200 starts to introduce noise. You should also avoid shooting into sources of bright light as this creates large purple blotches that severely degrade a video's appeal.
Tech Specs
Dimensions: 4 x 2.3 x 1.4 in.
Weight: 8.5 oz.
Type: Compact
Sensor: 1/2.3 inch
Battery: 370 shots
ISO range: 800 – 3,200
Max still resolution: 18.2 MP
Max video resolution: 4K, 30fps
The Pros
A versatile superzoom at a low price
Excellent touchscreen for its class
Pleasing color and white balance
The Cons
Poor low light performance % flaring issues
Uses MicroSD cards