Sony vs Samsung TV: Choosing the Right TV Brand
3D Insider is ad supported and earns money from clicks, commissions from sales, and other ways.
Today, there is a ridiculously wide array of TVs in the market. From high-definition (HD) to the latest 8K resolution, it can be hard to keep up with the technologies and features. If you're due an upgrade, you may want to consider buying from reputable brands. Sony and Samsung are leading the industry in bringing homes around the world with a modern viewing experience. They cater to all budget sizes, manufacturing everything from mid-range to premium televisions.
Sony vs Samsung TV Comparison
Given that Sony and Samsung are two of the most trusted brands in the business, it's not surprising that you might find yourself torn between them. Both seem similar at first glance, offering the same fundamental viewing functions. But, they come with individual specs that have a colossal impact on your viewing experience.
Firstly, Sony is a Japanese manufacturer that caters to all budget sizes. Once the undisputed king of television, its previous Trinitron and recent Bravia series were synonymous with premium TV. However, a South Korean company came along and worked its way up to the top. Samsung is now the largest television maker worldwide, snatching over 26 percent of the market share.
The Best Sony TVs
Sony Bravia A9G
Sony Bravia A8H
Sony X950H
Display Type
OLED
OLED
LCD
Resolution
3840 x 2160
3840 x 2160
3840 x 2160
HDR
HDR10, HLG, Dolby
Vision
HDR10, HLG, Dolby
Vision
HDR10, HLG, Dolby
Vision
Picture Processor
Picture Processor X1
Ultimate
Picture Processor X1
Ultimate
Picture Processor X1
Ultimate
Clarity Enhancement
YES
YES
YES
Color Enhancement
YES
YES
YES
Contrast
Enhancement
YES
YES
YES
Motion Enhancement
YES
YES
YES
Audio Processing
Dolby Audio, DTS
Digital Surround
Dolby Audio, DTS
Digital Surround
Dolby Audio, DTS
Digital Surround
Operating System
Android
Android
Android
Built-in Storage
16 GB
16 GB
16 GB
Screen Size
65 inches
55 inches
49 inches
Dimension
1,447 x 834 x 40 mm
1,227 x 712 x 52 mm
1,093 x 629 x 69 mm
Weight
21.2 kg
16.8 kg
13.3 kg
Wi-Fi
YES
YES
YES
Ethernet
YES
YES
YES
Bluetooth
YES
YES
YES
Smartphone
Built-in Chromecast,
Apple AirPlay, Apple
HomeKit
Built-in Chromecast,
Apple AirPlay, Apple
HomeKit
Built-in Chromecast,
Apple AirPlay, Apple
HomeKit
Cable Inputs
YES
YES
YES
HDMI Inputs
YES
YES
YES
HDCP Inputs
YES
YES
YES
HDMI ARC
YES
YES
YES
Price
$3,499
CHECK PRICE
$1,898
CHECK PRICE
$998
CHECK PRICE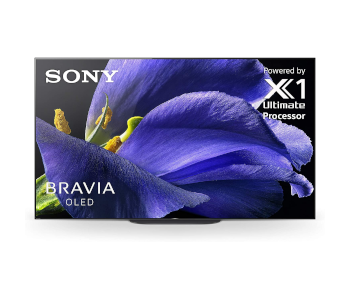 Retail Price: $3,499
The Sony Master Series Bravia A9G TV is the best-looking and best-sounding smart television on the market. It delivers superb performance with exceptional sound and picture quality. It also boasts a refined design, improved remote control, excellent video processing, and OLED panels to bring you the best Android TV version yet. Overall, Sony's flagship is a marvelous addition to any AV lover's entertainment center.
Design
The A9G embraces the simple but stylish design of Xperia phones and Walkman MP3 players. You will see a black, bezel-less panel with a 0.3-inch back strip framing the display. An additional dark gray quarter-inch strip runs along the bottom edge, featuring an indicator light at the center and the Sony logo on the left.
The ringed screen comes with a slim band of black metal along the sides. There is also a rectangular black plastic enclosure on the back to hold all the TV's electronics and physical connections. Moreover, you can find an HDMI port, two USB 2.0 ports, and a headphone jack on the TV's back. Three more HDMI ports, a USB 3.0 port, and an Ethernet port face downward.
Compared to the brand's previous OLED models, the A9G has a more conventional design and improved remote control. The new remote is nine-inch slim with a brushed aluminum finish. The buttons are flat and mostly circular but very intuitive. It also features a number pad and two dedicated buttons for Netflix and Google Play. The volume and channels rockers sit below.
Interface
Like many of the brand's TVs, the Sony A9G Bravia uses Android TV for its interface. It supports most major video programs, including Netflix, Hulu, Amazon Prime Video, YouTube, and Sling TV. Spotify, Pandora, Google Play Music, and other internet radio apps are also available. Moreover, you can access plenty of apps, games, and services without plugging anything into the television.
More than apps and services, Android TV features Google Cast and Google Assistant. The former allows you to treat the A9G as if it has Google Chromecast and stream videos from your phone or Chrome tab, while the latter lets you control the TV hands-free. Soon, you can stream top gaming titles without the need for a console with the Google Stadia. Sony also adds extra perks for home theater systems with the built-in calibration mode.
Performance
When it comes to picture quality, the A9G Bravia series is the creme a la crème. Sony's image processing silicone results in effortless HDR handling with smooth gradation and great details. As you would expect from an OLED display, it shows impressive color performance with perfect blacks. You may hire a professional to tweak the extensive calibration settings for excellent color reproduction.
A9G Bravia's sound is remarkable. Instead of conventional speaker drivers, it uses a pair of 10-watt actuators that work in tandem with two 20-inch subwoofer drivers to produce bass and stereo sound. It also features the Acoustic Surface Audio+ system, which stands out from a design and technology perspective. Additionally, the Sony A9G line boasts a two-channel implementation and a redesigned encasement for exceptional audio.
Finally, the set's gaming performance is impeccable. Using the dedicated Game Mode, there is only an input lag of 26.5ms, which makes the A9G fast enough for the FPS TV gaming experience. It also offers 4K gaming at 60Hz and supports every format provided by the Xbox One X. You can capture gameplay as the gaming support includes 4K and HDR10 clips and screenshots.
Viewing Experience
For streaming TV and movies, the Sony A9G Bravia series outperforms every other 4K TV. Decades of expertise in engineering result in the best-looking and best-sounding television in the market. You can expect a great viewing experience, thanks to the sound that resonates right from the screen and the sensational movie-style image processing that produces top-notch picture quality.
What We Like About the Sony Bravia A9G
✔ Excellent sound and picture performance
✔ Refined sleek and stylish design
✔ Improved remote control
✔ One of the best Android TVs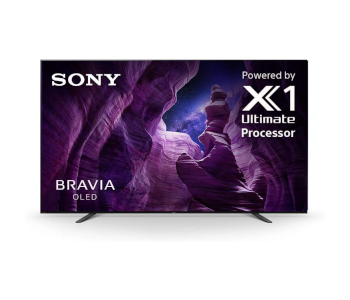 Retail Price: $1,898
The Sony Bravia A8H 55-inch OLED TV is an excellent television that delivers exceptional picture quality for any content type. It has an infinite contrast ratio that provides perfect blacks for the most-anticipated movie nights. It also handles reflections exceptionally well with wide viewing angles to maintain image accuracy. More impressively, the A8H OLED boasts instantaneous response time and a low input lag.
Design
The A8H features a minimalist design with a sleek-yet-boxy body and slim OLED panel. The metallic chassis framing and the one-inch thick in-panel bezels add to the television's allure. Unlike the Sony Bravia A9G series, you can see a pair of adjustable cable-concealing feet that you can raise to fit large soundbars or lower to squeeze them in between the feet.
There is also a port array behind the panel's left side, where you will find the headphone output, an HDMI port, composite video input, and two USB Type-A ports. A third USB port and three more HDMI ports are available, as well as an ethernet port and RS-232 input for connecting specific AV peripherals.
A8H's remote control has a cool metal-effect finish with a spacious layout and responsive buttons. It has built-in support for Google Assistant and Google Chromecast to enhance your viewing experience. It is also quicker to respond and slimmer than previous Sony models. Moreover, you can still find shortcuts to Netflix and Google Play.
Interface
On the Sony Bravia A8H OLED TV, the ultra-responsive Android TV is straightforward to navigate. It displays a steady mix of your favorite content and recommendation on what you should see next. There is also a customizable input menu and quick settings menu that allows you to make adjustments without disrupting your viewing experience.
As an Android-powered set, the Sony Bravia TV relies on Google Assistant for voice controls and smart home integration. It automatically shows up in your Google Home app when you sign in to your Google account. You can also take advantage of the best Google Voice and Google Home commands to change channels or control smart home devices using the remote.
Performance
The A8H OLED offers the most accurate color production with its standard Picture Mode. It also features Vivid Mode that punches up vibrance and contrast, as well as Cinema Mode for a subtle yellow filter. There is also an optional light sensor that optimizes brightness according to ambient light. Moreover, the Sony Bravia TV has X Motion Clarity capabilities that deliver a clear picture as advertised with minimized blur.
The A8H's innovative audio solution of using the screen itself as speakers works excellently. It pushes sound forward into the room, bringing a comprehensive, open quality than regular TV speakers. The soundstage also spreads a reasonable distance with impressive placement effects, clear vocals, and distortion-free high volumes. Additionally, the Sony Bravia TV uses the latest Acoustic Surface Technology that injects more bass for a consistently satisfying sonics.
Finally, if you are a gamer, you'll be pleased to hear that the A8H has a Game Preset. In this mode, the input lag drops to 18ms, which rates as excellent. Sony claims the TV isn't for gaming, but it offers a decent gaming performance. Its picture quality remains an AV enthusiast's dream.
Viewing Experience
The main draw of the Sony A8H Bravia is the stunning contrast that only an OLED TV can pull off. It is self-illuminating, allowing every pixel to turn on or off as the picture necessitates. It also produces perfect blacks and delivers a sensational spectrum of ultra-vivid colors for better image quality. Ultimately, the A8H features excellent motion handling across all content types. Sony's X-Motion Clarity bolsters its terrific base-level performance, which brings a phenomenal viewing experience.
What We Like About the Sony Bravia A8H
✔ Competitively priced for an OLED TV
✔ Highly accurate color reproduction
✔ Customizable UI for personalization
✔ Built-in Google Assistant and Alexa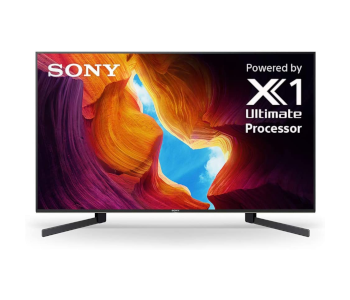 Retail Price: $998
The Sony X950H is a stunning Smart LED TV that offers an excellent HDR experience. It is a massive improvement over the previous X950G in audio quality and usability while retaining the latter's incredible picture quality and motion handling. Available in 49-, 55-, 65-, 75-, and 85-inch versions, you can choose a size that would look amazing in your living space. The realistic colors, picture detail, and dramatic contrasts extremes will blow you away.
Design
The X950H Smart LED TV has a simple yet outstanding design. The thin bezels and minimal branding work well with the metal feet, which support the TV well. The back, made of plastic, has a horizontal brushed texture with inputs facing sideways for easy access. Overall, the Sony TV has an exceptional build quality. It feels sturdy and doesn't protrude much when wall-mounted.
The full array LED design of Sony's smart television offers nearly OLED-level blacks and reduced haloing. At the back, you will find all the inputs and outputs, including four HDMI 2.0 ports with HDCP 2.3 and HDMI-CEC. There is a pair of USB ports to connect and charge devices, too. Finally, you will find optical audio out, a 3.5mm audio jack, as well as an ethernet port.
The remote control of the Sony X950H has a black finish and has shortcuts to Netflix and Google Play. It includes a built-in microphone for voice control and the appliance's room correction feature, too. Being an Android TV, you can use voice commands to make your life smart and simple. You may perform most searches and orders, such as finding new entertainment and checking schedules, via Google Assistant.
Interface
Like the A8H, the X950H uses Android TV version 9.0, which is easy to use and runs smoothly. It has a low input lag of approximately 19ms with 1080p @ 60Hz and 4K @ 60Hz signals, making it decent for video gaming. You can also customize the apps and settings to show on the quick menu for easy access. Moreover, motion handling is good during sporting events and other fast-action content.
The Sony Smart LED TV responds to voice commands in two ways: Google Assistant and Amazon Alexa. It allows you to choose in the setup menu for hands-free voice control. To activate the built-in Google Assistant, press the mic on the remote and speak into it. You can also set the TV to access it by saying " OK Google" when you're in the range of the TV's microphone.
Performance
The Sony X950H uses the powerful Picture Processor X1 Ultimate chip that produces picture images with real-life clarity and detail. It also contains processing for 4K X-Reality PRO, which upscales the images to 4K resolution. Additionally, the Object-based Super Resolution enhances detail, while the Object-based HDR Remaster improves color and contrast for SDR (Standard Dynamic Range) content.
In terms of audio quality, the Sony Smart LED TV delivers the same precisely-controlled, high-quality sound. Thanks to the sound positioning tweeters, the Acoustic Multi-Audio optimizes the location of sound on the screen so that you can hear from appropriate areas of the scene. It also features Dolby Atmos to fill the room with immersive surround sound and Dolby Vision for authentic viewing.
In addition to Dolby Vision, the X950H is compatible with HDR10 and HDL HDR formats. It also boasts an IMAX enhanced certification that allows you to play the highest quality 4K images and the most powerful audio. Moreover, you can use the Netflix Calibrated Mode, which preserves the picture quality of Netflix Originals.
Viewing Experience
The X950H has a full array of features to deliver the ultimate viewing experience. Sony's X-tended Dynamic Range Pro/XDR Contrast 6x enhances contrast for an even more dynamic picture presentation. There is also the TRILUMINOS Display for enhanced and accurate color reproduction and the X-Wide Angle that minimizes color saturation and contrast loss when you view the TV from wide angles. At the same time, the embedded light sensor automatically adjusts the picture and sound to your environment.
What We Like About the Sony X950H
✔ Incredibly bright LED display
✔ Highly refined HDR with deep blacks
✔ Powerful and dynamic audio
✔ Excellent value for performance
The Best Samsung TVs
Samsung Q90T
Samsung Q60T
Samsung TU-8000
Display Type
QLED
QLED
LED
Resolution
3840 x 2160
3840 x 2160
3840 x 2160
HDR
Quantum HDR 16x
Quantum HDR
HDR
Picture Processor
Quantum Processor 4K
Quantum Processor
Lite
Crystal Processor 4K
Clarity Enhancement
YES
YES
YES
Color Enhancement
YES
YES
YES
Contrast
Enhancement
YES
YES
YES
Motion Enhancement
YES
YES
YES
Audio Processing
Dolby Audio
Dolby Audio
Dolby Audio
Operating System
Smart TV Powered by
TIZEN™
Smart TV Powered by
TIZEN™
Smart TV Powered by
TIZEN™
Screen Size
75 inches
75 inches
65 inches
Dimension
1,671 x 958 x 36 mm
1,675 x 960 x 60 mm
1,449 x 830 x 60 mm
Weight
38.7 kg
36 kg
20.6 kg
Wi-Fi
YES
YES
YES
Ethernet
YES
YES
YES
Bluetooth
YES
YES
YES
Voice Assistants
Built-in Alexa, Bixby,
and Google Assistant
Built-in Alexa, Bixby,
and Google Assistant
Bixby
Cable Inputs
YES
YES
YES
HDMI Inputs
YES
YES
YES
HDCP Inputs
YES
YES
YES
HDMI ARC
YES
YES
YES
Price
$3,297
CHECK PRICE
$1,398
CHECK PRICE
$698
CHECK PRICE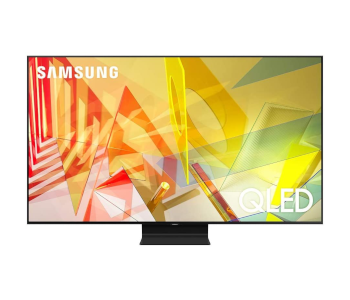 Retail Price: $3,297
The Samsung Q90T is a versatile TV that works well in a darkened home theater or a bright living room. It uses natural colors and exceptional black levels in most modes to dazzle its users. If you want the most radiant images, you can use the Dynamic setting. It also uses the proprietary Object Tracking sound feature for superb audio quality. Hence, the Q90T sits atop the brand's 4K QLED lineup of the 2020 Smart TV catalog.
Design
You are looking at an almost bezel-less design that stands solidly on a metallic pedestal. The back has a brushed texture with the input side-facing for easy access, even when the TV is wall-mounted. Although it is slightly boxy, it is still thin. Plus, the build quality is excellent. There's a bit of wobble, but mainly due to the center-mounted stand.
Although it has no OneConnect Box, the TV still has a capable selection of ports, including four HDMI ports, two USB ports, coax for cable or over-the-air antenna, 3.5mm analog audio out, and a Toslink digital audio out. You may add a hub if you regularly connect USB media for image, music, and video playback. Other connectivity options include Bluetooth 4.2, Ethernet, and Wi-Fi.
The Samsung Q90T comes with a small remote with many voice control features. It has a built-in microphone for Bixby, allowing you to change settings and find content quickly. It also has shortcuts to your favorite streaming video services, such as Netflix, Prime Videos, and Samsung TV Plus. Moreover, there is an Ambient Mode button if you want to display a piece of art.
Interface
The Q90T QLED TV uses the Samsung Smart Hub interface that is both attractive and easy to use. It comes with a substantial collection of apps, including YouTube, Netflix, Hulu, etc. In other words, you will never be short of something to watch. There's also a degree of voice control available from Amazon Alexa.
Contrary to Sony's Android TV, the Samsung premium television uses Smart Tizen OS version 2020, which is easy to use and runs smoothly. It supports two assistants and carries most streaming services. The addition of the Samsung Health app enables you to get up-to-the-minute fitness data you can track through your TV and phone.
Performance
Performance-wise, the Samsung Q90T Smart TV is top-notch. It uses the company's Quantum 4X processor that uses AI to upscale any content to 4K quality. The input lag is also superb. It's slightly higher when playing 4K games but not noticeable for most people. It is similar to Sony's X950H in many ways, allowing you to tweak and play around with the settings.
In terms of sound, Samsung fitted the Q90T with eight drivers and speakers to deliver superb audio quality. The frequency response is well-balanced with a good punch of bass. You can even tune the sound according to the environment's acoustics through the Adaptive Sound+ setting. In addition to the OTS, the TV also supports Atmos and DTS:X.
The future of gaming is bright with the Samsung Smart QLED TV. It can display 4K content at 120fps, making it perfect for Playstation 5 and Xbox Series X owners. It also supports FreeSync, Auto Low Latency Mode (ALLM), and AMD's version of Variable Refresh Rate (VRR). With a very low input lag and no-tearing or artifacting during gameplay, the Q90T will indeed serve gamers well.
Viewing Experience
From watching everyday TV to Netflix Originals, The Samsung Q90T provides a beautiful viewing experience. It simple but classy design fits perfectly in any room, whether it's a darkened home theater or a bright living room. The picture quality is superb even from extreme viewing angles, and the motion handling is outstanding. Furthermore, the Smart QLED TV comes with the ultra-cool Ambient Mode that allows you to display an image that matches the wall.
What We Like About the Samsung Q90T
✔ Stylish, eye-catching design
✔ Excellent brightness and contrast levels
✔ Incredibly accurate colors
✔ Comes with gaming features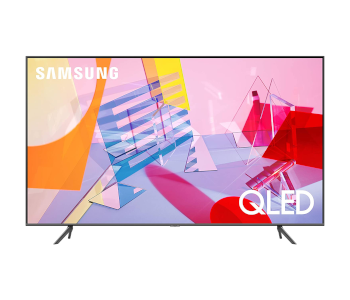 Retail Price: $1,398
Sharp and colorful, the Samsung Q60T is a decent QLED Smart TV that performs well for most uses. It brings crisp 4K resolution and excellent upscaling at a great value. If you want to give QLED a try, the TV makes a perfect start. Its incredible operating system produces a remarkably low input lag, which pleases most gamers. Additionally, the 4K TV has an outstanding contrast ratio and black uniformity to suit both dark and bright-lit rooms.
Design
The Samsung Q60T has a borderless design with a thicker bottom bezel. It looks slick and minimalistic and even comes with a clip for cable management. The new stand makes it easier to set up. Although it has a bit of a wobble, it supports the TV well. You can also find back-facing ports at the etched, horizontal-dotted back.
Two USB inputs, three HDMI inputs, satellite, AIR/CABLE, and Ethernet are among the excellent selection of ports you can find on the back of the Q60T. There is also the HDMI 2.1 and eARC support to boost bandwidth and speed. Moreover, the Samsung Smart TV stands on two feet for stability.
You get two remotes with the Samsung Q60T QLED: one standard rubber-button with a full numerical keypad and the slimmed-down version with only the significant buttons. You can find shortcuts to Netflix, Amazon Prime Video, and Rakuten TV on both models. More impressively, the Ambient OneRemote feature lets you use the remote as a universal remote for other devices.
Interface
Like other Samsung QLED TVs, the Q60T runs on Smart Tizen OS. Slightly redesigned with reduced features, the interface now appears sleeker and well-organized and has a Dark Mode instead of a white theme. Significant applications, such as Amazon and Netflix, are on top of the list for easy access. Scrolling down, you'll find the Samsung TV Plus for free and paid content.
The new QLED TV also supports AirPlay 2, which allows you to cast from your Apple devices. You can select Bixby or Amazon Alexa to be your AI assistant for voice control. Although the latter is generally smarter, Samsung's Bixby has a comprehensive list of voice commands in the settings for your convenience.
Performance
Although the Q60T has a mid-range processor, it still offers a quantum of performance for a budget-friendly price. It produces sharp pictures and accurate colors to enhance your viewing experience. When moving to 4K/HDR, you will see a noticeable increase in the range of colors available. Its panel can show bright blues vividly and make light scenes brighter.
The two speakers inside the new Samsung TV deliver a decent audio quality, with clear dialogs and a wide soundstage. The Q60T supports Dolby Audio and has a 20-watt power to bring about 85 decibels at full volume. You can also choose from three sound modes: Standard, Adaptive, and Amplify. Adaptive adjusts the sound on whatever you are watching, while Amplify boosts dialogs.
The Q60T QLED is also adept as a gaming TV. It has a remarkably low input lag when you enable the Game Mode, with a sub-10ms response. There is also the Auto Low Latency Mode (ALLM), which automatically turns on the Game Mode when you launch a game from a compatible console. Finally, the Game Motion Plus interpolates low frame rates for smoother motion.
Viewing Experience
If the Q90T is beyond your budget, the Samsung Q60T will do the job. It looks excellent with 4K content and does gallant work upscaling low-resolution videos. With a color gamut of around 92%, the detail levels are high. You can see the tone and texture, as well as the roughness and depth of patterns. Last but not least, it has a low input lag, providing a good gaming performance. It is a pleasure to use and an excellent value for your money.
What We Like About the Samsung Q60T
✔ Crisp and clear 4K display
✔ Sharp details and accurate colors
✔ Built-in support for various voice assistants
✔ Excellent value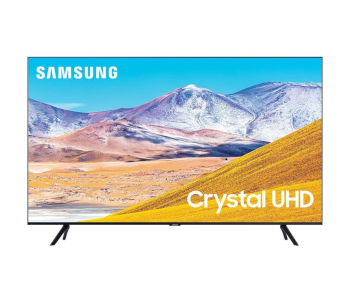 Retail Price: $698
Immerse yourself in the picture with the new Samsung Class Crystal TU-8000. It boasts a robust image quality, a sleek and elegant design, as well as a smooth gaming experience. You can also access tons of different content in one remote to get maximum enjoyment. Overall, the Crystal TU-8000 makes an exciting choice if you are looking for a solid 4K smart TV without breaking your bank.
Design
The Class Crystal TU-8000 is a decent 4K LCD TV that draws you to the purest picture. It has an effortless minimalistic style and a three-sided boundless design, which sets the new smart television standards. Despite being mostly plastic, the Samsung TV is sturdy. The base is a bit thicker but blends nicely with any living room.
There are three HDMI inputs around the back of the monitor. One is an eARC port to boost bandwidth and speed, the other for speaker setups. You can also find a coaxial port for the antenna, an optical connector, one composite port, and RF connections. More impressively, the Samsung TU-8000 has grooves at the back for cable management.
As is usually with Samsung TVs, the TU-8000 comes with two remotes – a bulkier standard-looking one and a simplified, more slender option. The latter has a ring-shaped D-pad, channel and volume controls, and shortcuts to Rakuten TV, Netflix, and Prime Video. You may use it as a universal remote to control your other devices, as well.
Interface
You get the full Tizen treatment with the Samsung Class Crystal TU-8000. The overall layout stays pretty much the same, but the dark UI makes the TV look sleek and elegant. The complete aesthetic change gives you the ability to reposition everything for your convenience. You also get plenty of pre-installed apps, including Netflix, Disney Plus, Amazon, Google Play Movies, and many more.
The TV includes a convenient feature called Universal Guide, which analyzes your viewing patterns and creates a special For You page where you can easily find the shows and movies you watch all the time. Additionally, the SmartThings app support allows you to control all your smart home devices, such as the thermostat, smart locks, vacuum robots, and others that support the SmartThings platform.
Performance
Surprisingly, Samsung TU-8000 TV is an excellent performer. It has a 3840 x 2160 Ultra HD resolution and supports HDR and HDR10+. It also handles contrast and color well, bringing you decent image quality for everything you need to with your TV. The 120Hz motion rate is more than adequate for TV viewing.
Things in the audio department are pretty standard. It features a 2.0 channels audio set up with two down-firing drivers to give you 20 watts of power. The sound is evident, even in high volume levels. The Class Crystal TV also supports Dolby Audio and can even pass through Dolby Atmos via the eARC port. More remarkably, it features adaptive sound to give you the best sound experience possible.
The TU-8000 has gamer features that reduce input lag. With Game Mode enabled, you also get an optimized screen and a blazing speed of 9.6ms for a smooth gaming experience. The performance is good enough for most games in the current generation of consoles but a bit slow for action-oriented online games like Call of Duty, Fortnite, and Apex Legends.
Viewing Experience
The Samsung Class Crystal TU-8000 offers you the most immersive cinematic experience ever. You can use the Ambient Mode to project your favorite images onto the screen as the TV itself blends nicely with your décor. The 4K UHD TV also goes beyond regular FHD with 4X more pixels, giving you sharp and crisp pictures. More impressively, the High Dynamic Range levels (HDR) brighten your TV expression so that you can enjoy a spectrum of colors and visual details.
What We Like About the Samsung TU-8000
✔ Sharp and incredibly detailed 4K panel
✔ Great upscaling technology
✔ Attractive slim design
✔ Crisp colors
Choosing the Smart TV Brand for Your Entertainment Needs
Picking between Samsung and Sony can be a challenging task. Given that these two are the most prominent TV brands in the business, they might look similar at first glance. However, you should look beyond the surface. From the TV technologies, smart features, voice assistants to formats supported, you will find that they are strikingly different.
Design
Sony TVs have a sexy design. The bezels are slim and help hide some edge-light blooming. They also come with better-looking and easier to use remote controls. Additionally, the Japanese-made televisions have an intuitive user interface that allows you to make changes to the setting quickly and easily.
On the other hand, Samsung TVs boasts the slimmest design with the thinnest bezels. Some are even virtually bezel-free, with an average depth of 5/8 inch. The brand puts a ton of effort into its Smart TV interface and enhances it every year to deliver the ultimate viewing experience. Moreover, the televisions come with a universal search option to help you find content quickly.
Tizen vs Android TV
Sony uses Android TV, which offers more content and menu panels. Its smart TV features revolve around the Sony Entertainment Network interface. You can access popular VOD apps, such as Netflix, Amazon, and Hulu, from a more simplified app menu once you register your device. It also added Amazon Alexa Music, Cameras, and TV Control app to its 2019 TVs to enhance your TV experience.
Alternatively, Samsung uses Tizen OS to make its TVs look clean and faster to navigate. It offers a pretty competent experience. Year after year, the brand also improves its interface as well as its app offerings. Plus, there is the exclusive Bixby Assistant for minimal TV control.
QLED vs OLED
In terms of picture quality, plasma dominates LCD/LED technology. However, Sony does not make plasma TVs anymore. Many of its premium TVs now use OLED (Organic Light-Emitting Diode) panels, delivering stunning contrast levels and more natural-looking images than LCD and LED. Other notable advantages of OLED TVs include thinner panels, faster response times, and wider viewing angles.
Samsung's top of the line televisions, on the other hand, use the rival technology QLED (Quantum-dot Light-Emitting Diode). They deliver the highest brightness levels on the market, making them punchier and more dynamic. Based on LCD technology, QLED displays also have a longer lifespan but are more energy efficient.
Both are thrilling and have distinctive strengths when it comes to picture quality. Sony's OLED TVs produce more accurate and natural pictures, with exceptional black performance and uncompromised contrast levels. Then again, Samsung's QLED TVs offer unbeatable vibrancy.
Dolby Vision vs HDR10+
Both Samsung and Sony support the most basic HDR form, HDR10, but they back different technologies. The latter's premium TVs support HDR10, HLG, and the more advanced Dolby Vision, a 12-bit color gamut instead of 10. It also offers 10,000 nits of brightness and is widely supported by major streaming apps, such as Netflix and Apple TV.
On the other hand, the former supports HDR10+ that offers a 10-bit color gamut and 4000 nits of brightness. You can find HDR10+ shows on Amazon Prime Video but not in streaming apps supporting Dolby Vision content. That said, you should factor in the services you want to watch HDR content on before splurging on a Sony or Samsung TV.
OTS vs Acoustic Surface Audio
Both Sony and Samsung also have the best technologies for built-in audio. The former ships TV sets with its Acoustic Surface Audio, which uses four actuators to turn the entire screen as a sound-emitting structure. It provides an immersive audio experience as dialogue and sound effects emanate directly from onscreen objects.
Alternatively, Samsung relies on external audio solutions to accompany its premium QLED TVs. The 2020 sets come with the new Object Tracking Sound (OTS), which uses various drivers to emit full audio. However, these features are only available at the premium end. Mid-range TVs from both brands still use the average 20-watt speakers.
Which Smart TV Brand Do You Choose
Not sure what you should get? Look at the highlights. Sony TVs boast the most stylish designs with their bezel-less frames and metal stands. If you have a healthy budget to play with, the impressive Master Series Bravia A9G should be on your shortlist. It is currently the best OLED, thanks to its stunningly realistic picture and the innovative Acoustic Surface Audio technology. The impeccable gaming performance elevates the experience of even the most hardcore gamers.
If you are looking for a flagship performance without spending too much, you may want to look at the Sony Bravia A8H OLED TV. It delivers exceptional picture quality from any angle and comprehensive, open sound quality in the entire room. Although Sony claims that it's not for gaming, the TV still impresses AV enthusiasts worldwide.
There is also a Sony TV for you if you have an incredibly tight budget. The Sony X950H Smart LED TV offers an excellent HDR experience with realistic colors, truthful picture detail, and dramatic contrasts extremes. It is IMAX enhanced certified, bringing you a precisely-controlled high-quality sound and exceptional picture quality.
When it comes to Samsung TV's range, the Q90T QLED TV is the premium model to buy. It is full of useful features, blessed with more natural image quality, and sounds better than other Samsung TVs. Overall, it is an excellent all-arounder and a worthy recipient of a five-star review rating.
If the Q90T is a little above your budget, the Q60T is the perfect alternative. It performs well for most uses and brings crisp 4K resolution. When it comes to gaming, the Samsung TV does not disappoint too. Its incredible operating system produces minimal input lag, giving you a smooth gaming experience. More impressively, it suits both dark and well-lit rooms.
If you don't want a QLED TV but still favor fantastic picture quality, the Samsung Class Crystal TU-8000 is perfect for you. At a mid-range price, you get a sleek and elegant design and a smooth gaming performance. The best thing about this model is you can access different content in one remote for maximum enjoyment.
Wrap Up
Both Sony and Samsung offer a fantastic range of budget-friendly televisions and high-end models for those looking for the best possible picture quality. There's a slim line between the two, so your purchasing decision lies on the features that appeal to you most.
If you want the ultimate display, Sony's OLED tends to offer the best overall picture performance. It supports the most widely-adopted Dolby Vision, which delivers a fanciful color palette, sharper contrasts, and incredible brightness. But if you want great value for money and impressive picture quality, Samsung's QLED is an excellent alternative. It has brighter displays and astonishing contrast, which is more suited to late-night movie sessions.
In terms of design, Sony sets tend to play around with casings and stand designs. They look sleek and elegant without compromising stability and durability. They are also pretty competent at upscaling low-resolution resources and motion handling. On the other hand, Samsung TVs feature thin bezels and the new Ultra Viewing Angle technology, which vastly improves off-axis viewing.
Finally, these two brands have the best built-in audio solutions. Sony ships with Surface Acoustic Audio, while Samsung uses Object Tracking Sound. Both provide an immersive audio experience.