6 Best Street Photography Cameras of 2020
3D Insider is ad supported and earns money from clicks, commissions from sales, and other ways.
Designing a camera for street photography is quite a feat. A suitable model needs to achieve high burst and autofocus speeds to capture unique moments. It has to deal with shifting light conditions and must be able to create equally compelling shots of sun-bathed parks and dungy tunnels. A camera worthy of urban exploration also has to be light enough to carry around all day. It shouldn't run low on power after a few dozen pics either.
In spite of these unforgiving criteria, there are cameras out there capable of meeting urban challenges head-on. Meet the six best street photography cameras on the market today! We've assembled different model types from world-class manufacturers that offer reliability and adapt as the cityscape changes. Find out how they stack up and pick the best one for your urban adventures.
Budget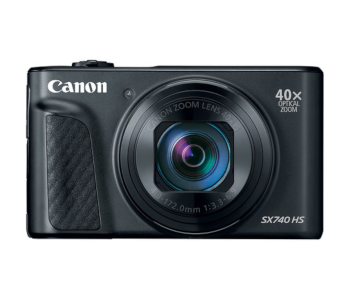 Canon PowerShot SX740 HS
4.0/5.0
Sensor: 1/2.3 inch
Burst: 10fps
Intuitive control scheme and powerful burst mode.
Check Amazon
Best Value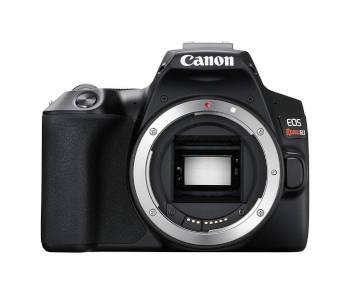 Canon E0S Rebel SL3
4.5/5.0
Sensor: APS-C
Burst: 5fps
It has an excellent autofocusing system.
Check Amazon
Top Pick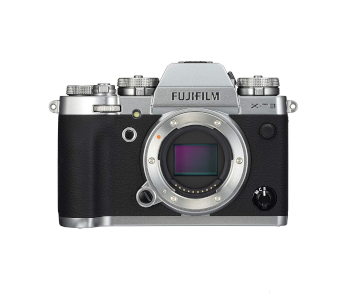 Fujifilm X-T3
4.9/5.0
Sensor: APS-C
Burst: 11fps
Fast burst mode and smooth 4K video.
Check Amazon
Street Photography Cameras Comparison Table
1. Best Overall – Fujifilm X-T3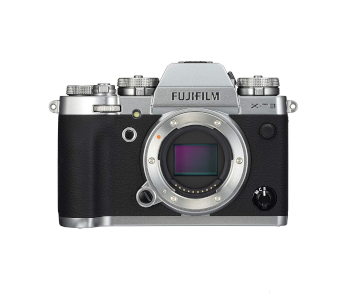 View on Amazon
Editor's Rating: 4.9/5
Fujifilm didn't bombastically reveal the newest entry into the X-T series. As a result, many photographers were surprised to discover a much-improved model rather than a simple refresh. The X-T3 is a dream come true for the all-around enthusiast and, therefore, ideally suited for street shooting.
It has an extraordinary dynamic range and retains the maximum amount of detail you could expect from an APS-C camera. It even comes with artistic settings that enhance black & white photos. Add class-leading 4K video along with fantastic burst speeds, and you've got a premium camera able to tackle any city shoot.
Overview of Features
The X-T3 is not the most compact camera on review. Still, s a mirrorless model, it is much less bulky than a DSLR yet retains features like exchangeable lenses and advanced settings. The control scheme is the most intriguing thing about its appearance. Rather than relying on buttons and the LCD, there are dials for crucial settings like ISO, EV compensation, and shutter speed. This is advantageous since it lets you know what settings the camera is currently using without having to power on the screen.
Speaking of which, the 3.6 million-dot LCD is touch-sensitive and has limited articulation. That makes it easier to shoot over crowds or get a picture of a city's skyline. The EVF doesn't fall behind either. Its refresh rate is 100fps, allowing you to track even fast-moving subjects with no lag.
The camera's APS-C sensor is backlit and allows for 26.1MP images shot in either JPEG or RAW. While you may be used to the latter for best results in post, the X-T3 delivers very convincing JPEGs with an impressive dynamic range. It excels at capturing the interplay between light and shadow while not succumbing to chromatic aberration. You can shoot park scenes and preserve both shaded foliage and the sky's deep blue.
The X-T3 offers several enhancement modes on top of its excellent raw performance. Auto Dynamic Range maintains ideal contrast ratios while Color Chrome ensures that bright colors don't appear over-saturated. Black & white photos get a boost from Warm and Cool Black adjustments which increase grayscale nuances and help bring depth to scenery.
Photographers looking to try their hand at video making will find the X.T3 a capable tool. It shoots videos in 4K at a smooth 60fps. The camera's versatile autofocus is active in video mode, allowing for effortless subject tracking.
What We didn't Like
The X-T3 has a burst shot of 11fps when using the mechanical shutter, 20 or 30 if you switch to electric. This is fantastic for capturing cyclists or waterfowl over a marina. Unfortunately, the buffer can hold only 36 photos. Other than that, the only serious drawback is the lack of internal image stabilization. While Fujifilm makes high-quality lenses with the OIS built in, having ng some in the camera would have been even more reassuring.
Tech Specs
Dimensions: 5.2 x 3.7 x 2.3 in.
Weight: 30.7 oz.
Sensor: APS-C
Burst: 11fps
Battery capacity: 390 shots
ISO range: 160 – 12,800
Max still resolution: 26.1 MP
Max video resolution: 4K, 60fps
The Pros
Outstanding all-around performance
Fast burst mode
Exceptional dynamic range and photo enhancement options
Smooth 4K video
The Cons
No optical image stabilization
Small image buffer
2. Best Value – Canon E0S Rebel SL3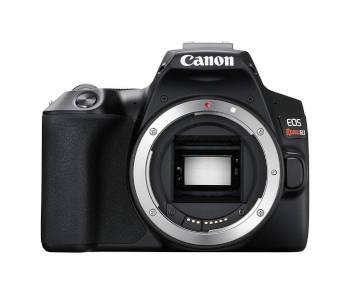 View on Amazon
Editor's Rating: 4.5/5
Most cameras in the guide offer a remarkable set of features and are expensive as a result. What if you're just now getting into street photography and want a cheap and accessible model? In that case, Canon's SL3 from the venerable Reel series is exactly what you need. It's one of the world's smallest and lightest DSLRs and beginner-friendly to boot. Its most appealing features include excellent autofocus options, above average low light performance, and an attractive price.
Overview of Features
At a weight of 23 Oz, the SL3 rivals many mirrorless cameras. Its form factor is small as well, so even though it doesn't fit inside your pocket, taking the SL3 for a day of shooting out in the town isn't burdensome. The camera is ergonomically sound and features a large grip that makes handling it one-handed safe and easy. It has a simplified control scheme yet allows full manual adjustment once you've learned the ropes.
Both the optical viewfinder and the touchscreen LCD are excellent at this price point. Looking through the viewfinder results in a bright and sharp image with 95-percent coverage and an easy-to-read information overlay. The best thing about the viewfinder is that its usage drastically increases battery capacity. The SL3 can shoot 320 photos with the LCD on but more than three times as much through the viewfinder alone! The touchscreen is responsive and articulates fully, meaning you can flip it out and use it to frame selfies.
The SL3 is powered by the DIGIC 8 processor and produces good-quality 24MP images. Its screen comes in handy when focusing on a subject since it has Canon's patented Dual Pixel CMOS AF. This technology lets you choose the focus from over 3,000 points on the screen. There's also subject tracking and the ability to focus on a zone.
While the SL3's dynamic range is average, its low-light performance is outstanding. Testing its signal to noise ratio reveals that the SL3 can keep up with more expensive models at ISO values as high as 3,200. In practice, that means you can take photos of dark alleys or breathtaking sunsets without worrying about their quality.
New shooters will appreciate Canon's guided UI. It's a simplified interface that provides clear instructions for the camera's various modes and settings. It offers explanations and lets you intuitively change settings even if you don't understand terms like aperture size and EV compensation yet. Once you master the basics, the UI can be turned off and let you experience the full range of options.
What's Bad About It?
As the SL3 is small, so are its controls. The directional pad, in particular, could be a problem to use for people with large hands. The optical viewfinder is great for framing shots but can't show you what the result will look like and isn't usable when making videos. You'll have to consult the LCD instead.
Tech Specs
Dimensions: 4.8 x 3.6 x 2.7 in.
Weight: 23.4 oz.
Sensor: APS-C
Burst: 5fps
Battery capacity: 320 shots
ISO range: 100 – 25,600
Max still resolution: 24.2 MP
Max video resolution: 4K, 25fps
The Pros
Exceptional performance and quality for the price
Beginner-friendly interface
Excellent autofocusing system
Fully articulating screen
The Cons
Small controls
Limited viewfinder usability
3. Sony RX100 VII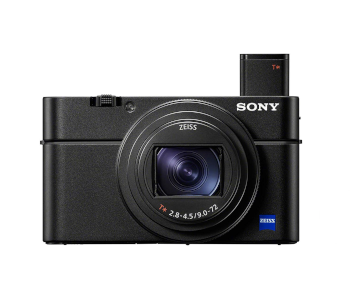 View on Amazon
Editor's Rating: 4.6/5
We've only discussed compact versions of large cameras so far, but what about truly pocketable alternatives? Sony has been working on the RX100 since 2012, and its seventh iteration is the perfect blend of portability and performance. Ridiculous burst speeds, reliable continuous autofocus, and consistently good performance are its main highlights, but they're not all this jam-packed model offers.
Overview of Features
The RX100 VII is one of the smallest models in the guide. Sony has done a tremendous job of continually updating its specs while keeping the camera pocket-friendly. It's not the most ergonomically-sound camera since there's no right-hand grip and the thumb rest is small. Still, it's a pleasure to shoot with as you can whip the RX100 VII out at any time and snap sharp pics from crazy angles thanks to the articulating touchscreen. Its viewfinder is among the best in the class, too. It sports a resolution of 2.36 million dots and pops into place when needed.
In spite of having a 1-inch sensor, the RX100 VII delivers photos of remarkable quality. It's powered by the newest BIONZ X engine and has a dedicated chip for improved computing. This means that the camera is capable of processing large amounts of data and can handle record shooting speeds. It will capture 20 frames per second in standard burst mode, but you can ramp this up to a ridiculous 90fps! Keep in mind that only seven pictures are taken in this mode, so time your shot correctly.
Autofocus is another of the RX100 VII's strong suits. While it's speedy and precise due to more than 350 AF points at your disposal, its true strength lies in sticking to the target. The camera tracks subjects in real-time and uses eye-tracking to stay glued to faces when people are in motion. You can use real-time tracking both in photo and video mode, ensuring that the footage you'll get is never blurry.
The RX100 VII is the leading point-and-shoot in its class when it comes to overall picture quality. Richness of detail isn't limited by the small sensor and is preserved even in difficult lighting situations thanks to broad dynamic range. Standard mode does a good job of maintaining color fidelity, and there are several other modes to choose from to bring colors out more.
What We Didn't Like
The Physical limitations of the RX VII take a toll on its battery. While 240 photos is decent for such a small camera, you'll want to carry a powerbank for extended shoots. Sony is known for its messy menu systems. There are improvements over the last-gen RX100, but menus are still hard to navigate if you're looking for more obscure settings. The fact that you can't use the touchscreen to navigate them doesn't help either.
Tech Specs
Dimensions: 4.0 x 2.3 x 1.7 in.
Weight: 10.7 oz.
Sensor: 1 inch
Burst: 20fps
Battery capacity: 260 shots
ISO range: 100 – 12,800
Max still resolution: 20.1 MP
Max video resolution: 4K, 30fps
The Pros
Small form factor jam-packed with features
Very high burst speed
Sophisticated autofocus
Produces vibrant colors and good white balance
The Cons
Convoluted menu system
Poor battery life
4. Canon PowerShot G1 X Mark III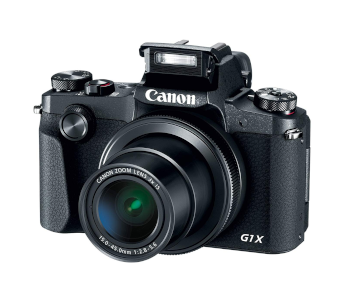 View on Amazon
Editor's Rating: 4.3/5
Do you want the versatility of a DSLR crammed into the body of a compact camera, because that's just what Canon's PowerShot G1 X Mark III is. This small yet feature-rich camera is an ideal travel companion and able to capture various facets of city life, whether far or near. It has a miniaturized zoom lens, excellent dynamic range, and an array of manual controls professional photographers will find indispensable.
Overview of Features
The Mark III has the soul of a DSLR in a compact body as hinted by its centrally-placed viewfinder. This is a tough little camera as it's weather-sealed and resistant to impact. Its small frame and lightness make the Mark III a suitable travel companion and a worthy alternative if you don't want to lug a DSLR around on a trip. The control scheme is minimalistic with mode & exposure wheels on top and a directional pad along with five buttons in the back.
Being a compact means that the Mark III has a fixed lens. Its aperture ranges from 2.8 to 5.6, and the lens has 3x zoom. It's a miniature version of kit lenses you'd encounter with the EOS M line. The lens retracts when not in use and doesn't make the camera front-heavy while extended.
The Mark III's overall image quality is excellent. Aided with dual Pixel CMOS AF, you can stick to moving subjects and fire off nine frames per second d in burst mode. The photos are sharp and free from camera shake thanks to electronic image stabilization. You can zoom to capture far-away targets or use the Mark III for macro photography as it can shoot from as close as 10 cm away.
This is another camera that gets high marks for dynamic range and night-time performance. There's even a dedicated night mode that uses the maximum 30-second shutter speed along with a bulb to produce stunning images of nocturnal cityscapes. During the day, you'll want to take advantage of advanced settings like the Auto Light Optimizer or Highlight Tone Priority to recover blown-out highlights and optimize contrast levels.
What We Didn't Like
The Mark III would have been number three on the list, were it not for its battery. Canon had limited space to work with, so the smaller battery used can only shoot 200 images per charge, 250 if you switch to Eco mode. Video performance is sub-par for the Mark III's price range as the resolution doesn't go over 1080p at 60fps.
Tech Specs
Dimensions: 4.5 x 3.1 x 2.0 in.
Weight: 14.1 oz.
Sensor: APS-C
Burst: 9.3fps
Battery capacity: 200 shots
ISO range: 100 – 25,600
Max still resolution: 24 MP
Max video resolution: 1080p, 60fps
The Pros
Performance of a DSLR in a smaller body
Excellent image quality
Capable burst mode
Performs well at night
The Cons
Low video quality for the price
Poor battery life
5. Panasonic Lumix LX100 II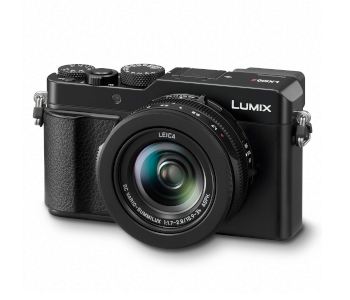 View on Amazon
Editor's Rating: 4.2/5
The Lumix LX100 II is a point-and-shoot you can carry around in a jacket pocket and use for all manner of street photography. It's quick to power on and even faster when honing in on subjects. The camera tackles different lighting conditions well and has excellent video capabilities on top of better resolution than its predecessor.
Overview of Features
The LX100 II looks nearly identical to the first model. However, closer inspection reveals that the handle has been improved and enlarged for a better grip. The physical controls are logically laid out and spaced tightly, so you'll need nimble fingers to access them reliably. The viewfinder has a resolution of more than 2 million dots. It performs well in sunlight, while the LCD responds to touch immediately. You can turn touch controls off if they interfere with shooting.
The lens is the LX100 II's standout physical feature. It has a zoom factor of 3.13 and fully retracts to save space. It springs into action in less than two seconds after you power the camera on. There's a focus adjustment ring around the lens along with switches for toggling between focus modes and aspect ratios. There's even a thread that lets you mount ND or polarizing filters. These are excellent for reducing glare and a must for when you're shooting skyscrapers on a sunny day.
The LX100 II's peculiar sensor supports multiple aspect ratios. You use its entire frame when shooting in 4:3 but can also switch to 16:9, 3:2, or 1:1. Whichever aspect ratio you choose, images come out sharp and detailed thanks to a lack of low-pass filtration and reliable internal stabilization. The autofocus has no trouble with speedy targets and even keeps up in low light, albeit at slower speeds. You can take advantage of daylight to capture action scenes at 11ffps as well. White balance is always on point, and you can expect usable images at ISO 1,600 or less.
Videos shot with the LX10 are of above-average quality. 4K combined with 30fps and Panasonic's array of autofocus & stabilization options gives you a lot of artistic freedom and makes for expressive clips. You can also use video mode to shoot 8K photos at 30fps.
Are There Drawbacks?
The LX100 II's biggest drawback as a city camera is the lack of LCD articulation. The screen is fixed in place, so getting photos from unconventional angles will require more work. There's no internal flash either. You do get a capable external one but have to remember to bring it along.
Tech Specs
Dimensions: 4.5 x 2.6 x 2.5 in.
Weight: 13.8 oz.
Sensor: Micro four-thirds
Burst: 11.3fps
Battery capacity: 300 shots
ISO range: 200 – 25,600
Max still resolution: 17 MP
Max video resolution: 4K, 30fps
The Pros
Small form factor that fits into most pockets
Versatile lens
Adaptive aspect ratios
Great video quality
The Cons
Screen is fixed in place
External flash
6. Best Budget Option – Canon PowerShot SX740 HS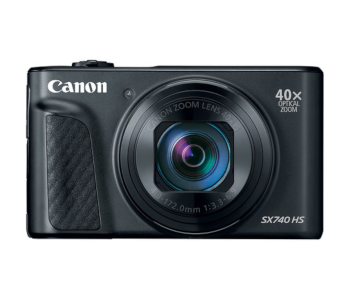 View on Amazon
Editor's Rating: 4/5
All the cameras we've mentioned so far can handle themselves in a wide array of circumstances. What they can't do is bring far-away objects closer due to limited zooming capabilities. Not so with the PowerShot SX740 HS, another Canon model that distinguishes itself with 40x optical zoom, a slew of auto & manual settings, and a price you'll love. This is the compact camera to get whether you're upgrading from a smartphone or want to leave the DSLR at home when going on city excursions.
Overview of Features
You'd think that a camera packing a 40x zoom lens would be bulkier, but the SX740 HS impresses with its slim build and pocketable dimensions. It lacks a viewfinder, and physical controls are both sparse and small. However, the SX740 HS makes up for some of this through clever design solutions like a pop-up flash and multi-function control dial. The dial, in particular, is an impressive feat as it incorporates a directional pad, allowing you to change various settings depending on the mode by rotating the dial or pressing buttons. These also act as navigation arrows when exploring the menus.
The SX740 HS offers a full range of manual shooting modes but helps novices with capable Full Auto too. There are shutter and aperture priority modes, along with an interesting novelty called Hybrid Auto. This mode records two-second videos before taking a picture and adds them all to a virtual calendar. The setting is perfect for when you're going on a day trip and want to remember why you took a picture of a dog standing in front of a corner store.
The powerful zoom is one of the main reasons you'd want to get the SX740 HS. 40x lets you find a good lookout point and capture different parts of a city in all its glory without having to visit them separately. Zoom Frame Assist is particularly helpful with this. Pressing a button while zoomed in will partially zoom the camera out, allowing you to find a lost subject or refocus on a new one.
The SX740 HS's overall performance is similar to the last camera in the series, but there are two significant improvements. One is the adoption of the DIGIC 8 processor, which results in better burst speeds. These have gone up from 4fps to 7fps while maintaining focus and 10fps when keeping the focus settings from the first image. The second improvement has to do with video quality. The SX740 HS records 4K videos at 30fps, making it a future-proof investment and one of the best 4K cameras you can get on a budget.
Image quality is decent and stacks up well against similarly-priced competitors. This is another of Canon's newbie-friendly cameras. It has the guided UI and a handful of photo modes you can quickly shift between to capture food, landscapes, or other situations. The default white balance is slightly yellow but can be easily fixed with manual control. The SX740 HS deals with contrast well and produces chromatic aberration only in the most challenging circumstances.
Are There Drawbacks?
The SX740 HS doesn't have a viewfinder. Its LCD is decent but becomes unusable in direct sunlight, a situation you could resolve if a viewfinder were present. Only the JPEG format is supported. Not being able to shoot RAW photos means you'll have to pay more attention to settings since post-processing won't recover as much detail.
Tech Specs
Dimensions: 4.3 x 2.5 x 1.6 in.
Weight: 10.5 oz.
Sensor: 1/2.3 inch
Burst: 10fps
Battery capacity: 265 shots
ISO range: 80 – 3,200
Max still resolution: 20.3 MP
Max video resolution: 4K, 30fps
The Pros
A competent superzoom at an appealing price
Intuitive control scheme
Guided UI great for beginners
Powerful burst mode
The Cons
Can't shoot RAW photos
Lacks viewfinder