Free and Paid T Shirt Design Software
3D Insider is ad supported and earns money from clicks, commissions from sales, and other ways.
Certain items of clothing never go out of fashion, and the trusty t-shirt is one of them. They are as popular above the waist as the timeless jeans are below it. Running a successful t-shirt business is an exciting opportunity with minimal startup costs. This page reviews some free and paid t-shirt design software programs. All these products allow artistic types to create new and unique designs.
Everyone likes to wear tees, from kids to adults, men, women, and even babies. A printed t-shirt business offers incredible opportunities for those who think creatively. There are too many who provide the same or similar designs. The potential here is to tap into a niche market that has high demand yet very little competition. Creating unique designs for a specific market is the way to achieve that goal.
Tools of the Trade
There are plenty of tools and software programs, but they're not all equal. This page looks at some of the best options and highlights their good and not so good features. There are several designing tools to consider if you want to control the entire process from beginning to end. They include:
PC or Mac to produce and print your designs
Graphics program to create your artwork
Printer, e.g., inkjet, laser, sublimation, and solvent
Cutter to create stencils for your screen prints
High-quality transfer paper/vinyl to print the designs on
Heat press to transfer the designs from the paper to the material
This guide is not about how to start a t-shirt printing business. Its primary focus is to highlight some of the t-shirt design programs available. However, there are a few mini-reviews for the equipment above at the end of the page. This way you get to see what's involved, the costs, and how it all ties together.
More than just T-shirts
Your focus is on tees, but it doesn't have to stop there. You can design prints to go on all manner of surfaces with your newfound skills and equipment. That could be other fabrics, items of clothing, bags, and caps, etc. Some heat presses come with special attachments that let you transfer designs to harder surfaces. Think coffee mugs, ceramics, jigsaws, coasters, and much more besides.
Design Software Defined
Not all design software for t-shirts is equal, not even close. It ranges from high-end sophisticated programs to simple free software apps and everything between the two. The things to look out for if you're new to designing include the following:
Price: fix your max budget from $0 to whatever
Look for novice-friendly features
Can save designs files into printer-ready file formats
Program must have high-accuracy
Software caters to the "specific" needs of your business
A social media share feature can also be useful. For example, you may want to share your designs to groups and encourage constructive feedback at the designs stage.
Take Your Time
OK, you're keen to start and eager to make that first sale. I say not so fast. Take your time and get familiar with how everything works. Remember, you need to offer something unique to stand out from the pack and succeed in this business. Otherwise, you'll end up as one more run-of-the-mill t-shirt business with nothing new to offer. Nor will you be able to compete with established companies.
My advice is to learn how to create distinct designs, look for niche markets, and prepare to test the water. Ask for honest feedback from strangers and allow for some wastage and trial projects. Just because you think your new design is fantastic, that doesn't mean others will agree.
About My 'T-Shirt Design Software' Guide
I have studied dozens of t-shirt design software programs to come up with this shortlist. I took the opinions of industry experts into consideration along with user feedback. Each of these short, no-nonsense reviews highlight the main features of each program. I also include a link in the titles so you can visit the websites if you want to learn more about a product.
Below is a list of the t-shirt design software programs reviewed further down. There are others, but these 8 products give you an idea of options available and how they work.
EDITOR'S RATING: 4.8/5
Adobe Illustrator is the company's professional graphics software platform. It's an excellent program but not something to invest for anyone starting small. This product needs to pay for itself to justify the cost. Illustrator is for pro-level users who prefer to work with vector graphics. They can scale any design up or down for any size t-shirt with zero loss in quality. Think business cards to billboards.
The other downside to Adobe Illustrator is its steep learning curve. It does have some excellent video tutorials, though. It's still a program that needs study and practice if you're to exploit all its features.
EDITOR'S RATING: 4.7/5
CorelDRAW Graphics Suite is another high-quality program for creating t-shirt designs. What's impressive with CorelDRAW is its turnkey design options for novice artists. It provides a seemingly endless amount of colors, fonts, and clipart at your disposal. There's also an option to create 100% unique graphics. It's possible to make designs for anything and everything using this program.
CorelDRAW Graphics Suite 2019 is easy to learn and use at the entry level. You can download a trial version or buy the software with full 30-day money back guarantee.
EDITOR'S RATING: 4.8/5
GraffixPro Studio is an excellent choice for newbies dipping their toe into t-shirt designs. It's super-easy to use, light on the pocket and has a foolproof user interface. Seriously, you can create a unique, personalized t-shirt design in only a few minutes. There's no steep learning curve or complicated graphics tools to master. It's hard to beat GraffixPro Studio as an entry-level design tool.
EDITOR'S RATING: 4.6
Consider Art Explosion T-Shirt Factory Deluxe. This is a fast and easy-to-use graphics program for custom t-shirts and apparel. The software comes loaded with 6300 designs, over 28000 graphics, and a photo editor. Artists can print their work onto the included transfer paper using a regular color inkjet printer. It's an excellent choice for anyone who needs a gentle introduction to their new enterprise.
EDITOR'S RATING: 4.4
Custom Ink is an online t-shirt maker and an ideal tool to create the occasional t-shirt design. You're free to be creative, but the designs are unlikely to be 100% unique. Still, it's a simple and affordable tool that's fun and quick to use. Consider Custom Ink if you want to create t-shirts for a group, business, or an upcoming event. It's also a creative business idea that you may want to explore.
EDITOR'S RATING: 4.6/5
Sonicshack Custom T Shirts Code is t-shirt design software for websites. It's a plug-in that presents a flash-based virtual studio on your web pages. Visitors to your site can design their tees using the easy-to-use built-in tools. You get a commission as an affiliate of the program when users order their newly-created designs. It's easy money if you can attract the right kind of web traffic.
EDITOR'S RATING: 4.5/5
People are always on the lookout for new and unique t-shirt designs. Shirtoid is the place to go for that. There's a simple search box that visitors can use to find the type of designs they're interested in. Shortlist this site if you have created some striking designs that you have trouble marketing. If Shirtoid accepts your work, then it's one more tool in your promotional arsenal.
EDITOR'S RATING: 4.7/5
Design Templates is an incredibly simple concept and ideal for newbies to the business. You don't need to know anything about graphic design either. Visit the site and have a go for yourself. It's a hassle-free service and 100% free to use for those who subscribe to Placeit.
Tools of the Trade | Heat Presses
The rest of this page looks at the tools of the trade. There are a couple of examples for each category, and we'll start with heat presses. The job of these machines is to transfer (imprint) your graphics and designs onto a substrate. In your case that's t-shirts, but it could be any surface material, hard or soft. The most common heat presses use a flat platen to apply heat and pressure to the substrate.
EDITOR'S RATING: 4.6/5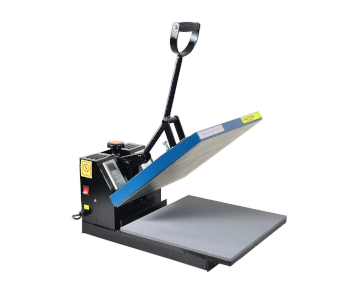 Fancierstudio's Power Heat press is a digital machine with a 15" x 15" lower platen. It has a temperature range of 0-699 degrees Fahrenheit and a time range of 0-999 seconds.
Product Highlights
The product arrives fully-assembled, which is always welcome for new users. The machine has a clamshell design with a pull-out drawer. The electronic heat and time controls make operations simple and accurate. It's an easy 4-button machine to work with and should last a long time with proper care. It's an excellent and affordable choice for beginners too.
Product Lowlights
The instructions are vague, so new users must search online for answers to questions. There's lots of help, but a detailed guide would have been better. The only other negative is a new machine stinks until you've used it a few times. Make sure there's plenty of ventilation.
Tech Specs
Brand: Fancierstudio
Color: Black/blue
Product Dimensions: 30 x 19 x 17"
Product Weight: 51 lbs.
The Pros
Fully assembled
Easy to use
Large platform
Great value
The Cons
Vague instructions
Smells for a while
EDITOR'S RATING: 4.4/5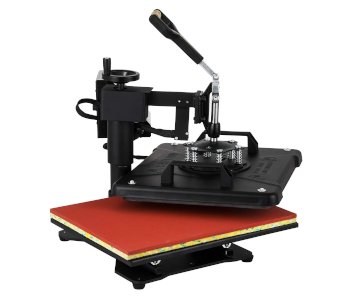 This is the VEVOR 5-in-1 multifunctional heat press machine. The large 12" x 15" Teflon coated platen is ideal for working on t-shirts. It has a temperature range of 0–480ºF and a 0–999 second timer. The 360° swing-away design is both convenient and safe to use.
Product Highlights
VEVOR's yellow-handle heat press has 5 Teflon coated plates and adjustable pressure settings. There are two plate presses with 5" and 6" max diameters, and a 15×12" flat/t-shirt platen. You also get a 3–3.5" diameter mug press, and a 6×3" curved hat/cap press.
Other standout features are the 2-in-1 digital LED controller and adjustable multi-spring balancer. The latter evenly distributes pressure across the closed platen. It's an affordable heat-press considering it's a 5-in-1 model with a bunch of useful accessories.
Product Lowlights
The instructions are lacking—a common problem with these products. My advice is to check YouTube if you have a hard time setting things up from the vague guide.
Tech Specs
Brand: VEVOR
Color: Black w/ yellow handle
Product Dimensions: 20.2 x 20.2 x 17.8"
Product Weight: 48.1 lbs.
The Pros
5-in-1 heat press
360° swing-away design
Heats up quickly
Excellent customer service
Digital LED controller
Detachable lower platform
Multi-spring balancer
The Cons
Vague instructions
Tools of the Trade | Vinyl Cutting Machines
You need a computer to send your designs to the cutting machine. There are certain things to consider whether you need a hobby-grade or commercial appliance. They include cutting width, type of motor, i.e., stepped or servo, and material compatibility. Modern machines can cut more than just vinyl, so think about your needs. Also, consider the ease-of-use and any essential accessories you may need.
EDITOR'S RATING: 4.6/5
Cricut's Explore Air 2 Mint DIY can write and score as well as cut. You can exploit these features and design unique cards or labels to go out with your tees. The built-in Bluetooth provides wireless cutting if you need it. There's lots of tools and support for designers with this product too.
Product Highlights
The Cricut Explore Air 2 is a best-selling DIY cutting machine. It's a versatile cutter designed to work with basic and specialty vinyl and iron-on, but that's not all. This device can cut over 100 material types. Some of those include, cardstock, poster board, specialty paper, and faux leather. The list goes on. The point is it's an excellent choice for your t-shirt business and much more besides.
Product Lowlights
There isn't any offline app for PCs with this machine. You must stay connected to use the web-based software. It's also hard to navigate until you get familiar with it. Design Space is a free, cloud-based software program, and it's quite impressive. However, there's quite a learning curve.
Tech Specs
Brand: Cricut
Color: Mint
Product Dimensions: 24 x 9.5 x 9.5
Product Weight: 14 lbs.
The Pros
Versatile cutting machine
Cuts 100+ materials
Writes, scores, and cuts
Bluetooth connectivity
Design Space software
The Cons
No offline app
Learning curve
EDITOR'S RATING: 4.5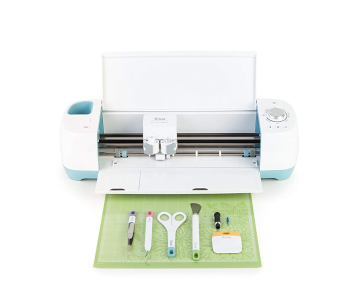 The second example is another quality cutter from Cricut. This model is the Bluetooth wireless Explore Air. It's a highly competent electronic machine. It can cut, write, and score more than 60 types of material using various accessory adapters.
Product Highlights
Many say it's the perfect companion for vinyl cutting and running a small t-shirt business. It can do much more as well if you want it to. One of the Explore Air's standout features is its Smart Set Dial. That means no complicated settings for different materials. A quick turn of the Smart Set Dial ensures precision cuts for all your projects.
The Cricut online Design Space software system has lots to offer by way of tools and ideas. The Library has over 50,000 projects, images, and fonts at your disposal.
Product Lowlights
Cricut Design Space software is cloud-based. That means you need a connection to the internet each time you want to use its services and features. Even a basic PC app would be a welcome backup solution. The Cricut Design Space software is impressive, but it has a lot to explore. There's a learning curve too, so new users need time to get familiar with it all.
Tech Specs
Brand: Cricut
Color: White/light blue
Product Dimensions: 25.4 x 10 x 9.2
Product Weight: 17.3 lbs.
The Pros
Deep cut blade
Cuts, writes, scores
Works with 60+ materials
Cut Smart technology
Smart Set Dial
50K+ images, fonts, & projects
The Cons
Web-based app only
Learning curve
Tools of the Trade | Heat Transfer Vinyl
Heat transfer vinyl—usually called HTV—is a specialty polyurethane material. It's what we use for t-shirts and other substrates. HTV typically comes in sheets or rolls of varying sizes, colors, and finishes. The better the quality, the easier the apparel decorator can cut, weed, and place the HTV onto a substrate. You can find heat transfer vinyl in many styles like opaque, glitter, metallic, and much more.
EDITOR'S RATING: 4.7/5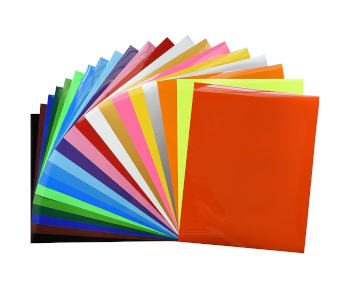 Fame Crafts' 20 sheet mixed bundle includes the most popular colors for t-shirt designs. They are; black, white, red, gold, silver, neon yellow, yellow, neon pink, pink, neon blue, blue, ocean blue, sky blue, neon green, green, light green, orange, deep orange, purple, and brown.
Product Highlights
This PU vinyl is ultra-thin, lightweight, and very sensitive to pressure. These are excellent characteristics for HTV. The thinness and sensitivity make it easy to weed even the tiniest details. Some brands of heat transfer vinyl fail when it comes to weeding smaller projects. This product is also durable and can withstand multiple washes and drying with no risk to quality.
Fame Crafts is confident that new customers will love its heat transfer vinyl. It offers a 30 day money back guarantee for anyone who's not 100% satisfied with the product.
Product Lowlights
Fame Crafts' HTV doesn't come with printed instructions for times, temperature, and peel time. There are instructions, but they're sent via email before the product arrives. Keep an eye out for that and check your SPAM folder if you don't see it.
Tech Specs
Brand: Fame Crafts
Color: Multiple (20)
Product Dimensions: 12 x 0.5 x 10"
Product Weight: 12.8 oz.
The Pros
20 sheet HTV bundle
All the favorite colors
Ultra-thin and lightweight
Sensitive to pressure
Easy to weed
Withstands multiple washes
30 day guarantee
The Cons
No printed instructions
EDITOR'S RATING: 4.6/5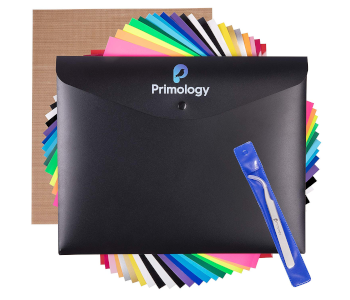 Primology's HTV is a 20 pack bundle of 12×10" sheets for iron-on t-shirts. The 18 colors include; 2 x black, 2 x white, red, gold, silver, green, neon green, orange, neon orange, yellow, neon yellow, pink, neon pink, deep pink, purple, ocean blue, royal blue, and sky blue.
Product Highlights
Primology backs up its high-quality vinyl with a 90 day warranty. These iron-on sheets work well with all cotton, polyester, and blends of cotton/poly. The pro-grade polyurethane sheets are thin and easy to weed. The bundle even includes a weeding tool. The HTV is durable and can withstand multiple washes without peeling or warping.
These sheets arrive inside a protective envelope ready to use. The instructions are also inside the pouch along with a Teflon cover.
Product Lowlights
The only minor con to this product is that the price is higher when compared to similar products. Still, the quality, ease of use, and professional packaging are worth the bit extra for most users.
Tech Specs
Brand: Primology
Color: multiple (18)
Product Dimensions: 12 x 10 x 0.1"
Product Weight: 19.2 oz.
The Pros
18 popular colors, 20 pieces
Ultra-thin, easy to transfer
Easy to weed
Withstands multiple washes
Includes a weeding tool
Protective envelope
Printed instructions included
90 day warranty
Tools of the Trade | Inkjet Printers
Most newbies start with an inkjet printer, but these machines vary a lot. If you already have a cheap inject printer at home, it's probably not going to deliver. It doesn't cost much to try, though, so don't replace it until you've done a few test runs. The ideal printer is economical with inks and consistently produces high-quality prints. The best machines will support a wide range of transfer papers.
EDITOR'S RATING: 4.7/5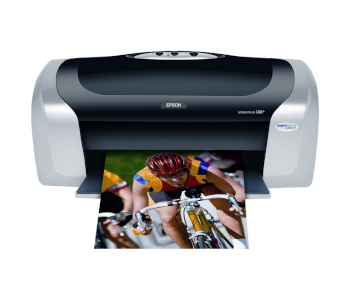 Epson's C88+ is an excellent choice for new and small t-shirt design businesses. You must use sublimation ink, though. You also need poly enhancers to prevent the ink from fading.
Product Highlights
The Epson C88+ is a favorite inkjet printer for t-shirt designers. It's simple to set up and even easier to use. The C88+ is compatible with Windows and Macintosh operating systems. It's fast too for a model in its class. This is a feature-packed inkjet and excellent value.
Product lowlights
Heavy users may experience some print head clogging. The way to prevent this is to maintain the machine regularly. Get to know how to remove the ink cartridges and run head cleaning diagnostics. Nothing is overly complicated, but it does take time.
Tech Specs
Brand: Epson
Color: Black & silver
Product Dimensions: 18.1 x 9.5 x 7.6
Product Weight: 10.14 lbs.
The Pros
Compatible w/ Windows and Mac
Smudge resistant
Fast printing speeds
Uses individual ink cartridges
Photo editing software
Networking options available
Excellent value
The Cons
Print heads clog
EDITOR'S RATING: 4.5/5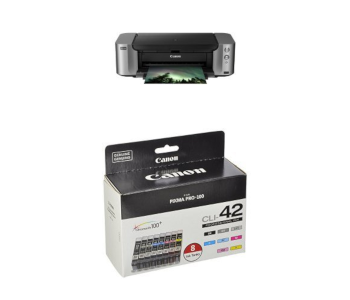 The PIXMA Pro-100 isn't a purpose printer for t-shirt designs. By that I mean it's not an inkjet for dye-sublimation printing. However, it's an excellent and high-quality choice if you use Canon's own TR-301 t-shirt transfer sheets. You also need to exploit it as a regular printer to justify the cost.
Product Highlights
The prints are high-quality and exceptional on glossy paper. It's a fast printer too. The user's manual is well-written and organized in a way that's easy to navigate. Canon's PIXMA Pro-100 can print 13×19" which some will find useful. It's an easy-to-use machine and a quiet runner. That last point is welcome news for those who do a lot of nearby printing.
Product lowlights
The PIXMA Pro-100 is big and heavy. That's a good thing if you have a dedicated space and a sturdy surface. It's a problem if you expect to store the printer away after every use. The ink cartridges are expensive and the tanks are small. That could make it a costly choice for casual hobbyists.
Tech Specs
Brand: Canon
Color: Black & silver
Product Dimensions: 27.2 x 8.5 x 15.2"
Product Weight: 43.2 lbs.
The Pros
Easy to set up and operate
Large size, heavy-duty
TR-301 t-shirt transfer sheets
High-quality prints
Prints up to 13×19"
Well-written manual
The Cons
Big and heavy (also a pro)
Expensive ink cartridges
Smallish ink tanks