6 Best Tablets for Seniors of 2019
3D Insider is ad supported and earns money from clicks and other ways.
Technology is advancing at such a rapid pace today that even those of us who follow the trends find it hard to keep up. You'd think that the older generation is falling hopelessly behind, but nothing could be further from the truth! More and more senior citizens surf the web and stay in contact with their families wherever they may be. Want your grandparents to become part of the digital age too? The best thing you can do is get them a tablet!
Tablets are uniquely suited to get older people interested in modern technology. They're less complicated than a laptop but more comfortable to read than a smartphone. They come with apps that make keeping in touch or discovering new things a snap. Best of all, tablets keep the mind sharp, allow seniors to make notes or track medication, and offer numerous ways to relieve boredom.
There's only one tablet made especially for seniors, but mainstream models are viable options too. The best tablets for seniors have large screens, can run for a long time without recharging, and have an interface that's easy to understand. This guide will help you choose the right tablet for the older person in your life, so dive in and see what's on offer.
Budget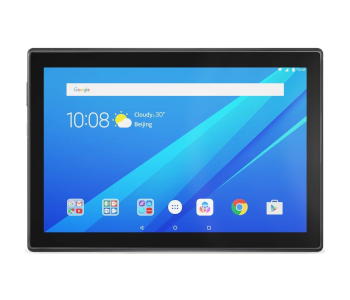 Lenovo Tab 4
4.5/5.0
Screen size: 10.1 in.
Resolution: 1280 x 800
This has adjustable vibration settings.
Check Amazon
Best Value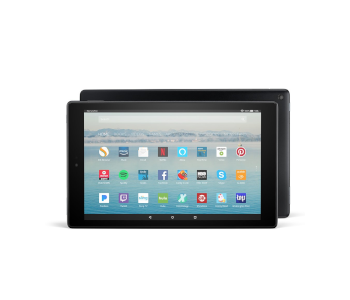 Amazon Fire HD 10
4.6/5.0
Screen size: 10.1 in.
Resolution: 1920 x 1200
Easy to use thanks to simplified interface & Alexa.
Check Amazon
Top Pick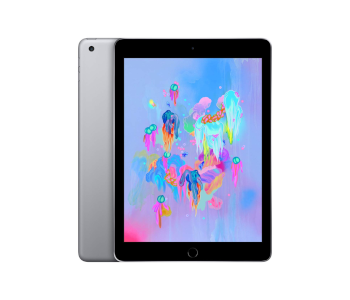 Apple iPad
4.8/5.0
Screen size: 9.7 in.
Resolution: 2048 x 1536
This has an excellent touchscreen and camera.
Check Amazon
Tablets for Seniors Comparison Table
1. Best Overall – Apple iPad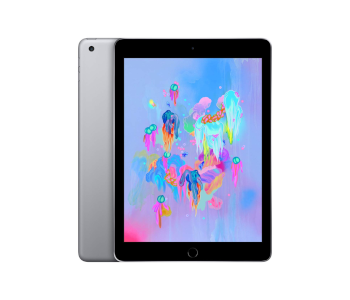 View on Amazon
Editor's Rating: 4.8/5
Apple's design philosophy is centered around ease of use, so it's no wonder that their latest iPad is on the top of our list. The tablet combines a powerful processor with a crystal-clear screen and numerous intuitive apps to give seniors the best possible experience. Whether you're tech-savvy or have never used a computer before, the iPad will ease you into a world of multimedia, discovery, and fun.
Overview of Features
The latest iPad's design remains traditional. It has large bezels along with conveniently-placed buttons and ports. The screen is its stand-out physical feature, however. It measures 9.7 inches and boasts a high resolution that makes everything on the screen sharp and easy to read. The screen is bright and displays both vibrant colors and the smallest details, so seniors get to enjoy photos of their grandkids like never before.
There's an 8-megapixel primary camera as well as a 1.2-megapixel one in the front. The main camera takes great-looking pictures with superb dynamic range and white balance. It's able to capture small details and photos have a natural look on auto settings.
Great battery life is another feature anyone will appreciate. Apple says the battery lasts 10 hours per charge, and their assessment is accurate. Charging it back up doesn't take long either.
The Apple A10 Fusion processor is behind the iPad's considerable power. Apps open within seconds, and touch commands are recognized immediately. It's overkill for someone who only wants to check their mail but will come in handy for seniors who don't shy away from live streams or the latest mobile games.
Apple's iOS operating system is streamlined and easy to grasp. It comes with all the apps an older person would need to write down notes, read the news, or get in touch with their family. Siri is by far the best accessory for seniors, though. She acts as a virtual assistant, meaning she can access apps or schedule appointments. Better yet, you can turn on VoiceOver and have her narrate everything that's going on. An iPad is the best tablet for people with impaired vision as nothing on Android comes close to Siri's ease of use and versatility in listening to and executing commands.
What We Didn't Like
The iPad is among the more expensive tablets on review. It gets even worse if you're considering useful accessories like the Apple Pencil or an external keyboard. You're limited to the iPad's onboard storage because it doesn't have a card slot. That means you either have to get the more expensive 128GB version or periodically delete unwanted files.
Tech Specs
Dimensions: 9.4 x 6.6 x 0.3 in
Weight: 16.8 oz.
Screen size: 9.7 in.
Resolution: 2048 x 1536
Storage space: 32GB
Memory: 4GB
Processor: Apple A10 Fusion
Camera Resolution: 8MP rear, 1.2MP front
The Pros
Easy to use for beginners
Excellent touchscreen and camera
Outstanding accessibility options
Long-lasting battery
The Cons
Expensive
Limited to internal memory
2. Best Value – Amazon Fire HD 10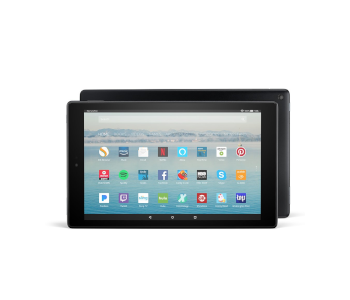 View on Amazon
Editor's Rating: 4.6/5
Amazon released its first Fire tablet in 2015 with mixed results. People liked its focus on multimedia, but a low-quality screen and slow response times held it back. The Fire's newest version fixes all of these shortcomings and is a boon for seniors thanks to the inclusion of Amazon Alexa. It's the perfect tablet for avid movie-watchers and offers a custom experience the less technically-inclined will appreciate.
Overview of Features
The Fire HD won't be winning any design awards. Its case is made entirely from plastic, and thick black bezels surround the screen. It's among the heavier tablets on review, weighing in at 17.7 ounces. On the other hand, its build quality is excellent for the price range. The volume and power buttons are fixed in place and respond well with satisfying clicks. There's also a 3.5mm jack as well as a MicroUSB port for charging.
Amazon took its customers' complaints to heart and completely redesigned the Fire HD 10's touchscreen. It is now a beautiful 1,920 x 1,200 IPS panel with almost as many dots per inch as the newest iPad! The step-up in color quality impressed us the most, and brightness is better too. The screen is still too reflective for use in direct sunlight, but it's light years ahead of the original.
Audio on the Fire HD 10 is superb! Its stereo speakers are powered by Dolby Atmos technology and loud enough to fill an entire room with the sound of music from your youth or an action-packed western. You could use the audio jack if you're an audiophile. Everyone else will find that the tablet's built-in sound system works well enough on its own.
The Fire HD 10 runs on Amazon's proprietary Fire SO. The operating system is easy to use and focuses highly on multimedia. It gives you quick access to movies, music, shows, etc., and lets you synchronize them with other Amazon devices. That way you can start an episode of your favorite show on the tablet and resume it later on a Fire TV. There's also a special For You tab that summarizes your activities and tries to offer recommendations.
Alexa is the Fire's best feature. While she doesn't have as many accessibility features as Siri, Alexa does make using the tablet much easier. You can tell her to put down a note in your calendar, read a recipe, or catch you up with the latest news. Giving voice commands is hands-free and comes naturally, so seniors are more likely to embrace the Fire HD and use it frequently.
What's Bad About It?
The Fire HD 10 has abysmal cameras. Its back camera's resolution is a mere 2 megapixels, and the photos it takes are full of patches during sunny days, let alone in low light. While easy for seniors to grasp, Fire OS is limited. You'll find a disappointing content selection if you aren't a Prime member. Even if you are, Amazon's app store is way behind the likes of Google Play.
Tech Specs
Dimensions: 10.3 x 6.3 x 0.4 in.
Weight: 17.7 oz.
Screen size: 10.1 in.
Resolution: 1,920 x 1,200
Storage space: 32GB
Memory: 2GB
Processor: Quad-Core 1.8 GHz
Camera Resolution: 2MP rear, VGA front
The Pros
Easy to use thanks to simplified interface & Alexa
Great sound quality
Screen is much better than the original's
Sturdy build
The Cons
Limited selection of apps and reliance on Prime
Bad cameras
3. Consumer Cellular GrandPad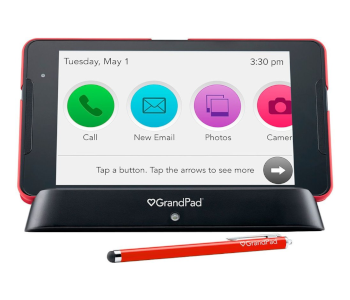 View on BestBuy
Editor's Rating: 4.6/5
All the tablets we've covered so far are intended for use by the general public. Are there any senior-specific options? It turns out there's only one at the moment. Consumer Cellular has teamed up with Acer to bring out the GrandPad, a heavily customized Android tablet ideal for technophobic elderly people. It has everything you could need to keep in touch with elderly family members and is extremely easy to use.
Overview of Features
The GrandPad is a unique tablet with an 8-inch screen, front and back cameras, and powerful speakers. The tablet rests in a charging cradle that keeps it topped up, so its owner doesn't need to remember to keep it charged. The eight-core processor ensures that you can get to every app quickly while 32GB of onboard storage is plenty for a photo & video collection.
Before you set the GrandPad up, you need to download the eponymous app and create an account. You use the app to create GrandPad's trusted home network and administer the tablet. It lets you share media from your phone's library, create new contacts on the GrandPad, and whitelist numbers from outside the network.
When you boot up the GrandPad, you're greeted with a simplified interface consisting of large, easy-to-read icons. There are 11 pre-installed apps, and you can't add more. Call and Email are the most useful since they facilitate communication with the older person. You determine who gets to call the tablet, while the senior can send emails either by using the on-screen keyboard or as voice mail.
Photos and camera are the GrandPad's multimedia center. Users can browse photos they take with the cameras or their caretakers transfer over from their phones. Both cameras are 5 megapixels and produce decent results. Combined with the loud stereo speakers, they make two-way communication through video calling enjoyable and easier for the older person to follow.
Other apps offer curated content and tools seniors will find useful. For example, Music gives them access to classical and old-timely songs, while Articles presents them with interesting reads on knitting, pets, and the like. Lookup provides access to an encyclopedia and dictionary while Toolbox contains a magnifying glass and flashlight. There are even a few games to pass the time like hearts and blackjack.
Are There Drawbacks?
The GrandPad's biggest shortcoming is its dependence on Consumer Cellular's monthly service. You first need to pay $200 for the device and then use the provider's unlimited data plan which costs $40/month. What you see is what you get, meaning that you can't upgrade the GrandPad if the older person feels they can handle more. It' s one thing to design a tablet to be easy to use. However, not allowing its users normal internet access through a browser, at least optionally, is limiting.
Tech Specs
Dimensions: Not specified
Weight: 12.5 oz.
Screen size: 8 in.
Resolution: 1920 x 200
Storage space: 32GB
Memory: 2GB
Processor: Octa-Core Qualcomm MSM8953-3-AB, 2GHz
Camera Resolution: 5MP rear, 5MP front
The Pros
Designed specifically with the elderly in mind
Loud speakers and good cameras
Caregivers can administer the tablet for a better user experience
Simple interface with a small number of useful apps
The Cons
Can't be used without monthly subscription
No way of browsing the internet
4. Huawei MediaPad T5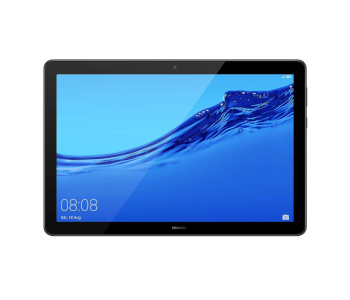 View on Amazon
Editor's Rating: 4.4/5
You don't have to spend upwards of $200 to get a tablet that can accommodate all of a senior's needs. Case in point – Huawei's MediaPad T5. This mid-range tablet sports a responsive 10-inch screen and has enough power to handle both CPU- and graphics-heavy use. The custom user interface is easy for beginners to grasp, and good battery life ensures you won't need to charge it often.
Overview of Features
The T5 looks stylish with its all-metal back and machined round corners. The tablet is slightly textured for a better grip and isn't hard to hold as it weighs 16.2 pounds. There's a single MicroUSB port that connects external devices and charges the battery. Speaking of which, the 5,100mAh battery lasts for 9 hours, 10 if you turn off the GPS.
The 10-inch IPS touchscreen isn't as well made as the iPad's. Nevertheless, it has a resolution of 1080p and is bright enough to be used outside. You'll have no trouble watching movies or reading in the shade, but its reflective surface makes the screen unusable in direct sunlight.
Audio on the T5 is adequate for everyday use. The built-in speaker reproduces mids and highs decently but falls flat when lows are involved. Thankfully, there's a 3.5mm jack you can plug headphones or an external speaker system into if you're hard of hearing.
You control the T5 through the EMUI custom user interface overlaying Android Nougat. Frequently used apps like the camera, browser, and video player are on the bottom of the main screen while apps specific to the device, and Google are grouped separately. The interface has a clean look and doesn't take long to master.
The octa-core Kirin 659 SoC and 3GB of RAM at the T5's heart ensure that browsing is smooth and applications respond quickly. You get 32GB of storage 22 of which are usable. It's possible to extend that to 256GB with an SD card, but the extra space is only usable as an external drive, meaning you can't install apps on it.
What We Didn't Like
The worst thing about the T5 are its cameras. They both produce slightly blurry images. Their colors are underexposed too. You can fix that by tinkering with photo settings, but a camera intended for seniors should produce better results on its own. Charging the T5's battery from empty to full takes more than four hours.
Tech Specs
Dimensions: 9.6 x 6.5 x 0.3 in
Weight: 16.2 oz.
Screen size: 10 in.
Resolution: 1080p
Storage space: 32GB
Memory: 3GB
Processor: Kirin 659 SoC
Camera Resolution: 5MP rear, 2MP front
The Pros
Excellent value for the money
Big, responsive screen
Handles everyday workloads well
Intuitive custom interface
The Cons
Mediocre cameras
Long recharge time
5. Samsung Galaxy Tab A 10.1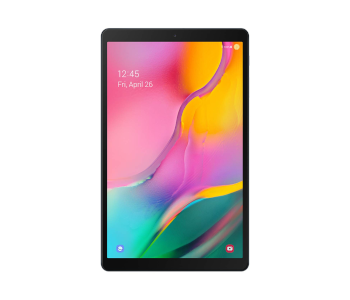 View on Amazon
Editor's Rating: 4.3/5
Samsung's newest mid-range tablet offers excellent all-around performance. It has a beautiful screen, functional cameras, Samsung's streamlined take on the latest Android OS, and more. This is the perfect device for inquisitive seniors who want to experience everything a modern tablet can do.
Overview of Features
The latest Galaxy Tab A has finally moved to a metal rear panel. Its bezels are thinner than the 10.5's too, giving the tablet an elegant look. Its weight is comparable to other tablets of the same size and shouldn't cause you discomfort. Physical controls consist of buttons for licking the screen and adjusting the volume. Ports include MicroSD, a headphone jack, and USB-C for charging and data transfer.
The 10.1-inch screen has the same resolution as the Amazon Fire. It is brighter and has better contrast though, which h puts it just shy of the iPad's quality. The screen is laminated and fingerprint-resistant, so you won't need to clean it as often as less expensive ones.
You can take lots of photos and have great-looking chats with the family thanks to the Galaxy Tab A's two cameras. Their resolutions are 8 and 5 megapixels respectively, and their image quality is top-notch.
The same can be said for the tablet's battery life. Even heavy use, including Skype calls or movie streams, sees the battery exceeding ten and a half hours runtime. Lighter activities like surfing and answering emails increase battery life further. The battery's capacity is 6,100 mAh, but thanks to USB-C it charges in under four hours.
The basic version of the Galaxy Tab A 10.1 has 32 GB of storage and 2GB RAM. You can increase it either by buying a 64 or 128GB version or inserting an SD card. More expensive versions of this model also have 3GB of Ram instead of 2. The tablet supports SD cards up to 400GB, and you can install apps onto them as well.
This is the first tablet to feature Android version 9.0 and comes with One UI, Samsung's custom overlay. The tablet's highlights in this respect include a split-screen that lets you run two apps at once, standard Google & Microsoft Office software, and a selection of Samsung's store & note-taking apps.
What's Bad About It?
The Galaxy Tab A 10.1 has a weak Wi-Fi antenna. You'll need to place the tablet close to your router or else risk frequent connection loss. 2GB of memory is fine for casual use, but having too many apps open at the same time slows the device down considerably.
Tech Specs
Dimensions: 9.7 x 5.9 x 0.3 in
Weight: 16.6 oz.
Screen size: 10.1 in.
Resolution: 1,920 x 1,200
Storage space: 32GB
Memory: 2GB
Processor: Octa-core 1.8 GHz
Camera Resolution: 8MP rear, 5MP front
The Pros
Outstanding battery life
Screen is sharp and delivers details well
Quality cameras
Well-designed user interface
The Cons
Unreliable Wi-Fi
Basic version has too little RAM
6. Best Budget Option – Lenovo Tab 4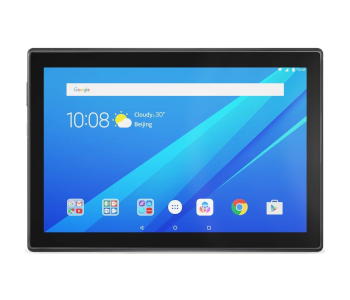 View on Amazon
Editor's Rating: 4.5/5
The most affordable senior-friendly tablet on our list is Lenovo's 10-inch Tab 4. Its price might be approaching the bargain bin, but don't underestimate the Tab 4's performance or versatility. It has two decent cameras, runs a slim version of Android, and boasts a large screen at a price point where competitors are considerably smaller.
Overview of Features
The T4's appearance is nothing special – a plastic exterior framed with medium-sized bezels in the front. At 1.1 pounds it's on the heavier side, but propping the Tab 4 up from behind is easy since its backside is slip-resistant. A micro SD card slot lets you expand its memory to 128GB. The MicroUSB port and 3.5mm jack are there for charging and amplifying the tablet's mediocre sound experience.
The 10.1-inch screen is adequate for the price. It has the lowest resolution on our list and isn't as bright as the others. Color fidelity is good but not great. On the other hand, the screen has a wide viewing angle so you won't need to stare directly into it.
The Lenovo Tab 4 has the best battery on review! It can last 11 and a half hours under heavy strain and much longer if you don't play games or watch movies.
This is a tablet designed for light tasks such as social media and general surfing as evidenced by its quad-core processor and 2GB of RAM. Luckily, these aren't taxed with loads of bloatware that commonly ships with tablets and phones these days. Lenovo has kept their intervention into the Tab 4's SO to a minimum. Their Sharer app is actually a welcome addition since it lets you sync the tablet with multiple other devices. That way, you can keep grandma's media library up-to-date with the latest family photos.
Another feature older folks will find useful is the Tab 4's tactile nature. The tablet comes with Google's Gboard and has multiple vibration intensity settings. These apply to physical as well as virtual buttons, so the user always knows when they've pressed something.
Are There Drawbacks?
As mentioned above, the Tab 4's sound could be better. The tablet comes with multiple audio profiles, but these can't eliminate its tinny and flat sound. You'll need some quality headphones if you plan on listening to a jazz collection through it. The device ships with Android Nougat 7.1, an older version of the OS that's nearing the end of its life cycle.
Tech Specs
Dimensions: 9.7 x 6.7 x 0.3 in
Weight: 17.6 oz.
Screen size: 10.1 in.
Resolution: 1280×800
Storage space: 32GB
Memory: 2GB
Processor: Qualcomm Snapdragon 425
Camera Resolution: 5MP rear, 2MP front
The Pros
10-inch screen at a great price
No bloatware
Excellent battery life
Adjustable vibration settings
The Cons
Low audio quality
Outdated OS