Taiwan's ATOM Delta 3D Printer Launches On Zeczec
3D Insider is ad supported and earns money from clicks, commissions from sales, and other ways.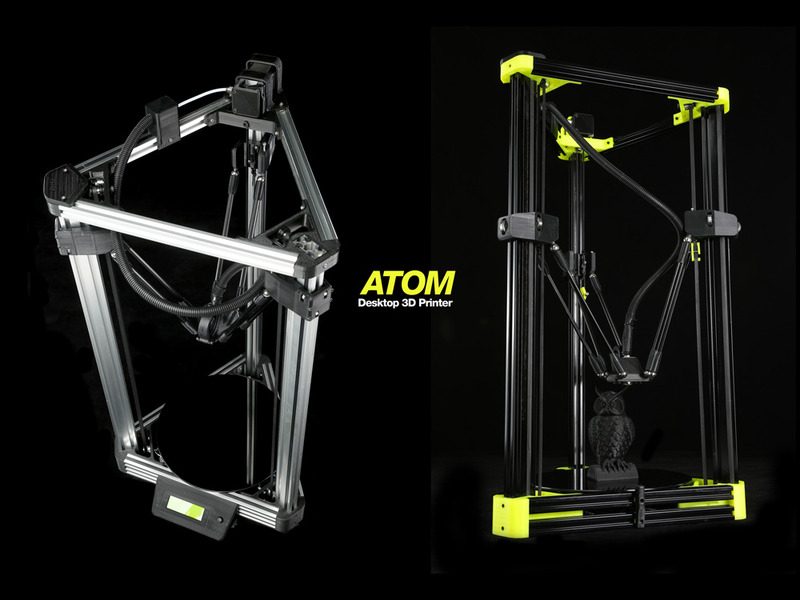 ALT Design Launched their ATOM Delta 3D printer on Zeczec and have already smashed their goal of NT$600,000 in four days. Zeczec is a crowdfunding platform similar to Kickstarter but based in Taiwan.  ALT Design was founded by Lawrence Lee and Cai Jai Yin back in 2012. The two of them have experience in architecture and industrial design.
The ATOM 3D printer is based on the much loved Delta style layout. Lee and Yin decided to go with special magnets for many of the joints. They believe this is an improvement over regular biaxial joints or ball joints and significantly reduces friction. It also features a sturdy aluminium frame and a high print resolution.
https://www.youtube.com/watch?v=ne3dEJ_1sVw
Specs:
Printing technology: Fused Filament Fabrication (FFF / FDM)
18cm + diameter x 33 cm + high build volume (8000 cm3 or more)
Precision: min 0.05mm / max 0.3mm
Filament: Ø 1.75mm PLA
Print speed: 100 mm / s
Nozzle moving speed (max): 300 mm / s
Machine Dimensions: 37 x 42 x 76 cm
Power Supply: AC 100 – 240V, ~ 2 amps, 50-60 Hz
Power Requirements: 12V DC @ 5 amps
Ports: USB, SD Card
Software: Repetier Host
Weight: 8kg
NEMA17 1.8° step angle 1/16 micro-stepping
The ATOM has already raised over NT$1,400,000 and early birds can grab a kit for themselves for NT$33,000. Assembled ATOM's will cost you NT$50,000. Check out the ATOM 3D printer over at zeczec.com and the ATOM's website at atom3dp.com.
http://www.youtube.com/watch?v=jC34-PajMlc
Warning; 3D printers should never be left unattended. They can pose a firesafety hazard.