20 Last-Minute Gift Ideas for Techies and Gadget Lovers
3D Insider is ad supported and earns money from clicks, commissions from sales, and other ways.
The holiday season is also the season for gift-giving. Unfortunately, having the foresight to think of which gifts to give is not a 'gift' that all of us have. Perhaps all those hours spent doing last-minute work ate up all your energy, or this whole pandemic season is stressful enough.
Regardless, there's still some time for you to scrounge up some last-minute gifts. If you have techies or people in your life who are gadget lovers, then here are some gift ideas which you can buy with little effort.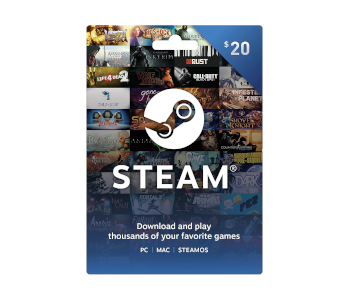 If you need a gift for a PC gamer, then nothing could be easier than giving them a Steam Gift Card. These cards come in $20, $50, and $100 denominations, and can be easily bought online. Just buy the card, send the code, and you have the perfect gift in less time than it takes to make a cup of coffee. Best of all, you give them the choice of which game they can buy with the credits.
Conversely, you can also gift them specific digital titles. If you have a Steam account, you can buy any game and choose to give it as a gift. This is a great option if you have a friend who you know has always been on the lookout for a game to go on sale. If you have a favorite game that you would like to recommend, this is also a great way to get your friends to try it out.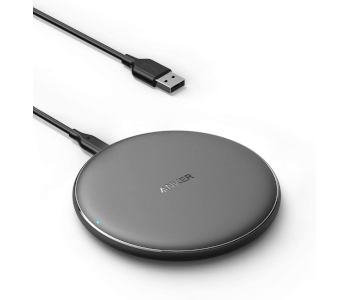 At an age where everything is going wireless, it makes sense to be also using a wireless charger for your devices. The compact Anker PowerWave Pad works for a wide range of smartphones (particularly Apple and Samsung brands) and wireless earbuds. It even works for phones with thick cases, as long as there isn't anything that can interfere with magnetic signals (metal parts, keys, and credit cards).
Just as a side note, make sure that the device of the person you're gifting is compatible with the Anker PowerWave pad. You can get in touch with Anker for clarifications or look for other wireless chargers, in case you're doubtful about compatibility.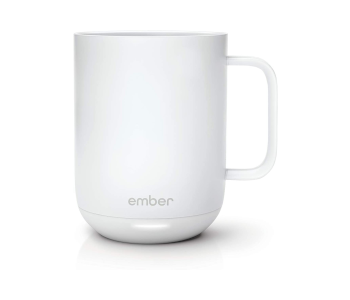 While there are a lot of things in life that can be worse than a mug of room-temperature coffee, this is an aspect of life that we can now do something about. This Smart Mug from Ember could just be the answer to all the cold coffee woes of that special person in your life. Through the Ember app, the mug can be paired to your phone. This gives you control over the specific temperature of your beverage, which the mug can maintain for up to an hour.
There may be a lot of things that you cannot control right now, but the temperature of your coffee is no longer one of them.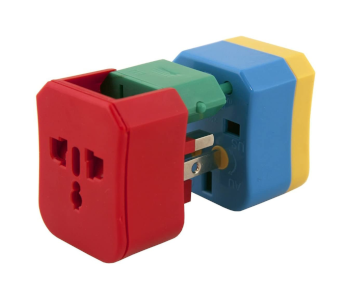 Don't you just hate it when you check in a hotel and find that none of the sockets fit your devices? You either have to call the front desk for an adapter or look for one in a nearby electronic store.
If you know someone who travels a lot with multiple devices, then this 4-in-1 adapter could be a huge time-saver. The different plugs neatly fit into each other, making a very compact bundle that is easy to throw into a traveler's carry-on bag. They are also color-coded for convenience. Just a warning: this is an inexpensive product, so it's not top-notch in terms of durability.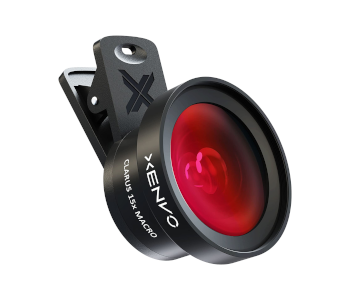 If you know someone who loves taking photos of everything with their phones, then this attachable Pro Lens Kit from Xenvo will surely make them excited. Take note that this is compatible only with phones that have single or dual-camera setups – you're going to have to hold out for phones with three cameras.
The kit contains a wide-angle lens, a 15x macro lens, a rechargeable LED light clip, and a lanyard. Aside from the good build quality of the lenses, they take excellent photos. Most of the people who have tried these lenses are impressed at how well the photos turn out.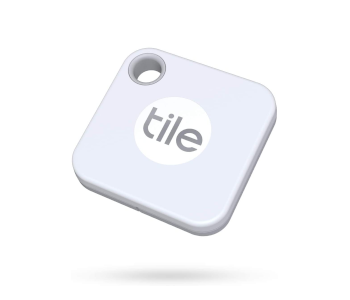 This tiny Bluetooth Tracker from Tile is a great gift for people who always end up losing their keys, bags, phones, or purses. You simply need to pair the Tile to your phone using the Tile app, and you can use the app to either locate the tracker or to make it ring. It also works the other way around – if your phone is missing, just press the Tile button on the tracker and your phone will ring.
For such a tiny device, the Tile tracker is easily one of the best gifts you can give this holiday season. It can save a person a lot of time and frustration looking for things they often misplace.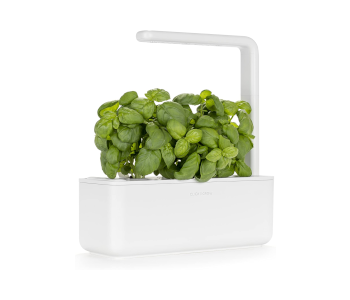 If there's something good that has come out of this pandemic season, it's the fact that more people have learned to grow their own food. If you know someone who does not enough space for a real garden, then this Smart Garden from Click and Grow will make a great gift so they don't miss out on the experience.
The Smart Garden contains three pods to grow herbs and other small vegetables. Being a "smart" device, all you need to do is to fill up its water reservoir and the device will take care of when the plants need to be watered and when the LED lights will be turned on. The Smart Garden is small enough to place on a desk or hang on a wall.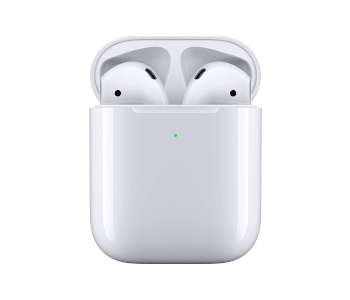 The Apple Airpods is a "safe" holiday gift, considering that we can't imagine anybody not getting thrilled to receive one. There may be a lot of wireless earbuds nowadays, but few can compare to the premium branding that Apple can provide. Performance-wise, the Airpods also do not disappoint while delivering streamlined compatibility with other Apple devices and services.
This version comes with the wireless charging case, but you can also buy the wired version if the person you're gifting it to does not have a wireless charger.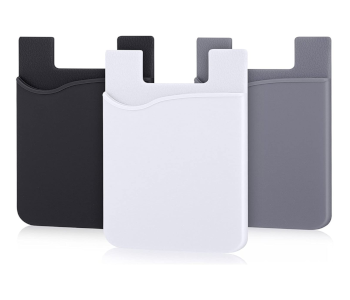 Now that most businesses are transitioning towards cashless transactions, it's no longer practical to carry around bulky wallets. This compact wallet is a much more convenient option, especially since it just sticks on to your cellphone.
Made of high-quality anti-slip material, this compact case has enough space for several cards and some cash. It can also double as a pocket for your earbuds, so they end up getting tangled in your bag. It is compatible with most smartphones with screens that measure at least 4 inches across. Versatile and convenient, our only question is why anyone had not come up with this idea sooner.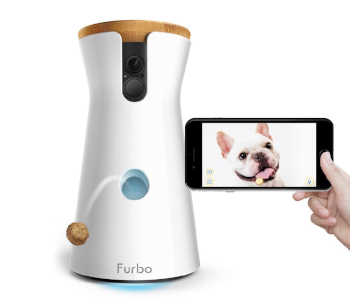 Taking care of our dogs is less of a problem now that most of us are stuck at home, but what's going to happen to them once we have to go back to work or school again? The Furbo Dog Camera is a great way to get your dog ready for when that day comes.
Using a connection to your local network, the dog camera can be monitored and controlled using your phone when you are away. It comes with one-way video for monitoring your dog and two-way audio for communication.
What makes this a "dog camera" and not just a standard home security camera is the fact that it's also a treat dispenser. Using your phone, you can give your dog a treat in the middle of the day. If you have a friend who has ever wondered what their dog does while they are away, this gift is going to be a sure hit.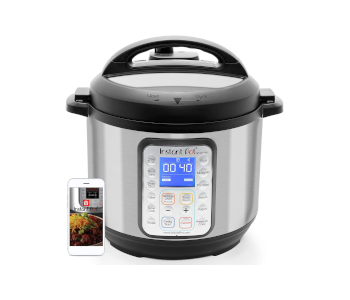 This "smart" Instant Pot will make a great gift for a friend or loved one who has recently rediscovered the joy of home cooking because of the WFH lifestyle. As enjoyable as cooking can be, it can also be time-consuming. This Instant Pot provides a way to come up with great meals without having to watch over the stove for several hours.
With Wi-Fi connectivity and compatibility with Alexa, this 8-in-1 Instant Pot can be controlled and monitored using just your smartphone. This is a great convenience for when you need to prepare a meal, yet attend an online meeting or rush to meet a deadline. From making stews to yogurt, this might just be the best addition to the kitchen of someone special to you.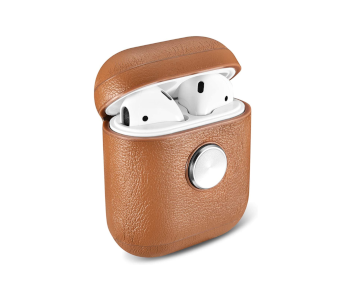 File this under "fun things to own" – a leather case for Apple AirPods that doubles as a fidget spinner. Yes, the craze for fidget spinners may have come and gone, but there are still people who genuinely benefit from them. If you know someone with this condition AND also happens to own a pair of Apple AirPods, then we cannot think of a more appropriate gift. It also helps that the leather finish looks pretty good.
As a side note, the leather case comes with a hole for the charging port. Although the wireless charging case theoretically fits inside this leather case, the metal "spinners" likely interfere with the magnetic waves needed for wireless charging.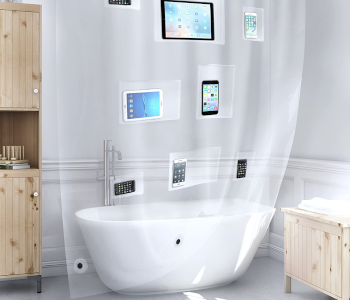 We all know someone who likes to bring their phones to the shower or the bath so they can continue watching movies or browsing social media. No matter how carefully you do this, there is always that small risk of the device getting wet and getting irreversibly damaged. This shower curtain provides a solution to that dilemma.
The Better than Bubbles shower curtain is made with EVA material and has several pockets for you to put your phone or tablet into. Take note that the pockets go OUTSIDE the curtain – they are not sealed at the top. The pockets are sufficiently heavy-duty even for big tablets. The shower is also weighted magnetically to avoid from flopping over, potentially throwing your devices all over the shower area.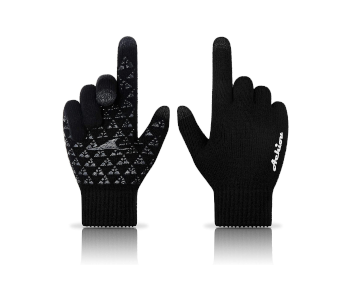 Winter and touchscreen devices is a combination that just doesn't work, especially if you have to be outside all the time. These touchscreen gloves will make a great gift to anyone with this problem.
Aside from the three-finger touchscreen feature, these gloves also have anti-slip surfaces on their palms. This is great for driving or for doing any type of outside work. The stretchy and breathable but warm material is comfortable for long periods, yet does not hamper productivity.
The Switch Lite may be the perfect gateway gaming device for young gamers, but we're not discounting the fact that adult gamers could also have fun with it. In fact, the Switch Lite is probably the most versatile gaming device in terms of all-around appeal and accessibility.
The Switch Lite is the lower-priced version of the Switch, featuring compatibility with all Switch titles minus the ability to dock the device and play it on a TV. Worry not, as you can still play all the excellent Nintendo titles on the Switch Lite. The handheld device is available in four eye-catching pastel colors and can be bundled with different microSD card options.
If you're willing to splurge a little, you can buy the Nintendo Switch version for about a hundred dollars more.
Now that we're spending a lot more time at home, we also inevitably need to clean up after ourselves more often. This is a repetitive and frustrating task that can get old pretty quickly. If you're gifting anyone in your life with the iRobot Roomba, we see absolutely no reason why they would not be thanking you forever.
The Roomba 880 is a fully automatic robot vacuum that will move around the floor while sweeping up dirt and dust. It adapts to obstacles in the room and can even be programmed to stay inside one room or clean up to three rooms. If it needs to be recharged, it can find its own way back to the charging dock.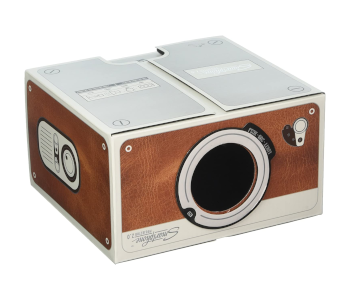 Are you still watching videos on your phone? That is so 2010s! Even if you don't have a Smart TV nearby, this smartphone projector is a great alternative to watching videos on your phone's tiny screen.
The best thing about getting this smartphone projector as a gift is that it's pretty inexpensive. That said, it is made of cardboard and shouldn't be expected to perform at a professional level of quality. It can be assembled, disassembled, and brought around to parties, which we think is a nice consolation. It's a cute gift but don't expect too much from it.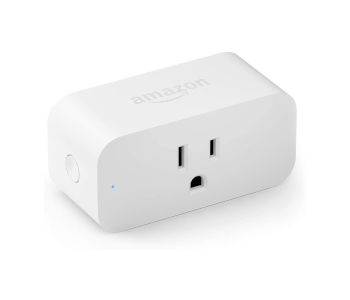 In terms of all-around practicality and usability, this is probably one of the best items on this list. This smart plug can be connected to your local network or set up with Alexa, allowing you to control your household items remotely or program them to turn on and off according to schedules.
Aside from stress-free and worry-free home management, the smart plug is also a way to make just about any appliance in your house "smart." Just set up the smart plug with Alexa and you can control any of them via voice commands. Want to start brewing coffee early as soon as you wake up? Just tell Alexa. For best results, the Amazon Smart Plug works really well with the Echo speakers.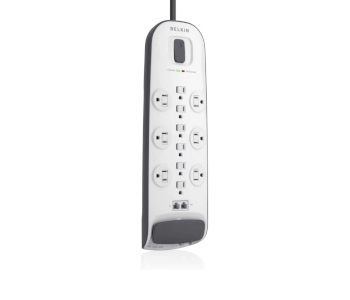 As our electronic devices have evolved, so too must our power strips. This 12-outlet power strip from Belkin not only consolidates the power needs of several devices but also provides heavy-duty surge protection. If you know someone who lives in areas prone to power outages, this would be the kind of gift that keeps on giving.
What makes this power strip unique is that it has ports for Ethernet, coaxial, and telephone cables. This means it can also provide surge protection for your Internet, cable, and satellite connections. Moreover, the power strip itself has protection against fire, rust, and impact and is suitably durable against dents and scratches.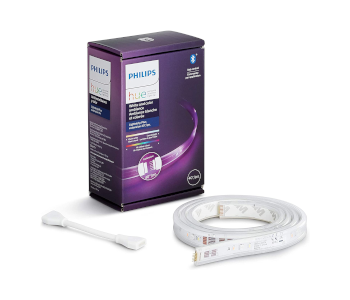 In the home of the future, there is seemingly one new design aesthetic – you can never have enough light strips. This concept of bias lighting helps enhance the brightness and contrast of TVs, but also makes a great accent for any area. Moreover, light strips have the advantage of flexibility, making them easy to install just about anywhere.
While light strips are a dime a dozen nowadays, there is still a strong case for the premium (and admittedly more expensive) Philips Hue brand. These light strips can be controlled via the Hue app and customized to take on one of the millions of color options. You can even build an entire smart lighting system out of Philips Hue products, although that will take quite a bit of an investment.
Final thoughts
Although the season of gift-giving can feel stressful for some, it really doesn't take a whole lot of effort to come up with a thoughtful gift. Techies and gadget lovers are some of the easiest people to gift – we can easily come up with a list of 20 more gift ideas. With just a few days left, now would be a great time to grab any of the suggestions in this list.