How to Use a Controller with the Tello Drone
3D Insider is ad supported and earns money from clicks, commissions from sales, and other ways.
Tello drone is a mini-drone which can shoot 720p video and perform tricks and stunts as well. Tello drones are also big on the educational aspect, enabling users to learn about drones with coding education. Tello drones interestingly use a DJI flight control system. An Intel processor combined with this flight control system makes the drone quite easy to operate.
Tello drones are normally controlled using a smartphone. Tello's app can turn any phone into a controller. However, precise controlling and performing stunts isn't very convenient by tapping a button on a touch screen. Hence, many people, who really want precise controls, use a controller.
The Tello drone has compatibility with certain specific controllers which might look like a video game controller. Using the controller with a Tello drone feels a lot like playing a drone-based video game. You can set up rings and fly Tello drones through those rings, or you can hold a race with your buddies and use the controller to find the fastest way to the finish line.
There are many Tello compatible controllers available in the market these days.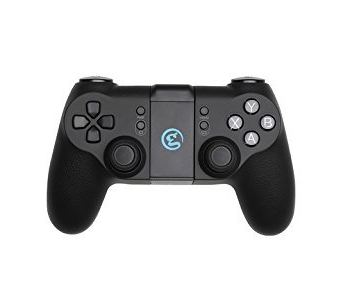 The GameSir T1d Controller has been specifically customized to work seamlessly with a Tello drone. In fact, it works only with a Tello drone. The gadget looks like a Playstation controller and interfaces with an Android device. The latest version of this controller is known to support iOS 7.0 which makes it compatible with a few iPhones. All Android phones with Android 4.0 and up are compatible with the GameSir T1d Controller.
You may not have heard of the name GameSir before. You are probably not the only one in that position. GameSir is a Chinese company that makes mobile accessories, game controllers, keypads, mice, cables, and other gaming/mobile accessories. You might think that since GameSir makes controllers for mobile phone gamers, the GameSir T1d will double up as a Tello controller and mobile gaming controller. However, please note that this controller will not work with your mobile phone games. It is exclusively made and customized for use with a Tello drone only as pointed out above.
GameSir T1d Controller is actually the recommended controller for the Tello drone as per Ryze Tech, the maker of the Tello drone. Its official MRP is US $49, but you can find one online for less than US $35. So, the drone controller is not too expensive.
The controller is perfectly sized to fit in your palms. It measures 19.1 inches by 14 inches by 7.9 inches. It is lightweight and easy to carry around as well, weighing only 15.8 ounces. A layer of imitation leather gives the controller a nice feel.
The GameSir T1d Controller has two high-precision 3D joysticks to deliver the experience of accurate controlling. You can easily change the orientation of the Tello drone and perform complex maneuvers with these 3D joysticks. These joysticks have the capability of 360-degree navigation.
There is also a phone holder built into the controller which can mount mobile phones of any size. Even recent models with larger screen sizes fit into the holder without trouble. The holder, however, will not be able to mount a tablet.
When you connect the GameSir T1d Controller with your mobile phone, the buttons on your screen automatically disappear as you will push those buttons from your controller. The controller makes a high-speed connection via the Tello app to your mobile phone via the GameSir Connecting mode. This high-speed connection ensures almost no noticeable latency and the responsiveness of the Tello drone to the remote control commands is pretty good.
Please note that the GameSir T1d Controller will not directly pair with your phone via Bluetooth. You have to use the Tello app to connect the controller to the phone and then the phone needs to be connected to the actual drone body through Wi-Fi. This controller uses Bluetooth version BLE 4.0.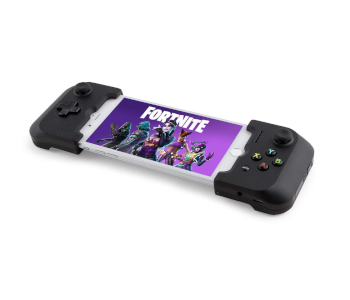 The other controller besides GameSir T1d that DJI recommends for Tello drones is the Gamevice Gamepad Controller. This controller works with the Tello drone and for mobile games as well. Besides, DJI and Rye Tech also recommend this controller for use with the drone.
It is significantly more expensive than the GameSir T1d, but it is compatible with multiple Apple devices and connects to the hardware with a lightening connector. It is meant for Apple devices only and you have to choose the controller based on whether your device is an iPhone, iPad, iPad Mini, or iPad Pro. There is a lightening port which can also be used for charging the controller while usage. That's correct; the Gamevice Gamepad has pass-through charging.
The good thing about the Gamevice Gamepad is that it does not use any Bluetooth connectivity. Since the controller is connected to the mobile device/tablet with a lightening connector, there is no chance of Bluetooth and Wi-Fi interference affecting live video feed or other communication between the mobile phone and the drone body.
The Gamevice Gamepad Controller is not cheap. It will cost you $80, which is more than double the price of the GameSir T1d. However, if you are an Apple user and like the slider design of this controller, then it is well worth the money to buy this particular model. User reviews suggest that the responsiveness and controlling of the Gamevice Gamepad is quite good.
In terms of weight, this controller feels similar to the GameSir T1d. The iPhone Gamevice controller is about 430 grams, while the ones meant for the iPad can weigh above 1 kg.
If you are a gamer who is used to the classic gaming controller configuration, then the Gamevice Gamepad will feel quite familiar. There are Dual Analog joysticks on the left side as well as the A, B, X, and Y buttons on the right side. Then there are the L1, R1, and L2, R2 buttons on either side of the controller, similar to a Playstation controller.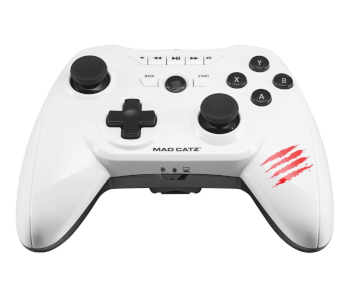 Apple users have one more option for controlling their Tello drones. The Mad Catz C.T.R.L.i controller is an Apple-certified (officially) controller that can interface with the iPhone, iPad, and iPad mini. The controller is quite compact, measuring 6.1 inches by 5 inches by 3.5 inches. Its weight is also pretty low at only 10.4 ounces (295 grams).
The Mad Catz controller isn't officially recommended by DJI or Rye Tech. However, it can connect with Apple devices via Bluetooth. It is possible that the Bluetooth signal can interfere with the Wi-Fi signal between the drone and the mobile device. That problem can, however, be side-stepped by using a Wi-Fi repeater.
The Mad Catz has a mounting bracket for the phone/tablet. The buttons on the Mad Catz C.T.R.L.i can be used to take pictures, perform maneuvers, and move the drone. There is a regular and a micro version of this controller. So, if your hands are small, then opt for the micro version. You can even get different colors of Mad Catz C.T.R.L.i controller. Price wise, the Mad Catz is on the higher side and can be picked up on Amazon for around $75.
Thus, there are a few controller options which you can look at to fly your Tello drone. Depending on your mobile device, your preference for Bluetooth or hard connection, and your pricing preferences, you can choose from the above reviewed controllers. Remember to follow all safety measures when you fly your Tello drone.