The Top Roomba Deals for Black Friday 2019 (960, E5, 675, 685, i7, 890)
3D Insider is ad supported and earns money from clicks, commissions from sales, and other ways.
These past few years, robot vacuum cleaners have become so popular due to their ease of use and practical, hands-free action. They minimize the amount of work you have to do by helping you clean your tiles, carpet, and hardwood floors.
If you are looking to purchase a vacuum cleaner, you would be doing yourself a disservice by not considering a Roomba. This Black Friday, you can finally have the best house helper you can get at discounted prices.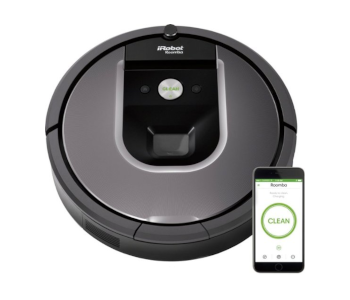 iROBOT ROOMBA 960 WI-FI CONNECTED ROBOT VACUUM
Original Price: $649
Black Friday Price: $399
The iRobot Roomba 960 is a Wi-Fi-connected robot vacuum that seamlessly navigates every space to clean your entire house. It loosens, lifts, and suctions dirt with up to 5X more air power. Then, recharges and resumes until the work is done.
The Roomba 960 features a power-lifting suction that delivers five times the air power for improved pick-up performance. It also comes with dual multi-surface rubber brushes that adjust and flex to stay in contact with hard floors and carpets. Moreover, it has all Roomba® Essentials, including Wi-Fi connection, Smart Navigation, Patented Dirt Detect™ Technology, and Edge-Sweeping Brush.
The robot vacuum cleaner works by intelligently mapping and cleaning the entire level of your home. It uses the patented iAdapt® 2.0 technology with vSLAM® navigation to work around objects and under your furniture. It also features a Premium 3-stage Cleaning System that cleans dirt, dust, pet hair, and allergens.
This Black Friday, you can get a $250 off or 38% discount on your purchase. Get a Roomba 960 and maintain your home's cleanliness in just one press of a button.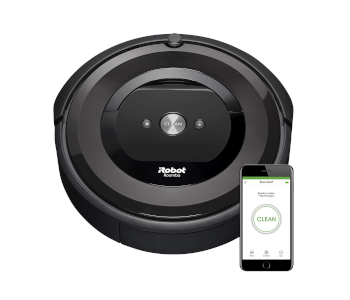 iROBOT ROOMBA E5 ROBOT VACUUM
Original Price: $379
Black Friday Price: $279
The iRobot Roomba E5 is a robot vacuum cleaner that delivers powerful cleaning and smart living. It is packed with Roomba® Essentials for powerful pickup. It works with Alexa and Google Assistant, allowing you to control cleaning. It also has a full suite of intelligent sensors that map and clean every corner of your home.
Like the Roomba 960, the Roomba E5 features a Premium 3-Stage Cleaning System & Power-Lifting Suction for an improved pickup performance. It also uses a High-Efficiency Filter that captures 99% of allergens, pollen, and dust. Furthermore, it comes with dual multi-surface rubber brushes that help clean your floors thoroughly.
The E5 is the affordable alternative to the Roomba 960. It has the same essential features that help you clean your home thoroughly. The only difference is the battery and runtime. The Roomba E5 has a 1800mAh battery that runs up to 90 minutes, while the 960 has a 2600mAh battery with up to 75 minutes of run time. Plus, the 960 can automatically resume cleaning, but the E5 cannot.
Black Friday deals on the iRobot Roomba E5 give you up to $100 off or a 27% discount on your purchase. Take advantage of this time to get that robot vacuum cleaner you have been eyeing for a while now.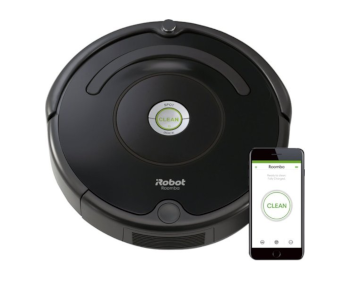 iROBOT ROOMBA 675 ROBOT VACUUM
Original Price: $269
Black Friday Price: $229
The iRobot Roomba 675 is a Wi-Fi-connected and self-charging robot vacuum cleaner that allows you to clean from anywhere. It works with Alexa or Google Assistant to control cleaning wherever you go. With a capacity volume of .6 Liter, you can be sure it'll sweep debris away from edges and corners.
The Roomba 675 has all the Roomba® Essentials for an improved pickup performance. It features Patented Dirt Detect sensors that work harder on concentrated areas and dual multi-surface rubber brushes for thorough cleaning. It also comes with a cleaning head that automatically adjusts for effective cleaning.
When you invest in a Roomba vacuum cleaner, you are making an investment in your home. The Roomba 675 runs for up to 90 minutes on a single charge. Then, it docks and recharges itself, so it is always ready to clean.
This entry-level robot vacuum cleaner is as effective as the E5 and 960. If you are waiting for the perfect time to make a purchase, you should do it this Black Friday.
More Roomba Vacuum Deals for Black Friday 2019: