5 Best Thermal Camera Drones
3D Insider is ad supported and earns money from clicks, commissions from sales, and other ways.
They call it aerial thermography. It's a simple way to see heat (thermal energy) using visible light. It works by attaching a special thermal camera to an unmanned aerial vehicle (UAV). This review guide looks at the ones you can attach to consumer drones. Everyday camera quadcopters can perform roof inspections to check for damage. A drone with a thermal camera can do even more.
So why might someone need to use a thermal camera drone to inspect their property? Well, homeowners and businesses may want to check the energy efficiency of their roofs. A thermal camera drone can quickly identify any cracks, leaks, or weak spots in a roof's structure.
A damaged roof can increase energy bills without the occupant's knowledge. A thermal camera scans the area to identify any escaping heat or air conditioning. The thermal maps created by drones are now changing the way we conduct roof inspections. It's not only easier, but faster and much safer too.
Budget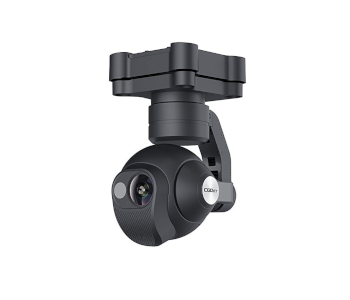 Yuneec H520 CGOET
4.7/5.0
Weight: 9.8 oz.
Sensor: 1/3" 2MP
Thermal imaging, high vision capability, and 3-axis 60° rotating gimbal.
Check Amazon
Best Value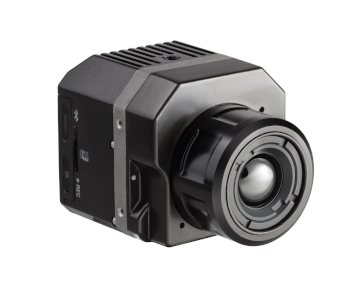 FLIR Vue Pro R
4.6/5.0
Weight: 13 oz.
Sensor: 13.2 × 10.07"
Easy to configure, precision mounting holes, and 30X Zoom Full-HD 4MP.
Check Amazon
Top Pick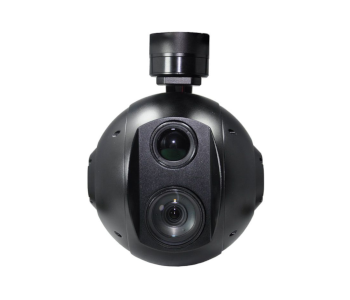 Eagle Eye 30IE 50mm
4.8/5.0
Weight: 42.32 oz.
Sensor: 1/2.8" 2.13MP
Auto object tracking, geotagging function, and has an on-board TF card.
Check Amazon
Thermal Camera Drones for Business
Roof inspections can be dangerous even for trained professionals. They can also take a long time depending on the type of roof, its condition, and accessibility. Thermal camera drones remove the dangers of manual inspections and save time and money in the process. It's also something of a niche business model. Today, savvy entrepreneurs make a good living from drone property inspections.
The Versatility of Heat Cameras
Every living thing and material can radiate thermal energy. Heat vision cameras identify the temperature that emits from the surfaces of different sources.
Some examples of what heat-vision cameras can capture include the following:
All living things, i.e., humans, animals, and vegetation
Buildings, including residential, commercial, and tent structures
All vehicles, including cars, airplanes, boats, and trains, etc.
Electrical parts and equipment, i.e., power lines, circuits, insulation, capacitor, etc.
Land (including rocks)
Buoys, from heat absorbed from the sun during daytime
Liquids and gas
Machinery, including engines and assembly lines
Not all drones can accommodate thermal cameras. Make sure the product you like can work with your drone of choice. The two big players in the thermal camera drone market are DJI and Yuneec. This guide looks at high-quality cameras that are compatible with these drones.
Drones Compatible with Thermal Cameras
Some drone companies have teamed up with makers of thermal imaging infrared cameras like FLIR. They produce sophisticated drone/camera kits for industries like Firefighting and Search & Rescue among others. Homeowners don't need anything as costly or as elaborate, though. That doesn't mean you can't buy the cameras separately and attach them to a regular drone.
Most of these high-tech cameras are surprisingly easy to configure for anyone with a little knowledge. They are easy to integrate in modern flight control systems and provide several recording options. Such cameras can record both video and stills and save the data to onboard memory cards.
APP Control
App control makes using these thermal cameras simple at any level. Pre-flight setup is straightforward using a modern iOS or Android compatible device. These cameras often have firmware updates so that any improvements and bug fixes can reach the users easily.
Before You Decide
Before you decide on any thermal camera you first need to know if it can hitch a ride on your drone. Contact the camera maker or ask the drone community if you're in any doubt. You need to know the drone's payload capability too, so it's not a simple case of will it attach. You can find the camera's main specs at the end of each mini review. They include weight and dimensions among other things.
Thermal cameras have multiple applications. Alas, many homeowners can't justify the high cost of these superb products. My advice is to find a roofer who uses this technology to inspect property. He or she can show you the thermal images, any damage, and discuss potential solutions. This way you get to view the footage. That's better than only taking a contractor's word about their findings.
About this Guide
Not all thermal cameras are equal. The quality can differ as can the range of functions. The six products on this page are the result of extensive research, personal thoughts, and the opinions of experts. The first three in the guide are Best Budget, Best Value, and my Top pick. These straightforward mini-reviews cover all the basics of the cameras without any of the fluff.
The table below shows the 6 thermal cameras as they appear on the page.
Drones with Thermal Camera Comparison Table
1. Yuneec CGOET 3-Axis Thermal Camera | Best Budget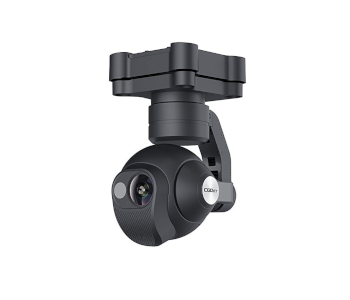 View on Amazon
Editor's Rating: 4.7/5
This is the innovative H520 CGOET; a camera made for use with the Yuneec Typhoon H hexacopter drone. It's a combination camera that offers thermal imaging and low-light function. There's an effective 3-axis 360° gimbal to rotate and stabilize the unit. The thermal camera measures the precise heat in an image to show the relative differences in temperature.
The camera's excellent low-light capability is due to its residual light IR (infrared) lens. It has a sensitivity some 20x higher than that of the human eye.

Tech Specs
Brand: YUNCGOETEU
Dimensions: 15.7 x 4.3 x 0.4"
Product Weight: 9.8 oz.
Photo Format: JPEG, TIFF (14bit RAW)
Video format: MP4
Sensor: 1/3" 2MP
ISO Range: 100 – 12800
Operating Temperature Range: -10° – 180°
The Pros
Thermal imaging
High vision capability
Crash forgiveness
Remote camera settings
3-axis 60° rotating gimbal
Low distortion lens
High vision capability
Unlimited fault repairs
2. FLIR Vue Pro R Thermal Imaging Camera | Best Value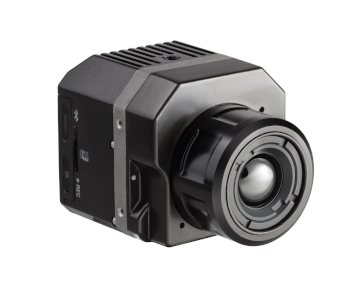 View on Amazon
Editor's Rating: 4.6/5
This professional thermal camera is the perfect tool for drone pilots and qualified thermographers. It's the FLIR Vue Pro R Thermal Imaging Camera and an exceptional piece of equipment. The Vue Pro R captures precise non-contact heat measurements with calibrated temperature information. That means all the crucial data embedded in every single pixel.
Image geo-tagging is another invaluable feature as is the in-flight camera handling. The accessory port gives pilots full control of all functions. It does this by combining camera functionality with the drone's main control system. The camera is super-easy to configure despite its sophistication. That's thanks to the intuitive FLIR UAS app friendly interface. All you need access to is right there in the app.
Vue Pro R is an excellent choice for roof inspections and building checks. Pro users also use it for precision agriculture and infrastructure analysis. Others are power grid inspections and public safety.

Tech Specs
Brand: VUE PRO R 336
Dimensions: 7.1 x 4.5 x 3"
Product Weight: 13 oz.
Lens: Zoom (in App and via PWM)
Communication interfaces: Xxx
Operating Temperature Range: -20°C to +50°C
App: FLIR UAS APP
The Pros
Easy to configure
Precision Mounting Holes
Versatile thermal camera for multiple applications
30X Zoom Full-HD 4MP
Calibrated radiometric temperature measurements
Mavlink integration & PWM controls
3. Eagle Eye 30IE Drone Thermal Zoom Camera | Top Pick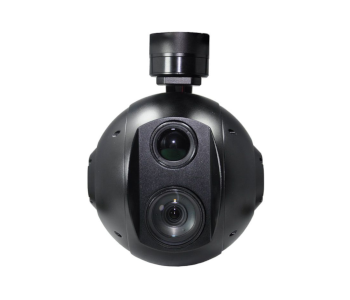 View on Amazon
Editor's Rating: 4.8/5
Our Top pick goes to the Eagle Eye-30IE-50mm that uses advanced thermal-tracking technology. Tests show that it never loses the tracked object. The tracking functions also work on a daylight sensor. The camera has a 3-axis dual sensor stabilized EO/IR gimbal that ensures all footage is clear and precise. It's an ideal thermal drone camera for building inspections, search & rescue, and surveillance, etc.
The Eagle Eye 30IE has a 30X zoom lens. The camera delivers full HD 1080P video streaming at 60fps (frames per second). The 360X zoom capability is something else. It lets drone pilots capture every detail whether it's nearby or far away. Once zoomed in on an object it's a simple case of locking it via the controller. That's it—the camera then tracks automatically.
Night time and low-visibility capability of the Eagle Eye-30IE-50 is phenomenal. The 50mm high-quality lens produces clear, thermal images as far away as 500 meters. The Eagle Eye-30IE-50mm is not practical for homeowners of course. It's an excellent tool of the trade for professionals, though. This is a camera that excels on long-range surveillance and routine security missions.

Tech Specs
Brand: Yangda
Dimensions: 5 x 6.5 x 6.8
Product Weight: 42.32 oz. (2.64 lbs.)
Focal Length: 30X optical Focal Zoom
Video output: 1088P/60 Ethernet
Gimbal: 3-axis high stabilization
The Pros
Auto object tracking
Geotagging function
Easy control and system integration
Clean, simple wiring
Adjustable control speed, SLOW/FAST
On-board TF card
4. ZENMUSE XT2 4K Visual Sensor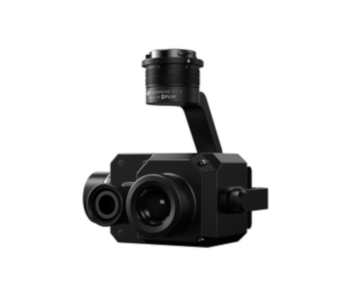 View on DJI
Editor's Rating: 4.7/5
This is the ZENMUSE XT2 high-end thermal camera by FLIR. It's a purpose-made product for DJI's M200 Series and M600 Pro drones. A weather resistant case houses the unit to protect the FLIR 4K optical sensor and advanced thermal radiometric sensor. The camera seamlessly integrates the powerful DJI enterprise platforms for its compatible drones.
The ZENMUSE XT2 has temperature alarm notifications. What that does is send out alerts when an object under surveillance exceeds its preset parameters. And the XT2's heat track locks onto whatever part of an object emits the most heat. The FLIR MSX® is fast to interpret all vital data giving precise details for easy inspection. The adjustable color palettes make data interpretation even easier.
Incredible Uses for Essential Industries
Many industries benefit hugely from the XT2. Some include roofing & construction, energy, agriculture, firefighting, and search & rescue, etc. Professional flight control is seamless using the robust DJI Android Pilot app. It allows easy adjustments of the Spotlight Pro flight modes. The app also makes light work of setting temperature alarm parameters for specific areas.
DJI's Pilot app displays easy-to-read temperature measurements on-screen too. Camera operators have instant access isotherm, color pallets, and a range of other crucial thermal settings.

Tech Specs
Brand: ZENMUSE XT2 by FLIR
Dimensions: 4.87 x 4.43 x 5.0
Product Weight: 22.18 oz.
Photo Format: JPEG, TIFF, R-JPEG
Video format: MOV, MP4
Max Video Resolution: 4K Ultra-HD
Digital Zoom: 1x, 2x, 4x, 8x
App: DJI Pilot App for Android
The Pros
Works with all DJI M200 Series & M600 Pro drones
Weather resistant casing
Real-time data transfer
Temp alarm, heat track, color pallets and more
MicroSD card storage
Detachable mount
Digital Zoom
Image optimization
Robust & intuitive, user-friendly app control
5. DJI Zenmuse XT FLIR Thermal Sensor Camera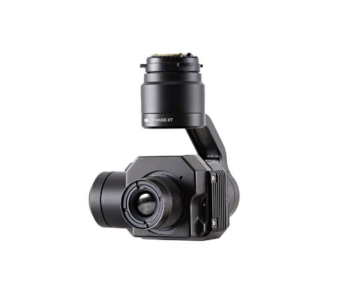 View on DJI
Editor's Rating: 4.8/5
The final pick is the DJI Zenmuse XT (not to be confused with the XT2 above). This thermal camera also uses FLIR's leading technology for thermal imaging. It's a superb product that combines the world-class gimbal technology and image transmission of DJI. It's a camera with a fast capture rate and pinpoint precision over vast areas. The unit then saves all its data for later analysis.
FLIR's Zenmuse XT has a performance model and a radiometric model. The performance model visualizes temperature differences. And the radiometric model captures temperature data in high detail. A custom DJI gimbal helps to stabilize the footage to ensure clear, detailed imagery at all time. The gimbal also allows full 360° seamless rotation to cover all the angles.
DJI DRONE COMPATIBILITY
This thermal camera seamlessly mounts onto certain DJI drones. The current compatible models are Matrice 100, Matrice 200 Series, Matrice 600, and the Inspire 1. The Zenmuse XT has total access to all the main DJI drone features and functions. They include areas like DJI's intelligent flight modes, customizations, and long-range video transmission.
DJI's XT Pro iOS app gives users enhanced control. Operators have visual temperature updates and real-time, low-latency camera views. There's also quick access to isotherm, the color palette, and a whole range of other vital settings. The DJI Zenmuse XT By FLIR is especially useful for fire-fighting, search & rescue, solar panel and power line inspections, and precision agriculture.

Tech Specs
Brand: ZENMUSE XT by FLIR
Dimensions: 4.05 x 2.91 x 4.01
Product Weight: 9.52 oz.
Lens options: 7.5mm, 9mm, 13mm, 19mm
Photo Format: JPEG (8 bit) / TIFF (14 bit)
Video format: MP4
Digital Zoom: 2x, 4x, 8x
App: XT Pro iOS App
The Pros
Seamless integration with compatible DJI drones
Ideal for analytics and telemetry
Smooth, ultra-clear imagery
Multiple uses for industry
Custom DJI 360-degree stabilizing gimbal
Enhanced app control
Two cameras available each with four lens options
Real-time camera view
Temperature estimates on-screen
Quick access to color palette & settings