6 Best Trackball Mouse Picks for 2020
3D Insider is ad supported and earns money from clicks, commissions from sales, and other ways.
Mouse ergonomics have been evolving ever since the peripheral became standard for any desktop setup. However, manufacturers employ R&D to improve how a mouse feels in hand without considering the long-term effects its use has on your fingers and wrists. Rapid sideways movement can cause carpal tunnel and persisting injuries that make even simple scrolling a painful affair. Is there a way to prevent this? Yes – the trackball mouse!
Trackball mice substitute the laser on a standard rodent's bottom with a ball moved with your thumb or fingers, depending on its position. That allows them to remain stationary and lets designers come up with shapes that conform to your entire hand much better. Such mice are larger and heavier than normal, but their shape prevents long-term wrist pains while alleviating existing ones. They're also perfect for people with unrelated hand damage who have trouble operating ordinary mice as well as for anyone who has a cramped working space.
There aren't that many to choose from as the heyday of this design was 20 years ago. Nevertheless, users and manufacturers alike are starting to rediscover how beneficial using such a mouse can be. Here are the six best trackball mouse picks out now. Check out their funky shapes and tech stats, and say goodbye to wrist pain or carpal tunnel for good.
Budget
Logitech Trackman Marble
4.1/5.0
Buttons: 4
Ambidextrous: Yes
Four customizable buttons and easy to clean.
Check Amazon
Best Value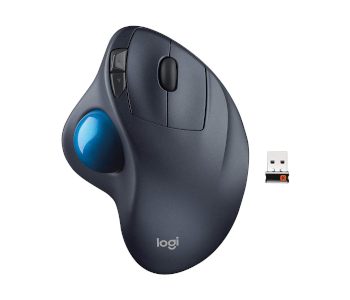 Logitech M570
4.3/5.0
Buttons: 5
Ambidextrous: No
Long-lasting battery and reliable connection.
Check Amazon
Top Pick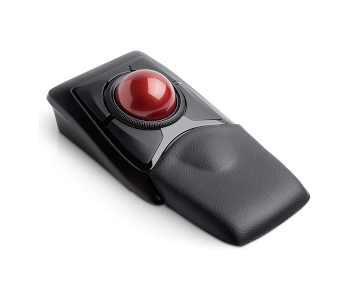 Kensington Expert Wireless Trackball Mouse
4.6/5.0
Buttons: 4
Ambidextrous: Yes
Excellent precision and trackball feel.
Check Amazon
Trackball Mice Comparison Table
1. Best Overall – Kensington Expert Wireless Trackball Mouse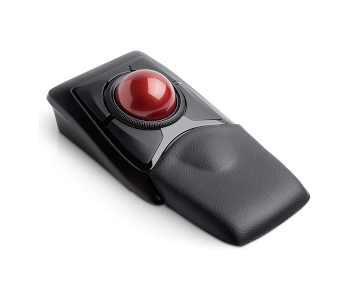 View on Amazon
Editor's Rating: 4.6/5
Kensington is the world's foremost trackball manufacturer, and the Expert is its most successful model that's been around for more than a decade. Its newest iteration retains the superb ergonomics the original is lauded for and adds wireless connectivity for even more freedom of movement. The mouse is very comfortable and precise, comes with easy-to-use software, and is ideal for office or precision work.
Overview of Features
The Expert Wireless looks nothing like ordinary rodents. It is square in shape with a prominent red ball in the middle flanked by four buttons. The ball is smooth and responsive. It comes into contact with four sensors that accurately translate your movements. It is equally effective whether you send it spinning or need to move the cursor a fraction of an inch. A mechanical scroll wheel surrounds the ball, allowing you to move up and down pages by rotating it.
Flipping the Expert Wireless reveals four sturdy feet, a battery compartment, and two buttons. Pressing one turns the mouse on or off while the other switches between Bluetooth and 2.4 GHz radio modes. A dongle is provided to use the latter. You store it inside the battery compartment when not in use. The mouse takes two AA batteries and works for months.
Using the Expert Wireless is a pleasant experience. It naturally forces you to scroll with your index and middle fingers and puts less strain on your hand and wrist. You also get a padded handrest that attaches to the mouse's back. It elevates the end of your wrist and helps alleviate pain.
The mouse comes with in-depth companion software. It lets you map each of the four keys as well as actions for pressing the upper and lower sets simultaneously. You can also change pointer speed and set the acceleration, or invert the Y axis and enable inertial scrolling.
What We Didn't Like
The Expert Wireless is the most expensive trackball mouse on review. There's a wired version that will set you back $15 less if you don't mind losing on portability. While the ball and buttons are solid, the same can't be said about the scroll wheel. It's stiff, makes a grinding noise when turned, and is altogether unpleasant to use.
Tech Specs
Dimensions: 6 x 4.9 x 2.7 in.
Weight: 1.3 lbs.
Buttons: 4
Ambidextrous: Yes
Trackball used with: Fingers
Connection type: Bluetooth 2.4 GHz radio
The Pros
Excellent precision and trackball feel
Good ergonomics, especially with the wrist rest attached
Two kinds of wireless connection
Comprehensive configuration software
The Cons
Expensive
Poorly-finished scroll wheel
2. Best Value – Logitech M570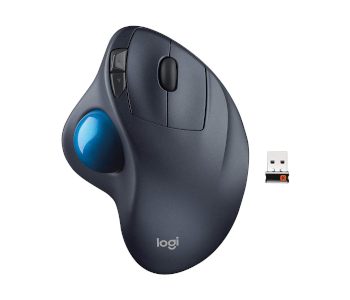 View on Amazon
Editor's Rating: 4.3/5
Is the Kensington expert too much of a departure from a traditional mouse design for you? In that case, you should consider the Logitech M570. It's an oversized mouse with a trackball on the left side you operate with your thumb. The design takes some getting used to, but you'll love its ergonomics and responsiveness once you do. The mouse is wireless, has long battery life, and is effortless to use.
Overview of Features
The M570 might look more like a mouse than Kensington's model, but it's definitely one of the weirdest looking ones out there. Ergonomics is king as everything about the M70 has been engineered to lessen the stress long-term mouse use has on your right hand. It's much broader than conventional mice and contoured to support your ring and pinky fingers gently.
The trackball is smaller than Kensington's but no less effective. To the right of it are two small buttons used to go to the next or previous webpage while browsing. The left and right mouse buttons, along with the scroll wheel, have seen the least changes and work as expected.
The M570 runs on a single AA battery for an impressive 18 months. It comes with the Unifying Receiver, a wireless dongle that works with other Logitech products. You don't even need to remove it from the packaging if you already have one of Logitech's wireless keyboards. The M570 will be recognized straight away on Windows and macOS through the existing device. The dongle's range is 33 feet, and it maintains a reliable connection. You may use the extra receiver to connect to two devices at the same time or keep it safe so it doesn't get lost.
The M570 is a pleasure to use for long stretches. On the one hand, its superb ergonomics ease your hand into adopting correct posture while the ball lets you keep your elbow on the armrest in a relaxed position. On the other, all the buttons react instantly, and you can adjust the trackball's speed to suit your preferences.
What's Bad About It?
Lefties are out of luck as the M570's shape makes it impossible for them to use effectively. The mouse is plug & play and works on PC without issues. Mac users will need to update its drivers if they want to use the back and forward buttons as they aren't recognized at first.
Tech Specs
Dimensions: 5.7 x 1.7 x 3.7 in.
Weight: 11.2 oz.
Buttons: 5
Ambidextrous: No
Trackball used with: Thumb
Connection type: 2.4 GHz radio
The Pros
Excellent value for the money
Outstanding ergonomics
Long-lasting battery
Reliable connection
The Cons
Requires an update to be fully usable on Mac
For right-handed users only
3. Logitech MX Ergo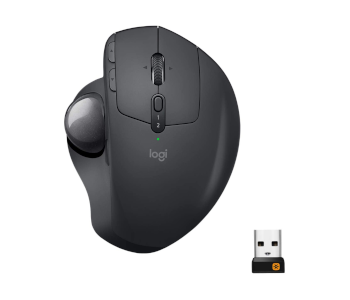 View on Amazon
Editor's Rating: 4.5/5
The mice we've talked about so far all lay flat, which doesn't let them realize their full ergonomic potential. Enter Logitech's MX Ergo, the company's newest trackball mouse with a unique tilting mechanism. It has a magnetic plate that lets you tilt the mouse 20 degrees to the right, lessening the pressure on your hand's tendons even more. It also has lots of configurable buttons, a smooth trackball, and advanced features like Logitech Flow.
Overview of Features
The MX Ergo's all-gray shell and glossy ball are as attractive to look at as they're comfortable to use. You could easily mistake the MX Ergo for an ordinary large mouse when viewing it from the right. Two small buttons sit to the left of the long, broad left mouse button. The scroll wheel sits between it and the right; it has a tire tread texture for extra grip and tilting it to either side registers as two separate actions.
You can connect the MX Ergo either through the Unifying Receiver or Bluetooth. We prefer the former as the connection is less prone too breaking. Unlike the rodents mentioned so far, the MX Ergo's battery is rechargeable straight from the mouse via a USB cable that works for that purpose only. A full charge equals to four months of use, while a minute spent charging is enough to keep the mouse going for a day.
You'll love the MX Ergo if you frequently have to work on two computers. It supports Flow, a cross-computer communication method that works if both share the same wireless network and have Logitech Options installed. A button underneath the scroll wheel lets you seamlessly switch between devices. Better yet, you can copy content from one computer and paste it to another just as easily!
Trackball mice take time to master, and the MX Ergo can help through Precision Mode. You activate it with the button next to the trackball, which causes a slowdown of cursor movement. Now you can take your time to place the cursor on the exact pixel you want. Practicing makes you less dependent on switching, but having the option is great for when you can't leave mouse movement to chance.
What We Didn't Like
The Precision Mode toggle is a great idea, but its positioning is poorly thought-out. It's above and behind the trackball, which forces you to lift your hand up and back to reach it. All trackball mice need to be cleaned periodically as the ball attracts dust and crumbs. This is harder to do on the MX Ergo because the ball is hard to remove without using something sharp and hard that could damage it.
Tech Specs
Dimensions: 5.2 x 2 x 3.9 in.
Weight: 5.8 oz.
Buttons: 8
Ambidextrous: No
Trackball used with: Thumb
Connection type: Bluetooth, 2.4 GHz radio
The Pros
Tiltable frame increases ergonomics
Flow lets you use two computers and transfer files between them
Has rechargeable battery
Excellent scroll wheel
The Cons
Difficult to clean since the ball is hard to remove
Awkward Precision mode button placement
4. ELECOM Trackball Mouse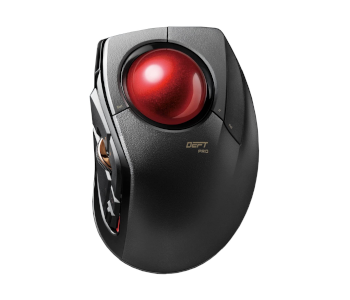 View on Amazon
Editor's Rating: 4.4/5
You can do most office work with a standard set of mouse buttons, but having more customizable ones at your disposal is always a plus. Enter the Elecom Trackball Mouse, a rodent with eight buttons at your disposal. It connects to your computer in multiple ways, has three DPI settings, and gets the cursor where you want it to go with pinpoint precision.
Overview of Features
Elecom's mouse is another weird-looking peripheral outfitted with a big red trackball, this time positioned for use with your index finger. It's broad and wide enough to accommodate your entire hand regardless of size. We particularly liked the button design. Most of the buttons are elongated and respond equally well to presses even if your fingers don't reach their tips.
The left and right mouse buttons are the largest and well thought out. You use the right one with your middle finger while the left is to the side and thumb-activated. The design looks confusing at first, but the button is broad and feels just right after minimal use. There are two more buttons on top and three to the side. That's where you'll also find the textured scroll wheel.
Multiple connection options are the Mouse's unique selling point. You can hook it up through USB and enjoy instant response times at the cost of not being able to move it from your desk. Bluetooth and wireless through a dongle are available as well. Both work like they're supposed to and don't have an impact on usability.
The DPI toggle is another noteworthy feature. It lets you specify the pointer sensitivity without having to install any configuration software. You'll likely stick to 500dpi for mundane tasks, but large monitors and precision work make the higher settings a handy alternative.
The ELECOM Mouse Assistant is a straightforward companion program primarily used for button configuration. It lets you assign functions to all eight buttons by selecting them from a dropdown menu. You can save the configuration to a profile and switch between them freely.
Are There Drawbacks?
The scroll wheel is placed directly above the left mouse button. This makes actions like selecting text and then scrolling to encompass more of it awkward since you can't pull both movements off with the thumb simultaneously. The trackball doesn't move easily. That's a good thing most of the time but may cause you to apply too much force and overshoot the expected cursor position.
Tech Specs
Dimensions: 5.3 x 3.6 x 2.3 in.
Weight: 5.7 oz.
Buttons: 8
Ambidextrous: No
Trackball used with: fingers
Connection type: Wired, Bluetooth, 2.4 GHz radio
The Pros
Has eight configurable buttons
Works in either wired or wireless modes
Useful DPI toggle
Configuration program supports multiple profiles
The Cons
Scroll wheel placement makes using it with the left mouse button pressed awkward
Trackball's stiff movement may lead to overcompensation
5. Kensington Orbit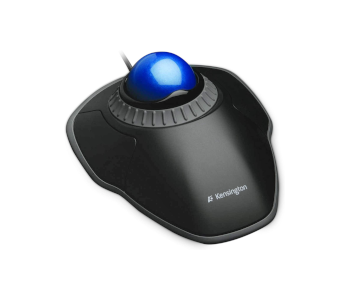 View on Amazon
Editor's Rating: 4/5
The Orbit is one of Kensington's older and basic mice. It forgoes lots of buttons and features for a simple appearance and flawless ergonomics. Using it is a no-brainer, you never have to worry about batteries running out, and the ball is easy to remove when it's time to clean its housing.
Overview of Features
A sci-fi B-movie prop is the best way to describe the Orbit's appearance. It's elongated and has a smooth surface dominated by the blue ball in the middle. Only two buttons flank the trackball and perform left and right mouse clicks by default. The scroll wheel is similar to the one on Kensington's Expert model. It rotates smoothly to help you navigate long texts or websites and is comfortable to handle with all but the thumb and pinky finger.
You get a sizeable padded wrist rest that lets you place your entire hand on the mouse and keep it in a shape that causes minimal stress to muscles and tendons. There's nothing to attach the rest to; it's built to stay next to the Orbit and won't budge since there's no need to move the mouse proper. The ensemble takes up a lot of space and is reassuringly weighty.
Performance-wise, the Orbit is a decent replacement for a run-of-the-mill business mouse. It opens emails and selects spreadsheet cells quickly enough not to affect your work flow after an initial adjustment period. It's too slow for gaming, but that was never the Orbit's intention anyway.
Configuration options are minimal. You get to set scrolling and cursor speeds and can assign different functions to the buttons. The software is available for Mac and PC online.
What's Bad About It?
The Orbit quickly gets dirty, no matter how clean your desk and hand are. It's easy to remove the ball and clean most of its insides, but the elaborate contours help gunk accumulate in several small, hard-to-reach areas. Keeping the Orbit clean is a priority as the ball's movements are jittery even when it's spotless. You'll notice this most clearly when executing small movements, which are less precise than we would have liked.
Tech Specs
Dimensions: 8 x 6 x 2 in.
Weight: 10.4 oz.
Buttons: 2
Ambidextrous: Yes
Trackball used with: Fingers
Connection type: Wired
The Pros
Simple yet ergonomic build
Wrist rest improves comfort and separates easily
Responsive scroll wheel
Works well for left- and right-handed people alike
The Cons
Requires constant cleaning
Imprecise for small movements
6. Best Budget Option – Logitech Trackman Marble
View on Amazon
Editor's Rating: 4.1/5
Our budget pick is a blast from the past that's still going strong today. First introduced way back in 2004, Logitech's Trackman Marble is an affordable trackball mouse whose distinctive design has undergone minimal changes. Its ergonomics are great, the ball is easy to remove for cleaning, and the Logitech Control Center provides ample configuration options.
Overview of Features
The Trackman Marble has a unique visual identity some users might not find appealing. It's reminiscent of a bug's head with the large, dotted trackball as the substitute for a single creepy eye. The dots are there to help tracking sensors recognize movement better and add to the eye-like illusion.
Two sets of buttons behind the ball are all you get. The larger pair takes over left and right mouse button duty while the smaller ones are useful for website navigation. They're also a more recent addition with a questionable positioning choice since they're far back and hard to access without moving your hand.
That aside, the Trackman Marble is ergonomically sound. Its ambidextrous design ensures a broad audience, and main button placement makes the mouse suitable for everyone regardless of hand size. The ball moves smoothly, and its motion is faithfully translated to on-screen cursor movement.
Logitech SetPoint has a retro design and is divided into tabs that are easy to understand. Selecting a button brings up its current function and lets you choose another from a list or input one manually. You may also adjust cursor speed and acceleration settings.
Are There Drawbacks?
The Trackman Marble's most glaring drawback is the lack of a scroll wheel. You can simulate middle button pressing and scrolling through SetPoint, but these don't work as well as the real deal. There are also unofficial workarounds worth looking into if you need a better scrolling alternative. The mouse's price is reflected in its build quality. The buttons are flimsy and feel mushy, while some of the outer edges are sharper than needed.
Tech Specs
Dimensions: 9 x 8 x 3 in.
Weight: 10.4 oz.
Buttons: 4
Ambidextrous: Yes
Trackball used with: Fingers
Connection type: Wired
The Pros
Good ergonomics
Four customizable buttons
Easy to clean
Unique design
The Cons
Mediocre build quality
Inadequate scroll wheel alternatives