6 Best Travel Cameras of 2019
3D Insider is ad supported and earns money from clicks, commissions from sales, and other ways.
Taking pictures and making videos is one of the best things you can do while traveling. They leave a lasting impression of a special time in your life and tell the story of what you've experienced from a unique perspective. You could take all the travel snaps you need with a modern smartphone. However, you'll want to get a real travel camera if you want the best quality and more creative freedom.
A good travel camera must shoot under changing conditions and capture memorable photos in the blink of an eye. It needs to record everything you see, be it miles away or smaller than your fingernail. A worthy travel camera should be able to take a beating or brave the ocean's depths. You'll be hard-pressed to find a smartphone that satisfies most of these criteria, but great travel cameras are easier to come by, at comparable prices to boot.
We've put the best travel cameras through their paces and share the results with you in this in-depth article. You'll find tech specs, reviews, and impressions of six top-tier cameras. They range across types, price points, and feature sets, so choosing one which suits you won't be difficult. Check them out and pick a travel camera to document your next adventure!
Budget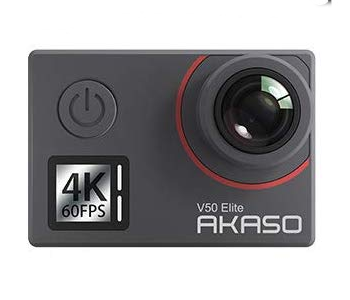 AKASO V50 Elite
3.9/5.0
Camera type: Action cam
Sensor: Sony IMX 078
This can be controlled in different ways.
Check Amazon
Best Value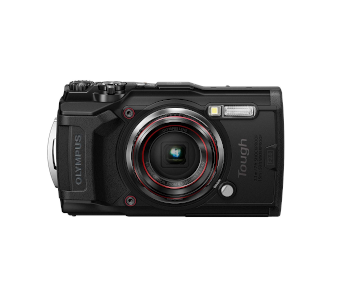 Olympus Tough TG-6
4.6/5.0
Camera type: Compact
Sensor: APS-C CMOS
Great for underwater and macro photography.
Check Amazon
Top Pick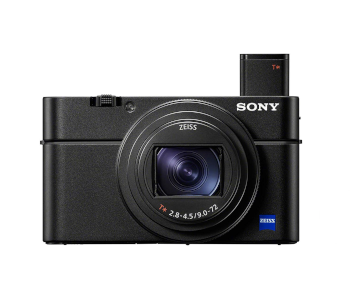 Sony RX100 VII
4.7/5.0
Camera type: Compact
Sensor: 1-inch Exmor CMOS
Fantastic autofocus in both photo and video mode.
Check Amazon
1. Best Overall – Sony RX100 VII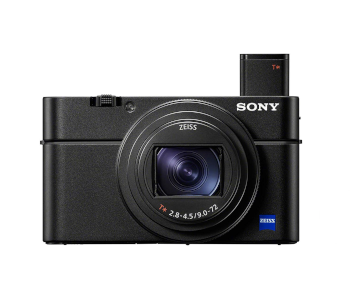 View on Amazon
Editor's Rating: 4.7/5
RX100 is Sony's line of premium compact cameras designed to showcase how powerful and versatile this small format can be. The camera's seventh iteration builds upon its predecessors' legacy and adds fantastic burst speed as well as advanced video features like eye tracking. It's a camera for vloggers, landscape photographers, and nature lovers. In short, if you need a handy camera to create amazing outdoor content, the RX100 VII is the best solution.
Overview of Features
Don't mistake the VII's small size for flimsiness! Its all-metal body can fit comfortably in your pocket yet is robust enough to survive an accidental fall. Sony has designed the RX100 with maximum use of space in mind. It has a pop-up flash and a viewfinder that springs out with the flick of a switch. The LCD touchscreen is another feature you'll appreciate, especially if you're a vlogger. It can rotate 90 degrees downward and 180 degrees horizontally. You're also able to flip the screen around to protect it while moving.
The camera's photography performance is outstanding! Its sensor may be small, but it is backed by a Bionz X processor capable of fast computation. That translates to speedier shooting with less buffer build-up. Wildlife photographers will love that the camera can fire off seven shots at a speed of 90fps per shutter button press, or 20 fps if shooting continuously. The built-in lens has an 8.5x optical zoom, letting you capture far-away subjects without having to degrade image quality.
Video has seen the most improvements from that on the VI. Its maximum resolution is 4K at 30fps which you can now stabilize. Such footage can't compete with the likes of a GoPro, but you'll notice the difference immediately. Sony has also added Movie Eye AF, autofocus that locks onto the subject's eyes and stays glued to them no matter how sudden their movements. The last significant improvement in the video department is a 3.5mm microphone input jack. Now you can finally attach your favorite external mic and match your movies' audio quality with the video!
Lastly, a word on low-light performance. The RX100 VII's lens performs slightly worse in low-light situations than its predecessor. Worse than the VI doesn't mean bad though as the camera is capable of producing noise-free images at ISO values as high as 1,600.
What We Didn't Like
Lack of weather sealing is the RX100 VII's biggest drawback. It's a fantastic camera to take with you into the city and on most outings, but you'll need a protective case if you're shooting on a beach or expecting rain. Lackluster battery life is another concern. You won't be able to pull off more than 250 shits per charge, so taking a spare when on a prolonged shoot is a must.
Tech Specs
Dimensions: 4 x 2.3 x 1.7 in.
Weight: 10.7 oz.
Camera type: Compact
Sensor: 1-inch Exmor CMOS
ISO range: 100 – 12,800
Max still resolution: 20.1 MP
Max video resolution: 4K, 30fps
The Pros
Excellent burst speed
Fantastic autofocus in both photo and video mode
Versatile flip-out screen
Video improvements in the form of a mic input and image stabilization
The Cons
Low-capacity battery
Isn't weatherproof
2. Best Value – Olympus Tough TG-6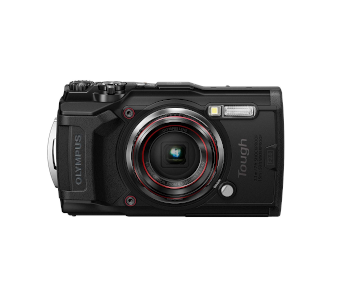 View on Amazon
Editor's Rating: 4.6/5
Do your travels involve a lot of diving and underwater adventure? The Olympus Tough TG-6 is the best compact camera to record your aquatic exploits. It's tough as nails, has several modes specifically for underwater photography, and excels in other situations too thanks to a quick burst mode and superb white balance. Best of all, you can get the TG-6 for less than $500, which is a steal considering its broad feature set.
Overview of Features
The Tough-TG6's most obvious selling point is its impressive durability. Leave it out in the cold, sit on it, or submerge it in 45 feet of water, and the TG-6 will still keep going. It's shockproof, dustproof, and waterproof on its own, while an underwater case increases the depth at which you can use it safely.
The TG-6 has an intuitive and logical control scheme. There's a quick-access dial with various options as well as a zoom wheel conveniently surrounding the shutter release. The camera has built-in GPS and an array of sensors you activate with a dedicated switch. Turning them on lets you record your position along with the temperature, direction, depth, and pressure. Not keen on getting wet? Position the TG-6 and control it remotely from your smartphone.
This camera was made for underwater photography as evidenced by four dedicated aquatic photo modes. These include an HDR mode for more vivid colors, a wide-angle mode, and a "microscope" that lets you take macro shots from 1 cm away. The camera's built-in lens has an aperture of f 2.0 and lets in more light than competitors. This results in better exposure for underwater shots but also translates into good low-light performance.
The TG-6 isn't a one-trick pony. Macro photography is possible at the same focus distance on land too. Engaging the microscope further boosts the lens' 4x optical zoom by enhancing the image digitally and resulting in breathtaking shots of bugs and other tiny objects. However, the TG-6 isn't exclusively an outdoor and underwater camera. Excellent white balance lets it capture natural-looking scenes in both fluorescent and incandescent light with minimal noise until ISO 800.
You can use the TG-6 to create unforgettable underwater videos too since it supports 4K at 30fps. Full HD is more impressive though as it lets you shoot slow-motion videos at 120 fps. You can double that if you don't mind lowering the resolution to 720p. Videos are crisp, stable, and detailed thanks to good dynamic range.
What's Bad About It?
While the TG-6's physical interface is well designed, the same can't be said for its menus. They're convoluted and confusing, so mastering their layout and getting to a desired option takes time. Image resolution is limited to 12MP. This doesn't matter for movies or small prints but may become a problem if you snap an award-winning photo and can't blow it up to billboard size without losing detail.
Tech Specs
Dimensions: 4.4 x 2.6 x 1.3 in.
Weight: 8.9 oz.
Camera type: Compact
Sensor: APS-C CMOS
ISO range: 100 – 12,800
Max still resolution: 12 MP
Max video resolution: 4K, 30fps
The Pros
Outstanding weatherproofing and build quality
Great for underwater and macro photography
Excellent white balance
Crisp video with slow-motion
The Cons
Confusing menu system
Limited image resolution
3. PANASONIC LUMIX ZS80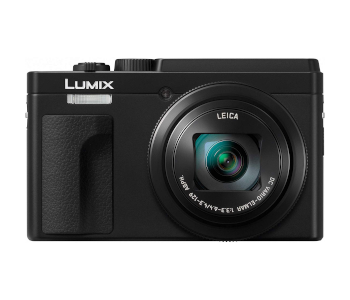 View on Amazon
Editor's Rating: 4.4/5
We've covered standard and close-up photography, but what if you like to look for and snap interesting subjects way off in the distance? In that case, you should get Panasonic's Lumix ZS80! This portable compact sports a lens capable of zooming in 30x. That's more than enough to make sharp photos of subjects that are two miles away. When you're not doing scenic shots, you'll be happy with its indoor performance and detailed videos.
Overview of Features
The Lumix ZS80 is comparable in size and weight to other compact models we've tested. Its most significant difference is a pronounced textured thumb grip that lets you hold the camera more securely. Physical controls are sparse but structured well. You've got four customizable function buttons as well as two selection dials, one of which is accessed by rotating the lens. The screen flips up 180 degrees for selfies and vlogging, and it is touch operated. You can switch over to the viewfinder if it's too bright out, in which case the LCD shuts off to save battery life.
The 30x zoom lens is this camera's main feature. It extends to capture far-away subjects with excellent clarity and without smudging the edges. Switch to a macro shot, and you'll be satisfied with the level of detail the ZS80 preserves with its high dynamic range. Color accuracy is particularly high, so expect blue skies and verdant landscapes to turn out great. Indoor performance is excellent too since the ZS80 tends to switch to a darker exposure. This reduces motion blur while also preventing overexposure from bright light sources.
Solid all-around quality continues with the ZS80's video performance. Its autofocus is of particular note as it does an excellent job of tracking subjects. Best of all, it works even if you're zoomed all the way in. You could be sitting on the beach and recording a school of dolphins on the open sea with superb clarity and little shaking! Videos remain true to original colors and are full of detail. However, you'll want to avoid high-contrast environment since videos made in them may suffer from overexposure.
Are There Drawbacks?
The ZS80 is another camera with a needlessly complicated menu system. We mentioned it turns the LCD on when you're looking through the viewfinder. What isn't turned off is the screen's functionality. That means you could accidentally change a focus point or other settings and not get the shot you were hoping to achieve.
Tech Specs
Dimensions: 4.4 x 2.7 x 1.6 in.
Weight: 11.5 oz.
Camera type: Compact
Sensor: 1/2.3 inch CMOS
ISO range: 80 – 3,200
Max still resolution: 20.3 MP
Max video resolution: 4K, 30fps
The Pros
Powerful zoom lets you capture far-away subject with crystal clarity
Dependable autofocus for videos and photos alike
Excellent color fidelity
Comfortable and firm grip
The Cons
Complicated menu system
LCD remains active when you switch to viewfinder
4. Canon EOS M100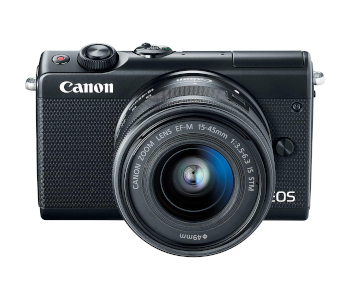 View on Amazon
Editor's Rating: 4.3/5
Compact cameras are a good choice for casual outdoor photography, but pros will find their fixed lens limiting. Mirrorless cameras are the best alternative since they blend the flexibility and breathtaking results of DSLRs with portability. Canon's M100 is an excellent choice for photographers that are looking for a modular camera. It has a great all-around kit lens and room to grow thanks to accessories. There are also multiple autofocus options, a sharp LCD, and quick burst shooting to sweeten the pot.
Overview of Features
The M100 is less compact than other cameras on the list because its lens attaches separately. However, it is both small and lightweight as mirrorless cameras go and fits into light traveling bags. The camera is beginner-friendly, as evidenced by its simple control scheme. You'll find no dials on its top because these were replaced with a switch that toggles from automatic to semi-automatic and video modes. Most of the M100's advanced settings are hidden away in its menus yet easy to access and accompanied by pop-up hints.
The kit lens you get with this camera is a 15-45mm equivalent zoom with optical image stabilization. Putting it on involves holding a button and rotating, after which the lens is held firmly in place. It has built-in image stabilization and doesn't take up much space when contracted. You'll use the lens for anything from wide-angle to close-up shots but will need to buy others if you're into macro photography or need better zooming capabilities.
Dual Pixel CCMOS AF is one of the main reasons you'll want to choose Canon over other brands. Each pixel on the camera's APC-S sensor has two light-sensitive diodes. These allow it to focus on a subject with lightning speed, even in unforgiving conditions. For the average photographer, this means they can take a picture in a fraction of a second and not miss out on a critical moment. Considering the M100 also has a bust mode of 6.5fps, it's possible to get sharp photos of moving subjects with ease.
Video isn't the M100's strung suit. Its resolution is limited to 1080p, but you can choose between 60, 30, and 24fps for a cinematic effect. What the M100 lacks in max performance it makes up for in quality. Videos are both razor-sharp and smooth, even without a tripod. That's thanks to combined image stabilization from the M100 and its lens.
What We Didn't Like
The M100 doesn't have a viewfinder. This limits you to using the touchscreen to track and frame your shots, which can become a problem during sunny days. No USB charging is another limiting factor. You'll have to carry the camera's adapter and charge it from an outlet, so it's best to bring spares on prolonged shoots.
Tech Specs
Dimensions: 4.3 x 2.6 x 1.4 in.
Weight: 10.7 oz.
Camera type: Mirrorless
Sensor: APS-C CMOS
ISO range: 100 – 25,600
Max still resolution: 24.2 MP
Max video resolution: 1080p, 60fps
The Pros
Versatile touchscreen
Comes with decent kit lens
Small form factor for mirrorless camera
Superb image stabilization and autofocusing
The Cons
No USB charger
No viewfinder
5. Canon PowerShot SX740 HS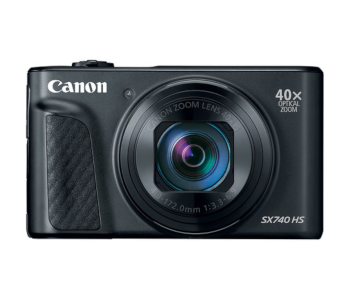 View on BH
Editor's Rating: 4.1/5
Intentionally or not, all the cameras we've discussed so far require some degree of photography knowledge to be used to their full potential. What if you're a seasoned traveler but a beginner photographer though? Canon has got the answer in the form of the PowerShot SX740 HS. It's a camera beginners will love because of an abundance of automatic modes and a guided menu. Pros will appreciate its semi-auto and manual settings, while everyone can take advantage of the 40x zoom lens.
Overview of Features
The SX740 HS is an engineering marvel – the camera sports a 40x zoom lens and still manages to be pocket-friendly! It has an all-metal body and a protruding thumb grip similar to the ZS80. Unlike Panasonic's model, the SX740 HS comes with a menu system that's easy to navigate. You can turn on the Guided Menu option to simplify it further as well as get information on what each option does. You can tilt the screen 180 degrees and control the camera remotely.
The 40x zoom is excellent at capturing distant subjects but also works well for macro photography. Its best feature is Zoom Framing Assist. Holding the associated button zooms the camera out while letting go returns it to the original zoom level. This is useful when you're following mobile subjects like birds or monkeys and they disappear from view. Zoom Framing Assist lets you quickly find them and zoom back in for a clear shot. Image stabilization is active during zooming, as is one of several autofocus modes. You can augment the optical zoom with its digital equivalent at the cost of quality.
The SX740 HS performs well when there's ample light. It reproduces colors faithfully and vividly. Contrast is handled reasonably well with no pigmentation or moiré patterns in situations where there are lots of smaller contrasting elements in the shot. Default white balance leans towards a yellowish hue butt can be adjusted along with exposure and ISO settings manually. Newbies get to choose from numerous presets that produce satisfying results for food, nature, and portrait photography among many others.
The SX740 HS's video capabilities are on par with the S80. Their max resolutions and framerates are the same, though the former is limited to 60fps at FullHD. The new Digic 8 processor allows for smooth 4K footage and a time-lapse mode at the camera's highest settings. While overall video quality is decent, the SX740 HS is not a camera you'll want to use when filming action shots. Moving it too much causes pronounced shutter roll.
What's Bad About It?
There are two main and a couple of smaller issues with this camera. It has a small sensor which performs poorly in unfavorable light and becomes unusable in dark conditions. You can't shoot in RAW, meaning there are no advanced options to bring out more details during post. Less severe but noteworthy oversights include the lack of a viewfinder and touchscreen capabilities which were sacked to keep the SX740 HS's price reasonable.
Tech Specs
Dimensions: 4.3 x 2.5 x 1.6 in.
Weight: 10.5 oz.
Camera type: Compact
Sensor: 1/2.3 inch CMOS
ISO range: 100 – 3,200
Max still resolution: 20.3 MP
Max video resolution: 4K, 30fps
The Pros
Powerful zoom lens with excellent framing assist feature
Great for newbies and advanced photographers alike
Handles contrast and color balancing well
Smooth 4K video complete with time-lapse
The Cons
Poor low-light performance
Can't shoot RAW files
6. Best Budget Option – AKASO V50 Elite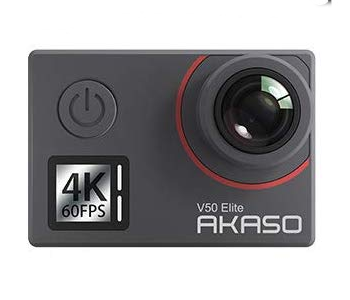 View on Amazon
Editor's Rating: 3.9/5
What would a travel camera recommendation article be without an action cam? These small devices mount to your body or ride and give a first-person view of your unforgettable experiences. We've been tooting the GoPro HERO Black's horn for a while, so it's time to turn the spotlight onto a contender. The Akaso V50 Elite is a less expensive action camera with a slew of accessories and features that go head-to-head with the GoPro.
Overview of Features
The V50 Elite is shaped much like any other action cam, the side ports being a notable exception. There's one for an SD card, a USB port for charging, and a micro-HDMI port for connecting the Elite to your TV. The visuals are rounded out with a power button, lens, and logo in the front as well as two zoom control buttons on the right side.
Akaso is very generous with accessories. The camera's packaging contains mounts for helmets and bicycles along with six general-purpose mounts and five tethers. You also get a remote and a waterproof case for aquatic adventures. The most unusual yet welcome accessories are an additional 1,050mAh battery and a charger that can juice up two batteries at once.
You control the V50 Elite in different ways. The easiest is to use the remote as your shutter. It has a decent range and can even be strapped to your wrist. Then there's voice control. Saying "action photo" or "action start video" will engage the two modes, leaving your hands free for paddles or skies. You'll mostly be accessing the camera's features from its 2-inch touchscreen. It's sometimes slow to respond, but you get used to that after a while. Your last alternative is to connect the V50 Elite through Wi-Fi and use your smartphone as a viewfinder.
The V50 Elite excels at video quality. It shoots well-rounded 4K videos at 60fps and can stabilize the footage starting at 4K, 30fps. This feature is light years behind the latest GoPro, but it does much to make videos shot with an unsteady hand enjoyable. A 170-degree wide-angle lens causes the characteristic fish-eye effect with a lot of barrel distortion on the edges. You can crop the image if you need a more traditional look at the cost of fidelity.
Are There Drawbacks?
The camera's Wi-Fi is unreliable. It freezes up whenever you're establishing a connection. Add to that the general sluggishness of its controls, and you get an experience some users may find tedious. The phone app isn't good, either. It doesn't recognize which model of the V50 you're using and frequently loses connection to the camera. You have to turn your phone off and back on again once that happens.
Tech Specs
Dimensions: 2.4 x 1.6 x 1.2 in.
Weight: 2.7 oz.
Camera type: Action cam
Sensor: Sony IMX 078
ISO range: 100 – 3,200
Max still resolution: 20 MP
Max video resolution: 4K, 60fps
The Pros
Good value for the money
Comes with wide array of accessories, most notably a 2nd battery and charger
Decent image quality in good lighting
Can be controlled in different ways
The Cons
Spotty Wi-Fi connection
Mediocre smartphone app