6 Best Travel Portable Mouse Picks for 2020
3D Insider is ad supported and earns money from clicks, commissions from sales, and other ways.
A mouse is light years ahead of your laptop's trackpad, whether you're an on-the-go gamer or want to squeeze every ounce of productivity out of your business trips. Trouble is, ordinary mice are too cumbersome and bog you down with wires. That's why a specialized travel mouse is the perfect solution.
Travel mice are smaller than ordinary ones, and some are flatter than usual to better fit inside small pockets. They connect to your devices wirelessly, either by using proprietary dongles or Bluetooth. A good one also needs to have a battery that won't give out on you during an important meeting and several customizable buttons that help optimize your workflow or K/D ratio.
These are the six best travel mouse picks currently available. You'll find everything from models that can work on multiple computers simultaneously to basic ones that get the job done without any clutter. Find out which travel-ready rodent best suits your needs and never leave home without it.
Budget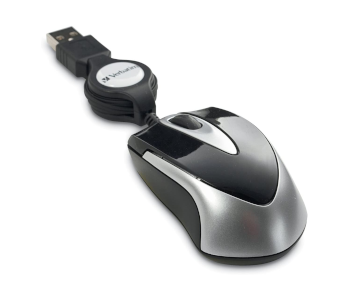 AmazonBasics Wireless Computer Mouse
4.1/5.0
Buttons: 3
Ambidextrous: Yes
Comfortable for all hands and grip styles.
Check Amazon
Best Value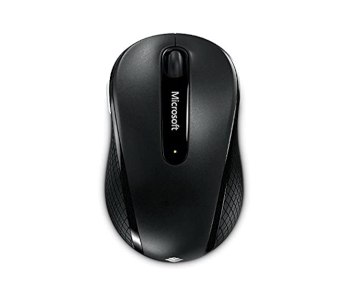 Microsoft Wireless Mobile Mouse 4000
4.5/5.0
Buttons: 4
Ambidextrous: Yes
Doesn't need software to run well.
Check Amazon
Top Pick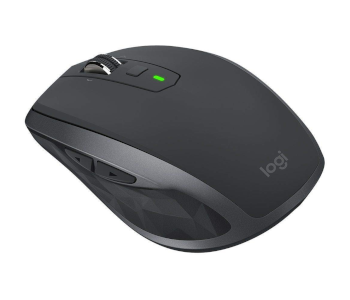 Logitech MX Anywhere 2S
4.8/5.0
Buttons: 7
Ambidextrous: No
Comfortable despite its small size.
Check Amazon
Travel Mice Comparison Table
1. Best Overall – Logitech MX Anywhere 2S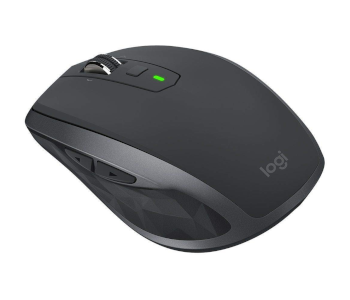 View on Amazon
Editor's Rating: 4.8/5
Choosing the MX Anywhere 2S from Logitech as our top pick was a no-brainer since it's impossible to overstate how versatile the mouse is. It's small, has a rechargeable battery, and connects to various devices wirelessly. It can hop between three computers or smartphones and seamlessly transfer data between computers on the same network using Flow.
Overview of Features
The MX Anywhere 2S successfully blends usefulness and style. Its design is subdued but has several eye-catching elements like the metal scroll wheel and the thumb rest's geometric pattern. It's a small mouse that nevertheless fits well in hand thanks to a pronounced arch running from its main buttons towards the back.
The mouse uses a USB receiver operating on 2.4GHz wireless to connect to PCs and Macs. You can switch to Bluetooth when pairing it with tablets and smartphones. There's a micro USB port on its front that connects to the charging cable. Not that you'll be needing that often since a single charge lasts an estimated 70 days with heavy everyday use.
Seamless switching between devices is the MX Anywhere 2S's standout feature. You can pair it with three devices simultaneously and switch between them as indicated by three LEDs on its bottom. The mouse also supports Flow and can change from one computer to another by merely leaving the screen area. You can use this to transfer files via copy-pasting and save considerable time on moving files via USB sticks or email.
Darkfield laser technology makes the MX Anywhere 2S even more reliable since it lets you use it on any surface. Polished wood, glossy binders, and even glass don't impede its smooth movement. The MX Anywhere 2S works whenever and wherever you need it with impressive consistency.
Installing the Logitech Options configuration tool lets you adjust the MX Anywhere 2S's controls, including sideways scroll wheel clicks. We particularly appreciate the gesture button beneath the scroll wheel that acts as four controls in one. It activates by pressing and moving the mouse in a cardinal direction. You can use this to open web browsers, bring up the calculator, and even execute a macro.
What We Didn't Like
The MX Anywhere 2S doesn't have storage space for its USB receiver, so you'll need to be careful not to lose it. That and an ambidextrous design would have made an already great mouse one of the best of all time.
Tech Specs
Dimensions: 3.9 x 2.4 x 1.4 in.
Weight: 8.5 oz.
Buttons: 7
DPI: 400 – 4,000
Ambidextrous: No
Battery life: Rechargeable
Connection type: Bluetooth, wireless
The Pros
Exceptionally versatile thanks to Flow and the gesture button
Comfortable despite its small size
Long-lasting rechargeable battery
Excellent configuration software
The Cons
Lacks space to store the USB receiver
Isn't ambidextrous
2. Best Value – Microsoft Wireless Mobile Mouse 4000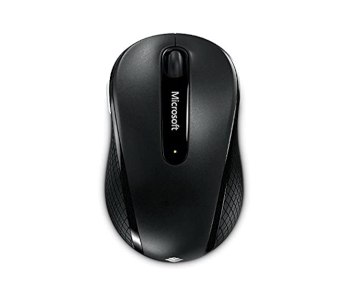 View on Amazon
Editor's Rating: 4.5/5
Microsoft has been making travel-friendly mice for decades, and the Wireless Mobile Mouse 4000 is an old favorite that still has plenty to offer. It's a no-frills mouse designed to get you up & running whenever you can squeeze in a few minutes of productivity. It's effortless to use, comfortable for lefties, and has a strong wireless connection that ensures uninterrupted operation.
Overview of Features
We love the 4000's simple yet comfortable design. It's a tiny and feather-light mouse you'll easily find room for in a laptop bag or even a jacket pocket. Its wide design is symmetrical to accommodate ambidextrous use and keeps your hand from slipping with textured sides. Right-handed users will get more out of it since there's a button on the left side, but it's not a big deal. You can get the mouse in one of five fun colors.
This is another mouse that features a unique laser. Dubbed BlueTrack, the laser excels at accurately registering movement on a variety of unconventional surfaces like carpets. It doesn't work on glass like Logitech's Darkfield laser, but you can place a binder under it or use your pants leg with flawless results.
The 4000 is powered by a single AA battery you access from a slot on its bottom. The battery isn't annoying to replace. You'll only need to do so every 10 months, less if you use the mouse infrequently and remember to press the off button once you're done. Next to the battery compartment is a smaller one reserved for the wireless receiver. It slides in and out effortlessly and maintains a strong connection to the 4000 with a maximum range of 40 feet.
You can plug the 4000 into any Windows PC made in the last two decades, and it will perform flawlessly. It has a plug & play approach that makes using guest computers a breeze. However, you can also install the IntelliPoint software to configure click & scroll speed as well as assign different functions to its buttons.
What We Didn't Like
The 4000's scroll wheel can move to the sides as well as up and down. Sideways movement is responsive and great for quickly traversing pages of documents. Standard up and down scrolling feels mushy and imprecise since the wheel isn't clicky. You'll want to get another mouse from our list if you're a Mac user since this one isn't recognized on newer macOS versions.
Tech Specs
Dimensions: 4 x 2.4 x 1.6 in.
Weight: 3.7 oz.
Buttons: 4
DPI: 1,000
Ambidextrous: Yes
Battery life: 10 months
Connection type: Wireless
The Pros
Excellent value for the money
Works on almost any surface
Ergonomic and grippy
Doesn't need software to run well
The Cons
Smooth and mushy vertical scrolling
Doesn't work on newer Macs
3. Razer Atheris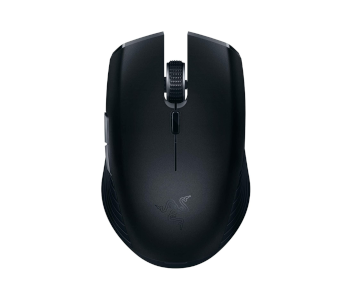 View on Amazon
Editor's Rating: 4.6/5
Traveling for business doesn't mean you can't dominate a few deathmatch rounds during downtime, and Razer's Atheris is the perfect mouse for the job. It's unassuming yet great for games due to a high polling rate, customizable profiles for different titles, and lots of configurable controls. It connects wirelessly through one of two modes and performs on par with Razer's best wired offerings when using the receiver.
Overview of Features
It's hard to tell that the Atheris is a gaming mouse at first glance since it isn't flashy and has no RGB as that would put too great a strain on the battery. However, those in the know will quickly recognize its sleek profile and wide-open space between the main buttons characteristic of Razer mice. It's a mouse that blends into a serious business environment without trouble but can outperform the competition once it's time to wind down.
The Atheris sports an ambidextrous design with a ridged texture on either side to keep your thumb and pinky firmly in place. Lefties get the short end of the stick again since there are no buttons on the right side. The scroll wheel doesn't have as much tactile feedback as the MX Anywhere's, but a slight rattle unmistakably signifies its movement. The wheel also doubles as a third main button that opens new windows when you click on links in web browsers by default.
You can connect the Atheris either using Bluetooth or radio waves. Bluetooth is useful when you want a hassle-free connection to a laptop or smartphone without putting a strain on the battery. The downside is that you're limited to a polling rate of 250Hz. Switching to the wireless receiver bumps the polling rate to 500 or 1,000Hz, allowing you to execute more precise movements in games. You can tuck the receiver inside the mouse by removing its magnetized bottom.
The Atheris works out of the box on all modern systems. You'll want to install Synapse if you want to get the most out of it, though. Synapse is essential for remapping buttons and individually configuring the Atheris's movement speed on the X and Y-axis. You can save five settings from 200 to 7,200 DPI and assign them to the DPI button. You'll also want to try out HyperShift. This technology lets you designate one button as a trigger that activates other buttons' alternative functions and doubles the number of commands at your disposal.
Are There Drawbacks?
We've written about our dislike of Razer's invasive registration practices before, but it's worth restating that no other peripheral manufacturer insists on gathering your info just so you can tweak a few settings. The wireless dongle is poorly made, and bits can break off if you aren't careful while removing it.
Tech Specs
Dimensions: 3.9 x 2.4 x 1.3 in.
Weight: 2.4 oz.
Buttons: 5
DPI: 200 – 7,200
Ambidextrous: Yes
Battery life: 350 hours
Connection type: Bluetooth, wireless
The Pros
Great for gaming and productivity on the go
Maintains strong wireless connection
HyperShift gives you double the control options
Excellent scroll wheel
The Cons
Dongle is flimsy and can fall apart
Invasive registration
4. Microsoft Surface Mobile Mouse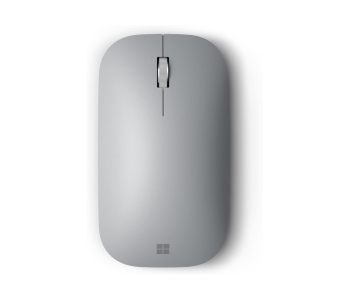 View on Amazon
Editor's Rating: 4.4/5
All the mice we've talked about so far achieve portability by being smaller than regular models while keeping proportions intact. Microsoft's Surface Mobile Mouse has a different take since it has a flat profile but otherwise maintains standard dimensions. This lets you transport it effortlessly without having to uncomfortably clench your fingers while working with it.
Overview of Features
The Surface Mobile Mouse wins our award for design as it's the classiest rodent on review. It's a study in minimalism as not even the left and right mouse buttons are evident. It has a true ambidextrous design and comes in three colors that match Microsoft Surface laptops and assorted peripherals. The flat profile lets you slip the mouse into any travel pouch or backpack and not worry about it taking up much space.
Handling this mouse will be a joy for most users, even those with large hands. The main buttons respond promptly while the scroll wheel's detents offer a satisfying degree of resistance. Flipping the mouse over reveals a plate held by magnets. It slides off surprisingly easily yet doesn't rattle or move during transit. Inside you'll find only a space for two AAA batteries since the mouse doesn't use other means of wireless communication.
Microsoft outfitted the Surface Mobile Mouse with support for Windows Swift Pair. This drastically speeds up the pairing process. Computers running newer versions of Windows 10 will automatically recognize and connect to the mouse. The connection is no different from standard Bluetooth otherwise. Pressing the single bottom button once will initiate pairing while holding it turns the mouse off.
You can perform basic tweaks if you install the Microsoft Mouse and Keyboard Center configuration app. These include reconfiguring the three buttons, setting the DPI in increments of 200, and adjusting the wheel's sensitivity. You can also set specific controls for different apps, which is useful when you want the middle mouse button to act differently depending on the context.
What We Didn't Like
The Surface Mobile Mouse is a great choice for people who use a fingertip or claw grip. However, users who prefer a palm grip will find nothing to grasp unless they lay their fingers down flat in an uncomfortable position. Intermittent connection issues are also a possibility. You might experience a drop once a week, but that's enough to make some people mad.
Tech Specs
Dimensions: 5.3 x 3.8 x 1.4 in.
Weight: 5.4 oz.
Buttons: 3
DPI: 400 – 1,800
Ambidextrous: Yes
Battery life: 12 months
Connection type: Bluetooth
The Pros
Blends portability with standard mouse dimensions
Beautiful design and tasteful color choices
Low energy consumption
Supports application-based button configuration
The Cons
Not suitable for people who use the palm grip
Intermittent connection dropouts
5. Jelly Comb MS003
View on Amazon
Editor's Rating: 4.2/5
Are you looking for a simple mouse you can turn on and use without fiddling with any settings? In that case, the Jelly Comb MS003 is everything you need. It's a cheap mouse that utilizes either Bluetooth or a wireless dongle to connect to laptops, tablets, or computers in seconds. It has an ergonomic shape, is easy to use, and looks attractive.
Overview of Features
The Jelly Comb MS003 is another low-profile mouse that cuts into verticality more than its other dimensions. It isn't as flat as Microsoft's mouse, so you may find it comfortable even if you're used to gripping mice with your palm. The left and right mouse buttons are part of the main shell and react to touch promptly. This is one of the quietest mice we've ever worked with, as clicks are hard to hear even if you're working in a silent environment.
Removing the Jelly Comb MS003's bottom panel reveals space for one AA battery and its wireless nano receiver. The battery can last upwards of a year since the mouse uses little power and turns itself off after it's been idle for a few minutes. It will spring back to life once clicked but can't power a sleeping computer back up if connected via Bluetooth.
The Jelly Comb MS003 doesn't need a configuration app as you can adjust the most important settings on the mouse itself. A button behind the scroll wheel toggles between 1,000, 1,600, and 2,400 DPI. Similarly, a button on the bottom switches from wireless to Bluetooth when needed. Keep in mind that the polling rate changes based on the connection type. It's 125Hz for Bluetooth and 250Hz for wireless mode.
What's Bad About It?
The Jelly Comb MS003 won't play nice with older hardware if you're trying to use it in Bluetooth mode. It needs to be paired with a receiver that supports Bluetooth 4.0 or higher, or else you'll experience frequent disconnects. When it falls asleep, waking the mouse is a hassle since you have to wiggle and click it multiple times for the movement to register.
Tech Specs
Dimensions: 4.7 x 2.6 x 1.6 in.
Weight: 3.2 oz.
Buttons: 3
DPI: 1,000 – 2,400
Ambidextrous: Yes
Battery life: 12+ months
Connection type: Bluetooth, wireless
The Pros
Simple and ergonomic design
Quiet operation
Two connection types
Long-lasting battery and good power-saving implementation
The Cons
Connection issues when used with older Bluetooth receivers
Waking it up is annoying
6. Best Budget Option – AmazonBasics Wireless Computer Mouse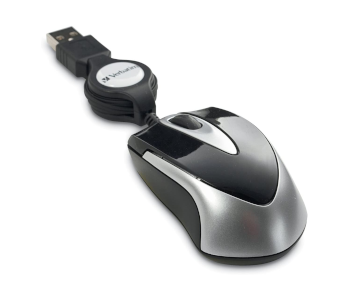 View on Amazon
Editor's Rating: 4.1/5
The wireless AmazonBasics mouse is proof that you can get a competent, travel-ready mouse for less than $15. It's true to its name since mice don't get any simpler, but the few features it does have are all implemented well. It's ergonomically sound, moves smoothly on many surfaces, and has a convenient place to store the dongle so you don't lose it.
Overview of Features
This mouse looks much more attractive than a product with basics in its name has any right to be. It has a matte black upper shell that resists fingerprints or smudging that's tastefully bordered by smooth black plastic. The border runs along the mouse's sides and divides its upper part from the thumb rests. They aren't textured, but your thumb won't slip because of the matte surface.
The left and right mouse buttons have attractive beveled edges and aren't separate from the shell. A gray area surrounds the scroll wheel and makes for an interesting visual change. It's also where you'll find an LED indicator that lights up when the battery is about to run dry. Amazon doesn't specify how much usage you'll get out of the two AA batteries the mouse requires, but conservative estimates put it at three months of daily use.
Amazon's mouse has a fixed DPI of 1,000. It performs reasonably well on laptops and office computers with small to mid-sized monitors. It doesn't need software since you can change button functions in your operating system. We were pleasantly surprised by the ease with which the mouse establishes its connection. It's ready to go seconds after you plug in the wireless dongle even if it's the first time you're using it on that computer.
It's unrealistic to expect special laser technology on a sub-$20 mouse, but this one is responsive on a variety of surfaces even so. You can use it on a velvet cushion in a waiting room as easily as on a lacquered desk in your local coffee shop.
Are There Drawbacks?
The AmazonBasics Wireless Computer Mouse has a short wireless range. It will work fine as long as you don't separate it from the dongle by more than six feet. Build quality is disappointing, even at this price. The battery door tends to pop off, and the buttons might stop working after a few months of use.
Tech Specs
Dimensions: 3.9 x 2.3 x 1.6 in.
Weight: 3.2 oz.
Buttons: 3
DPI: 1,000
Ambidextrous: Yes
Battery life: Not specified
Connection type: Wireless
The Pros
Solid overall performance at a rock-bottom price
Comfortable for all hands and grip styles
Effortless pairing
Works on a variety of surfaces
The Cons
Short range
Mediocre build quality