Triple Extruder 3D Printing
3D Insider is ad supported and earns money from clicks and other ways.
A triple extruder setup is one of the less popular methods for producing multi-color and multi-material prints, and it's not that difficult to figure out why. A dual extruder setup is already complicated enough to deal with, even for some of the more experienced tinkerers. Introducing another variable to an already complicated equation is pushing it.
Like all-in-one 3D printers, triple extrusion is a real thing and not just one of those outrageous concepts people often put up on Kickstarter, Indiegogo, and other crowdfunding platforms. The now-abandoned RepRapPro Tricolour Mendel build was one of the more notable products to come out and served as solid proof that triple extrusion can be done.
Considering the complications it brings to the table, triple extrusion is not as widely adopted as single and dual extrusion. Few companies commit to such a mechanical setup, and the ones that did in the past flopped hard, with 3D Systems and its discontinued Cubify CubePro Trio being a good example of that.
For those interested in triple-color printing, there's still a sliver of hope. In this piece, we'll introduce you to a couple of triple extruder 3D printers that might be worth a shot, along with other methods that will allow you to print with three colors for more vibrant models.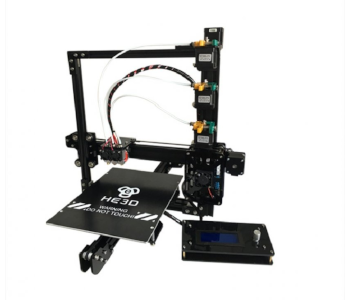 On the surface, the He3D EI3-Tricolor appears to be a rebranded Tevo Tarantula, one of the more recognizable budget 3D printers on the market. Obviously, the triple extruder setup separates it from that product. It comes in a kit and sells for less than $500, which immediately raises questions about its overall quality, especially with regard to the core components.
An open-structured machine with an aluminum frame, the EI3-Tricolor comes with a trio of extruders, each equipped with a filament tube and all of which are mounted on one side of the frame, along with the main electronics. It can print in either a "three in, three out" setup or a "three in, one out" setup.
In the former setup, the filament tubes are connected to individual hotends, similar to a regular dual extruder setup but with three nozzles. In the latter setup, there's only one nozzle for the output, with the three filament tubes converging on the single hotend.
The EI3-Tricolor has a large build volume, featuring a lengthy heated print bed. It uses Repetier and can connect via SD card and USB, the standard connection options for most 3D printers. It has an open material system and, according to the manufacturer, can print with ABS, PLA, PETG, PVA, and Wood-filled materials.
While all of those specifications and features look neat on paper, it's difficult to confirm whether or not the EI3-Tricolor can actually deliver on the promise. There's not much coverage from both customers and professional reviewers, not counting unverified customer feedback seen at online stores. Well, at least He3D has videos of the EI3-Tricolor in action, which might be good enough to convince some people.
Considering the lack of information, especially in-depth reviews, about the EI3-Tricolor, giving it a shot is a huge gamble, so think hard before parting with that $500. At the very least, expect the kind of issues often associated with China-made budget 3D printers, such as less-than-stellar documentation and poor quality control. And remember, it comes in a DIY kit, so be prepared for a significant amount of assembly.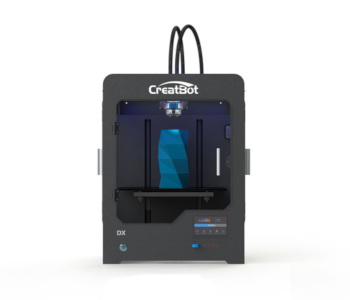 The CreatBot DX is another product with roots in China. But compared to the above product, this one appears to be made of better components, featuring a steel frame that boosts its durability. CreatBot offers an upsized model in the form of the DX Plus, one more reason the DX series comes off as an Ultimaker 3 clone. (Ultimaker also offers an upsized Ultimaker 3.)
The DX boasts a large build area, with the DX Plus featuring an even larger one. It's one of the three most notable things separating it from the Ultimaker 3. The other ones would be the all-black finish and, most importantly, the ability to equip a triple extruder setup. It has a semi-enclosed frame with a 4.3-inch touchscreen interface and comes with a heated glass-ceramic build plate. It can print with a wide range of materials, including ABS, HIPS, PVA, and Nylon.
When it comes to features, the DX has a good list, which includes a filament sensor, automatic shutdown upon print completion, and power loss recovery. Sadly, the build platform has a manual bed leveling system, which is a turn-off for many people. But at least the build plate isn't prone to misalignment after just a few prints, courtesy of the stable mechanical arrangement.
Unlike with the He3D EI3-Tricolor, CreatBot only offers one triple extruder configuration for the DX, which comes in the form of a triple nozzle configuration – or the "three in, three out" setup. But as with the EI3-Tricolor, it's difficult to ascertain whether or not the entire thing works as advertised, considering the lack of in-depth info on the internet, not counting the unverified customer feedback at online stores.
There are a couple of short videos showing the DX printing with triple extruders, which at least shows it's not a complete scam. Outside of that, you're pretty much in the dark about the overall performance, especially with regard to the triple extruder setup. Keep this in mind before you commit to buying this 3D printer.
Other Options
It's disappointing there aren't more triple extruder 3D printers on the market, much less in-depth info about the ones available. On the bright side, there are other methods to produce triple-color prints. No, we're not talking about the mid-print filament change on a single extruder setup, which is what some people do to create more colorful prints. What we're talking about are add-ons and components built specifically for printing multi-color models. Instead of spending a lot of time digging around for viable triple extruder 3D printers, check out the following methods.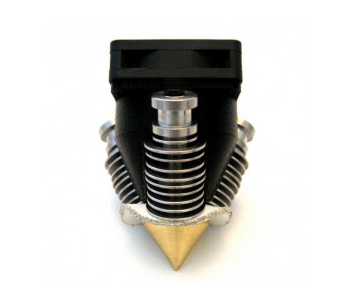 For tinkerers, one interesting option is to build a triple extruder setup centered on the Diamond Hotend. Created and sold by RepRap.me, the Diamond Hotend is a massive, boss-looking hotend built for multi-material printing. It can use up to three different filaments to produce colorful prints.
The Diamond Hotend includes three separate heat sinks and a single diamond-shaped nozzle with a standard 0.4-millimeter opening. It mixes colors directly in the hotend. The mixing chamber is optimized for faster color shifting and reduced filament waste, according to the creators.
The Diamond Hotend's biggest problem is its heavy structure, which translates to reduced print speeds. Just looking at that massive hotend will be enough to scare away those who value print speed more than anything else. Although it's been out for a while, the Diamond Hotend is still far from a polished product, especially with regard to the color-switching operation.
Take note that the Diamond Hotend requires a significant amount of tinkering. You need to install it on your own. It requires a very specific setup, especially on the electronics side, considering most regular mainboards are not built for triple extrusion.
For those who are interested, the manufacturer offers a customizable purchase for the Diamond Hotend kit, offering different choices in several areas, such as the heat sink, the temperature sensor, and the cooling fan. For the full Diamond Hotend kit, expect to cough up at least $100.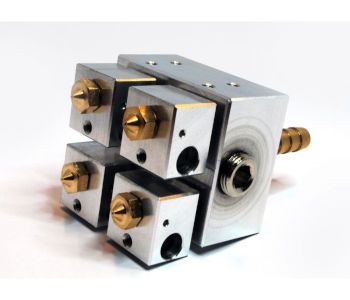 When it comes to extruders and hotends, UK-based E3D is one of the most popular names in the business. The company is best known for the V6 hotend and the Titan extruder. Considering E3D's expertise with hotends, it's not surprising the company also has contenders in the multi-material department, one of which is the Kraken, which you can use as the centerpiece in a custom 3D printer built for triple-color and multi-material printing.
The Kraken is a water-cooled hotend system equipped with four nozzles, which sets it apart from the single-nozzle Diamond Hotend. Each nozzle is a separate entity; the temperature and height of each nozzle can be adjusted individually. While considered more developed than the Diamond Hotend, the Kraken is still far from reaching its full potential as a multi-material tool.
Like the Diamond Hotend, the Kraken requires a significant amount of tinkering, especially with regard to the electronics because, as mentioned previously, not all mainboards are built to accommodate a multi-material setup with three or more outputs. It's not a plug-and-play equipment that you can install on just any 3D printer.
Considering E3D is known for its high prices, it's not surprising the Kraken sells for over $200, including taxes. This price point places it close to Prusa Research's multi-material kit, which is already a fully formed system out of the box, complete with electronics and a frame mount. On the plus side, the Kraken, like other E3D hotends, has the entire E3D ecosystem behind it, making it easy to replace the parts in the future.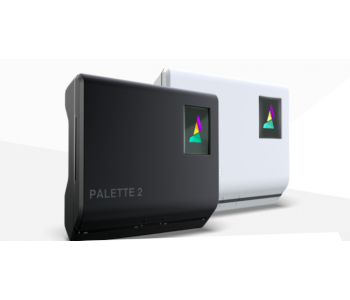 The Mosaic Manufacturing Palette 2 is an external accessory that allows a single extruder setup to print with up to four different materials. It serves as the follow-up to the successful Palette+, the upgraded version of the original Palette, which got off the ground thanks to a crowdfunding campaign.
It sells for around $600, with its big brother, the Palette 2 Pro, going for about $800. In regard to performance difference, the more expensive model has a more optimized cooling system and boasts a 20 percent increase in splicing speeds, according to Mosaic Manufacturing.
The Palette 2 is a neat tool equipped with its own built-in touchscreen interface. Inside, it's got a series of stepper motors for pushing the loaded filaments and a cutting mechanism, which is the heart of the operation. The Palette 2 cuts and splices the filaments together, forming a single filament strand with different colors. Since there's no need to switch to a different filament mid-print – unless the filament runs out – this method makes for smoother and hassle-free multi-material printing, whether in three colors or four colors.
Keep in mind that the Palette 2 doesn't actually mix the filaments to produce full-color prints. It simply splices them together into a single strand, with the color sequence depending on the model being printed. It's an effective way to produce multi-color prints, one that's definitely worth that expensive price tag.
What makes the Palette 2 even better is that it's compatible with some of the most popular 3D printers on the market. It can work with the Creality CR-10, the Monoprice Maker Select v2, the Robo R2, and even the Original Prusa i3 series, though for the latter, Prusa Research's own multi-material upgrade kit is more ideal (more on this in the next section).
Compatible with PLA, PETG, flexibles, and dissolvable materials, the Palette 2 is rated for 1.75-millimeter filaments and can connect via SD card and USB. While it doesn't give you the chance to watch a triple extruder setup in action, the Palette 2 is a great tool to use for triple-color printing. It can turn a regular single extruder 3D printer into a multi-material machine capable of producing colorful models.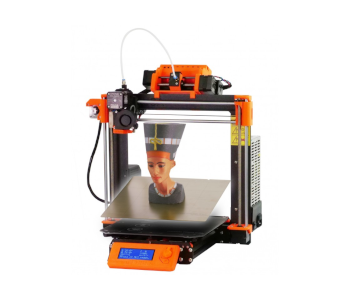 On the other side of the fence is the significantly cheaper Multi-Material Upgrade (MMU) 2.0 kit from Prusa Research, the company behind the popular Original Prusa i3 series. It's another tool that allows a single extruder 3D printer to print with multiple materials in a single session. At around $300, the MMU 2.0 is half the Mosaic Manufacturing Palette 2's price.
Here's the catch: Out of the box, the MMU 2.0 only works with the Original Prusa i3 series. Or more specifically, the MK2.5 and MK3 models. The Palette 2, on the other hand, has a longer list of compatible 3D printers it can work with right out of the gate.
Other than the price, another easily noticeable difference between the MMU 2.0 and the Palette 2 is the former's ability to print with up to five materials. That's sure to make printing not only even more colorful but also more exciting. Compared to the older MMU, this redesigned model offers a more simplified and cleaner operation, featuring just a single main filament tube instead of one for each material.
Like its predecessor, the MMU 2.0 is mounted on the frame. It boasts better electronics and has a filament sensor and a power loss recovery system. It's got a smart wiping system, too, which reduces the amount of wasted filament, a major concern when printing with multiple materials.
While the MMU 2.0 uses a different operation to produce colorful prints, it has one notable thing in common with the Palette 2: it can't mix colors for full-color printing. It simply switches between different filaments during the entire operation, which eliminates the need to manually swap out filaments mid-print. But that's more than good enough, except maybe for those who want full-color printing badly.
For those who own or plan to buy an MK2.5 or MK3, it's worth the money to get Prusa Research's new multi-material system as well. It's a cool piece of equipment that makes printing more fun and colorful. And, as mentioned, it's a lot more affordable than the Palette 2, which will cost you at least $600.
Warning; 3D printers should never be left unattended. They can pose a firesafety hazard.