6 Best Trucker GPS Systems of 2020
3D Insider is ad supported and earns money from clicks, commissions from sales, and other ways.
Navigation using GPS and voice prompts from our phones is ubiquitous, and dedicated nav systems are becoming a rare breed, at least when cars are concerned. However, they're still vitally important for commercial truck drivers.
Your phone's navigation might be powered by Google Maps and a voice assistant, but it doesn't consider a truck's dimensions and weight limits when calculating the quickest and safest way to a destination. Truck-centric nav systems take all of this and more into account. They'll help you plan the trip, save money & time, and even see the sights if time allows for it. Plus, their large screens are perfect for glancing at occasionally without endangering your safety or that of others.
This article discusses the six best trucker GPS currently available in detail. It goes over each device's strengths & weaknesses at a glance while also providing in-depth reviews if you wish to know more. Choose a GPS from our list and start planning your next cross-country haul with confidence.
Budget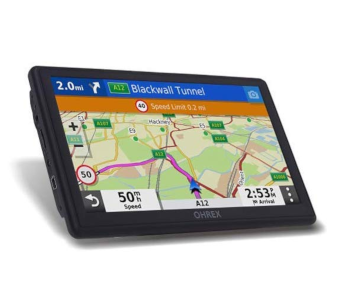 Ohrex Navigation System
4.2/5.0
Screen diameter: 7 in.
Dimensions: 6.9 x 4.3 x 0.4 in.
Has a large screen and millions of POIs.
Check Amazon
Best Value
TomTom VIA 1535TM
4.4/5.0
Screen diameter: 5 in.
Dimensions: 1.3 x 5.3 x 3.7 in.
It has The Lane Guidance feature.
Check Amazon
Top Pick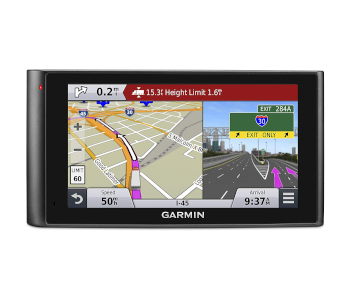 Garmin DezlCam LMTHD
4.6/5.0
Screen diameter: 6.1 in.
Dimensions: 0.6 x 7.2 x 3.7 in.
This fits a wide variety of trucks.
Check Amazon
Trucker GPS Comparison Table
1. Best Overall – Garmin DezlCam LMTHD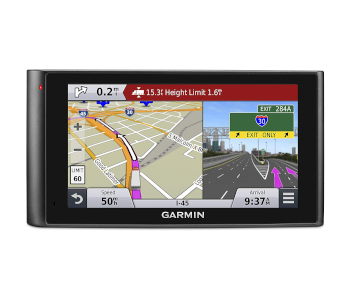 View on Amazon
Editor's Rating: 4.6/5
Garmin's DezlCam LMTHD is the most sophisticated GPS intended specifically for truckers. It doesn't take up a lot of space and is ideal for semis of any size. The device provides accurate and up-to-date information not just on your location, but on road conditions and traffic density as well. It has a dashcam to capture your side of the story in case of an incident, and can intelligently switch paths should you want to avoid the default one.
Overview of Features
The Garmin DezlCam LMTHD is a GPS navigation system that comes with a mount that attaches onto your truck's dashboard with suction cups. The device itself is secured to the mount magnetically, meaning you can easily pick it up and use the dashcam to record an incident from up close and at a different angle. You'll want to keep it connected to a 12-volt power source for continuous operation, but the nav can also run on its own for half an hour thanks to an included battery.
The screen is 6.1 inches in diameter and bright enough to be readable in direct sunlight. Its 800×480 resolution provides a clear image of either the dashcam's live view or your surroundings, as shown by a virtual map. The screen is touch-sensitive and accepts input from two sources, allowing you to pinch-zoom into areas of interest. The dashcam records footage at either 1080p or 1280p and comes with an 8GB SD card.
The best thing about Garmin DezlCam LMTHD is its intelligent navigation system. The device has real-time access to the state of traffic and possible detours. It lets you plan a route by typing in a destination. There's also speech recognition if you want to use the device hands-free. You can access the route either on a traditional overhead GPS map or switch to virtual view. That will display what the road configuration ahead of you looks like for easier spatial orientation.
The LMTHD takes your truck's size, weight, and even freight composition into consideration when coming up with a path that avoids limits you would exceed. There are also multiple trucker-specific tracking options like time spent on duty and miles driven.
What We Didn't Like
Guiding you to a specific location requires a precise address; you can't type in an area or zip code and expect the device to work. The stand doesn't hug the LMTHD tightly enough to handle bumps. It might start slipping on rough roads, so it's best to secure the device with something if the magnets don't cut it.
Tech Specs
Dimensions: 0.6 x 7.2 x 3.7 in.
Weight: 12 oz.
Screen diameter: 6.1 in.
Screen resolution: 800×480
Has dashcam: Yes.
Video resolution: 1,920×1,080
The Pros
Fits a wide variety of trucks
Bright and responsive touchscreen
Intelligent route planning
Voice control and spoken navigation
The Cons
Stand doesn't provide a snug fit
You have to know exact addresses to receive directions
2. Best Value – TomTom VIA 1535TM
View on Amazon
Editor's Rating: 4.4/5
You can't always pick the lane you're driving in on a congested highway, which might cause you to miss an exit and lose precious time. That problem will never happen again if you buy TomTom's Via 1535TM. It features two sets of lifetime maps and takes current as well as historical data into account when planning your route. Bluetooth connectivity for regular traffic updates and hands-free phone operations also available.
Overview of Features
TomTom's navigation systems are recognizable for their thin bezels and curved edges, and the 1535TM is no exception. Its mount holds the device firmly in place thanks to a stable ball joint, so there's no need to worry about it falling off when driving on uneven terrain. The screen is five inches in diameter and has a simple interface you can traverse without taking your eyes off the road.
There are two map types at your disposal. The live map is a simplified real-time map that is regularly updated with your GPS position and traffic info. It gives a great overview of your surroundings and provides visual cues on where you need to go next. The browsing map is a more advanced overhead view suitable for in-depth route planning and detailed examination while you're stationary. It features points of interest or POIs like gas stations or local landmarks it might be useful to visit.
You can plan a journey either manually or by speaking an address out loud. The voice recognition software is almost always on point. It will ask you to repeat an input as well as offer close matches if it doesn't quite understand what you're saying. Once a destination is set, the browsing map will use IQ routes to plot the best possible way towards it.
IQ Route takes information gathered by other TomTom users and calculates the likelihood of congestion based on the current time and day of the week. If you're on the highway, Lane Guidance displays nearby exits and alerts you in which lane you need to be to take one well in advance.
What's Bad About It?
The browsing map's search function isn't region-sensitive. That means you have to say the city and state you're in each time you put in a destination, which can get annoying. TomTom puts out free quarterly map updates you can access from a computer and download to the device through a USB cable. The maps are larger than the 1535TM's internal memory, meaning you'll have to get a microSD card.
Tech Specs
Dimensions: 1.3 x 5.3 x 3.7 in.
Weight: 7.7 oz.
Screen diameter: 5 in.
Screen resolution: 480×272
The Pros
Excellent value for the money
IQ Routes provide useful navigation information based on aggregated user data
Choice between simple and advanced maps
The Lane Guidance feature
The Cons
Spoken addresses need to include city and state
Downloading map updates is tedious and requires an SD card
3. Rand McNally TND 740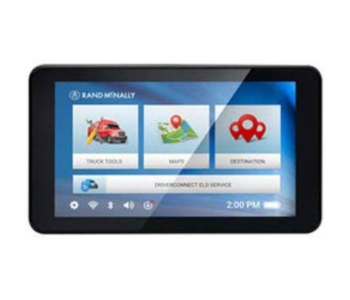 View on Amazon
Editor's Rating: 4.5/5
Driving a truck isn't as simple as going from A to B as you have to account for fuel expenditure, rest stops, and local restrictions. Not many GPS units will allow you to calculate all of these and come up with the best route possible, but the Rand McNally TND 740 is one of them. This truck-centric navigation device features a beautiful 7-inch screen, Wi-Fi connectivity for real-time map updates, and a long-term logging feature. It's expensive but can pay for itself in the time and fuel you'll save on future deliveries.
Overview of Features
The TND 740 is one of the larger units on review thanks to its vibrant 7-inch touchscreen. It comes with a magnetic mount that makes storing the device when not in use a cinch. A quad-core processor powers the TND 740, and it has enough internal memory to hold the latest map updates. The device is very user-friendly and has a straightforward interface less tech-savvy truckers will come to grips with in no time.
The most basic use of the TND 740 involves selecting a destination and following on-screen instructions. The 7-inch HD display shows routes in excellent clarity and lets you see what to do next at a glance. If you have Wi-Fi, you can connect the TND 740 to Rand McNally's servers and receive current updates. These include not only info on congestion and road outages, but also location-specific weather alerts that let you find a rest stop well before a squall hits.
Taking some time to get familiar with the TND 740's more advanced features is worth it. The device can interface with ELD hardware and log your activity. Based on the gathered data, it is able to precisely calculate which routes you should take to increase fuel efficiency while taking into account the need to rest.
The stats you're able to glean from the TND 740 are truly in-depth. It shows you bridge weight restrictions, lots that allow for truck parking, and several alternate routes that change as traffic data updates. Interfacing with the main server even gives you access to the prices of food and fuel in the local area, allowing you to plan a budget for each delivery minutely.
Are There Drawbacks?
The TND 740 is among the most expensive GPS on review, yet it lacks features like a dashcam. Worse is the fact that this is not where the expenses end. You'll have to buy a Rand McNally-approved ELD device for logging purposes as well as a source of wireless internet if you want to take full advantage of the TND 740.
Tech Specs
Dimensions: 14 x 8 x 6 in.
Weight: 5.3 oz.
Screen diameter: 7 in.
Screen resolution: Not specified
The Pros
Calculates expenses and helps optimize routes in real-time
Excellent HD screen
Intuitive and straightforward interface
Reliable navigation
The Cons
Expensive
Of limited use without investing in other gadgets
4. Garmin Dezl 580 LMT-S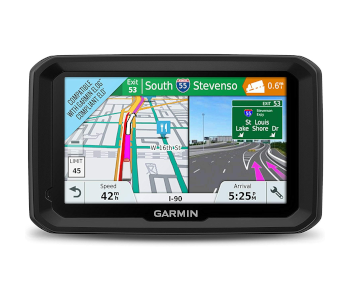 View on Amazon
Editor's Rating: 4.3/5
Do you insist on Garmin's tried & true navigation abilities but don't need another dashcam? In that case, the Dezl 580 LMT-S is the ideal model to get. It's somewhat smaller and cheaper than our overall winner but maintains a high navigation standard. You can look forward to in-depth maps complete with landmarks and amenities, seamless integration with your smartphone over Bluetooth, and responsive voice interaction.
Overview of Features
The Dezl 580 LMT-S is a compact GPS device with a thick black bezel that protects its 5-inch touchscreen and lets you secure it in place. You get a suction cup mount similar to the LMTHD's that thankfully fits better. The unit has a 5-inch screen and is bright enough unless the sun is shining directly onto it. There's 16 GB of storage for a lifetime of Garmin's map updates. You can connect the v to your phone via Bluetooth. This allows for hands-free calling as well as reading text messages through the Dezl 580 LMT-S's text-to-speech service
We appreciate how intuitive it is to find your way around with the Dezl 580 LMT-S. Its default view is a first-person map that doesn't only show roads and intersections but local landmarks as well. You can use it or the overhead view to map a route complete with gas stations, rest stops, and even ATMs. The Dezl 580 LMT-S has a TripAdvisor plug-in. It broadens POI selection with restaurants, local tourist highlights, and cultural sights to help you make the most out of a no-rush job.
Truck-specific info is abundant and easily accessible. Planning each trip starts with putting in your truck's specs, which helps with route optimization by avoiding tunnels with a smaller height limit or bridges with weight limitations. You also have access to Garmin's truck service directory. Here you'll find up-to-date listings and driving instructions for facilities like parking, weighing stations, or truck-friendly car washes.
What We Didn't Like
The GPS uses Garmin Express for software and map updates. This software is known to be unstable on a range of operating systems and may not start up properly. Putting in your truck's maximum weight limit instead of the load you're actually carrying limits your options and leads to suggestions for routes that are longer than necessary.
Tech Specs
Dimensions: 5.9 x 1 x 3.7in.
Weight: 8 oz.
Screen diameter: 5 in.
Screen resolution: 480×272
The Pros
Detailed maps with landmarks and a host of amenities
Excellent TripAdvisor integration
Seamless smartphone use through Bluetooth
High-quality display
The Cons
Unreliable update software
Sometimes suggests unnecessary detours
5. TomTom Trucker 620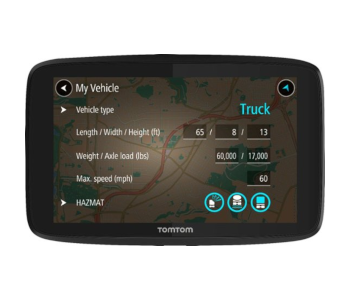 View on Bestbuy
Editor's Rating: 3.9/5
What use is having GPS if you'll end up stuck in traffic anyway? If you get TomTom's Trucker 620, traffic jams stop being a problem as the device will warn you of them well in advance. It has a nice 6-inch screen, supports voice assistants like Siri and Google Now, and lets you plan routes beforehand on a variety of devices.
Overview of Features
TomTom's Trucker 620 wins an honorary award for best-looking GPS due to its round frame and sleek black bezel. It has one of the better magnetic mounts we've seen, combining stability while on the road with easy removal. The screen has a high resolution and easy to read. Its responses to touch are instant and accurate.
Real-time traffic jam alerts are the best thing about this GPS. It can calculate congestions and tell you exactly how far you're away from one. These are taken into consideration in updates to route planning too, letting you avoid chokepoints and make good time on deliveries.
Speaking of planning, TomTom Trucker 620 comes with MyDrive. You can use it to create a trip complete with rest and refuel stops. MyDrive has an extensive database of maps complete with points of interest, speed limits, and truck-affecting restrictions. Using it to prepare for a long journey is straightforward, especially if you're doing so on a computer. You can then connect the device with a USB cable and sync the data onto it in no time.
TomTom Bandit is also one of the most advanced GPS devices when it comes to smartphone integration. Hands-free calls and text messaging via voice are supported, as are dictated responses to messages being read out loud from messengers like WhatsApp.
What's Bad About it?
You need to update the device's map database before using it. This may take several hours, even with a good connection. The reason why TomTom Trucker 620 is so low on the list is that its directions aren't always reliable. It might suggest routes that involve underpass lower than your height or list parkways as allowing commercial trucks when they don't.
Tech Specs
Dimensions: 6.4 x 4.2 x 0.7 in.
Weight: 9.1 oz.
Screen diameter: 6 in.
Screen resolution: 800×480
The Pros
Timely traffic jam notifications
MyDrive is an excellent trip planning tool
Great smartphone integration
Detailed screen
The Cons
Sometimes gives untrustworthy recommendations
Downloading the latest maps takes ages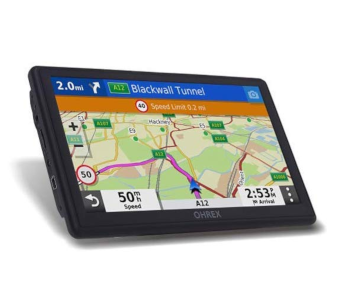 View on Amazon
Editor's Rating: 4.2/5
The Ohrex Navigation system looks out of place on this list at first glance. Ohrex an unrecognized brand in the GPS world, and the asking price is so low that it raises suspicions regarding the device's quality. If you think the same, you'll pass up on an excellent GPS that does so much more. We aren't sure how Ohrex managed to fit everything in, but this device offers competent routing, comes with the latest map version for North America, and even acts as a multimedia tablet.
Overview of Features
Ohrex's nav system is a plain-looking, rectangular device dominated by a bright 7-inch touchscreen. It arrives with a magnetic mount and two cables, so you can charge it either from your car's battery or through USB. Its screen is large, but not as vibrant as those of pricier competitors. Its viewing angle is narrower too, so you'll have to position it directly in your line of sight. Using the screen is simple as a basic interface lets you access operations like GPS tracking or even audio, video, and eBook files.
This device is compatible with vehicles of different sizes, from large trucks through vans to cars. You adjust how to use it by putting in your truck's parameters. The changes are instant and ensure you'll get to your destination in the fastest way possible. Not too fast, though, as the system has built-in speed restrictions and will sound a verbal warning if you exceed them. On the other hand, it does a good job warning you when speed traps are ahead.
The screen displays a map in three zoom levels and overlays it with a selection of useful stats like current speed or estimated arrival time. The routes this system plans are quick and accurate. If you choose to ignore them, Ohrex's nav will do its best to adapt and suggest new ones based on your location.
Like other models, this one has a vast POI database with landmarks, amenities, attractions, and more. Its maps of the USA, Mexico, and Canada are up to date for 2020, so you won't need to download new ones for a while. Searching for the right destination isn't restrictive either as the system accepts not only addresses, but keywords and area codes too.
Are There Drawbacks?
The screen has a fixed brightness. It would be nice to have a dimming option as the glare can be distracting at night. Build quality is where the system's price starts to show. Both it and the mount are plasticky and very flimsy. Take care not to bump into them as neither will survive a fall.
Tech Specs
Dimensions: 6.9 x 4.3 x 0.4 in.
Weight: 8.8 oz.
Screen diameter: 7 in.
Screen resolution: 800×480
Has dashcam: No
The Pros
Incredibly versatile at a rock bottom price
Large screen
Millions of POIs
Lets you search by area code and keyword
The Cons
Poor build quality
Screen's brightness can't be changed