6 Best TV Keyboards of 2020
3D Insider is ad supported and earns money from clicks, commissions from sales, and other ways.
Built-in smarts and external devices have transformed our TVs, enhancing their usefulness and enjoyment factor. Our grandparents had a handful of channels to choose from while we get to enjoy thousands of shows, not to mention complete internet access, on-demand. There's a pretty annoying drawback, though. Getting to all that content using a standard remote can be a pain and take forever.
The solution is simple and cheap – get a TV keyboard. These are much smaller than their computer counterparts. They connect to your smart TV or home theater PC wirelessly and make typing in search terms ten times more intuitive. They also have trackpads that allow you to quickly browse the web as you would with a regular mouse. You can use them exclusively for your TV, but they'll do nicely as smartphone or replacement computer keyboards in a pinch.
These are the six best TV keyboards available now. Some of them retain the traditional keyboard shape while others are molded after game controllers for a more natural feel when you're not desk-bound.
The models on review will make watching TV much more convenient, but there are differences in their layouts, trackpad settings, and power sources that may sway your decision one way or the other. Pick the keyboard that you like the most, and let your old remote take a well-deserved rest.
Budget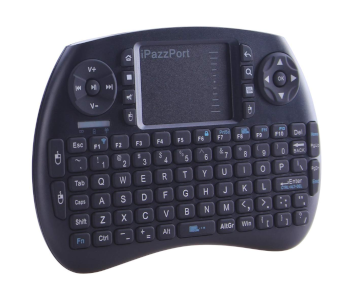 iPazzPort Bluetooth Mini Wireless Keyboard
4.2/5.0
Trackpad: Yes
Illuminated keys: Yes
Has an adjustable touchpad sensitivity.
Check Amazon
Best Value
Rii i8+
4.4/5.0
Trackpad: Yes
Illuminated keys: Yes
It has a stable connection and good range.
Check Amazon
Top Pick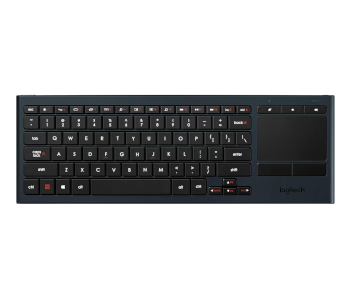 Logitech K830
4.5/5.0
Trackpad: Yes
Illuminated keys: Yes
One receiver supports multiple keyboards.
Check Amazon
TV Keyboards Comparison Table
1. Best Overall – Logitech K830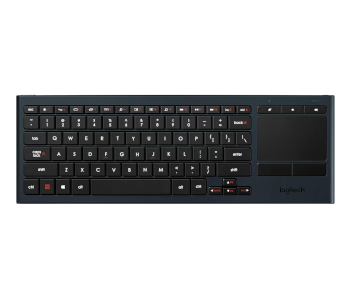 View on Amazon
Editor's Rating: 4.5/5
Have you ever watched a YouTube video on your smart TV and wanted to search for something else only to realize it was too dark? You'll never have that problem again, thanks to the Logitech K830's illuminated keys. This TV keyboard doubles as a mouse due to its trackpad. It boasts a long battery life, has excellent response times, and can be optimized for TV use thanks to intuitive companion software.
Overview of Features
The K830 manages to pack Logitech-style charm into a smaller frame that's nevertheless a pleasure to use. Its chicklet-style keys are akin to ones you'd find on a quality laptop. They have little travel but feel responsive enough for accurate and fast typing. The font is bold and easy to read, especially if you turn on the backlight. That makes the letters glow a pleasant white while alternate key functions are lit up in red.
A Li-ion battery powers the keyboard. Logitech claims it will last for a year on a single charge, provided you don't turn on the backlight. Doing so will reduce the runtime to a respectable 20 hours. There are multiple lighting types at your disposal. The K830 comes with a light sensor that automatically adjusts its brightness based on the surroundings. Alternately, you can set it to one of two brightness levels or turn the illumination off.
The trackpad is among the most responsive on the market. It behaves like one you'd use on a laptop; there's the tracking surface for mouse movement with left and right mouse buttons underneath. There's even a left mouse button on the K830's side for easier access when you aren't looking at the keys. The trackpad also supports gestures like pinch-zooming and scrolling or right-clicking by using two fingers.
The K830 connects to your TV through USB with Logitech's Unifying Receiver. This handy gadget lets you use six Logitech keyboards or mice on the same TV so that every family member can have their own.
You also get configuration software that requires a computer but is worth it for better keyboard control. It's most useful as a tool to switch between computer and TV mode. The former utilizes the K830 like a normal keyboard while the latter turns the F row into an assortment of media keys for easier playback, searching, and email access.
What We Didn't Like
The USB socket inside the K830 used to connect a charging cable is soldered on poorly and tends to break. You'll have to take care when handling the K830 as this is its only means of getting power since the battery isn't removable. The trackpad has a high lift-off distance, which can be troublesome when scrolling. It tends to register moving your fingers away as scrolling and might mess with your place on the screen.
Tech Specs
Dimensions: 14.4 x 4.9 x 0.7 in.
Weight: 1.1 lbs.
Trackpad: Yes
Illuminated keys: Yes
Power source: Rechargeable battery
The Pros
Excellent illumination and responsiveness
One receiver supports multiple keyboards
Recognizes advanced gestures
Long battery life
The Cons
Flimsy USB socket
High lift-off distance
2. Best Value – Rii i8+
View on Amazon
Editor's Rating: 4.4/5
The K80 might be versatile, but its shape works better on desks than it does in your hands. The Rii i8+ is the first keyboard on the list that has a more ergonomic build ideally suited for gripping while you're relaxing on the couch. Its keys light up, there are multiple ways of controlling the cursor, and it maintains a reliable Bluetooth connection for seamless browsing.
Overview of Features
The first thing you'll notice about the i8+ is its inviting shape. It looks like a cross between a gamepad and keyboard with round edges that fit comfortably in your hands. The sturdy outer shell is plastic, and you can choose from multiple colors to make your keyboard unique.
The keys are smaller than those on the K80 yet have more travel. The spacing between them is spot on, so no need to worry about accidental presses. You'll find the full QWERTY setup along with two D-pads. The left is dedicated to playback with buttons for volume and rewind control. The right one has navigational arrows and an OK button. It serves as an alternative way of controlling the mouse if you dislike using the trackpad.
The i8+ comes with a dongle that plugs into your TV. It uses Bluetooth to communicate and comfortably maintains a strong connection from 30 feet away. There's space for the dongle on the i8+ when it isn't in use. Charging is done through a mini USB cable and isn't needed frequently as the i8+ has a motion sensor that turns its backlighting off when not in use. Speaking of which, all the keys are illuminated and can be found effortlessly in the dark. The F and J keys don't have pips, though, so touch-typing can be a challenge.
The trackpad is small and works like the K830's. It supports multiple gestures that are handily explained on its surface. You don't need to use the trackpad if you don't want to thanks to the D-pad. There are also two sets of left and right mouse buttons that are more convenient in many situations.
What's Bad About It?
We already said that the trackpad could be bigger. This becomes problematic if you're surfing and want to scroll. The small surface lets you scroll only so much per gesture, so it takes a long time to reach the bottom of a page. The backlighting is uneven, and key quality is inconsistent. Some keys might be harder to press than others and will stick when depressed.
Tech Specs
Dimensions: 7 x 4 x 1 in.
Weight: 3.2 oz.
Trackpad: Yes
Illuminated keys: Yes
Power source: Rechargeable battery
The Pros
Great ergonomics
Shuts backlighting off automatically
Stable connection and good range
Lets you control the mouse without the trackpad
The Cons
Scrolling with the trackpad is clunky
Inconsistent key and lighting quality
3. Logitech K600 TV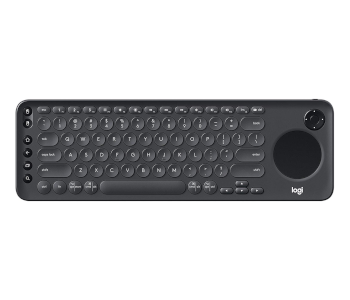 View on Amazon
Editor's Rating: 4.4/5
Logitech has a whole range of keyboards ideally suited for use with a smart TV. The K600 TV is less advanced than the K830, but its straightforward approach and unique style may just be what you're looking for. The keyboard features excellent build quality, a trackpad that's a pleasure to work with, and a switch for use with multiple devices.
Overview of Features
The K600 is the most elegant keyboard on review. You'll never feel like a square when using it as everything, from the K600's contours to the trackpad and keys, is rounded. The unusual design doesn't have a bearing on the K600's performance. Pressing individual keys is easier since there's more distance between them than square ones.
We love how the rounded design was adopted for the touchpad as well. Its responsiveness is on par with the K830, as are its gesture recognition capabilities. The major difference is that there was no room for the left and right mouse buttons, so these were moved to the far left along with dedicated buttons for searching and navigating the web.
The K600 comes with the same Unifying Receiver we've seen with the K830. It may also interface with a device's Bluetooth directly and supports three of them simultaneously. That means you can watch TV and seamlessly switch to writing a text on your smartphone or responding to an email on a computer.
Logitech decided to bring the K600's price and size down by powering it with disposable batteries. It takes three of them and will work for a year before needing replacements.
The K600 works with TVs from all major manufacturers as long as they're from 2016 or younger. Not all of its features will work with every app and TV, but that has more to do with manufacturer and provider restrictions than the K600's performance. The important thing is that it works when it's supposed to and makes searching for movies or navigating menus with the D-pad a breeze.
Are There Drawbacks?
The setup process could be more intuitive. Other keyboards have a plug & play approach, but there are additional steps to get the K600 up and running on your TV. You're asked to visit a website and hold a key down at the right moment before activation is successful. Luckily, you only have to go through this process once per TV. Lack of backlighting is the K600's only other major flaw.
Tech Specs
Dimensions: 14.5 x 4.6 x 0.8 in.
Weight: 12.8 oz.
Trackpad: Yes
Illuminated keys: No
Power source: Two AAA batteries
The Pros
Cool, rounded design
Can connect to three devices at once
Dedicated keys for frequent web actions
Good build quality
The Cons
No backlighting
Complicated setup process
4. Fosmon Mini Bluetooth Keyboard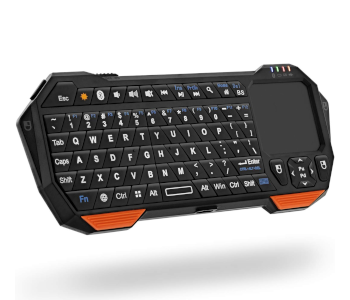 View on Amazon
Editor's Rating: 4.2/5
Having a TV keyboard that's close to full size makes typing more manageable, but finding room to store it close to the TV can be challenging. Fosmon's Mini Bluetooth Keyboard doesn't have this problem as it's the size of a beefier remote. It's small enough to comfortably fit inside a pants pocket or get lost between couch cushions. The keyboard is easy to use, works well for TVs or home theater computers, and it's cheap to boot.
Overview of Features
Fosmon's keyboard is small, yet its space has been entirely utilized and doesn't lack functionality. It has an angular design with protruding orange thumb rests at the bottom. Typing on the keyboard feels natural, whether you're holding it like a controller or have it flat on a desk. The buttons are tiny and clicky when pressed. They're close together, so users with large thumbs will need some time to get rid of initial typos.
The keyboard has an informative color-coded set of LEDs that tell you much about its status. The first glows blue when Bluetooth is established and will blink to indicate when connecting. The middle two lights are green and red. They indicate when the battery is in OK shape or about to give out, respectively. The right-most LED glows yellow when you turn on Caps Lock.
Fosmon's keyboard has a dedicated media row with actions like volume and playback controls or search. It's also home to the Bluetooth connection and light on/off buttons. Turning the light on produces an even glow that affects all keys, even the small navigation arrows under the touchpad. There's a rechargeable battery, but its capacity isn't great since you can only use the keyboard for ten hours with a standby time of fifty. Recharging the battery takes from two to three hours.
The trackpad is quick to register movement despite its size accurately. Combining it with the tiny D-pad underneath leads to the best results since the former is better for browsing while the latter is more suitable for grid-based navigation inside most smart TV interfaces. Like the i8+, this keyboard has two right and left mouse buttons. One set is under the trackpad. The other is on either side of the keyboard like the L and R buttons on a controller.
What We Didn't Like
The trackpad positioning and the keyboard's overall design make typing with the right thumb challenging. The right-hand portion of the QWERTY part is too far to the left, so you have to stretch to reach some letters. It's doubly difficult for people with large hands since pressing more than one key with each stroke is likely.
Tech Specs
Dimensions: 6.9 x 3.9 x 1 in.
Weight: 8 oz.
Trackpad: Yes
Illuminated keys: Yes
Power source: Rechargeable battery
The Pros
Small and compact
Handy indicator lights and even backlighting
Multiple left and right mouse button choices
Separate multimedia control row
The Cons
Easy to press multiple buttons at once
Right-hand keyboard portion is hard to reach because of trackpad
5. AmazonBasics Wireless Keyboard with Touchpad
View on Amazon
Editor's Rating: 3.8/5
Do you like the idea behind Logitech's TV keyboards but don't want to pay a premium? Amazon produces a cheaper if less well-made alternative as part of the AmazonBasics line. The wireless keyboard brings full smart TV control in a compact package complete with a trackpad and multimedia buttons in the F row. It's pleasant to type on, quiet, and cheap.
Overview of Features
The AmazonBasics keyboard looks like a standard office tenkeyless keyboard. The major difference is that there's a trackpad on its right side you can conveniently control with your thumb. It's thin and has noticeable flex. While this doesn't signify high build quality, the keys don't wobble and promptly respond to input.
Unlike other keyboards on review, this one takes two AA disposable batteries. On the plus side, having no backlighting means you can get by on a pair of AAs for years. The keyboard has an on/off switch you should use to extend its lifespan even more. It also comes with a proprietary receiver that maintains a wireless Bluetooth link with a max range of 33 feet.
Typing on the AmazonBasics keyboard is a neutral experience. Its keys have a decent travel time, but a press is registered only once a key moves all the way down. That requires you to press harder than you'd expect from a rubber dome keyboard. Typing is quiet in spite of this, so you can spend hours browsing the web or looking for YouTube videos without waking others.
What's Bad About It?
The trackpad is poorly made. Its main problem is a lack of sensitivity, which you'll feel the most while scrolling. Pressing Fn along with the up and down arrow keys is a useful workaround, but you shouldn't need to use one in the first place. There's a backplate that stores the USB receiver and batteries. It's hard to take off if you have short fingernails.
Tech Specs
Dimensions: 14.7 x 5.1 x 0.9 in.
Weight: 12.8 oz.
Trackpad: Yes
Illuminated keys: No
Power source: Two AA batteries
The Pros
Quiet, solid typing experience
Long battery life
No connection issues
Cheap for its size
The Cons
Trackpad is unresponsive
Batteries and USB compartment are hard to reach
6. Best Budget Option – iPazzPort Bluetooth Mini Wireless Keyboard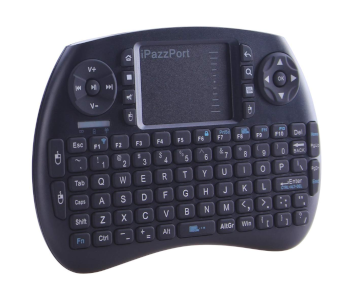 View on Amazon
Editor's Rating: 4.2/5
The last TV keyboard on review has much more to offer than its modest asking price implies. iPazzPort's keyboard fits snugly in your hand thanks to superb ergonomics and has an abundance of functions regardless of size. It uses a 2.4 GHz Wi-Fi connection that guarantees good response times and means you can use it from anywhere inside the house. It's the best gadget for streamlining your smart TV watching experience if you don't want to spend more than $15.
Overview of Features
iPazzPort's TV keyboard looks strikingly similar to the Rii i8+. The layout of the QWERTY portion is the same, as are the D-pad and multimedia controls on either side of the touchpad. Differences boil down to the functions of several buttons close to the touchpad and the three indicator lights for power, connectivity, and light. This model is easier to grip, too, since there's a rubberized texture in the back.
This is the only keyboard we've tested that has RGB lighting. While you can't set it to glow in millions of colors, you can toggle between red, green, blue, and off. The display shits itself off after a brief period of inactivity to conserve power. The keyboard has a removable 800mAh rechargeable battery that shares a compartment with the USB receiver. That's a clever solution since it means you can exchange a dead battery and keep using the device without having to buy a new one.
The typing experience is similar to what we've seen with the i8+. The keys are slightly cramped but easy enough to press if you take the hunt & peck approach. iPazzPort outfitted the keyboard with a better touchpad, though. Its biggest advantage is variable sensitivity you can configure with a button press. Gestures and scrolling via the touchpad work well, and there are several pairs of mouse buttons for users who prefer physical controls.
Are There Drawbacks?
This keyboard isn't compatible with some smart TVs. The manufacturer says it doesn't work with Samsung models, but that might not be the extent of its compatibility issues. It works fine for home video PCs and Android TV boxes, though. The device is extremely light, so much so that pressing down hard might cause it to bend or break. Be extra careful with it, and you'll be fine.
Tech Specs
Dimensions: 4.6 x 1.6 x 0.3 in.
Weight: 0.6 oz.
Trackpad: Yes
Illuminated keys: Yes
Power source: Rechargeable battery
The Pros
Comprehensive set of features at a bargain price
Adjustable touchpad sensitivity
Removable battery
Three backlighting colors
The Cons
Very light
Has compatibility issues