Is an OLED TV Worth the Premium Price?
3D Insider is ad supported and earns money from clicks, commissions from sales, and other ways.
Every time the holiday season comes around, we get no shortage of questions about tech-related products. This is expected, considering how many people take advantage of sales during this season to buy new stuff at huge discounts.
This article's topic is a bit of a departure, as it's about a product that people on a budget don't typically look at – OLED TVs. Right now, OLED TVs are several notches higher than the usual LED TVs, both in terms of quality and price. Should you spring for one this holiday season? Check out our detailed guide on OLED TVs.
OLED vs LED: What's the difference?
The first thing you need to know when distinguishing between LED and OLED TVs is that OLED TVs can be at least five times more expensive. LED TVs have gotten incredibly cheap in the past couple of years. Nowadays, you can get a 32-inch 1080p LED TV for just a little more than $100. If you want to go for 4K resolution, this 40-inch 4K LED Smart TV from Vizio costs just above $300.
In contrast, you can expect to spend at least $1200 on an OLED TV. With such a stark price difference, considering an OLED TV begs the question: is it really worth it? What makes an OLED TV so special?
The answer lies in a significantly improved display technology.
LED TV technology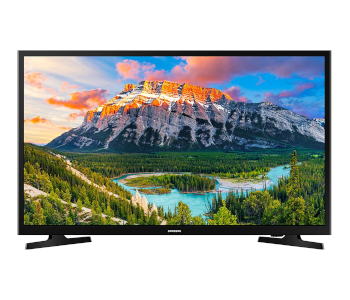 LED TVs are more specifically described as LED-backlit LCD TVs. The LCD layer is what creates the image as we see it on a TV. It is a layer made of liquid crystals which are controlled by tiny electric charges, causing them to open and close. Think of the crystals as very small shutters, allowing the TV to control which portions of the screen are made visible.
While the LCD layer provides a means to "screen" what the viewer sees, it does not create eh image itself. The component responsible for this is the array of LED lights positioned right behind the LCD layer. The density of these LED lights and how they are positioned will vary based on specific TV models.
Cheaper LED TVs are "Edge-Lit" which means that the LEDs are arranged in strips along the edge of the TV. LED TVs made this way are also generally thinner and exhibit average contrast. More premium LED TVs will feature a full array of LED lights, arranged in fairly dense manner. The contrast for a full-array LED TV is superior, but it is also more expensive.
More recently, QLED TVs have become more common. These are a step up from the usual LED TVs, featuring very small "quantum dots" that enhance the colors from the LED backlight. These give QLED TVs a uniquely wide array of dynamic colors which come in handy when watching 4K content, especially with the HDR mode turned on.
OLED TV technology
The simplest way to describe OLED TVs is that they no longer have any backlighting. Instead, each single pixel in the screen acts an independent light source. This means that OLED TVs are no longer limited by the effects of light scattering produced by typical LED backlights. This results in much better resolution and contrast.
One of the biggest selling points of an OLED TV is its ability to replicate a "true black" color. This is possible because each pixel in an OLED screen acts independently and can be shut off completely. This is impossible to replicate in a LED TV because the LED backlight bleeds through the LCD layer, even if sections of the LCD layer have been turned off.
The difference might seem trivial, but the truth is that words cannot do justice to how much of a difference this makes. One only needs to look at a side-by-side comparison of an LED and an OLED TV to appreciate the improvement, preferably while displaying a dark image. You really do not know how a "true black" color looks like until you see it.
Another advantage of OLED TVs is that they supposedly emit about half the intensity of blue light as LED TVs. Knowledge about blue light and how it causes eye strain from our electronic screens is becoming more common. If you're the type who can't go on movie marathons on your TV without getting a headache, an OLED TV might be the solution you're looking for.
Although OLED technology has been around for quite some time, manufacturing OLED screens large enough for TVs is still a difficult and expensive process. The OLED manufacturing process is also notorious for creating a lot of defective units, driving up the cost of those that turn out alright.
The technological jump from LED to OLED is big enough to consider it a shift from one generation to the next. In just about all aspects of quality and viewing experience, an OLED TV is superior to a LED TV. It's still not a clear-cut decision as we always go back to our original point – OLED TVs are just too expensive.
Is buying an OLED TV worth it?
Given how much one has to fork over for an OLED TV, is the experience really worth the premium price? What does OLED offer that other TVs cannot? Are there circumstances when getting an OLED TV isn't such a good idea? Here are points to ponder on:
OLED TVs have better brightness, contrast and black levels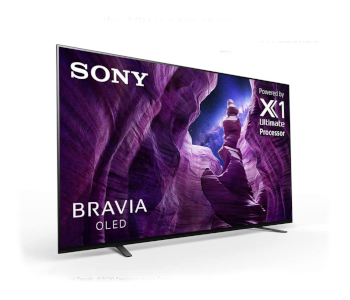 There's no going around the fact that OLED TVs simply show better images than even the best LED TVs. OLED technology is fundamentally better suited for images with high contrast, with lots of colors, or with a lot of dark sections – which covers just about all movie or TV scenes ever created.
Whether you're getting a TV for watching movies, playing video games, or watching your favorite sports, there's hardly any argument that an OLED TV will give you the best experience. You might not even want to watch a movie in a cinema again once you have your OLED TV at home – it's just that good.
OLED TVs have wider optimal viewing angles
If you have a large entertainment area, then you probably understand the concept of an optimal viewing angle. As you move to the side of the TV, colors tend to shift and get washed out until a point where the image is no longer perceptible. This becomes more pronounced in LED TVs as the reliance on backlighting creates a shutter effect, effectively making some of the pixels invisible.
OLED TVs have no such limitation. With self-lit pixels, the picture quality of an OLED TV is just about the same when viewed at any angle. This is a huge advantage if you have your TV set up in front of several couches for a massive movie night.
OLED TVs could be better for your eyes
While the scientific community has not come up with a unanimous opinion about the effects of blue light, many still believe that this is the component of the light in our screens that causes eye strain. According to TV manufacturers, OLED TVs emit about half the blue light as that of LED TVs. This is excellent news for those who find themselves unable to watch TV for long periods.
OLED TVs have unpredictable durability
While LED TVs have been around for around two decades, OLED TVs are a fairly recent development. This means that there still isn't a lot of real-life data yet on how long these OLED TVs will last. If you're spending more than $1000 for a TV, this uncertainty might not be something you can stomach.
According to many TV manufacturers, their OLED TVs are rated to last up to 100,000 hours. This is about the same lifespan as a standard LED TV. However, this figure is likely tested under ideal conditions. Until OLED TVs become more common, we probably won't see how well the technology holds up to real circumstances.
Static image burn-in is still a concern for OLED TVs, as it was for LED. This refers to a phenomenon when an image "burns" on the screen of the TV if it was held static for too long. While theoretically still possible, most modern TVs have automatic features designed to avoid an image burn-in. More than choosing between LED and OLED, look for a TV with such features.
The benefits of OLED TVs are muted in ambient light
The rich colors and deep blacks of an OLED TV are best appreciated when watching TV in a darkened room. If your TV area has a lot of ambient light from windows or overhead lamps, then a LED TV might even end up looking better. In this case, spend a lot on a premium OLED TV might not be a practical decision.
OLED TVs will get cheaper in the next years
One of the main reasons for why a lot of people are still holding out on buying an OLED TV is the fact that they will inevitably get a lot cheaper in the near future. LED TVs followed this trend, and OLED TVs will certainly do so, as well. If you can't afford to get one right now, then it's perfectly fine to get a good LCD TV and upgrade to an OLED TV after five years or so.
All things considered, getting an OLED TV right now is considered a good decision if you have the budget for it. They are still pretty new, clearly superior to LED TVs, and are sufficiently "future-proof." Still, OLED TVs are still far from what most would consider "affordable."
Recommendations for good OLED TVs that you can buy today
As a testament to how uncommon OLED TVs still are nowadays, there only a few major brands that carry them. If you're even considering getting an OLED TV this holiday season, here are some products we can recommend: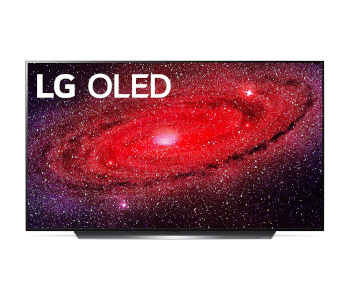 The flagship OLED TV from LG comes in four size options – 48", 55", 65", and 77". With millions of OLED pixels and a dedicated α9 Gen 3 AI processor, the LG OLED TVs are designed to display sharper images, richer colors, and deeper contrasts. Even if you're not watching content in native 4K, this TV provides AI-aided 4K upscaling (as well as Picture Pro and Sound Pro) so you can watch it better quality.
The LG OLED TV is a TV that was designed specifically for gamers. With a 120-Hz native refresh rate supported by HDMI 2.1 and NVIDIA G-Sync and FreeSync technology, this TV is perfect for delivering responsive gameplay and low latency. Of course, these features also come in handy when watching movies with fast-paced action of exciting sports events.
To enhance longevity, the LG OLED TV comes with energy save and screen saver modes. These are essential in avoiding burn-in image problems.
Despite an intimidating price tag, the LG OLED TV is a perfect union of smart TV features and an amazing OLED display. The TV itself also looks great – the slim design and thin bezels work well with the aesthetics of just about any modern home.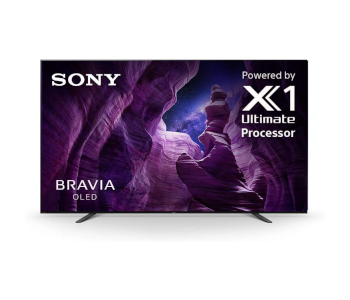 Another solid OLED TV option from one of the bigger brands, the Sony A8H is a powerful display with brilliant visuals and seamless compatibility with Sony gaming consoles. If you want to make the most out of your PlayStation 5, you simply MUST get the Sony A8H.
Gaming isn't the only case where the Sony OLED TV shines. On top of the usual self-lit OLED panel, this TV comes with Pixel Contrast Booster technology which further accentuates the colors and brightness of individual pixels. The result is unbelievably vibrant images with the type of crispness of images only possible with the superior contrast of OLED technology. The X-Reality PRO feature provides upscaling to 4K resolution, in case you're watching anything at lower resolutions.
Voice control of the OLED TV is possible either through Siri, Alexa, or Google Assistant. If you have security cameras around the house, you can stream each of them with just voice commands. You can also use voice control to look for movies, play music, or simply check your calendar for appointments.
If you play video games with a Sony console, then this OLED TV is unquestionably your best option for maximizing the experience. With the dedicated Game Mode, motion is just a little smoother making the action on the screen more responsive to your inputs.
Just as with other OLED TVs, the Sony A8H features a sleek and low-profile design that is perfect for wall-mounting. Should you need to prop it up on a desk, the included metal stands are designed specifically to fit a soundbar right underneath the TV.
If you're really hell-bent on getting an OLED TV this season, one thing you need to know is that they may not be as readily available as your run-of-the-mill LED TVs. The market for OLED TVs is just so small right now that brands aren't exactly compelled to place them in all storefronts.
Final thoughts
If you're looking to upgrade your entertainment room and you've got the budget, then buying an OLED TV is well worth the extra cost. Compared to a standard LED TV, an OLED TV is simply a lot better across all aspects of the TV viewing experience. Again, this is something that's tough to express in words – you simply must see the difference to know why it's such a huge technological upgrade.
Putting of buying an OLED TV for a few more years is a perfectly good decision as well. This technology is still uncommon right now, but improvements in its manufacturing process should make it a lot less expensive in the near future.