6 Best Two-Way Radios of 2019
3D Insider is ad supported and earns money from clicks and other ways.
When you're out in the open and unknown, two-way communication is essential for survival. Since smartphones become useless the deeper into the wilderness you go, two-way radios are left as your only reliable link to civilization.
Choosing the right two-way radio isn't easy though, not even for seasoned hunters or survivalists. This is because there are so many sub-types and models available that it's impossible to get a good overview on your own. Some two-way radios are perfect for sailing while others excel at helping hunters return safely with their latest trophy. Even if you know what you'll use your two-way radio for, there's enough of a difference in features like battery life or actual range between similar models to create confusion.
In this review, we cover the six best two-way radios on the market. Each is ranked based on how reliable and feature-rich it is, and you can read its thorough review if you're on the fence. There's also a general guide on two-way radios that will make your choice easier.
Budget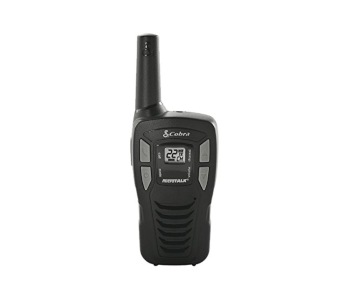 Cobra ACXT145
3.9/5.0
Weight: 2.2 oz.
Range: 16 miles
Easy to use and good sound quality for its price.
Check Amazon
Best Value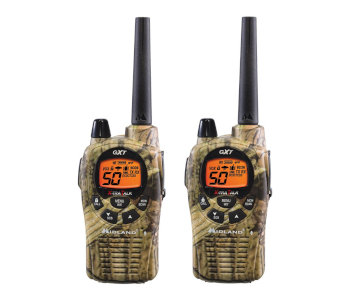 Midland GXT1050VP4
4.7/5.0
Weight: 4.8 oz.
Range: 35 miles
Runs on either AA or rechargeable batteries.
Check Amazon
Top Pick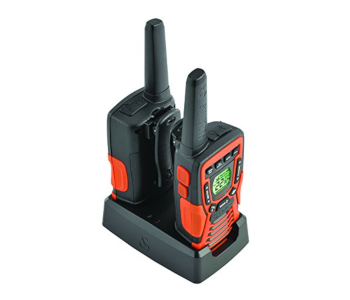 Cobra ACXT1035R
4.8/5.0
Weight: 5.6 oz.
Range: 37 miles
Rugged build with excellent grip and waterproofing.
Check Amazon
What to Look for in a Two-Way Radio
Types
Range
Battery Life
Waterproofing
Licensing
Additional Features
Two-Way Radios Comparison Table
1. Best Overall – Cobra ACXT1035R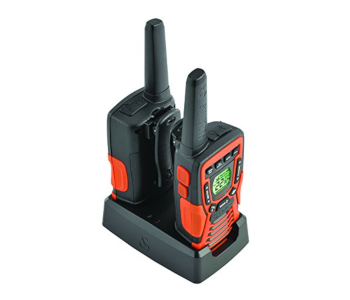 View on Amazon
Editor's Rating: 4.8/5
You need to be ready for anything when adventuring in the outdoors, so it stands to reason that your gear should be too. Cobra's ACXT1035R is at the pinnacle of preparedness as radios go – it is built like a tank, comes with a slew of features focused on survival, and delivers clear transmissions over respectable distances. You can get a pair of these two-way radios for less than $100. Considering what they bring to the table, this is an incredible and potentially life-saving deal!
Overview of Features
You won't have trouble telling the ACXT1035R apart from other two-way radios thanks to its glaring orange exterior. This is to make the radio easier to spot whether you're in the woods or floating next to a turned-over kayak. The ACXT1035R will float along with you and won't give out if it gets wet since it can withstand being submerged in water for 30 minutes. Its sides and front are rubberized which makes the ACXT1035R both easier to hold onto and lessens the impact if you accidentally drop it.
Cobra is intent on getting you home safely, which is why the ACXT1035R can receive 10 NOAA channels and give you advanced warning in case of bad weather. More immediate survival means include an LED flashlight that can blink to send out an SOS signal and a power-saving mode that pushes the batteries beyond their 10-hour limit.
Cobra claims that the ACXT1035R's range is 37 miles. As with all two-way radios, this applies to communicating with someone in a mountain to valley scenario you'll likely never experience. Expect an actual range of 2 miles or less in wooded or urban areas. While drastically smaller than the advertised maximum, this is the best you can hope for in real-life situations.
Keeping in touch with others is easy thanks to hands-free operation and the exceptional quality of the ACXT1035R's speaker. Rewind-Say-Again is by far the best communication feature – enabling it will let you listen to the last 20 seconds of any transmission. This is invaluable for confirming a meet-up point or making sense of what someone said if there was a lot of interference.
What We Didn't Like
While the ACXT1035R is waterproof, the charger isn't. You'll need to make sure it is protected against moisture and not use it with the radio while wet. The belt clip on the radio's back is poorly made and will easily snap.
Tech Specs
Dimensions: 7.5 x 2.4 x 1.5 in.
Weight: 5.6 oz.
Range: 37 miles
Battery life: 10 hours
Waterproof: Yes
The Pros
Rugged build with excellent grip and waterproofing
Lots of survival features
Can repeat the last 20 seconds of a transmission
Great range
The Cons
Charger isn't waterproof
Low-quality belt clip
2. Best Value – Midland GXT1050VP4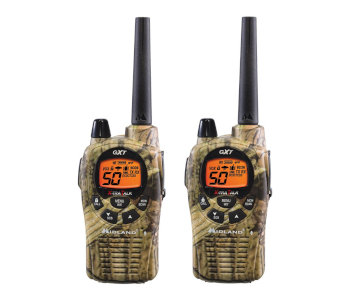 View on Amazon
Editor's Rating: 4.7/5
Midland's GXT1050VP4 is designed with the stealthy hunter in mind but boasts features any outdoor enthusiast will find invaluable for survival and effective communication. These include decent battery life, privacy channels, nine levels of hands-free operation through VOX, and so much more! Whether you're an accomplished hunter, an avid hiker, or love paintball, you'll find no better consumer-grade two-way radio out there.
Overview of Features
The first thing you'll notice about the GXT1050VP4 is something others won't – it has a distinct camo pattern that makes the radio invisible in wooded areas. Coupled with a completely silent mode and call alerts that can be disguised as animal noises, this makes the GXT1050VP4 the ideal choice for anyone who wishes to remain undetected. The radio isn't waterproof as it has a rating of JIS4. Still, it is resistant to splashes so getting caught in a downpour won't make it unusable.
The GXT1050VP4 comes with rechargeable batteries which take 12 hours to fill up and let it work for 11. You can also use standard AA batteries which are a cinch to find if the rechargeable ones run out of juice. The radio can broadcast with three strengths, the highest of which is 5 watts. You'll need to be licensed to use the strongest one, but 2 watts and less is enough to broadcast in a forest anyway. The theoretical maximum range is 35 miles, but expect two or less when you aren't in the open and have no clear line of sight to the recipient.
You can count on the GXT1050VP4 whether you want your conversation to be loud and clear or hushed. Both the microphone and speaker are top quality so reading the person on the other end of the line isn't difficult. There's a special whisper mode which enhances the speaker's voice, making whispers audible and understood. There are also 140 privacy codes if you want to make sure that your conversation remains private.
What's Bad About It?
You get a set of earbuds with the radio to use for hands-free communication. These are of low quality and are meant to fit small ears. The batteries last long initially but may start to lose their charge after a season of use.
Tech Specs
Dimensions: 9.8 x 2.5 x 1.8 in.
Weight: 4.8 oz.
Range: 35 miles
Battery life: 10 hours
Waterproof: No
The Pros
Excellent at camouflage and stealthy communication
Runs on either AA or rechargeable batteries
Good range in difficult terrain
Light and easy to carry
The Cons
Batteries lose their charge after prolonged use
Low-quality headset
3. Motorola MT350R FRS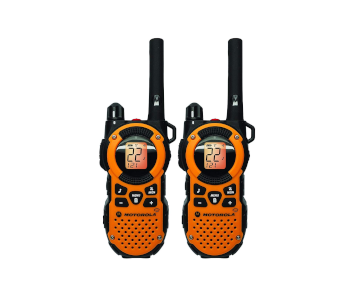 View on Amazon
Editor's Rating: 4.5/5
When you're out in the backcountry, your two-way radio is the only lifeline to civilization. That's why it's imperative that your model of choice has great battery life. Motorola's MT350R FRS can go for days when in power-saving mode while intensive use still lets you get 15 hours out of a single charge! Other impressive features include long-range communication, hands-free operation, and automatic channel scanning.
Overview of Features
Motorola had a similar design philosophy as Cobra when making the MT350R FRS. The radio is hard to miss given its orange exterior. Its color is brighter than the Cobra's and more suitable for snowy terrain than the surface of a lake. The buttons are large and spaced out evenly, so it's easy to press individual ones even while wearing gloves. The MT350R FRS is light yet has a durable body that will survive a tumble.
Long battery life is the MT350R FRS most exceptional feature. This is due to it having a maximum power of 1.5 watts. You'd think that this limits its range severely, yet the radio can talk to its pair 9 miles away in clear conditions! The battery life is further extended if you turn on power-saving mode. When this mode is active, the signal strength drops to 0.5 watts after 2 minutes of radio silence. You get only one AC adapter as part of the package, but it has two jacks so you can charge both radios at the same time.
This is the two-way radio with the best sound quality on review! Audio comes through with crystal clarity, even at the edge of its transmission capabilities. VOX facilitates hands-free communication while a vibrating alert lets you know that someone's calling when you don't want to startle game or ambient noise is too loud to hear a call alert. Emergencies are covered too as the MT350R FRS has a strobing LED flashlight and the MON button. Pressing this button cycles through all frequencies in range, stopping only when you pick up a signal. This could prove to be a life-saving feature if you get too far away from your group.
Are There Drawbacks?
The Motorola MT350R FRS is expensive. It is three times as expensive as our overall winner. That and the fact that it has an IP rating of 54 cost the MT350R FRS our winning spot. An IP waterproofing level of 5 protects the radio from snow or rain but isn't enough for it to survive being dunked in a river.
Tech Specs
Dimensions: 7.9 x 1.6 x 2.8 in.
Weight: 5.4 oz.
Range: 35 miles
Battery life: 15 hours
Waterproof: No
The Pros
Outstanding battery life
Big, simple keys you can press while wearing gloves
Sturdy build and color that's easy to spot
Excellent audio quality
The Cons
Expensive
IP rating is too low given its price
4. BaoFeng UV-5R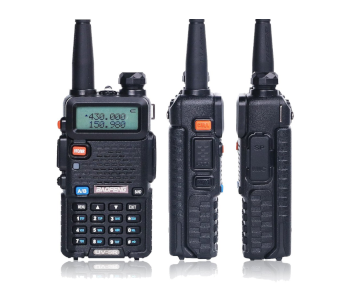 View on Amazon
Editor's Rating: 4.3/5
It wouldn't be a true gathering of great two-way radios if we didn't include at least one ham radio, and the honor goes to BaoFeng's UV-5R. Long praised by amateur radio enthusiasts for its versatility and cost-effectiveness, this is the best ham radio you can get without spending hundreds of dollars. It's easy to program using CHIRP, comes with lots of useful accessories, and is a great starter model for learning the ropes of radio communication.
Overview of Features
This is the largest two-way radio on review. Unsurprising since BaoFeng had to cram a numerical keyboard into it along with several function keys. These are small yet distinct so pressing the button you intended isn't hard. The LCD screen is capable of displaying two lines of text and has three backlight colors that make it easier to see its output whether you're out in the sun or in the woods at night.
This is a dual-band radio, meaning you can listen to two frequencies at the same time. The caveat is that you can reply or listen to one at a time though, so one frequency will stay muted while the other is transmitting. The UV-5R supports a wide range of frequencies in the VHF and UHF spectrum. There are 128 slots to save your favorite ones to and an automatic search function makes this easier.
This version of the UV-5R includes loads of accessories like a charging cradle, a wireless headset, and an additional battery. Speaking of which, the Li-ion rechargeable battery lasts for 10 hours of heavy use which can be extended to 3 days if it's in standby mode. You can switch between signal strengths of 1 and 4 watts. You need to be licensed to use the more powerful setting and frequencies in commercial radio space, however.
What We Didn't Like
The programming software the UV-5R comes with is complicated. You're better off using CHIRP instead since it contains the radio's profile and is easier to learn. The stock antenna isn't powerful. You should invest in an upgrade if you want the best results.
Tech Specs
Dimensions: 8 x 4 x 6 in.
Weight: 1 lb.
Range: Not specified
Battery life: 10 hours
Waterproof: No
The Pros
Excellent value for the money
Comes with an assortment of accessories including extra battery
Wide frequency range
Screen visible in any circumstances
The Cons
Weak stock antenna
Complicated to program with default software
5. Uniden Atlantis 270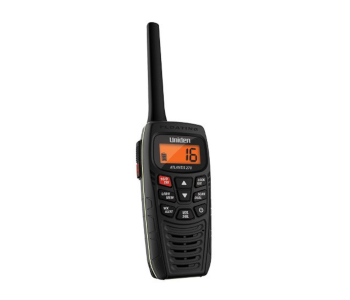 View on Amazon
Editor's Rating: 4/5
Conditions on the sea are more unpredictable than on land, which is why you need a specialized two-way radio if you enjoy maritime adventure. Uniden's Atlantis 270 is a waterproof radio designed to weather any storm and help get you to shelter well before one hits. It offers clear communication across considerable distances, can monitor Coast Guard channels, and receives NOAA reports. Whether on the sea or a river, there's no better two-way radio to have at the ready.
Overview of Features
The Atlantis 270 has a practical, no-frills design and is all black with a backlit screen that's easy to read in any weather. Its barebones control scheme allows you to find the right button quickly even on turbulent seas. These include buttons that automatically turn on NOAA weather alerts, periodically scan channels 16 and 9, as well as one that lets you tune into two Coast Guard channels simultaneously.
This radio has an IP rating of 7, meaning it can be submerged in three feet of water for half an hour and come out undamaged. You shouldn't encounter this scenario unless you capsize since the Atlantis 270 floats. Not even salt water will damage its internal components – just rinse the salt off with fresh water, and the radio will be good to go in a few hours.
The Atlantis' maximum range is set at 5 miles. While this is considerably lower than that of other two-way radios, keep in mind you're actually more likely to reach it if you're communicating in open waters. You can expect consistent and clear communication at distances north of three miles. Hitting the squelch button will shorten this but noticeably decrease the background noise made by waves and wind, letting you communicate with your group or ask for help with a higher chance of success.
Are There Drawbacks?
You fill the radio's batteries up by placing it on a charging cradle. The cradle has poor contacts and might not recharge the battery correctly. This can lead to shorter battery life. Luckily, Uniden will replace the battery inside the 3-year warranty period. The Atlantis 270 has a quiet speaker. It is fine for sailboats and for use on land, but you might have trouble hearing it over a raring boat engine.
Tech Specs
Dimensions: 6.5 x 2 x 9.8 in.
Weight: 1 lb.
Range: 5 miles
Battery life: 10 hours
Waterproof: No
The Pros
Waterproof and buoyant
Good range in clear conditions
Has access to NOAA weather reports and Coast Guard channels
Straightforward control scheme
The Cons
Faulty charging cradle
Speaker volume is too low
6. Best Budget Option – Cobra ACXT145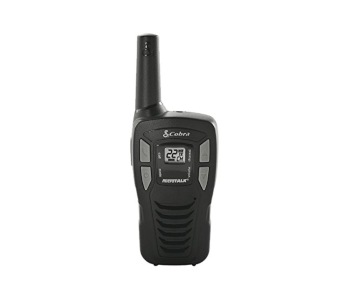 View on Amazon
Editor's Rating: 3.9/5
Are you looking for a reliable pair of two-way radios for use around the shop or on a job site? Cobra's ACXT145 is an affordable option for close-range communication. It doesn't come with the bells & whistles of the other Cobra model on review, but it relays messages with above average quality. The ACXT145 is easy to use and charge, has a handy flashlight, and can run on standard AAA batteries.
Overview of Features
This two-way radio is by far the smallest and lightest on review. It weighs just over two ounces and is easy to stash away in a toolbox. The ACXT145 isn't fragile though. It is made from durable plastic and has an IP rating of 4, so it can get splashed on and still work. The supplied NiMH rechargeable batteries last 8 hours. AAA batteries work too and should always be carried as an emergency replacement. With these in, the ACXT145 can receive and transmit for 24 hours.
The design is as straightforward as it gets – there are only four buttons which do different things based on how long you press them. The lock button is particularly useful since it keeps you from switching to another channel unintentionally.
The ACXT145 has several advanced features you wouldn't expect to see given its price. You get access to NOAA channels, privacy codes, and VOX! All three features work well but can be confusing to access since this requires various combinations of long and short button presses.
This two-way radio uses two signal strengths and has a theoretical maximum range of 16 miles. A more realistic assessment in cities or dense forests reduces that range to one mile. This won't do for outback wilderness trips but is more than enough to keep in touch with coworkers in a construction yard or warehouse. Performance is better than expected in these circumstances as voices come through with little interference, and squelch does a great job at reducing unwanted noise.
Are There Drawbacks?
The ACXT145's screen is its weakest point. It isn't backlit, so you have to be looking at it in good lighting. Even then, the display has to be angled right to be made out, not that you'll get much wiser since it doesn't include info like the battery level. The lid of the battery compartment is held in place by a safety screw. This makes sense as a security precaution but isn't ideal if the batteries run dry and you don't have a screwdriver at hand.
Tech Specs
Dimensions: 1.5 x 2 x 5.2 in.
Weight: 2.2 oz.
Range: 16 miles
Battery life: 8 hours
Waterproof: No
The Pros
Great value for the money
Easy to use
Good sound quality for its price
Supports AAA batteries
The Cons
Screen is hard to see and contains little information
Removing battery requires screwdriver