6 Best Underwater Drones of 2019
3D Insider is ad supported and earns money from clicks, commissions from sales, and other ways.
Humans know more about the world above water than below it. We even have a better understanding of deep space than the deepest oceans. And I doubt anyone reading here has plans to venture down to the Mariana Trench any time soon. Despite that, underwater drones have reinvigorated a new passion. Under the sea exploration is now on the cards of budding videographers and photographers.
Recording the world beneath the waves was once the stuff of a privileged few. Not anymore. Now anyone with passion can take up this exciting hobby or even turn it into a viable business.
The Underwater Companion
Reasons for descending to the unknown depths with an underwater robot include:
General underwater and sea exploration
Record cinematic film projects
Underwater photography
Fishing: scout surrounding areas for fish, baiting
Mapping: scientific research
Treasure hunting
Study marine life
Already you can see some of the attractions and possibilities. This page looks at a few of the best underwater drones around right now. I've even included an affordable RC toy submarine at the end. It's an excellent gift for parents and grandparents to get for youngsters. The spark of the world's greatest marine archaeologists most likely ignited with a toy.
Budget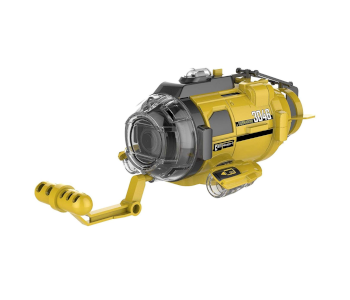 SilverLit Spy Cam Aqua
4.2/5.0
Max Running Time: Depends on battery
Charging Time: Not specified
Easy to use, full water-resistant body, LED spotlights.
Check Amazon
Best Value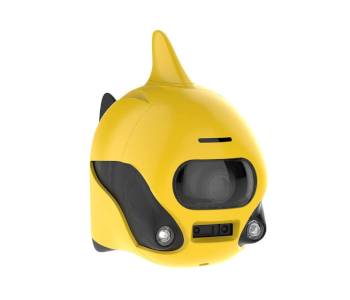 ROBOSEA BIKI
4.6/5.0
Max Running Time: 90 minutes (1.5 hrs.)
Charging Time: 2 hours
Tail fin driven, lumen lights, 32GB memory, obstacle avoidance.
Check Amazon
Top Pick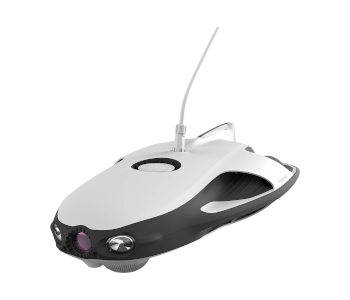 Power Vision PowerRay Wizard
4.5/5.0
Max Running Time: 30 minutes or longer
Charging Time: 2.5 hours
Fishes, Explores, Maps, hunts, studies, takes photos, and films.
Check Amazon
Underwater Drones — Buying Considerations
There are five basic things to consider before buying an underwater drone or submarine:
Your budget
Running time (battery life)
Wired or wireless
Needs & expectations
After sales service
The basic buying considerations for underwater drones are like those of their flying counterparts. The difference is that there aren't as many options as with aerial models. Even so, there's still lots of choice from toy-grade to hobby-grade and professional rigs.
#1 Know Your Budget
#2 Battery Life
#3 Wired & Wireless Connections
#4 Needs and Expectations
#5 The Importance of Good Customer Service
About this Guide and these Products
I've put six capable underwater drones together for this guide. I've included a toy model for kids, a couple of high-end products, and everything in between. I based these models on personal choice, user feedback, and the views of industry experts. The first three on the list are Best Budget, Best Value, and Top pick. The remainder are in order of least to most expensive.
The table below shows these underwater drones as they appear in this guide.
Underwater Drones Comparison Table
#1 SilverLit Spy Cam Aqua Camera Submarine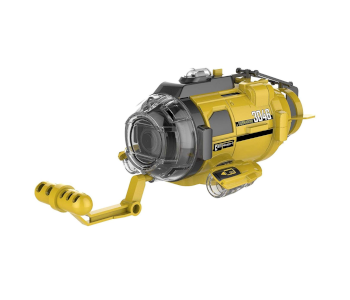 View on Amazon
Editor's Rating: 4.2/5
My Best Budget pick is the SilverLit Spy Cam Aqua Camera Submarine. It's a 3-channel underwater camera sub that's ideal for kids who are ready to move on from lifeless bath toys.
Best feature 1: Built-in camera
Best feature 2: Fully maneuverable
Plus points: Easy to use, full water-resistant body, LED spotlights, detachable fish feeding tool
Minus points: A little underpowered, only suitable for fish tanks and pools, price
The Spy Cam Aqua is a fantastic introduction to underwater filming for kids. This high-end toy guarantees to keep the brood entertained as few RC models can. The main appeal is for families who have a decent sized fish tank. All you do is submerge the Aqua in the water and take control from the dry outside. Youngsters can save their footage to a 256MB memory to enjoy later.
The Aqua floats as well. That means you can steer it like a boat before or after the underwater journey. It has full maneuverability too. This little craft dives, climbs, moves forward, backward, and turns left and right. The 1280 x 960 photos and 640 x 480 videos are more than adequate for a product in its class. The two front-facing LED spotlights add to the appeal of this yellow submarine.
The Not So Good
I found the SilverLit Spy Cam Aqua Camera Submarine a little underpowered at times. It's something that could frustrate the older more impatient user. You must restrict the craft to fish tanks, bathtubs, and maybe the pool if you don't try to go too deep. The price is also quite high for such a small toy. Still, it's worth every penny if the kids get plenty of enjoyment out of it.

Tech Specs
Dimensions: 4.5 x 3 x 2.8"
Product Weight: 1 lbs.
Range: Not specified but not far
Battery: AAs (not included)
Running time: Depends on batteries used
The Pros
Built-in camera
Fully maneuverable
Easy to use
Waterproof body
LED spotlights
Detachable fish feeding accessory
The Cons
A little underpowered
Only suitable for fish tanks, bathtubs, and pools
Pricey for a tiny toy
#2 ROBOSEA BIKI, RC Underwater Drone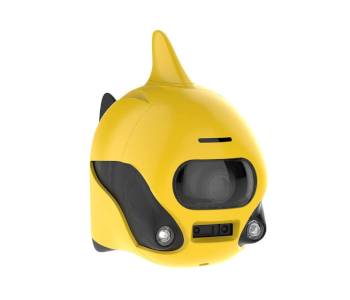 View on Amazon
Editor's Rating: 4.6/5
My Best Value model is another yellow underwater robot like the first pick, but that's where the similarity ends. The ROBOSEA BIKI is a wireless RC sub drone that sports a 4K HD camera.
Best feature 1: 4K HD Camera w/ 150° wide-angle lens
Best feature 2: Suitable for pools, ponds, and lakes
Plus points: Tail fin driven, lumen lights, 32GB memory, obstacle avoidance, GPS, auto-balance
Minus points: Slow swimmer, built-in (non-removable) battery, price
Not only does the Biki thrive underwater, but it looks and swims like a fish too. Some call it a bionic underwater drone, but to me it's simply Robofish—the swimming camera. There's a lot to like with this underwater drone aside from its unique look. The high-quality 4k camera with 16MP stills capability is no small point. And the 150° wide-angle lens makes sure you capture plenty of footage.
You can steer and control it on the water's surface using the IOS/Android app. To dive, though, you must use the controller underwater. This robotic fish is at home in pools, ponds, and lakes, and can reach depths of 196 feet (60 meters). The drone has a plastic tail drive that makes it more fish-like as it swims under the water. It's a bit gimmicky, but it works great.
Biki's 4K Camera Capability
The 4K Ultra HD camera is tiny, but don't let the size fool you as the quality is superb. There are a camera stabilizer and underwater suspension to help keep the footage smooth. Being able to view the underwater world from a whole new perspective is a fantastic experience. This fabricated fish even has a couple of lumen lights that let you explore the darker areas under the waves.
Capture the Memories
Save those precious underwater experiences for future viewing and posterity. BIKI has a whopping 32GB storage capacity. That lets you save 2.2 hours of video and store an incredible 5,243 8MP photos or 4,000 at 16MP. Don't worry about crashing or losing your plastic pet either. It has a built-in GPS connection, obstacle avoidance system, and an auto balance feature.
There are a few downsides to this ultra-silent, eco-friendly underwater vehicle though.
The Not So Good
BIKI takes its time and won't rush for anyone. That's a good thing in some ways as it preserves energy and thus prolongs battery life. You can expect anywhere between 90-120 minutes on a single charge. But the slow 1.12 mph maximum speed frustrates some users. It also means this pricey little fish won't be able to out swim any underwater thieves who want to grab it.
Another downside to BIKI is the built-in rechargeable battery. Alas, it's a necessary evil due to the special watertight design. The positive side is that the battery life is longer than most folks want to stay underwater. However, if the battery ever needs replacing it's not something the user can do. The final gripe is the highish price tag, but then that's relative to personal thoughts and usage.

Tech Specs
Dimensions: 10.6 x 10.6 x 7.3″
Product Weight: 2.2 lbs.
Range: 164 ft. (50m) above water
Range: 32 ft. (9.7m) underwater
Max depth: 196 ft. (60m)
Battery: Lithium-ion (included)
Running time: 90 minutes
Charging time: 2 hours
The Pros
4K HD Camera w/ 150° wide-angle lens, 16MP stills
Suitable for pools, ponds, lakes
Durable build
Tail fin driven
Auto-balance
Lumen lights
32GB memory
Obstacle avoidance
Built-in GPS
Route Customization
The Cons
Slow swimmer
Built-in battery (can't swap)
Price
#3 Power Vision PowerRay Wizard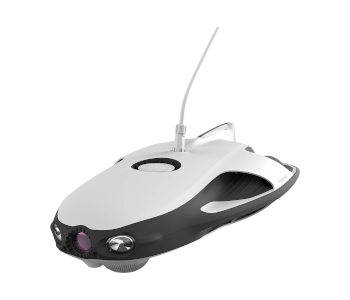 View on Amazon
Editor's Rating: 4.5/5
Power Vision PowerRay Wizard is a serious underwater drone designed for a niche market. The plethora of features are well-thought-out, and the intuitive controls make it easy to use.
Best feature 1: 4K UHD Video, 1080P real-time streaming
Best feature 2: 12MP Photos, 5fps burst mode
Plus points: Fishes, Explores, Maps, hunts, studies, takes photos, and films, built to last
Minus points: 4k shoots at slower 25fps, long battery charging time, built-in battery
The PowerVision PowerRay Wizard is a remotely operated underwater vehicle or ROV. It has a unique appeal for underwater enthusiasts. They include underwater photographers, videographer, and marine explores to name a few. No longer is the high-quality subaquatic world reserved to the privileged few. Okay, so this puppy's not cheap, but it's a bargain for anyone who can get enough use out of it.
Beneath the Surface with PowerRay
Heck, you don't even have to get wet—unless you want to. The unique live streaming feature is something else. It's accessible via any modern iOS or Android device. All you do is connect to the PowerRay's live stream 30fps 1080P video for the ultimate immersive underwater experience. The 4K Ultra-HD camera captures incredible 12MP photos and records beautiful 3840 x 2160 video.
The PowerRay can also be an invaluable tool for anglers with its fish-finder and bait drop line. Underwater explorers can take the drone to places they wouldn't have otherwise reached. It's a bit like aerial drones in that sense. You can see the potential here for treasure hunters too.
Here's a glimpse of what's in the box of a new bundle:
PowerRay vehicle w/ front-facing camera
Base station
Wireless transmitter/controller
Batteries and battery charger
64GB memory card
1 x 210 ft. tether
PowerSeeker Fishfinder & bait drop line
1 x pair of ZEISS VR ONE Plus Goggles (works will all modern smartphones)
Smart purpose made wheeled carrying case
Power Vision's PowerRay Wizard is a dream craft for budding amateurs who want to conquer the oceans. And it's a valuable piece of quality kit for pros who need a capable underwater tool they can depend on. There are a couple of downsides though, even at this level.
The Not So Good
The 4K UHD video shoots at 25 frames per second (fps). That matters because higher frame rates result in smoother video. The lower resolution (Full HD) can shoot at 30–60 fps. I'd say only the most critical eyes would notice the slower frame rate though.
The battery takes around 2.5 hours to charge which then gives an average 30 minutes of operating time. That means you should plan your activities around running and charging times. You can't swap batteries either because it's built in for waterproofing purposes.

Tech Specs
Package dimensions: 23.3 x 15.5 x 12.8″
Product Weight: 2.4 lbs.
Range: Max depth of 98 ft. (30m) max operating range 230 ft. (70m)
Video range: 262 ft. (80m)
Battery: Built-in 6400 milliamp hour lithium polymer
Running time: 30+ minutes depending on usage and other conditions
Recharging time: 2.5 hours
The Pros
Quality product built to last
Stunning design
4K UHD Video
1080P real-time streaming
12MP Photos, 5fps
Burst mode photo shooting at 5fps
PowerSeeker Fishfinder
Zeiss VR One Plus Goggles
Fishes, explores, maps, hunts, studies, takes photos, and films
32GB/64GB Storage
The Cons
4k shoots at slower 25fps
Long battery charging time
Built-in battery
#4 ThorRobotics Mini Mariana RC Drone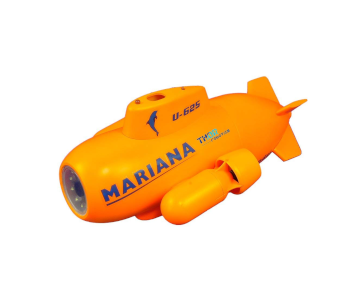 View on Amazon
Editor's Rating: 4.7/5
ThorRobotics' Mini Mariana is a radio-controlled drone that appeals to a younger user. It's expensive for a toy, but it's a great intro and educational submarine for enthusiastic amateurs.
Best feature 1: Twin brushless motors
Best feature 2: HD 1280×1024 camera
Plus points: RTR, LED lights, child protection, Wired or Wi-Fi, ISO/Android control
Minus points: Limited user feedback, pricey toy
The Mini Mariana's Quick Manual has simple illustrations that get you up and running in no time. I mention this first as many guides out of China have missing details or poor translations. Two brushless motors with vector propellers drive the sub and provide ample power. It swims well and takes underwater photos and video with a front-facing camera. The bright LED lights are a nice touch too.
Camera & Connection
The sub has First Person View (FPV) capability. That means you get to watch what the camera sees in real-time from the screen of a modern smartphone or tablet. You can save images and video to the internal memory card and view later via USB. ThorRobotics' Sub-Mariner works with both Android and iOS operating systems. It has both wired and wireless control that some users will find useful.
Overall, it's a nimble little Sub-Mariner with fish-like maneuverability. It does what it says on the box and no more. I like this product, but it's not going to please everyone and here's why:
The Not So Good
Some people like to be first when a new product comes out. Others want to see how a thing fares before they commit. What concerns me most about the Mariana is the lack of real user feedback. There are plenty of promotions with videos and colorful images, but very little buyer's reaction. That's not to say it's not an excellent product—it just means it hasn't stood the test of time.
Another downside is the high price—for a toy. It does have a lot of features, but it's still a toy-grade model aimed at a younger clientele.

Tech Specs
Dimensions: 10.1 x 6.3 x 4.3"
Product Weight: 6.61 lbs.
Range: 328 ft. (100m)
Battery: Ni-MH safety battery
Running time: 30+ minutes
The Pros
Good looking Sub-Mariner w/ ergonomic design
Twin brushless motors
HD 1280 x 024 camera
Ready-to-Run (RTR)
Bright LED spotlights
Child protection
Wired or WI-FI connection
ISO/Android control
The Cons
Limited real user feedback
Pricey for a toy
#5 Geneinno Poseidon I Underwater Drone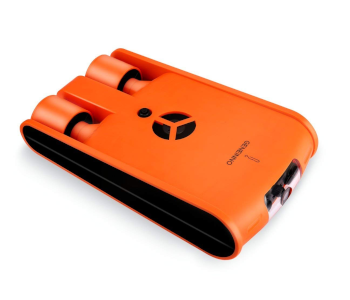 View on Amazon
Editor's Rating: 4.4/5
The Geneinno Poseidon I is a prosumer level underwater drone made to dive. It can reach depths of 328 ft. (120M). It's a smooth mover and boasts accurate navigation in all six directions.
Best feature 1: 328 ft. (120M) working depth
Best feature 2: 5 hours of running time (battery life)
Plus points: Self-balance control system, durable build, portable, HD camera, live video feed
Minus points: Little user feedback, price
The Poseidon I is smaller and lighter than some in its class. That's a good thing as it uses less power and thus gives more running time. The long 5-hours operating time on a fully charged battery is just one of the surprises. The model comes with a choice of 164 ft. or 328 ft. tether. The tether coils around a rotating stand complete with a handle. That's a real step up from a lot of underwater drones.
An underwater robot like this one has unlimited applications including:
Educational purposes
Aquaculture, also called aquafarming
Exploration, including shipwrecks and treasure hunting
Professional underwater inspections
Fishing
Ocean diving, photography and videography
The drone has a self-balance control system that keeps it steady and makes it super easy to handle. There are no qualms over the build quality either. Geneinno uses industrial-grade plastic and a tough rubber coating to protect the product, and it does a fantastic job. It's portable too, small enough to travel on planes if you want to. It's also TSA approved which is a bonus.
Filming with the Geneinno Poseidon I
The camera isn't 4K but don't worry. The Full HD 1080P model with its 120° wide-angle lens doesn't disappoint. The 1080p video at 30fps and 1080p stills capture stunning footage. But it's the live video feed via a smart device screen that holds the biggest attraction for a lot of users. The ability to see what the drone sees on its underwater exploits is what it's all about.
The Not So Good
It's always useful to get plenty of user feedback as it helps people make better buying decisions. Sadly—and partly due to the high price tag—there are few real user reviews. Those who do own one of these beauties seem more than happy with their purchase. For now, though, people have to buy based mainly on the maker's sales pitch and gut instinct.

Tech Specs
Dimensions: 14.9 x 8.3 x 3.5"
Product Weight: 7.48 lbs.
Depth Range: 394 ft. (120m)
Speed: 6.6 ft./s (2m/s)
Battery: 9000mAh
Running time: 5 hours
Charge time: 2 hours
APP: iOS and Android
The Pros
Deep working depth
328 ft. tether with a reel holder
5 hours of running time
Self-balance control system
Durable build
Portable design
1080P Full HD 120°Wide Angle Underwater Camera
Live video feed
Smart, purpose-made carry case
The Cons
Little real user feedback
Price
#6 EUDAX Mini RC Model Submarine for kids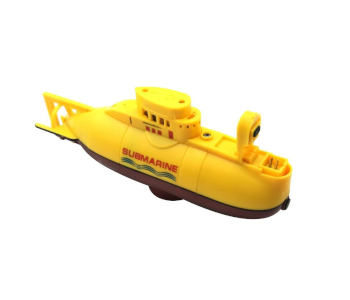 View on Amazon
Editor's Rating: 4/5
My final pick is the UDAX Mini RC Water Boat—an inexpensive toy RC submarine. It's sure to give kids an excellent introduction to the underwater world. The model is ideal for fish tanks and shallow pools.
Best feature 1: Fun and Educational for youngsters
Best feature 2: Safe, 3-meter control distance
Plus points: Easy to use, LED lights, choice of two colors, decent battery life (playing time)
Minus points: Built-in battery, a little underpowered
It's a mini RC model submarine for eight years and older, or younger kids under supervision. It's only a toy but still manages to captivate young minds. You can look at it as an educational product. Steering the tiny vessel through water is sure to help develop a child's hand-to-eye coordination and agility. We can say the same thing for a lot of hands-on toys, but that doesn't make it any less useful—or fun.
The 3m control distance is ideal for pool use but be careful with the remote. The controller works fine, but I got the impression that it's not well sealed. Just make sure the hands are always dry when using it, just in case. A couple of other nice touches are the LED lights and choice of two colors. The battery life is also impressive for a toy at around 15 minutes on a full charge. Charging takes only 30 minutes.
The Not So Good
This toy-grade mini-submarine model is for kids. It does everything it says on the box and nothing more. Most complaints—from what I've seen—come from those who had unrealistic expectations. The built-in battery means you must wait for recharging between playing. That's because batteries must have proper sealing with all underwater models.
I found the EUDAX Mini RC Model Submarine a tad underpowered. The low power is something that older kids may get bored with sooner rather than later.

Tech Specs
Dimensions: 10.1 x 8 x 3.4″
Product Weight: 12.8 oz.
Range: 3–5 meters
Battery: Built-in Lithium
Running time: 15-20 minutes
Charging time: 30 minutes
The Pros
Fun & educational for kids
Easy to use
LED lights
Choice of two colors
Good battery life (playing time)
The Cons
Built-in battery (cannot swap)
A tad underpowered