United States Military Building Iron Man Suit with the Help of Hollywood and 3D Printing
3D Insider is ad supported and earns money from clicks and other ways.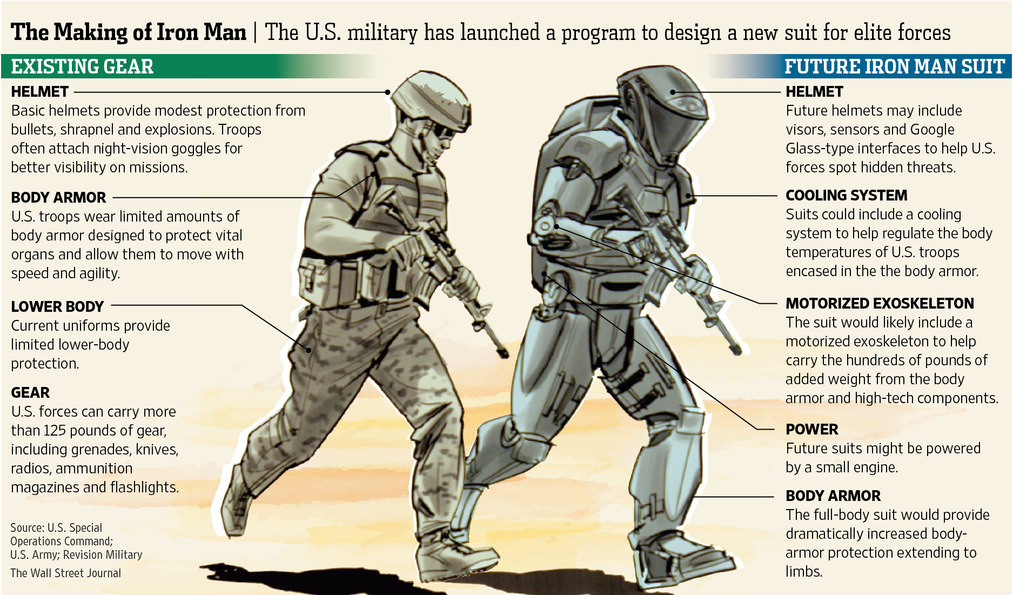 In the pursuit of trying to make the world's ultimate super soldier, the United States military has turned to Hollywood and 3D printing to do so. Legacy Effects, the Hollywood FX firm behind Robert Downey Jr.'s advanced suit in the Iron Man movies has been tasked with helping the US military create and design a real combat suit.
In addition to creating the suit for the Iron Man Movies, Legacy Effects has also 3D printed an assortment of other props for various other movies including Pacific Rim, The Terminator, Captain America, and RoboCop. The US military has commissioned Legacy Effects' artists to help them design and 3D print prototype components for TALOS (Tactical Assault Light Operator Suit). These suits would be used to enhance a soldiers ability's on the battlefield.
"The broad goals are to provide operators with lighter, more efficient full-body ballistics protection and beyond-optimal human performance," Officials said. "Antennas and computers embedded into TALOS will increase the wearer's situational awareness by providing user-friendly and real-time battlefield information."
Legacy Effects will be joining a large team of engineers, designers, combat specialists and technology experts already working on the combat suit. Defence contractors Lockheed Martin, General Dynamics and Raytheon will join with Legacy Effects to produce the project. The team behind the suit have already presented three different prototypes in front of Generals and military officials at the Pentagon.
Apparently the military estimates the weight of the suit to be upwards of 400 pounds, with 365 of that being made up by the batteries alone. Future technologies are expected to reduce the weight considerably and the military hopes to deploy TALOS in some form by 2018.
$10 million has already been spent on the project and the military plans to invest another $70 million. Much like the technology envisioned by BAE Systems, the TALOS suit may never see operational service, but we're sure some of the technology developed will find its way onto the battlefield.
Source: Wall Street Journal
Warning; 3D printers should never be left unattended. They can pose a firesafety hazard.