10 Best USB-C Accessories
3D Insider is ad supported and earns money from clicks and other ways.
By now you're probably well aware of USB-C, the latest iteration of the tried and tested USB (Universal Serial Bus) Connector. Type C, however, has brought with it some new features that have garnered a lot of attention from professionals and tech enthusiasts alike.
A USB cable is defined as a Host/Target bus. This means that one device is always in control and every other device has to respond to that device. USB was originally invented to replace serial, parallel, keyboard, and mouse ports and this was achieved by defining the Type-A port as the host port and the Type-B port as the target port.
Type-A ports have pretty much always been the same. The only change has been an extra five signal ports added to the connector for USB 3.0 and 3.1. This was done to make it backwards compatible for USB 2.0. This allows USB 2.0 to continue to work without knowing it is on a USB 3.0/3.1 port.
Type-B, however, has been a bit of a mess. We have seen a number of different connectors and most have them have been poor, to say the least. The first one was too large for a lot of devices and so the Mini-B was introduced. It was around this time, the idea of allowing a device to assume either the host or target, depending on the device, started being worked on. This introduced another connector, the Mini-AB, and the Mini-A plug that allowed the Mini-AB to assume the host role when connected to a Mini-B target.
This was deemed to be a silly solution and instead, an extra signal was added to the USB connector which would allow for a simple, passive negotiation between the host and target. They also introduced the thinner Micro-B connector, thanks to pressure from the mobile industry.
The Type-C connector can be thought of as an apology in many ways, for the mess of connectors that preceded it. Native USB-C cables use a Type-C connector at either end and work out the host and target roles. This means that adapters can be made that force a Type-A or Type-B connection if needed for connecting devices that don't have a Type-C port. Another big benefit of USB-C is that the connector is not polarised. This means you can plug it in on the first try, rather than the third.
Budget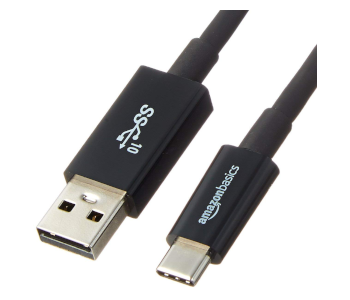 AmazonBasics USB-C to USB-A
4.6/5.0
Accessory: USB Cable
Features: 3ft cable length
Cheap, reliable and a necessity for many people.
Check Amazon
Best Value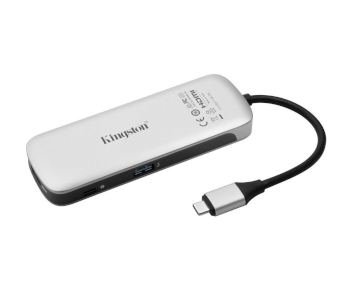 Kingston Nucleum 7-in-1
4.8/5.0
Accessory: Adapter
Features: 2 USB 3.1 ports
The Nucleum offers a lot for the money.
Check Amazon
Top Pick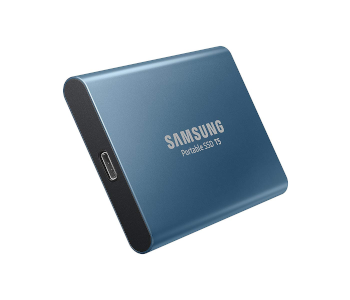 Samsung Portable SSD T5
4.8/5.0
Accessory: Portable Drive
Features: Up to 2TB capacity
Quite simply one of the best portable SSDs available.
Check Amazon
Modern Tech
Although it is only a matter of time before all devices move over to USB-C connectors, as it stands, this is not the case. We are currently in the transition period and as such, many of us are being given no other choice but to purchase adapters as a workaround.
This isn't the end of the world but it can be annoying for some people, especially those who value a sleek, minimalist look like Apple offers with their ecosystem. On the other hand, though, a good adapter can provide us with extra ports, allowing us to get even more out of our devices.
Adapters aren't the only accessories available, though, and users can already benefit from a range of other peripherals such as cables, docks, drives, and power banks. Below is a list of the top ten USB-C accessories currently available for laptops, smartphones, and other computing devices.
USB-C Accessories Comparison Table
1. Anker PowerCore+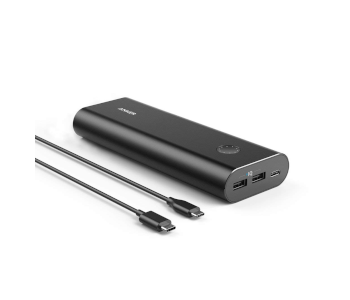 View on Amazon
Editor's Rating: 4.3/5
When looking for a power bank, there are two main factors to consider. These are power and portability. Power is determined by milliamp hours (mAh). The higher the number, the more power the device is able to output. Portability is a little less straightforward but essentially, you are looking for something that isn't too large or heavy.
You'll be pleased to know that the Anker Powercore+ excels in both of these areas. For starters, it has a 20100mAh capacity. In real-world terms, this will allow you to charge one Macbook, one iPhone, and one iPad on a single charge.
The device weighs 454g. This isn't the lightest power bank on the market but it is far from the heaviest. The device is, however, quite large so the weight is justified, given the size of the power bank. It is worth noting, though, that the device is quite slim so portability shouldn't be too much of a problem.
One of the unique features of this power bank is its LED power wheel. This makes the device very user-friendly and adds an extra dimension of simplicity to the device without sacrificing any functionality.
The power bank takes around eight hours to fully charge, which isn't bad considering the amount of power it has. This is pretty average, although, with enough searching, you might find a power bank at this capacity offering a faster charge time.
A bonus feature of this product is that it comes with three cables included in the box. There is one 60cm USB to USB-C cable, one 60cm Micro USB cable, and one 90cm USB-C to USB-C cable. This gives you all of the cables you are likely to need without having to purchase them in addition to the power bank. There is also a travel pouch to keep the device protected on your travels.

Tech Specs
Capacity: 20100mAh
Charge Time: 8 hours
Unique Features: LED power wheel
Size: 7.2 x 2.4 x 0.9 in
Weight: 454g
The Pros
Plenty of charge time
Can charge multiple devices on a single charge
Reasonable charge time relative to capacity
Easy to use
Adds functionality
Slim design
Decent weight for a power bank of this size
The Cons
Larger capacity power banks are usually larger in size and weight
Charge time could still be inconvenient for some
Controls still might not be for everyone
Quite long compared to some other power banks at this capacity
There are probably lighter options available
2. Samsung Portable SSD T5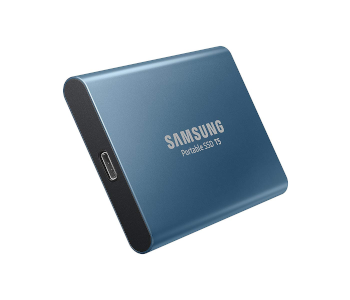 View on Amazon
Editor's Rating: 4.8/5
This is without a doubt, one of the best external drives on the market right now. It has a very sleek form factor and an all-metal casing, making it both very durable, and pleasing to look at.
It has a great range of capacity options that span from 250Gb all the way to 2Tb. This makes the device a perfect option for just about everyone. One quirk of this device when it comes to capacity, however, is that the color of the drive is used to represent the amount of storage it has. The 250Gb and 500Gb variants sport the blue color that is shown in the image above, but the larger capacity options of 1Tb and 2Tb come in a deep black color. This shouldn't really be a problem for most people, but if you are particular about the colors of your devices, it could be an issue.
The Read/Write speeds of this device are super fast, and depending on your configuration, you could get up to 540Mb/s for your Read speeds. This sort of speed is more than enough by today's standards, so you shouldn't expect to wait too long during file transfers. In order to get the maximum speeds out of this drive, you will need your host device and connection cables to support USB 3.1 Gen 2. The UASP mode must also be enabled.
The security features on this device are exceptional, to say the least. It has password protection which, to be honest, is a must nowadays but it also has built-in hardware encryption to really make this drive secure. The device has also been built to withstand drops of up to two meters and comes with a 3-Year warranty.

Tech Specs
Capacity: 250Gb, 500Gb (Black version up to 2Tb)
Speed: Up to 540Mb/s
Security: Password Protection, AES 256-bit hardware encryption, 3-Year warranty
The Pros
Large amount of storage for power users
A range of capacity options for all users
Super fast speeds
4.9x faster than external HDD's
Data can be password protected
Built-in encryption adds an extra layer of security
Decent warranty
The Cons
Color represents capacity and, therefore, can't be changed
Performance may vary depending on host configuration
3. Aukey USB-C to USB 3.0 Adapter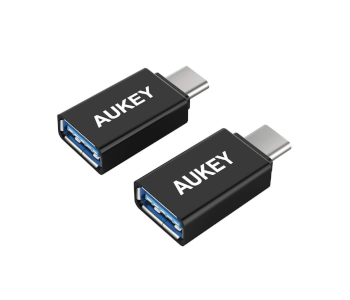 View on Amazon
Editor's Rating: 4.2/5
USB adapters are a simple product. They are usually designed to do one thing and one thing only, create a connection between two devices that have different connectors. Although their purpose is simple, it is important that the adapter does its job well and this device, you'll be pleased to know, meets that requirement.
It is for users needing to connect a USB-A device to a USB-C device. An example would be connecting a USB-A thumb drive to a modern Android Smartphone or a USB-A mouse to a modern MacBook Pro. This adapter makes this connection possible, and as it supports USB 3.0, you can expect transfer speeds of 5Gbps. This isn't the fastest available as devices supporting USB 3.1 allow transfer speeds of 10Gbps, but this will only really be an issue in the first example if you are transferring a lot of data between the two devices.
One of the great things about this product is that it comes with two adapters, rather than one. This is great for users who need more than one adapter as it saves them money, but it is also a bonus in general, as it never hurts to have a spare.

Tech Specs
Connectivity: USB-A to USB-C
Speed: Up to 5Gbps data transfer
Package: 2x Adapters
The Pros
Allows devices of different USB connectors to connect to each other
Fast speeds allow for quick data transfers
If you need an extra adapter, you don't need to purchase the product twice
The Cons
Only supports USB 3.0
4. WGGE USB-C Cable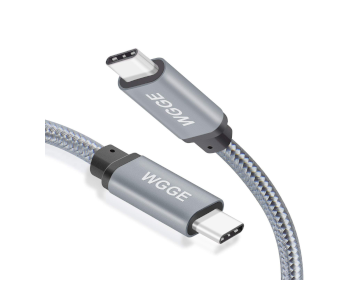 View on Amazon
Editor's Rating: 4.5/5
A USB-C cable is a pretty standard thing. Its job is simply to connect to devices with female USB-C connectors together. Although its job is a straightforward one, there are still quite a few elements of a USB-C cable that differ from product to product.
The most obvious one is cable length. The length of a cable can be the primary factor when choosing which to buy, with many users needing different lengths depending on the environment the cable will be used in. This cable comes in two different lengths, 6ft and 10ft. The 6ft cable will probably suit most people, however, a 10ft will also have its uses. For example, a user with an external monitor that uses a USB-C connection that is across the room from your computer may need the longer cable to make the connection possible.
Aside from length, another important factor is durability. This is especially important with longer cables as there are more points along the cable that could become damaged. This cable is made with nylon braiding, which should provide adequate protection in most use cases.
It also uses metal connectors. This is important because the connectors are the most likely part of a cable to become damaged. Having nylon braiding as well as metal connectors, make this device extremely durable.
The one downside of this cable is that it only offers USB 3.1 Gen 1 support rather than Gen 2. This means transfer speeds are limited to 5Gbps rather than 10Gbps, which you can find on Gen 2 connectors. This shouldn't an issue in most cases but under heavy loads, you might notice the performance to be slower than you'd like.

Tech Specs
Connectivity: USB-C to USB-C
Speed: Up to 5Gbps data transfer
Length: 6ft, 10ft
Construction: Nylon Braiding
The Pros
Metal connectors provide added durability
Fast speeds allow for quick data transfers
Length options should cover most needs
Cable is very durable
The Cons
Only supports USB 3.1 Gen 1
Some users might prefer a shorter cable
Might not provide the same level of flexibility as other cables
5. Kingston Nucleum 7-in-1 Connection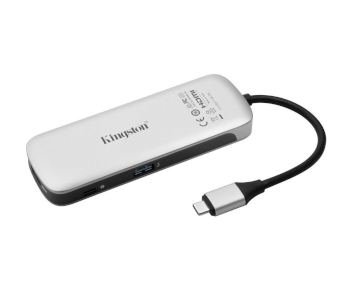 View on Amazon
Editor's Rating: 4.8/5
As far as adapters go, it doesn't get much better than this. The Kingston Nucleum is a sleek, stylish adapter giving you most, if not all the ports you will likely need on a day-to-day basis.
The device has seven ports. These are made up of two USB-C ports, two USB 3.1, one HDMI, one SD card slot, and one MicroSD card slot. SD and MicroSD cards have to share the same slot though, so for some, it might feel more like six ports. The HDMI port does offer 4k support, however, which is a bonus.
One of the great things about this adapter is its size. With a length of five inches, it will likely go largely unnoticed on a desk which is nice considering the connectivity it offers. For those that like a tidy desk, you can at least take comfort in the fact the adapter looks great. For users of MacBooks especially, the device will fit into your ecosystem seamlessly. Aesthetically, you could argue that the device has been made for that reason.
Weight is also reasonable with the dock coming in at just under a kilogram or 3.52 ounces. There might be lighter options available but the weight of this adapter shouldn't be an issue for most users.
Another nice feature of this adapter is that it allows for power pass through. This means your other devices will be able to charge while connected to the adapter. One thing to note, however, is that the performance of this feature has not been specified, so there is a chance your devices will take longer to charge when using the adapter.

Tech Specs
Ports: USB-C x 2, SD x 1, MicroSD x 1, USB 3.1 x 2, HDMI x 1
Size: 5 x 1.77 x 0.56 inches
Weight: 3.52 ounces
The Pros
Great range of functionality
All ports can be used at the same time
Relatively compact
Slim Design
Light, weighing just under a kilogram
The Cons
SD and MicroSD share the same slot so only one can be used at a time
Probably lighter options available
6. AmazonBasics USB-C to USB-A Cable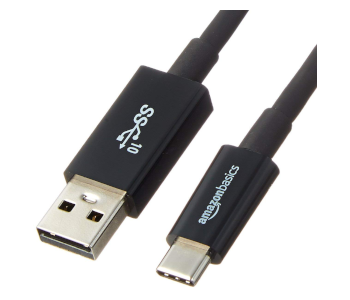 View on Amazon
Editor's Rating: 4.6/5
For many consumers, the USB-A to USB-C has become a necessity. Most new devices now come with them, however, this cables aren't always built to last and sometimes users find themselves needing a replacement. A quick google search will bring you all sorts of cables, usually varying quite dramatically in price. The truth is that all of these cables do more or less the same thing, the difference in price is just based to build quality.
Amazon offers a range of cables at very reasonable prices, and for USB-A to USB-C, this is a great option. It has a very simple design which many people favor and comes with the same style of reinforced connectors that have been made popular by brands such as Apple and Samsung. It would have been nice to see metal connectors on this cable but at this price point, it isn't a must.
Thanks to its support of USB 3.1 Gen 2, the cable is able to offer data transfer speeds of up to 10Gbps. Many cables still only support speeds of up to 5Gbps, so this is a huge bonus. For many, the difference in speed won't be that noticeable but it's good to know you're getting double the speed of many other cables.
The length of this cable is 3ft. This is fine for most users, however, it is disappointing that longer variants are not available.
The casing of the cable has been constructed from plastic and rubber. Although plastic isn't the most durable material, it is the industry standard for budget cables so it isn't anything to worry about. If the cable was more expensive, the materials would justify more scrutiny. Overall though, this cable would be a very good purchase.

Tech Specs
Connectivity: USB-A to USB-C
Speed: Up to 10Gbps data transfer
Length: 3ft
Construction: Plastic, Rubber
The Pros
Simple design
Fast speeds allow for quick data transfers
Power output up to 5V, 3 Amp
Length options should cover most needs
Reinforced connectors increase durability
The Cons
Connectors are not metal
Some users might prefer a longer cable
Lacks a lot of the durability features found on more expensive cables
7. Scosche PowerVolt 3.0 USB-C/USB-A Car Charger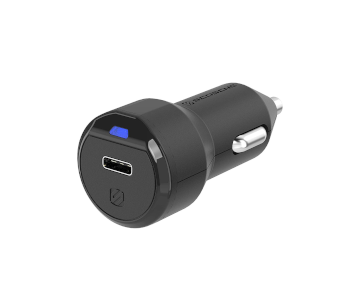 View on Amazon
Editor's Rating: 4.5/5
The Scosche Powervolt is a relatively simple device, however, it could be considered a must-have for many consumers. It offers a ridiculously fast charge time, boasting 70% charge in 30 minutes. This means, depending on who you are, you could potentially fully charge your phone on your morning commute.
The charger also comes with a couple of unique features. These are an LED power indicator and built-in protection circuitry. The LED is there to let users know that the charger is receiving power. When power is being received it lights up blue. Although this a nice feature, it is by no means revolutionary and it would have been nice to see the LED offering a bit more.
The built-in protection, however, is a great addition. It is there to ensure that the device you are charging doesn't overheat or become overcharged. This is very important for making sure your phone's battery, for example, doesn't become damaged.
Scosche have also included lifetime tech-support and a 3-year warranty with this device. This is really good to see as it shows commitment from the company and lets customers know that the company is both reputable and reliable. The 3-year warranty is also fairly generous and shows that they trust the quality of the product.

Tech Specs
Power Output: Up to 70% charge in 30 minutes
Unique Features: LED power indicator, Built-in protection circuitry
Support: Lifetime tech-support, 3-year warranty
The Pros
Super fast
Lets you know the charger is receiving power
Protects against overcharging and overheating
Lifetime tech-support sends a good message to consumers about reliability
Decent Warranty
The Cons
Would be nice if the LED offered more functionality
8. Plugable USB-C Triple Display Dock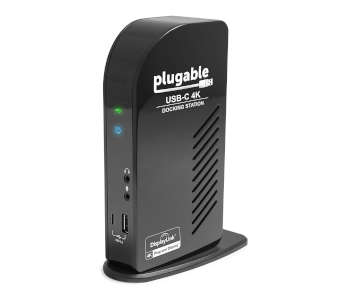 View on Amazon
Editor's Rating: 4/5
The Plugable USB-C Triple Display Dock has been developed for a very specific thing. It provides Windows users that have Thunderbolt or USB-C devices the option of up to three additional displays. This means it is not compatible with MacOS or Linux systems, which is disappointing.
The dock supports 4k and depending on the port you use, it can either be delivered with a 30Hz or 60Hz refresh rate. The HDMI port offers 30Hz and the display ports offer 60Hz. The difference will only be noticeable to the most eagle-eyed users but the difference is there so it's recommended the display ports unless you need to use all three ports at the same time.
The dock is made of plastic and has a stand that allows it to sit upright on a desk. Although the device is unlikely to be subjected to much wear and tear, it would've been nice to see some metal on this device just to add some extra durability. The plastic does keep the device relatively lightweight though, so it's not all bad.
The support available with this device is poor, to say the least. For a device at this price point, users should expect a lot more than a 1-year limited parts and labor warranty. There is an email support service but that hardly makes the warranty any less awful. For the right user, this dock will do its job well, but users should always be skeptical when warranties like this one are offered.

Tech Specs
Connectivity: 1 x HDMI 1.4, 2 x DisplayPort++
Formats & Speed: HDMI: [email protected], DisplayPort: [email protected]
Construction: Plastic
Support: 1-year limited warranty, email support
The Pros
Provides compatible Windows Thunderbolt 3 and USB-C systems with up to three additional displays
4k support is solid
Keeps the device relatively lightweight
Warranty and support provided
The Cons
Not MacOS compatible
No gaming support
HDCP playback not supported
Reduces durability
Warranty is rather poor
Support is limited
9. HyperDrive Type-C 7-in-1 Adapter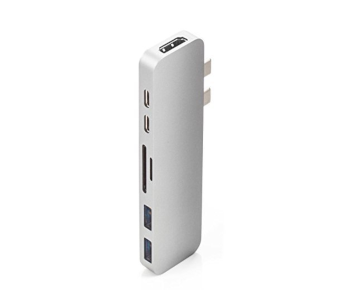 View on Amazon
Editor's Rating: 4.8/5
This Hyperdrive adapter is packed with features that certainly justify its price tag, however, the device isn't without its flaws. The most notable being that it has been designed for the 2016 – present MacBook Pros and nothing else. This is not a big deal for anyone with one of those devices, but considering the features included in this device, it's a shame it wasn't designed in a way that would allow it to work with other devices. Having said that, the device looks right at home when connected to a MacBook Pro and given how important aesthetics tend to be for Apple and it's users, the design makes sense.
The connectivity options that this adapter provides are almost flawless. It has a single HDMI port, two USB-C ports, two USB 3.1 ports, and SD card slot, and a MicroSD card slot. This is very similar to the Kingston adapter that is also on this list, however, the Hyperdrive goes a couple of steps further. Although one of the USB-C ports only supports a speed of up to 5Gb/s, the other one supports speeds of up to 40Gb/s, allowing it to output 5k video if necessary. The SD and MicroSD card slots are also separate which is a nice touch.
As alluded to above, the design is sleek and compact. This adapter was actually rated the world's most compact hub back in 2016 and it although other adapters have arrived since it still remains as one of the best options in this category.
The outer construction is all aluminum. The enclosure is precision milled and comes in silver or space grey, the same colors as the new MacBook Pros.

Tech Specs
Connectivity: 1 x HDMI, 1 x USB-C 40Gb/s, 1 x USB-C 5 Gb/s, 1 x SD, 1 x MicroSD, 2 x USB 3.1
Speed: Up to 40Gb/s
Design: Compact, Sleek
Construction: Aluminium
The Pros
Great range of ports
SD and MicroSD slots are seperate
Fast speeds allow for quick data transfers
USB-C 40Gb/s allows for 5k
Voted world's most compact and fastest hub specifically designed for USB-C MacBook Pro 13" and 15" 2018/2017/2016
Aluminium gives device great durability
The Cons
Other USB-C port only supports up to 5Gb/s speeds
Designed for Macbook Pro only
10. Asus ZenScreen MB16AC Monitor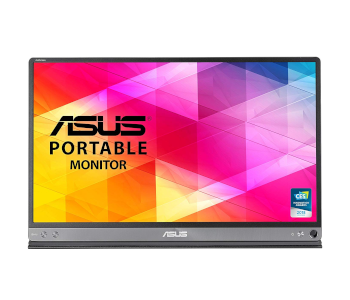 View on Amazon
Editor's Rating: 4.6/5
The Asus ZenScreen is very high-quality portable monitor, offering both performance and aesthetics for a reasonable price.
It has a 15.6" IPS LCD screen, offering great viewing angles and high-quality visuals. Now, obviously in today's world everyone is interested in 4k but for a portable monitor, FHD is nothing to be sniffed at and given the size of the screen, pixel density shouldn't an issue unless you have your face right up close to it, which isn't recommended.
One of the unique features of this monitor is that uses a hybrid signal system, meaning it can be used by both USB-C and USB-A connectors. In order to use this monitor with a USB-A connection, you will, however, need to install a DisplayLink driver.
The device is very thin, measuring 0.3" thick and thanks to an almost bezel-less frame, the total size of the monitor isn't much larger than the screen itself. The monitor also ways less than 2lbs making it fairly light for a monitor.

Tech Specs
Display: 15.6" 1080p IPS LCD Panel, 16:9 aspect ratio
Unique Features: Hybrid Signal Solution
Size: 8.9 x 0.3 x 14.2 inches
Weight: 1.72 lbs
The Pros
IPS panels provide great viewing angles
1080p is good for a portable monitor
Allows for compatibility with USB-C and USB-A connectors
Thin design
Lightweight
Portable
The Cons
DisplayLink driver needed for compatibility with USB-A