How to Verify if Someone is a Part 107 Pilot
3D Insider is ad supported and earns money from clicks, commissions from sales, and other ways.
For commercial drone operations, having a remote pilot certificate is a big deal. The remote pilot certificate, or drone license, is a requirement dictated by the Part 107 regulations for all commercial drone pilots. More than mere compliance to legal requirements, having a Part 107 license means that the drone pilot has a certain level of knowledge and proficiency in drone operations and legal restrictions.
If you are a business owner who is looking to hire a drone pilot for your operations, is there any way to verify if the candidate is a Part 107 licensed pilot? What is the value of hiring a licensed drone pilot anyway? Read on to find out!
Get a Commercial Drone License:
Use coupon code '3dinsider50' for $50 off
Pilot Institute
.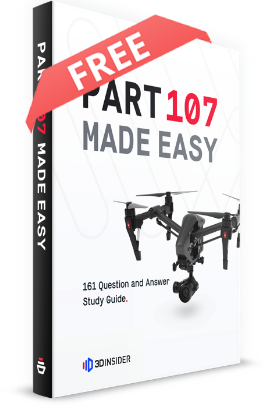 PART 107 Made Easy
161 Question and Answer Study Guide
105 pages of illustrated content
Covers all parts of the Part 107 test
$97 of value for free
What does a Part 107 licensed drone operator bring to the table?
For the FAA to grant a Part 107 drone license to a person, they must exhibit a standard level of knowledge in many drone-related topics. This is determined by having them take a Part 107 knowledge test, of which they have to get a 70% score to pass. Screening for the license already starts when applicants sign up for the exam – they must be able to speak, read, and write English, and must have the physical and mental faculties to operate a drone.
Contrary to what many would expect, the Part 107 knowledge test does not cover only practical or basic knowledge. To pass the test, an applicant must read up on topics as advanced as reading aeronautical charts, interpreting weather reports, and understanding standard radio communications knowledge. They must also be well-versed the legal limits of drone operations, such as the maximum altitude and speed that a drone can travel and know the various airspace classes and their implication to drone operations.
After successfully passing the knowledge test and filing an application for the license, the TSA conducts a background check on the applicant before the license is issued. Nobody really knows what the TSA looks for in the background check, or how they screen applicants at this point. Perhaps a crime or misdemeanor record will be enough to have an applicant rejected – only the TSA knows for sure.
How can I check if a person has a Part 107 drone license?
Let's say you want to start a business that offers drone-based services. To offer the services, you need to hire a Part 107 licensed drone pilot. Is there any way to verify if a candidate is licensed?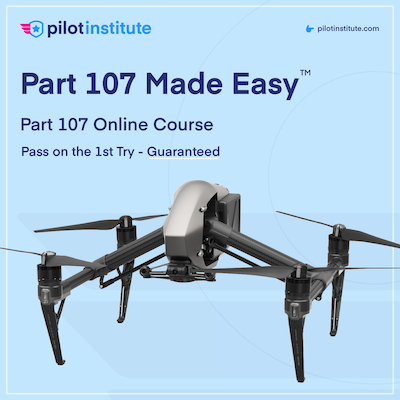 The simplest and fastest way to verify is to ask the person to provide their remote pilot certificate. Right after the TSA background check, the FAA issues a temporary license to every applicant who passed. This temporary license is valid for 120 days, during which the drone pilot should receive their permanent license by air mail.
Is there a more subtle or convenient way to check the drone license status of any individual? The answer is yes – the FAA maintains a public registry that allows anyone to look up the name of all Part 107 certified drone pilots. To access the database, you only need to provide your name and address. The database contains the names of all FAA-licensed pilots, including pilots with licenses to operated manned aircrafts. You even have the option of viewing the certificate of the person you are searching, as well as their rating on the knowledge test.
Take note that there can be a delay of up to 90 days between the certification of pilots and when they show up in the database. Some drone pilots have reported that they do not show up in the database during the period when their license is still temporary – there are no standards regarding the posting date so this likely happens on a case per case basis.
Licensed pilots can also opt out of divulging their address in the database, and this can affect whether they show up in the database at all.
How can a licensed drone pilot benefit my business?
Having a licensed drone operator can give legitimacy and credibility to your drone service business. It gives an impression to your clients that you are committed to doing things the right way in terms of legal requirements. Clients will also feel more assured, knowing that their business is in the hands of a drone pilot who has passed the level of knowledge that the FAA requires.
Hiring a licensed drone operator also assures you that your drone pilot can handle the usual issues that can be encountered in the field. How to react to sudden changes in weather, how to repair minor drone damage, what to do when you need to fly in restricted airspace – these are all things that a licensed drone pilot should be able to resolve. Knowing all the relevant regulations can also help you avoid running into any legal problems while doing your business.
Ultimately, the main benefit of having a licensed drone pilot means that you are doing business legally. As of 2016, all commercial drone activities need to be operated by a licensed drone pilot. According to the FAA, a violation to this rule can results in penalties of up to $30,000 per incident. So far, we have not heard of any individual or organization being fined by this much.
In any case, investing the time and effort to hire a licensed drone pilot helps you avoid legal issues and allows you to provide better quality drone-based service to clients.
Final thoughts
There is no argument that a business offering a drone-based service needs a licensed drone operator. Aside from avoiding legal troubles, having a licensed drone operator shows prospective clients that your business wants to do things the right way.
The competitive benefits of investing in a licensed drone pilot have not yet been fully realized, mostly due to weak enforcement by the FAA. Even today, law enforcement does not seem to be fully equipped to handle violations regarding drone flight. The result is that some businesses offer services without the proper license, allowing them to cut prices and steal away clients.
Still, it is our hope that enforcement of the Part 107 regulations improves soon. We are also hoping that the Part 107 rules change to be less restrictive of the usual business activities, allowing businesses to be more flexible in the type of jobs that they can take.
The FAA has come out stating that the Part 107 regulations were created to support businesses, and not to hinder them. Let's hope that the FAA stays true to their word. For the meantime, it is best for all drone businesses to operate within established legal limits.