The Essential Gear for Video Game Streaming
3D Insider is ad supported and earns money from clicks, commissions from sales, and other ways.
If you're into video games, then you probably have also heard of video game streaming. This modern equivalent of playing a sport for spectators has become a huge industry with the most popular content creators earning hundreds of thousands of dollars per year. This makes it easy to understand why a lot of people want to go into video game streaming.
The first order of business would be to get the right gear for streaming. Streaming setups can vary, but there are a few pieces of gear that we consider essential. Check out this list to come up with your shopping list.
1. Capture card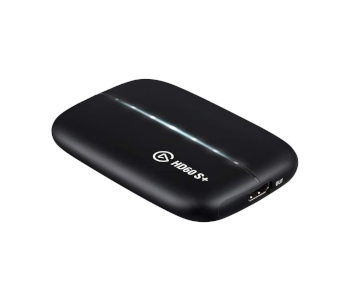 Whether you plan to stream from a gaming console or a gaming PC, you will want to invest in a good capture card. The purpose of this device is to convert an HDMI output signal into an input signal that can then be streamed by a PC.
Console gamers will need a capture card so that they can stream their gameplay footage to a separate PC. For PC gamers, the common tactic is to have one PC for gaming and another for streaming. The capture card will take input from the gaming PC and output it to the streaming PC.
Depending on the brand of capture card you get, this can get quite expensive. The most popular capture card used today is the Elgato HD60+. This capture card allows for a low-latency pass-through of 4K resolution at 60 fps and streaming of 1080p resolution at 60 fps. You will need to have USB 3.0 ports in all connected devices for this capture card to work. It costs a little less than $200, which is fairly standard for capture cards in this quality tier.
2. Stream deck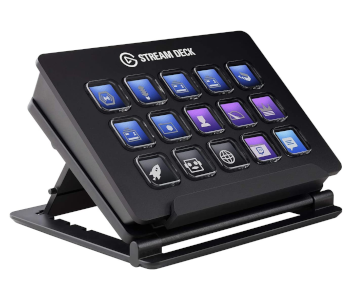 A stream deck is a great way to both manage your streams and add a bit of flavor into them. This compact interface effectively takes the place of keyboard shortcuts so that you can switch between different cameras, launch media, or control game capture with just a few button presses.
Once again, Elgato has seemingly cornered the market with the Elgato Stream Deck. Each button of this stream deck can be customized with several action options. With a press of a button, you can display an animated GIF, launch an audio clip, or switch scenes.
If you need even more actions, you can turn keys into folders to expand the capabilities of the stream deck. You can also customize the functions of each button based on the apps and games that you are playing.
A stream deck is a great way to streamline your usual keyboard commands. This not only increases your productivity but makes your streams more seamless and entertaining.
3. Camera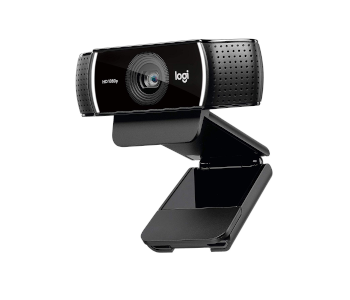 The act of playing video games is really only a small part of succeeding as a video game streamer. The other part is interacting with your watchers and followers. For this reason, streams with live cameras are a lot more successful and engaging.
Thankfully, you won't need a high-end webcam for streaming. The truth is that you will hardly ever move while doing a stream. The feed from the camera will also mostly be relegated to a small picture-in-picture window. For these reasons, we recommend making do with a webcam that streams videos at 1080p resolution and 30 fps. The Logitech C922X Pro Stream Webcam delivers this performance for less than $100.
The C922X has a few extra tricks up its sleeve. It has built-in microphones (although we recommend getting a separate one), has an autofocus feature, and has light correction whether in low lighting or harsh lighting. The camera claims to have a Background Replacement feature, although its results do not compare favorably to having a real green screen background.
4. Microphone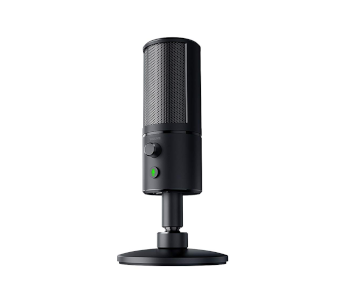 Even if you can get a webcam with an integrated microphone, we still recommend getting an independent microphone. The audio quality of a real mic will always be better and will give you more flexibility in building your streaming setup. We recommend this Razer Seiren Professional-Grade Streaming Microphone.
This streaming microphone has a noise-canceling feature and a built-in shock mount so that audio will not be affected by your knee bumping into your table. The audio quality is not exceptionally good but is still satisfying considering how inexpensive and compact this mic is.
A huge part of video game streaming is the streamer providing commentary on the game as it is being played. The banter can be humorous or focus on the strategies that are pertinent to the game. In any case, this is another avenue to show your personality and connect with your audience.
5. Pop filter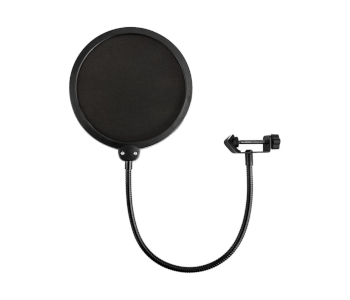 No proper audio setup will be complete without a good pop filter. A pop filter is an add-on to your microphone that eliminates the effects of plosives and saliva spraying, particularly when saying this with S or P sounds.
This SUNMON pop filter with a clamping mount and adjustable gooseneck should be compatible with just about any streaming microphone. It is a bit larger than most other pop filters, so you might need to angle it just right to keep it from sagging. That aside, this pop filter fulfills its basic objective. For less than $10, getting a pop filter is probably the cheapest upgrade you can get that can massively improve the audio quality of your streams.
6. Mic boom stand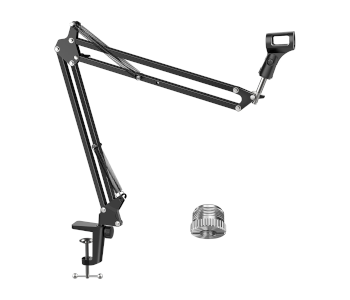 Here's another secret for high-quality audio while streaming – don't just put the mic on top of your table. Doing so means that you need to hunch over so that you can speak properly on it. Putting it close to your face, on the other hand, means that the mic will get in the way of your camera.
The easiest solution is to mount your microphone on a boom stand. This Innogear Microphone Arm can be clamped on a table and adjusted so that the microphone can be positioned close to your face but away from the scope of the webcam. It also makes it much easier to put the mic away if you don't want to use it. The result is clearer audio and a more ergonomic streaming setup.
7. Second monitor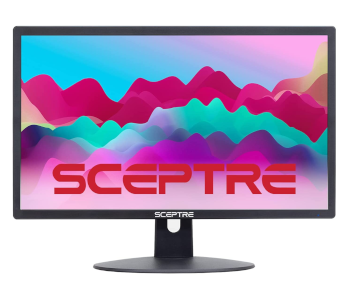 If you've been into gaming for a long time, then you probably already have an admirable PC gaming setup with a high-refresh-rate monitor. However, it's a good move to get another monitor if you want to seriously go into streaming. This second monitor will help you keep track of the chat messages of your viewers. This can also be useful for displaying the control interface of your stream.
The good news is that you don't need a fancy second monitor. This 22-Inch Full HD monitor from Sceptre is a perfectly good option that costs just a little above $100. It's not impressive but very serviceable. A second monitor also comes in quite handy for boosting productivity while working.
8. Smart LED Lights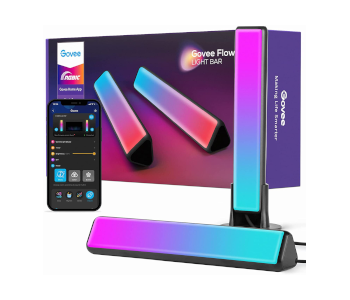 Your regular room lights will probably do a good job of making show your camera footage is clear during streaming. However, regular lights are a bit boring. To make your streams more interesting, we recommend getting LED lights that can change colors. It's more immersive and dynamic, enhancing the experience both your experience as a gamer and your audience as spectators.
This Govee Smart Light Bar is one of the best accessories you can get for a gaming setup. With several scene modes and music modes, you can change up the mood of your streams with just a few adjustments on the companion app. These lights can also mirror the colors displayed on your TV or monitor, creating an effect that is both interesting and unpredictable.
It's a safe bet that you won't be playing video games with just your room lights once you start using a smart LED light bar.
9. Green screen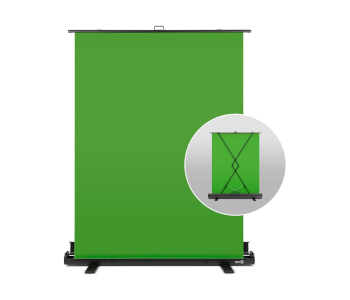 Are you tired of showing off your various plants and bookcases while doing a stream? Or perhaps your room just isn't nice enough to act as a good backdrop. A simple green-screen will solve all these problems.
This Elgato Green Screen comes with a rigid collapsible frame and can be rolled up automatically. This makes this green screen quite expensive but a lot easier to put away and move around. There are cheaper alternatives that come with more rigid frames that will require a few minutes of assembly.
No matter which brand you go for, a green screen will allow you to enhance your stream with virtual backgrounds. Using a green screen makes these backgrounds a lot cleaner compared to relying on any background identifying feature of a camera.
10. Ergonomic chair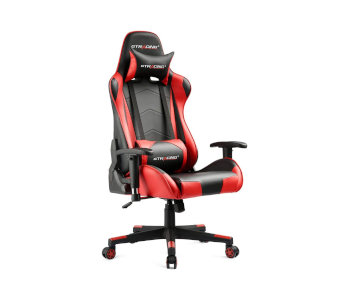 Lastly, you really should invest in a good ergonomic chair if you want to spend hours doing video game streams. This is probably one of the most important things you can buy if you want to avoid posture problems and lower back pain. Bonus points if you can get a gaming chair that has a bit of design flair and reflects your personality.
If you just want comfort and good ergonomics, then we recommend this home office desk chair from SIDIZ. It has a mesh backrest for good air circulation, good lumbar support, swiveling armrests, a thick seat cushion, and comfortable neck support. This is definitely the kind of seat you will wish you have if you have to spend five to six hours per day sitting down.
If you want a chair that has aesthetics more appropriate for gaming, then you can consider this gaming chair from GTRACING. This gaming chair is relatively cheap compared to other gaming chairs but offers good visual appeal and comfort. It comes in several different colors so you should be able to get one that fits the theme of your stream.
Final thoughts
If you have ever considered going into video game streaming, then this list should be enough to give you an idea of how expensive it can be. Sure, you can make do with a standard webcam and a desk chair, but making a mark means having to invest in all the good gear.
However, no fancy gear can be as important as genuinely engaging your audience and having fun with what you are doing. It's best to treat it as a hobby that you enjoy rather than something you wish to profit from.