6 Best LED Lights for Video of 2019
3D Insider is ad supported and earns money from clicks and other ways.
The most compelling reasons to choose LEDs over other light sources are heat and color fidelity. LEDs produce little heat no matter how long they've been in use. This keeps electricity costs low and lets you adjust the lights without fear of getting burned. LED lights also have a high Color Rendering Index, meaning that the light they cast on subjects is similar to natural sunlight and lets colors appear accurately on screen, unlike incandescent bulbs which make everything slightly warmer or fluorescent ones which have a bluish hue.
These are the six best LED lights for video whether you're making movies, vlogging, or creating music videos. We've included on-camera as well as standalone and ring lights to help everyone find the right LED light for their projects. Learn more about them from our reviews and choose the LED light that's perfect for yours.
Budget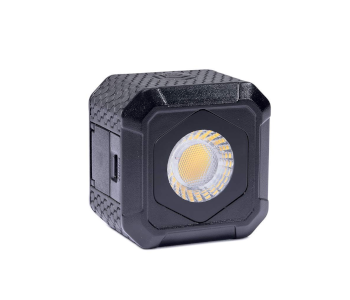 Lume Cube AIR
4.3/5.0
Type: Standalone light
Brightness (lumens): 400
Its multiple cubes can be controlled and synced through smartphone.
Check Amazon
Best Value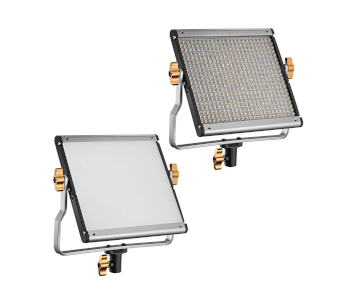 Neewer Bi-Color LED Video Light
4.7/5.0
Type: Panel light
Brightness (lumens): 3,360
Has lots of useful accessories and straightforward setting adjustment.
Check Amazon
Top Pick
ROTOLIGHT NEO II
4.8/5.0
Type: On-camera light
Brightness (lumens): 1,024
Versatile, has a small form factor and runs off of multiple power sources.
Check Amazon
LED Lights for Video Comparison Table
Make and Model
Rating
Type
Brightness
(lumens)

Color temperature
Price
ROTOLIGHT NEO II
4.8
On-camera light
1,024
3,150 to 6,300K
Check Price
Neewer Bi-Color LED Video Light
4.7
Panel light
3,360
3,200 to 5,600K
Check Price
Ledgo LGR320C
4.5
Ring light
4,373
3,200 to 5,600K
Check Price
Genaray LED-7100T
4.2
On-camera light
1,400
3,200 to 5,600K
Check Price
Powerextra Bi-Color 60W LED Video Light
4.0
Panel light
4,200
3,200 to 5,600K
Check Price
Lume Cube AIR
4.3
Standalone light
400
5,600K
Check Price
1. Best Overall – ROTOLIGHT NEO II
View on Amazon
Editor's Rating: 4.8/5
An on-camera light is the most versatile light source in a videographer's arsenal. It is portable, works well as either a key or support light, and can double as a flash. The Neo II is the best on-camera light around and our overall winner. It has a much better output than its predecessor and comes with a host of lighting options. If you're looking for a single light source to help shape your vlog or music video's appearance, this is it.
Overview of Features
The improved Neo looks identical to the original – a plastic round LED light with the red Rotolight logo in its middle. Its construction is solid and the power button is less prominent and therefore less prone to turning the light on accidentally during transport. You can run the Neo II off of either six AA batteries, a power main, or even your camera's battery! Its brightness differs between them and you'll get the best results when the light is plugged in, but it's great that you don't have to rely on an external power source.
The biggest complaint users had about the original Neo was its low light output. Rotolight has solved this by implementing more LED lights into the II. The result is almost double the brightness at no increase in size. The light's color rendering index or CRI has been upped from 93 to 96, ensuring that it emits light that's even closer to looking natural. It can be dimmed and the color temperature can be adjusted from 3,150 to 6,300 kelvins incrementally.
The Neo II has a number of interesting effects including strobe, paparazzi, and police lights. This lets you experiment with your lighting and devise creative ways of drawing attention to your content. You can also use the Neo II as a flash and control it remotely. The light has a screen and control dials in the back which let you cycle through modes and display the active one in big red letters.
What We Didn't Like
This is the most expensive light on review. It costs more than twice as much as most of our other entries. While it is worth the investment, novices in the world of videography and people who just need their studio light to do one or two things may see it as an unnecessary investment.

Tech Specs
Type: On-camera light
Brightness: 1,024 lumens
Color temperature: 3,150 to 6,300K
Color rendering index: 96
The Pros
Versatile
Runs off of multiple power sources
Gradually adjustable color temperature
Small form factor
2. Best Value – Neewer Bi-Color LED Video Light 2-Pack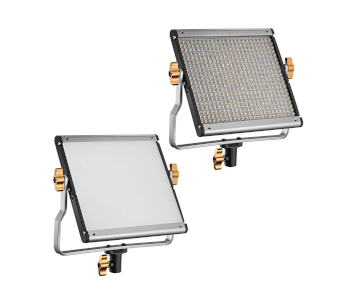 View on Amazon
Editor's Rating: 4.7/5
Neewer's video light two-pack offers outstanding value for the money for all your interior video lighting needs. The lights are easy to set up, come with many well-made accessories, and are easy to operate. Add to this a CRI of 96 and a good spread of color temperatures to let just how good of an offer this is sink in. Whether you're looking for your first comprehensive lighting solution or need a set of lights that perform reliably for next to nothing, Neewer is the way to go.
Overview of Features
This lighting kit consists of two LED lights, each with 240 tungsten and as many daylight LEDs. They are easy to move around and can either be mounted on the included stands or placed anywhere horizontally. You also get the stands, two carrying cases, power cables & adapters for each light, and a pair of diffusers. You can plug them into the main, or use Li-ion rechargeable batteries for shooting out in the open. Batteries aren't included though.
The lights have a color temperature from 3,200 to 5,600 kelvins with an excellent CRI of 96. They are noiseless and cool to the touch. They're easy to operate too – there are control panels on the back with switches and dials that let you power the lights as well as adjust their color temperature and brightness. There's a U-bracket on each light's bottom for easier adjustment. On its own, the emitted glow is harsh, but once you attach the white diffusers it becomes softer and illuminates the subject in a soft, professional manner.
Attaching the lights to their stands and packing everything up is straightforward and fast. The stands are made from cast aluminum, are lightweight, and their height is adjustable. Each light gets its own nylon carrying case with four compartments to house the lights along with their power adapters and other accessories.
What's Bad About It?
The power cords you get with Neewer's lights are much too short. With the adapter attached, they don't even reach to the bottom of a fully extended stand! You'll need to have long extension cables and account for slack so the cable doesn't get taught and topple the light. They can't be tilted downward either. This means the lights will need to be in line with the subject and you'll want to use the diffuser every time since the glare gets uncomfortable quickly.

Tech Specs
Type: Panel light
Brightness: 3,360 lumens
Color temperature: 3,200 to 5,600K
Color rendering index: 96
The Pros
Excellent value for the money
Quick & easy setup
Lots of useful accessories
Straightforward setting adjustment
The Cons
Very short power cables
Can't be tilted downwards
3. Ledgo LGR320C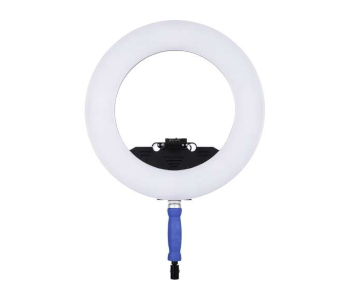 View on BH
Editor's Rating: 4.5/5
When you're focusing on capturing every detail of someone's face, you need a ring light. Whether you're creating make-up tutorials or emotional scenes, Ledgo's LGR320C is the ring light to get. It features diverse mounting options, gives off soft light that's easy on your subject's eyes, and can run for more than an hour on rechargeable batteries.
Overview of Features
The LGR320C has a diameter of 12 inches, so it's portable while being big enough to deliver a whopping 4,400 lumens of soft light. It has a mount in the middle you place your camera on so the shot is equally well-lite from all sides. It is sturdy enough to support all but the heaviest DSLRs and its bottom part can be bent for more flexibility in light placement. Transporting the light is made easier with two grips recessed into its back. It is lightweight too and won't bog you down when filming on location.
This light is praised most for the consistency and softness of its glow. Cheaper models flicker at lower brightness levels, causing a strobe effect on videos shot in slow motion. The LGR320C maintains its smooth glow even at 10 percent brightness. You can monitor the brightness and current color temperature on an LCD display on the LGR320C's back. It also shows power levels for both rechargeable batteries and which channel the light is set to if you want to use it wirelessly with a separate controller.
This is a great light for taking glamour shots and making videos that show off one's beauty. Its soft glow is flattering to one's natural look since it softens harsh shadows and makes wrinkles less noticeable. The diffuser you get with the LGR320C disperses the light even more and lets you work with a subject longer since staring into it doesn't become irritating.
What We Didn't Like
The LGR320C's build quality isn't the best. You'll want to carry it separately from other equipment and keep an eye on it since the plastic it's made from is thin and prone to breaking. Unlike the LED-7100T, this model requires that both batteries be inserted before it will run on battery power. The manual doesn't cover this, which lead to some customers complaining that the feature didn't work when in fact it's just poorly implemented.

Tech Specs
Type: Ring light
Brightness: 4,400 lumens
Color temperature: 3,200 to 5,600K
Color rendering index: 96
The Pros
Very bright while being easy on the subject
Many different mounting options
Flexible handle
Lightweight and compact
The Cons
Fragile build
Unclear battery operation instructions
4. Genaray LED-7100T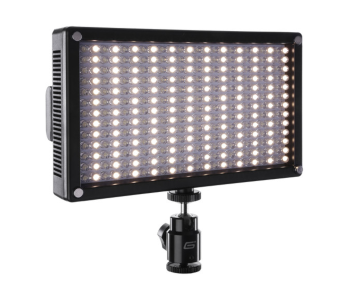 View on BH
Editor's Rating: 4.2/5
Remember how we said that some videographers need their on-camera light to do just a couple of things well? The LED-7100T from Genaray is such a light! It lacks the Nova II's extensive cinematic settings but makes up for this with reliability and strong light output. It also costs half as much. Choose the LED-7100T if you're looking for a capable LED light for both outdoor and indoor recording and want to take it with you on location shoots hassle-free.
Overview of Features
Genaray's LED-7100T is a compact LED on-camera light that comes with a few useful accessories. The most interesting of these is a versatile ball head that lets you quickly connect the light to your camera's hot shoe mount. When the LED-7100T is secured to the ball head, you can tilt it 180 degrees and rotate the light fully. There's also a tripod mount you can use to turn the LED-7100T into a helpful studio light that's separate from your camera.
The light is powered by an AC adapter and comes with two rechargeable batteries as well. One is enough to power it, but both can be inserted at the same time to keep it running longer. The batteries can be charged either through the supplied AC charger or hooked up to your car battery. How much power is left is indicated by four green LEDs in the middle of the LED-7100T's control interface.
The light has two control knobs, one for color temperature, and the other for brightness. Both have no hard stops and cycle through their values smoothly. When it's at its maximum, the LED-7100T is very bright, which why a diffuser panel comes in handy. It is secured to the light's corners with magnets and easy to attach. Light intensity drops off with distance though, so your face can still be illuminated well without the light being a distraction.
Are There Drawbacks?
Genaray hasn't specified the LED-7100T's CRI. Unsurprising since the colors appear pinkish regardless of temperature settings. You'll need to correct this in post or use gels to offset it while filming. The ball head can become another problem as it is more cheaply made than the light. It can break with intense use and may not fit every shoe mount correctly.

Tech Specs
Type: On-camera light
Brightness: 1,400 lumens
Color temperature: 3,200 to 5,600K
Color rendering index: Not specified
The Pros
Intuitive user interface
Comes with two rechargeable batteries
Fine degree of color and brightness adjustment
Good balance of price and quality
The Cons
Light has a pinkish hue
Low-quality ball head mount
5. Powerextra Bi-Color 60W LED Video Light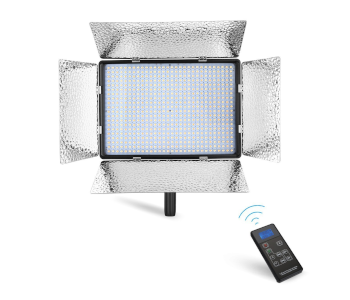 View on Amazon
Editor's Rating: 4/5
Next up is a capable panel light from Powerextra. This bi-color LED array features 600 daylight and tungsten beads which can create bright light anywhere in the 3,200 to 5,600-lumen range. It has a remote control that lets you control brightness and color settings without having to move from the shot. This is great if you're in an environment with subtly-shifting lighting conditions and when you need to change light settings on the fly without leaving your chair.
Overview of Features
This video light comes in a well-padded carrying case with two zippers and a Velcro strap on the handle. Inside, you'll find the light, its power adapter, the remote along with two batteries, and a handle. The handle screws into a threaded hole at the bottom and is useful for manual distance adjustment. The light also fits onto any standard tripod mount. You don't get rechargeable batteries with it, but Powerextra's light supports a number of Sony models which makes it even more portable.
There are two ways of adjusting the light's settings – a couple of dials on the back and the remote control. There's a bright blue LED panel on the light which lets you know the brightness percentage and exact color temperature. This information is also displayed on the remote which works from multiple rooms away with a clear line of sight.
The light you get is very bright and suitable for illuminating a subject from across a room. There are reflective 4-part barn doors on the sides and top for more accurate beam adjustment. Creating shadows of different softness is easy since the gradual color adjustment works well. The diffuser you get in the kit could soften the light more though.
What's Bad About It?
The barn doors can't be removed. This isn't a big issue, but it does mean that the light will be more focused. Removing the barn doors would let more light spill to the sides and create a softer glow.

Tech Specs
Type: Panel light
Brightness: 4,200 lumens
Color temperature: 3,200 to 5,600K
Color rendering index: 96
The Pros
Has a remote control
Very bright considering its form factor
Barn doors offer versatile beam control
Supports rechargeable batteries
The Cons
Barn doors aren't removable.
6. Best Budget Option – Lume Cube AIR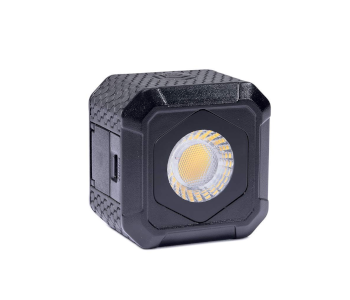 View on Amazon
Editor's Rating: 4.3/5
The Lume Cube AIR is best described as a tiny, highly portable light source you can store in your pocket and use anywhere. It's the perfect companion to an action camera since you only need a smooth or magnetic surface to use it. This light understandably has some limitations, but if you film in places where conventional lights don't fit or always want to have a dependable light source handy, the Cube Air is a terrific investment.
Overview of Features
As its name suggests, the Lume Cube AIR is light and a breeze to use. It weighs only 2 ounces and has a diameter of 2.6 inches. This doesn't mean it is fragile though – the light has a hard plastic exterior with rubberized edges and can survive a fall from a few feet. It's also waterproof to a depth of 10 feet so even action cam footage you shoot underwater can be properly lit. Its square shape allows the Lume Cube AIR to be placed on any even surface. Other mounting options include a magnet and a thread for use with lighting stands.
For such a small light, the Cube AIR puts out a respectable 400 lumens at a distance of 1m. The light's color temperature is fixed at 5,600k, which creates the illusion of shooting in daylight. You also get two diffusers. The white one is used to soften the Cube AIR's light while the orange one simulates warmer color temperatures closer to 3,000K. The number of use cases for the Cube AIR is huge, but vloggers will find it most useful as an alternative to a key light, or an unobtrusive additional light used for interviews.
One of the light's best features is remote control via smartphone. It connects to the Lume-X app via Bluetooth and lets you adjust the light's brightness and pattern. The Lume Cube AIR can act as a flash, strobe in one of two patterns, or shine continuously. The app is also your only means of checking on the battery level as the Cube AIR doesn't have an onboard indicator. A full charge lasts for an hour of continuous use at max brightness, but you can hook the light up to a powerbank via USB if you need it to run longer.
Are There Drawbacks?
This light's advertised CRI is 90, but it can get much lower depending on subject matter. The Lume Cube AIR doesn't accurately represent skin tones, so you may need another light source if color accuracy is vital to your video. You can control everything about the Cube AIR from its app except turning it on and off. For that, you'll have to press a physical button on the light itself.

Tech Specs
Type: Standalone light
Brightness: 400 lumens
Color temperature: 5,600K
Color rendering index: 90
The Pros
Great brightness for its size
Multiple cubes can be controlled and synced through smartphone
Easily transported and placed anywhere
Sturdy and waterproof build
The Cons
Low CRI
Can't be turned on and off through app