6 Best Nikon DSLRs for Video in 2020
3D Insider is ad supported and earns money from clicks, commissions from sales, and other ways.
Nikon makes some of the world's most sophisticated DSLRs with lens offerings to match and is the go-to choice for many top photographers. Video was low on the company's DSLR priority list for a long while, but things are starting to look up! YouTubers, filmmakers, and vloggers can benefit much from superb picture quality and low-light performance a modern Nikon DSLR brings.
Here are the six best Nikon DSLRs for video available now. Our picks include both FX and DX cameras, which is Nikon speak for Full-frame and APS-C. They're the best that the company offers across a broad range of price points and specifications. Choose one that fits your budget & preferences, and immediately improve the quality of your videos.
Budget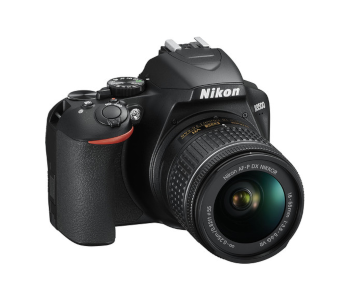 Nikon D3500
4.1/5.0
Sensor: APS-C
Burst: 5.1fps
Lightweight and portable for a DSLR.
Check Amazon
Best Value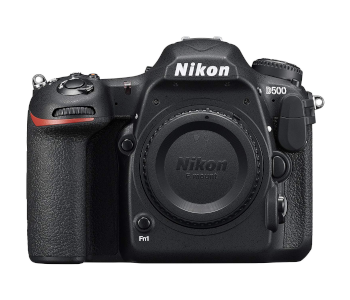 Nikon D500
4.5/5.0
Sensor: APS-C
Burst rate: 10.2fps
Lack of anti-aliasing improves video quality.
Check Amazon
Top Pick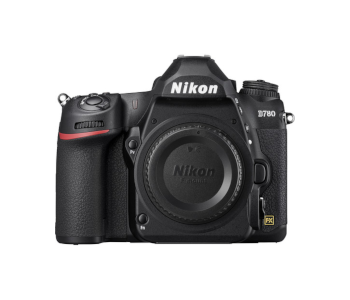 Nikon D780
4.7/5.0
Sensor: 35mm
Burst rate: 12 shots
Outstanding oversampled 4K video.
Check Amazon
Nikon DSLRs for Video Comparison Table
1. Best Overall – Nikon D780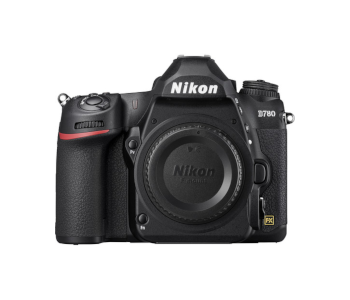 View on Amazon
Editor's Rating: 4.7/5
The D780 is the newest camera on review and is much more video-focused than its predecessor. It has excellent photo autofocus that carries over flawlessly for video shooting and delivers high-quality oversampled 4K footage. You can also maintain separate settings for photos and videos and don't have to frantically adjust them when switching. The D780 gives Nikon's video-centric Z6 a run for its money and is proof that DSLRs are still at the top of their game.
Overview of Features
Owners of the D750 will notice that not much has changed in the D780's appearance. It's still a sturdy, weather-sealed DSLR with a premium feel and superb ergonomics. However, several subtle changes betray its shift in focus. The switch that toggles between photo and video mode is more easily accessible, suggesting you'll use it more frequently. There's a new AF-on button, and several other controls have been rearranged.
A depth of customization options is the D780's first stand-out feature. You get two fully-customizable buttons with support for numerous functions. Several other buttons pull double or even triple duty, depending on your preferences and the currently active mode. On top of that, there's the i-menu, a screen overlay containing twelve slots you can populate with settings you use frequently. Best of all, the i-menu and every editable physical control have dedicated profiles for stills and video you can either match for a uniform look or modify for entirely different results.
The D780 has a backlit sensor with dual-function pixels that either deliver excellent dynamic range or increased gain. The latter is useful for when you're shooting in low light and don't mind sacrificing dynamic range for noiseless results. Autofocus is excellent since it reliably tracks subjects even if they're moving erratically. Lack of eye detection is the only difference in video mode and doesn't affect the camera's face-tracking abilities.
Videos shot with the D780 are crisp and rich in detail since they're taken with the sensor's entire surface area. This gives you oversampled 4K footage that looks fantastic on the biggest TVs. You can export videos with 10-bit color onto external recorders and use two log profiles for their look. Hybrid Log-Gamma is an out-of-the-box solution that presents vivid colors and a high dynamic range. Tinkering in post is another possibility, in which case you'll want to use N-Log for more color grading versatility.
The D780 has a reasonably effective internal microphone with wind noise reduction. You can attach external mics and monitoring headphones as well. Two UHS-II slots ensure continued recording at the highest bitrates while a capacious battery minimizes the need for refills.
What We Didn't Like
The D780 lacks in-body image stabilization. Its electronic stabilization is serviceable and reduces rolling shutter, but it introduces a 1.1x crop. Subject tracking is more reliable when using the OVF, but the pentaprism blocks the viewfinder in video mode, leaving you with less accurate live view autofocus.
Tech Specs
Dimensions: 5.6 x 4.5 x 3 in.
Weight: 29.6 oz.
Sensor: 35mm
Burst rate: 12 shots
Battery: 2,200 shots
ISO range: 100 – 51,200
Max still resolution: 24.5 MP
Max video resolution: 4K, 30fps
The Pros
Outstanding oversampled 4K video
Two separate sets of controls for stills and video
Quick and accurate autofocus through the finder
Great build quality and weather sealing
The Cons
No in-body image stabilization
Live view autofocus isn't as reliable as the OVF at tracking subjects
2. Best Value – Nikon D500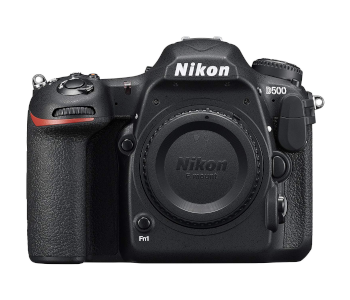 View on Amazon
Editor's Rating: 4.5/5
Are you an action photographer who enjoys making videos as well? In that case, the D500 has your name on it. Nikon designed it primarily as a sports and wildlife shooter, but the wealth of video features it comes with make it a solid choice for filmmakers looking for a small, competitively-priced DSLR for documentary, concert, or wedding work.
Overview of Features
The D500 is a DSLR with an APS-C sensor, meaning it's smaller and more compact than its full-frame cousins. That doesn't detract from its built quality or handling as the camera comes with a textured grip that makes handling it single-handedly a breeze. Filmmakers will appreciate a small plastic clip next to the HDMI port, which ensures that the cable won't fall out while moving.
Eight of the D500's physical controls can be either customized completely or set to one of several tasks. The camera has a responsive AF joystick that moves in eight directions for quicker focus acquisition. The on switch has a third setting that causes some of the D500's buttons and top LCD to start glowing and helps greatly when you're shooting in the dark.
The camera comes with a responsive, tiltable touchscreen and a bright viewfinder. The OVF covers the entire sensor area and offers 1x magnification, a rarity among cameras of any format. Shooting through the viewfinder gives you access to 55 AF points while the D500 uses an additional 99 to make adjustments. They cover almost the entire sensor area, and you can toggle between several AF modes to hone in on a face only to capture a broader area an instant later.
The D500 has no aliasing filter, so 4K video is sharper if more susceptible to moiré patterns. You can set the output to a flat profile that looks uninspired while recording but retains more information on color and highlights you can bring out in post. The camera has headphone and microphone jacks while the HDMI port allows for external recording.
What's Bad About It?
The D500 applies a crop on 4K videos. This goes on top of the base 1.5x crop for APS-C sensors, meaning that a wide-angle lens actually offers a standard focal length when coupled with this camera. You'll either have to find an exotic ultra-wide lens or gets another camera if you're planning on recording landscapes. Live view autofocus in video mode is wobbly and prone to resetting itself. Stick to manual focusing for the best results.
Tech Specs
Dimensions: 5.8 x 4.5 x 3.2in.
Weight: 30.2 oz.
Sensor: APS-C
Burst rate: 10.2fps
Battery capacity: 1,240 shots
ISO range: 100 – 51,200
Max still resolution: 20.9 MP
Max video resolution: 4K, 30fps
The Pros
Excellent value for the money
Great low-light performance
Large & bright viewfinder
Lack of anti-aliasing improves video quality
The Cons
Applies heavy crop to 4k footage
Wobbly autofocus in live view mode for video
3. Nikon D850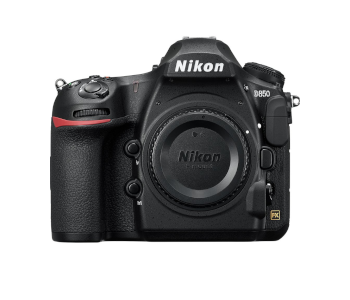 View on Amazon
Editor's Rating: 4.6/5
Nikon designed the D850 as an all-around camera for professionals. There isn't a single area it excels at, but the D850 does everything from low-light and sports photography to landscapes or video well. It has one of the best viewfinders in Nikon's DSLR lineup, has exceptional battery life, and can create detailed 4K videos or stunning time-lapses.
Overview of Features
One look at the D850's magnesium alloy body is enough to affirm its premium status. It's a hefty camera that can take a beating and work in all environments due to comprehensive weather sealing. Upgrading the camera's toughness required removing its internal flash, but that shouldn't be a problem for professionals dealing with equipment at this price point.
Choosing whether to frame shots through the viewfinder or in live view if tough since both are outstanding. The D850 has a bright viewfinder that projects a rich, natural image and works well if you're shooting in sunlight. The LCD touchscreen can tilt to accommodate challenging shooting situations.
The D850 has both mechanical and electronic shutters. The latter is particularly useful when you're at sports events or doing wedding photography since snapping a pic makes no sound and won't spoil the moment. Couple that with an impressive buffer & burst speeds, and you've got any kind of action covered.
You can bridge the gap between photo and video by creating beautiful time-lapse footage. The D850's built-in intervalometer lets you set up time-lapses of varying lengths without hassle. You can record and stitch these together in-camera if you stick to 4K. However, the D850 is also capable of taking time-lapse images in full 45.4 MP glory. You may then stitch them together in an external program to create 8K time-lapse videos.
Regular video content is no less impressive as the D850 utilizes its entire sensor when recording 4K video at either 30, 25, or 24fps. It's another camera without aliasing filters that rewards skilled videographers with extraordinary sharpness. Colors and white balance give default footage a clean yet vivid look, but you can always go flat and play with highlights or exposure later on.
Are There Drawbacks?
The D850 is the most expensive camera on review. Getting it is a no-brainer if you're a generalist, but creators focused on video will get more out of the D780. The camera lacks focus peaking and has the same AF issues in live view seen on the D500.
Tech Specs
Dimensions: 5.7 x 4.9 x 3.1 in.
Weight: 32.3 oz.
Sensor: 35mm
Burst rate: 7.1 shots
Battery: 1,840 shots with live view off
ISO range: 64 – 25,600
Max still resolution: 45.7 MP
Max video resolution: 4K, 30fps
The Pros
Admirable all-around performance
Creates beautiful time-lapse videos
Superb build quality
Silent electronic shutter
The Cons
Expensive
No focus peaking
4. Nikon D7500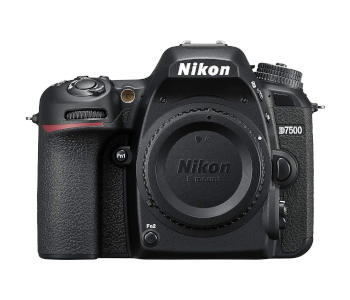 View on Amazon
Editor's Rating: 4.4/5
The D7500 is Nikon's only DSLR that will cost you less than $1,000 yet has 4K video. It's the thrifty creative's D850 as excellent stills autofocus, a high burst mode, and above-average low-light performance make it a viable candidate for any kind of photo or video shooting. It's the camera to get if you insist on 4K at a rock-bottom price.
Overview of Features
There's a lot to like about the D7500's build and handling. It's smaller than full-frame bodies, but a deep grip ensures you can comfortably hold the camera regardless of hand size. We were pleasantly surprised by the D7500's top monochrome LCD as it's a feature usually reserved for much more expensive models. You can choose between a pop-up flash and an external one mounted via hotshoe.
The D7500 is another camera that emphasizes customization and control responsiveness. Its My Menu is a convenient way of reaching frequently-used settings quicker, while the physical dials and buttons can be set to perform several functions. You'll love the 3.2-inch LCD; it tilts and has complete touch functionality, meaning you can change AF points, navigate the menus, or pinch-zoom while viewing photos.
Intricate time-lapses are a feature the D7500 shares with the D850. They are limited to 4k due to the smaller sensor, but you are free to program the intervals and number of pictures taken. The camera will automatically create a video once it's done snapping them.
The D7500 is a speedy shooter whose autofocus and white balance are reliable and on point in stills mode. It excels at getting the most out of unfavorable light since it boasts a high native ISO and Active D-Lighting. ADL brightens the image and recovers more details from darker areas in high-contrast scenes.
The D7500's 4K videos look good and are almost on par with the D500. 1080p is limited to 60fps, but you can still create slow-motion videos and play them back at slower framerates. You may adjust the ISO and aperture while recording to tweak the scene's brightness on-the-fly. Standard Picture Control produces balanced and natural-looking videos while the flat profile behaves lie in other Nikon DSLRs. You can improve audio quality by attaching an external mic, but a headphone jack isn't included.
What We Didn't Like
The D7500 suffers from the same cropping issues as the D500 when recording in 4K. Lowering the resolution to 1080p will get rid of the problem. There's a single memory card slot, so you'll have to plan ahead if you don't want to run out of space mid-scene.
Tech Specs
Dimensions: 5.3 x 4.1 x 2.9 in.
Weight: 42.2 oz.
Sensor: APS-C
Burst rate: 8.2 shots
Battery: 950 shots
ISO range: 100 – 51,200
Max still resolution: 20.9 MP
Max video resolution: 4K, 30fps
The Pros
Cheap 4K video combined with great stills capture
Solid build quality
Great low-light performance and detail retention
Responsive touchscreen with a full array of controls
The Cons
Single memory card slot
Cropped 4K video
5. Nikon D5600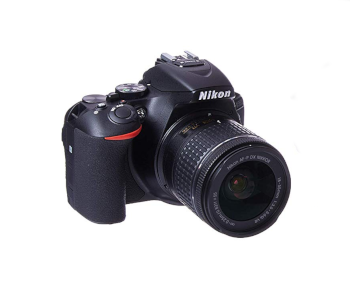 View on Amazon
Editor's Rating: 4.2/5
The 5xxx series of Nikon DSLRs is aimed at frugal photographers and newcomers looking for a solid starter camera. It's easy to handle, offers crisp 1080p video, and snaps to attention when speedy shooting is required. The D5600 will satisfy all your needs, provided 4K video isn't one of them.
Overview of Features
The D5600 is one of the smallest cameras on review yet manages to pack a comprehensive control scheme. It has two dials, an Fn button that's set to ISO selection by default, and an i-menu button used to access quick on-screen adjustments. Only the menu button is left of the viewfinder, while the space to the right of the screen is rife with controls. They're cramped together, so you might find reaching the right one difficult if you have large hands.
You'll love the D5600 if you're a vlogger since it has a flip-out touchscreen. The LCD is bright and touch-sensitive. It's a sizeable 3.2-inch model mounted on a hinge that lets it angle away from the camera's body as well as rotate forward. This lets you frame selfies and vlogs more easily while also keeping the screen safe from harm when not in use. The viewfinder isn't as great, but it gets the job done. A penta-mirror is used to keep costs low, so the viewer isn't as bright as those on more expensive models.
The D5600 holds its own as a budget-friendly all-purpose shooter. Its 35-point autofocus system covers the center of the frame and extends towards the edges. It's not as advanced as the D500's, but acquiring a target and sticking to it is never an issue. Low-light performance is another noteworthy feature since the D5600 can produce noise-free JPEGs at ISO 3,200 or lower.
FullHD will never look as lovely as 4K, but the D5600 comes close to reaching the format's quality limits. Videos are sharp and saturated without appearing unnaturally vivid. You can adjust the EV, shutter, or aperture while recording. We've seen much worse internal microphones, and the D5600's even has competent wind noise reduction. However, you'll want to switch to a dedicated mic when recording dialogue, which is when the 3.5mm jack will come in handy.
What's Bad About It?
The D5600 uses contrast detection in live view. It can readjust the focus based on scene changes or keep track of subjects, but both actions are slower than on rival cameras and display distracting levels of hunting. You can use SnapBridge to turn your smartphone into another display for the camera, take pictures with it, and transfer them wirelessly. The feature sounds useful in theory but suffers from connection issues.
Tech Specs
Dimensions: 4.9 x 3.8 x 2.8 in.
Weight: 23.6 oz.
Sensor: APS-C
Burst rate: 5.1fps
Battery capacity: 970 shots
ISO range: 100 – 25,600
Max still resolution: 24.2 MP
Max video resolution: 1080p, 60fps
The Pros
Reaches the limits of 1080p video quality
Has a flip-out touchscreen perfect for vlogging
Supports external microphones
Good for low-light shooting
The Cons
Video AF prone to hunting and slower than rivals
SnapBridge has connection issues
6. Best Budget Option – Nikon D3500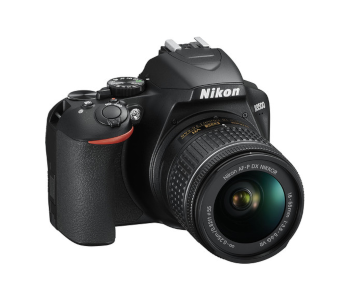 View on Amazon
Editor's Rating: 4.1/5
The last camera on review is Nikon's cheapest current-gen DSLR, the D3500. It's designed for novice photographers looking to ditch their smartphones in favor of a more sophisticated camera. The transition is quick & painless as Nikon implemented Guide mode, a simplified menu system that teaches you everything about core photography and video principles.
Overview of Features
The D3500 is lighter than many mirrorless cameras and won't make your arms sore even after you've been filming for an entire afternoon. Lower build quality is the trade-off; the D3500 has a polycarbonate body and lacks its expensive cousins' weather sealing. You'll want to be careful out in the field since the camera is easy to scratch and scuff.
The D3500's physical control scheme is similar to that of the D5600. A lone button to the left of the OVF controls the pop-up flash while other controls are clustered on the right and within easy reach for one-handed operation. The LCD is fixed in place and has a lower resolution than other tested models. It doesn't respond to touch, so you'll have to leave menu navigation to the D-pad. However, it's bright and easily visible in sunlight.
Nikon's menus aren't a chore to traverse, but even their clear layout may be a mystery to inexperienced users. That's why Guided Mode is so handy for proactively teaching them the basics. Guided Mode uses pictures and simple explanations to introduce fundamental concepts like the relationship between shutter speed, aperture, and ISO. These instructions soon become second nature, and you can turn Guided Mode off at any time.
Videos on the D3500 are limited to 1080p, 60fps, unsurprising given its price. The camera uses variable bitrates, but you can choose between normal and high quality. These equate to approximately 25 and 40 Mbps, respectively. Both settings produce good-looking video in .MOV format, but normal is better if you're working on long-form content like tutorials since high is limited to ten minutes per clip.
Are There Drawbacks?
The D3500 lacks the physical button customization seen on more advanced Nikon DSLRs. There's no Fn button, and other controls are limited to a single function. Novices won't mind at first, but more experienced users will find this kind of rigidity limiting. The D3500 lacks Wi-Fi, relying on Bluetooth for remote control and file transfer instead. Bluetooth is much slower and has more trouble maintaining a connection.
Tech Specs
Dimensions: 4.9 x 3.8 x 2.7 in.
Weight: 21.7 oz.
Sensor: APS-C
Burst rate: 5.1fps
Battery capacity: 1,550 shots
ISO range: 100 – 25,600
Max still resolution: 24.2 MP
Max video resolution: 1080p, 60fps
The Pros
An excellent learning tool at an appealing price
Guided mode eases novices into camera operation
Lightweight and portable for a DSLR
Records quality 1080p video
The Cons
Lacks control customization
Wireless connectivity limited to Bluetooth