8 Best Video Production Software Programs of 2019
3D Insider is ad supported and earns money from clicks, commissions from sales, and other ways.
In the past, producing videos took an entire studio to make it happen. Now, there is a lot of quality software that allows you to make your own even if it's just by yourself. All you really need is a computer or a decent smartphone plus some creativity, and you can become a filmmaker in no time.
The many video production software available to just about anyone allows you to do functions like cutting, joining, adding sound, and other more complex ones a lot easier. These were not as easy as before, but as the different software matured and evolved, they have become insanely simple to work with opening up the doors of filmmaking to virtually anyone.
Producing Your Videos
Creating your own videos has become more straightforward as technology has evolved. Today, the equipment you need to make a short film can be found in your pocket. Your trusty smartphone is all you need. The camera at the back is decent enough that it captures images and clips at an excellent resolution, and you could easily rely on that.
Add to the fact that you have more types of media where you can show your videos, anyone with a computer can quickly learn how to produce their own video, including you. The remarkable thing is that you have quite a bit of an audience with YouTube, Facebook, Instagram, and the Internet in general. Now, you have more reasons to produce your own videos.
The Best Video Production Software
Not all video editing and production software are created equal. These tools have one thing in common, though, as they make everything a lot easier. Whether you're adding effects, titles, or merely cutting and joining clips together, all of the tools we're reviewing will help you create quality videos for your needs.
Our Top Pick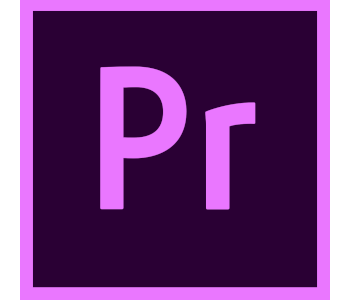 Retail Price: $20.99/month
Key Features: Multi-cam editing and Extensive VR editing support
Platform: Windows and Mac
Video Tracks: Unlimited
Best For: Video enthusiasts and Professionals
If there's an industry standard when it comes to video editing and production, it's the Adobe Premiere Pro CC. The software has long been hailed as one of the best when it comes to manipulating video files. It has proven itself time and time again with professionals singing its praises on just about any type of video project.
File Type Compatibility
One of the key reasons why the software is loved by many is that it can handle an unlimited number of video files. This feature helps filmmakers a lot, especially when you shoot using a lot of cameras so you can choose the best clips to include. You also won't have problems importing files from different sources since it supports almost all video types, including VR.
Color Matching
When you shoot at different angles with multiple cameras, you might have encountered issues with color matching. Premiere Pro CC, with the help of some of its AI capabilities, can work this out instantly for you. It analyzes different clips in your timeline and automatically matches everything up. It can even detect faces, so the skin tones are as consistent as possible.
As a video editor and producer, this can accelerate your workflow since you don't have to do this clip by clip. All you need to do is set it up, and the software will be matching things up for you, giving your final video a more professional polish.
Advanced Effects
Premiere Pro CC now comes with better visual effect capabilities compared to its previous versions. Borrowing from its video effects cousin, After Effects, some templates have been made readily available to the software. You no longer have to install another software since that would mean a different subscription on top of the one you got with your Premiere Pro.
Constant Updates
Since the entire Adobe line has been consolidated in their Creative Cloud, initially, when they launched it, it didn't seem like a good idea. Now, however, it's a different story. The software's connectivity gives you quite a number of advantages, and the one in particular that users love is how they push new updates to squash bugs and include new tools and features on the fly.
The Adobe Premiere Pro CC is definitely one of the best video production software available in the market. Professionals trust the results it can produce, and it undoubtedly has helped create a lot of video content like feature films, music videos, documentaries, YouTube content, and a whole lot more.
It is a beast in terms of functionality and the tools that are available for you to use. It's certainly not the most beginner-friendly, but once you're familiar with how video editing and production work, you can jump on to using the Premiere Pro CC without any issues.
Why Use Adobe Premiere Pro CC
A multi-platform software that can definitely deliver the goods when it comes to quality and polish
Subscription model has its pros and cons, but in this case, gets you the latest updates for a more up to date software
Expansive professional-level software that has everything the seasoned video editor needs
Best Video Production Software for Macs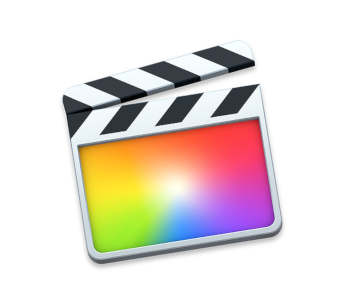 Retail Price: $299
Key Features: Multi-cam editing and Quick color balancing
Platform: Mac
Video Tracks: Unlimited
Best For: Video enthusiasts and Professionals
Final Cut Pro X is Apple's entry to the professional video production software market. It is clearly aimed at enthusiasts and experts who know what they're doing. Even though it's considered as a premium software, it's not at all that complicated.
Magnetic Timeline
One of its most notable features is its 'trackless' magnetic timeline. At first glance, this is not your typical video editing timeline, but once you get the hang of it, you will find it incredibly useful. The timeline encourages you to group different elements into categories such as voiceovers, music, and clips. This comes in handy since you can move and trim clips without affecting your entire video. This feature makes editing your videos a lot easier and more organized.
Intuitive Layout and Interface
Grouping tools coupled with various effect options and an easy way to add clips and audio have made a very intuitive software to use. If you're working exclusively within the Apple ecosystem, then you'll greatly appreciate how Final Cut is seamlessly embedded with your other tools such as iTunes.
Raw Video Compatibility
Apart from that, the software supports all major raw video files from different manufacturers. This means that whatever camera you use to shoot your videos, you can quickly import your files to Final Cut and use it. It even supports drone videos, there's no need for any type of file conversion so you can start working on them. Additionally, the software did not forget about 360-degree videos, so if you have cameras that are capable of shooting them, you'll have no problem using Final Cut Pro X.
The software is a bit on the expensive side. Apple chose not to opt for a subscription model like Adobe's Creative Cloud. However, they do provide you with updates. It connects with different cloud storage solutions as well, so you can rely on them for clips and images that you can use on your latest video project.
Apple's Final Cut Pro X is a trusted software by a lot of professionals and has helped produce blockbuster films, popular music videos, and a lot of other exciting projects. This is a reliable video production software that is used by a lot of Hollywood professionals and even YouTubers.
Why Use Final Cut Pro X
A professional level video editing and production software with an interface that's simple enough for consumers and pros
Support for 360-degree videos and HDR opens up the software for the future
Great All-Around Software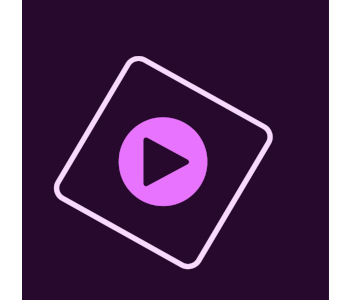 Retail Price: $59
Key Features: Face detection and automated motion tracking
Platform: Windows and Mac
Video Tracks: Unlimited
Best For: Enthusiasts, Professionals, and even Intermediate users
Another entry from Adobe on this list is their Premiere Elements 2019 video editing and production software. If the Premiere Pro is built for professionals, then Elements is more focused on those who are relatively new to all this. They made this so that video editing is as easy as possible. They even have an expert interface, which remains intuitive even for the new editors.
Beginner-Oriented
Premiere Elements is not as complicated as its more feature-packed brother. Even if that's the case, this still packs a relatively powerful punch. They did put in several AI features on this software, so it continues to be easy to use. It comes with some automated features like Quick Edit that help you to automatically trim your clips without you having to do it yourself manually. This is an excellent feature to take advantage of, especially if you're making quick family-style home movies.
Other video editors have some sort of period where you can familiarize yourself with their different capabilities. Premiere Elements comes with excellent tutorials so you can get the hang of it more quickly. The interface has large readable buttons, so you know what you're about to do. It's an excellent option for anyone who wants to move from wizard-type software to one with a traditional timeline.
Solid Set of Video Effects
Premiere Elements comes with a good selection of video effects to make your projects pop out. Similar to other consumer video editors, it comes with different transitions, chroma-keying, opacity, and other effects that can take your videos to the next level.
Automated Operations
A few of the critical features of the software are its automated functions. These features can certainly make your life a lot easier since you won't have to work on these manually to improve your videos. Features like automated motion tracking and smart toning can slash hours off your editing time, especially if you're working on a lengthy video.
Adobe's Premiere Elements 2019 brings its AI capability to the forefront. It's a great in-between software or a lightweight alternative to editing your videos. It comes with a lot of tools and effects that you'll find in professional video editing and production software so your projects will come out stunning and polished.
Why Use Adobe Premiere Elements 2019
Adobe's consumer video and production software has a gentle learning curve that anyone can use
Comes with excellent tutorials for newcomers
Has a lot of video effects that you don't necessarily expect from a consumer level software
Best for YouTube and Beginners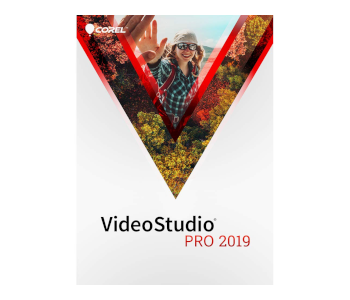 Retail Price: $79
Key Features: Video effects and Color correction
Platform: Windows
Video Tracks: Single
Best For: Beginner and Intermediate users
The Corel VideoStudio Pro 2019 is a video editing and production software that's great for those who are starting out and want to make videos for their friends, families, and social media. This is a tool of choice if you're just beginning to get some traction with your YouTube or Facebook vlog.
It does not have the complete tools or features of more premium software like the Premiere Pro or Final Cut Pro. It does bring essential tools with several transitions and effects to its library.
Built for Novices
The first time you fire it up, you'll notice that it's geared towards novices rather than professionals and enthusiasts. It has a well-designed user interface, and you'll soon realize that it's easy to pick up and start working on your projects.
Most of the video editing tools that you'll always need are found on the main window so you won't need to dig around to know where the trimming controls are. Right-clicking on an object also reveals other tools that might not be readily accessible on the primary panel. Compared to other editors, this is relatively simpler since you'll need to go through multiple menus just to find the exact same tool.
To add to all of this, VideoStudio Pro comes with many pre-programmed effects, titles, and transitions that you'll be able to use quickly with a few clicks of your mouse. The library is filled with a ton of objects and enhancements so your clips become a polished video that you can share with everyone.
Themes and Templates
The software also comes with a few themes and templates where all you need to do is drag and drop your clips, and they automatically transform them in minutes. This further adds to the beginner-friendly nature of the VideoStudio Pro.
Advanced Features
Even though this is considered as a software that's best for beginners and intermediate users, it does come with a few advanced tools and features. It comes with tools that help you with color grading and color management, so your videos look consistent even when you use a variety of clips shot at different times and angles. Features such as capturing directly from your webcam and recording your screen are a welcome addition. VideoStudio Pro is also capable of editing 360-degree videos, and this certainly adds to the many things you can do with the software.
The Corel VideoStudio Pro is by no means a complete video editing tool. For one, it does only give you one editing track, so if you're managing a few clips and scenes, this can get a bit confusing. However, it does come with advanced and professional tools that you can find on other premium options.
Why Use Corel VideoStudio Pro 2019
A feature packed software that's perfect for beginner and intermediate users
A great value and easy to use software with social media connectivity for fast and easy uploads
A Solid Option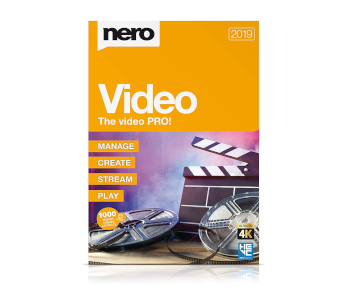 Retail Price: $35
Key Features: Support for vertical videos and 4K Effects
Platform: Windows
Video Tracks: Single
Best For: Beginner and Intermediate users
Nero Platinum is a full software suite, and we are just concerned about the performance of their video editor. This is one of the more affordable options since it costs significantly less than most similar software. However, it is also not the most polished. You do give up a bit when it comes to its capabilities, but it's still a robust software overall.
One crucial feature that's missing though is its support for 360-degree videos. If you have hardware that's capable of shooting VR-ready videos and you're intending to produce those types, then this is probably not a great software for you.
Express Editing
This is Nero Video's default timeline view, and it's similar to the storyboard format of other video editors. This is mostly for beginners, and you can surely switch to a more standard timeline track view. However, Express Editing is much simpler to use where the software offers 90 themes that you can activate in a click. Here you can add intros, titles, transitions, and background music to spice up the video you're making.
Advanced Effects
Moving from storyboard style to timeline view will open up a few options. Although this is a bit trickier to work with, if you have worked with a few video editors, adjusting to this should be no problem. This opens up a ton of additional tools such as transitions, text, audio, color, speed effects, stabilizer, and a lot more.
The Nero Platinum Video is clearly not the best one. However, it does provide you with a reliable option, especially for those who are starting out. Express Editing makes it easy for just about anyone to create polished but straightforward home videos, while Advanced mode gives you a lot more freedom in terms of what you want to do with your video.
Why Use Nero Platinum Video 2019
An affordable video editing software that comes with a lot of effects that you can see on enthusiast level software
Excellent support for a lot of different video file formats so you can easily edit from different sources
Best Software for Experienced Filmmakers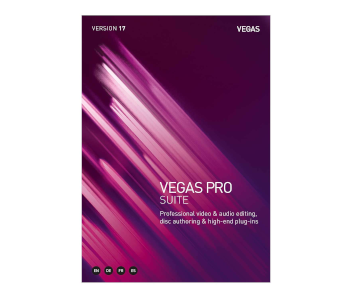 Retail Price: $799
Key Features: Visual Special Effects and 3D Editing
Platform: Windows
Video Tracks: Unlimited
Best For: Professionals
If there is a video editing and production software that carries a big reputation, it's the Vegas Pro software. Filmmakers and Hollywood, in general, have used it to make movies, TV shows, music videos, documentaries, and a lot more. Chances are some of your favorite films have been made with the help of this software.
Professional Tools
For a software that produces blockbusters, the most notable feature of the Vegas Pro is its variety of professional tools. You can use it to create stunning visual effects, enhancing clips and audio, and most of all, 3D titling and composition. This may sound a bit complicated, but what the software does is make everything smooth with its intuitive interface.
These tools will provide you with the control that you need to make stunning videos that you can show to your audience. This is due to its flexibility as a software, and the intuitive timeline makes your work a whole lot easier.
Advanced Capabilities
As a professional-level software, it's just right that it comes with advanced capabilities. The Vegas Pro 17 can support 4K UHD, so you can create videos with this resolution. It also supports multi-cam editing, which is a perfect feature if you're creating TV shows or any video that requires a few camera angles to make it work. The software is also one of those that can handle 360-degree videos. It is equipped with tools that can help you refine footage shot with a VR camera.
One thing you'll notice about the Vegas Pro 17 is its price. It is by far the most expensive of all the video editing and production software. However, with its features and capabilities of professional quality videos and audio, it is definitely worth considering.
Apart from its professional-level features and tools, it also comes with the reputation that it's a software that specialists in the industry use and recommend. With it, you can create polished projects from feature films, documentaries, to YouTube videos and even those about significant moments in your life.
Why Use Vegas Pro 17 Suite
Can be considered as one of the best professional video editing and production software
Reliable software with a strong reputation of completed works from films to popular YouTube videos
Video Production Software for Budding Vloggers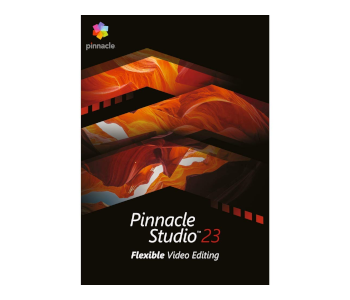 Retail Price: $59
Key Features: Multi-camera editing and Stop motion animation
Platform: Windows
Video Tracks: Six Tracks
Best For: Beginners
If you've never edited a video before and want to try it to start your budding vlogging career, then Pinnacle Studio 23 is something that you should consider. Pricing is decent, and the main reason why you should start with this software is it's affordable for the number of tools and options it provides so you can get your video editing skills off the ground.
Intuitive Timeline Controls
Pinnacle Studio supports multi-camera editing with a total of six timeline tracks. So, it's not the unlimited capabilities of other more advanced video editors, but having a bit of flexibility certainly helps.
Timeline controls have been improved, as well enabling you to make edits on the fly and with ease. You can do all these on the timeline, and you won't need to search for the tools that you want to use. This feature drastically streamlines your workflow so you can work at your pace using the custom profiles that you set.
Stop Motion Capabilities
An exciting feature of the Pinnacle Studio is it's time remapping controls. It's dedicated stop motion capabilities because of this feature gives it that extra edge over other video editors. The entire time remapping feature allows you to add intensity to your videos by controlling the speed of your clips. You can focus on a particular scene or motion and give it more stress on your videos.
The Pinnacle Studio 23 video editing and production software is undoubtedly an excellent tool for everyone, most notably beginners and budding vloggers. If you're looking for an upgrade from the many free options that can provide you with some professional level tools, then this is the software for you.
Why Use Pinnacle Studio 23
Professional editing tools and shortcuts for a software that's at this price range
A suitable upgrade from the free options your computer comes with
Best Value Video Production Software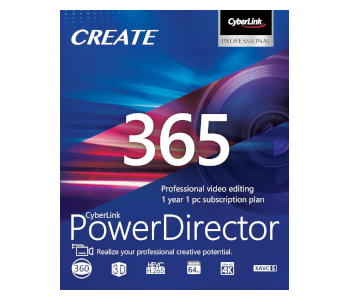 Retail Price: $69 (1-year subscription)
Key Features: Multi-camera and 360-degree editing
Platform: Windows
Video Tracks: 100 tracks
Best For: Experienced Filmmakers and Enthusiasts
If you're an experienced video producer yet you think that the likes of Adobe Premiere Pro and Final Cut Pro are too much for your projects, then you need to consider CyberLink's video editing software option seriously. The PowerDirector 365 follows Premiere Pro's subscription model although at a more affordable rate.
It is definitely a reliable option on the level of other premier editors, and it continually delivers professional and quality videos. It comes with features and tools that you'll also find on those editors.
Magic Movie Wizard
This is one of PowerDirector's features that they kept on the 365. This is definitely a quicker way to edit your videos. It's not the most detailed way to make edits to your videos, but it's there should you require some hastily made video that you'll just upload to your personal Facebook profile. However, you can surely achieve much better results with the timeline editor.
This feature makes it a software that's accessible to beginners even though it is capable of much more. It is indeed a promising software that gives you the best of both worlds so virtually anyone can start creating their own videos.
Video Editing Modes
The PowerDirector 365 comes with three different editing modes, namely Timeline Mode, Storyboard Mode, and Slideshow Creator. Timeline mode is your traditional interface with very familiar controls if you're familiar with premium software. This is where you can take advantage of PowerDirector's 100-track timeline.
Apart from the three, it also comes with Auto Mode that allows you to create videos in a couple of clicks. It also supports 360-degree videos so you can edit them and produce your own VR-ready projects.
CyberLink's PowerDirector 365 has something for everyone. From beginners to seasoned professionals, some tools and modes will suit your editing style. It also helps that its monthly subscription model is affordable so you can create just about any type of video.
Why Use CyberLink PowerDirector 365
Subscription is affordable that even getting it for a whole year still costs considerably less than other software
Similar to the Premiere Pro CC, feature updates are being pushed constantly to improve the software
Adaptable and flexible that's suited for both beginners and professionals alike
Videos You Can Create
The variety of software we listed gives you a lot of options. Whether you're a beginner, an expert, or you use a PC or a Mac, there is one that's going to be a perfect fit for you. Knowing that you can also produce different types of videos surely helps so you're not really confined to choosing the most expensive or one with the most tools that you won't even bother using.
YouTube and Social Media Videos
As the popularity of social media videos like those on YouTube grows, consumers are starting to realize the value of more polished videos. Whether it's for a serious channel or an exciting home video that you want to share on Facebook, putting your clips through an excellent editor can make all the difference.
These tools allow you to create videos for your social media. If you're managing a YouTube channel and upload regularly, you'll definitely need one of these video editors to help you out.
Promotional and Marketing Videos
Other types of videos you can create are those of the promotional and marketing variety. Using videos of this nature can drastically improve your closing and conversion rates. This makes it extra crucial to include videos when you're trying to sell something. With the help of any of the software we reviewed here, you can produce your own stunning videos that can truly make a difference.
Films
Whether it's a full-length feature film, a blockbuster, or a life event film, having a trusted video editing and production software can surely do wonders. Even home videos can take advantage with just a quick trip to the editing window on any of the software reviewed. If you want to have that polish on your videos, giving them a quick edit will definitely do the trick.
Wrap Up
With tools like those listed in the review, producing videos for any purpose has become a lot easier. In the past, you would certainly need a team of people, but with the advancement of different technologies, anyone with a decent computer can create their own video. More of the tools included in the software are now more automated, and all you need to do is click a few buttons, and your videos will be sorted out for you.
Now, you do have a few choices when it comes to choosing the right video editing and production software. There is certainly one that's the perfect fit for your needs. Whether you're a beginner and looking for one that can help you learn the basics of video editing or someone who's looking to upgrade to a software with more professional capabilities, there is one out there that will satisfy your needs.