6 Best Point and Shoot Cameras with Viewfinders of 2019
3D Insider is ad supported and earns money from clicks, commissions from sales, and other ways.
Point and shoot cameras take up little space yet produce photos and videos better in quality than cellphones. They're great alternatives to DSLRs and mirrorless models if you require a lighter, more compact solution. Unfortunately, not many of them come with a viewfinder.
Cameras that lack viewfinders are harder to work with and trickier to use if you're after professional-looking footage. You can use a viewfinder in direct sunlight while previewing how changes to exposure settings, white balance, etc. will affect the result. Framing with the viewfinder is much easier too.
There aren't many fixed-lens cameras with viewfinders nowadays. However, 2019 alone has seen a renewed interest in this neglected subcategory, so expect more models in the future.
Here are the six best point and shoot cameras you can grab today. Some of them are great at everything they do, while others focus on providing superior zoom or great video quality. Find one that suits your shooting style and start making awesome art while traveling lighter.
Budget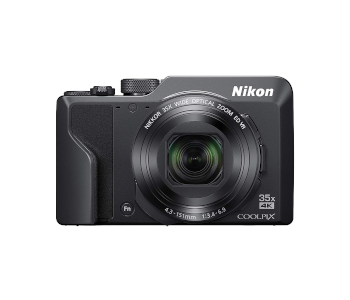 Nikon Coolpix A1000
4.0/5.0
ISO range: 10 – 6,400
Max video resolution: 4K, 30fps
This has useful controls next to the lens.
Check Amazon
Best Value
Canon PowerShot G5 X Mark II
4.6/5.0
ISO range: 100 – 12,800
Max video resolution: 4K, 30fps
Good image quality with little noise.
Check Amazon
Top Pick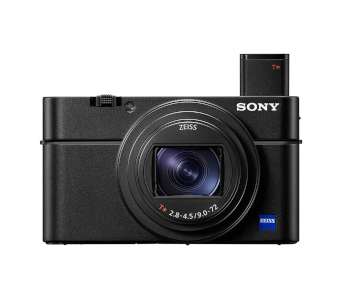 Sony RX100 VII
4.8/5.0
ISO range: 100 – 12,800
Max video resolution: 4K, 30fps
This has speedy autofocus and eye tracking.
Check Amazon
Point and Shoot Cameras with Viewfinders Comparison Table
1. Best Overall – Sony RX100 VII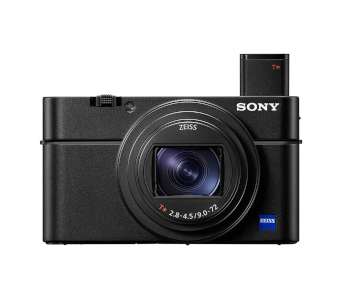 View on Amazon
Editor's Rating: 4.8/5
The RX100 VII is an oddball. It's a small point and shoot camera yet packs features you'd expect from several specialized larger models. It has an insanely fast burst mode and accurate eye tracking, both of which sports and wildlife photographers will love. There's also excellent video, making the camera ideal for vloggers who're looking to futureproof for 4K. The versatility will cost you an arm and a leg, but that's the price of excellence.
Overview of Features
There's nothing remarkable about the RX100 VII's appearance. It's a matte-black compact camera with precious little real-estate, most of which is occupied by the mode dial and shutter on top with menu and direction controls in the back. The viewfinder is hidden until you lift a tiny switch and it pops out. The camera definitely fits into your pocket, but people with large hands might have trouble operating its miniature controls.
At the heart of the RX100 VII is a 1-inch CMOS sensor powered by the latest BIONZ X processor. It has an optical zoom of 8x and creates a cinematic-looking macro shot when zoomed in. The new processor allows for ridiculous burst speeds – 20fps in normal mode and an astounding 90fps in the Short Burst mode.
The autofocus is top-notch; it had to be to keep up with such shooting speeds. There are close to 400 autofocus points covering 67% of the screen to enable honing in on the subject nearly instantly. Sony has also equipped the RX100 VII with sophisticated human and animal eye tracking. The latter works amazingly well for most animals with definable eyes, making the RX100 VII a great choice for photographing pets or wildlife in action.
Video is shot in 4K at 30fps and takes advantage of new image stabilization. Turning it on crops the image slightly but noticeably reduces camera shake. Video quality is excellent, with good contrasts and solid white balance. The RX100 VII won't outshine a DSLR in low light due to the small sensor, but it's miles ahead of the compact competition.
What We Didn't Like
The RX100 VII is expensive. Much of the cost boils down to its long list of impressive innovations wrapped into one technological marvel. That being said, you'll find bulkier cameras at this price point which can match or outperform any one of its strong suits. The camera takes a long time to clear its buffer. While this is active, you can't tinker with settings or zoom into stored photos.
Tech Specs
Dimensions: 4.4 x 2.5 x 1.6 in.
Weight: 10.7 oz.
Lens: 8.00x zoom
24-200mm eq.
Sensor: 1-inch CMOS
ISO range: 100 – 12,800
Max still resolution: 20.1 MP
Max video resolution: 4K, 30fps
The Pros
Exceptional technical achievement in a compact body
Lightning-fast burst mode
Speedy autofocus and eye tracking
Great video quality
The Cons
Very expensive
Changing settings and zooming into pictures becomes unavailable while buffer is emptying
2. Best Value – Canon PowerShot G5 X Mark II
View on Amazon
Editor's Rating: 4.6/5
Do you need a point and shoot camera but don't want to give up a tactile workflow you can expect from bulkier models? In that case, pick up the newest PowerShot G5 X from Canon. It's a compact that punches above its weight class in terms of stills quality and handling. It packs a new lens and the latest version of Canon's DIGIC processor, has a versatile LCD, and is a pleasure to use in any circumstance.
Overview of Features
The Mark II is unmistakably a compact camera, but it has many elements photographers used to mirrorless and DSLRs will appreciate. Its front is rubberized, and there's even a protruding grip for extra stability. Like our overall winner, it has a pop-out viewfinder with 2.3 million dots that requires a slight push to retract. There's also a responsive touchscreen you can flip all the way out for vlogging or position downwards when shooting over a crowd.
While Canon did a good job of laying out the Mark II's menus, you'll love using it by pressing buttons and rotating dials. Everything is well made and "clicky", giving you instant feedback essential for setting up split-second shots. Speaking of which, the Mark II has a 20fps burst mode you can bump up to 30fps if you're willing to drop the autofocus.
Picture quality is very good for a camera with a 1-inch sensor. The lens creates soft footage when zoomed all the way out, so applying a slight zoom will lead to crisp results. All but high-contrast situations are handled well, There are different scene modes you can switch to if there's too much detail loss due to overexposure. Low-light performance is solid, with little to no noise on ISO settings smaller than 1,600.
There are a lot of video options and modes to bring out your creativity. 4K is detailed and uncropped, so you'll record everything you'll see from the viewfinder. There's a special HD mode that reduces glare from bright sunlight too. You can create time-lapses or lower the resolution to 1080p and shoot slow-motion videos at 120fps.
What's Bad About It?
The battery is the least impressive thing about the Mark II. It lasts for 230 shots if you're using the LCD, 50 less if you pull up the viewfinder. The Mark II has Bluetooth and Wi-Fi for instant uploads to social media. It's an excellent vlogging camera for people who post regular updates, but the lack of YouTube live streaming may turn some vloggers off.
Tech Specs
Dimensions: 4.4 x 2.4 x 1.8 in.
Weight: 12 oz.
Lens: 5.00x zoom
24-120mm eq.
Sensor: 1-inch CMOS
ISO range: 100 – 12,800
Max still resolution: 20.2 MP
Max video resolution: 4K, 30fps
The Pros
Excellent build quality and handling
Flip-out touchscreen great for vlogging
Good image quality with little noise
Can shoot time-lapses and slow-motion videos
The Cons
Poor battery life
Can't stream to YouTube
3. Fujifilm X100F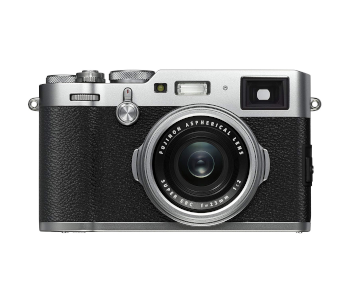 View on Amazon
Editor's Rating: 4.5/5
Fujifilm is never satisfied with incremental updates to its established camera lines. Case in point – the X100F, or the fourth iteration of the prized X100 series. The camera has seen noticeable improvements across the board with a new autofocus system, a more intuitive control scheme, and a better dynamic range than its predecessor. It's the perfect point and shoot for film simulation stills, street photography, and portraits.
Overview of Features
The X100F wins our award for the best-designed camera in its niche. It has a beautiful retro-inspired look with a magnesium trim and faux leather finish. Coupled with a hand rest, the leather gives the X100F superb grip. This is one of the heavier compacts we've tested, but the weight inspires confidence in its build quality rather than feeling cumbersome.
Fujifilm has revamped the controls to make the X100F more accessible. There's a dial for changing the exposure on top along with one that pulls double duty by letting you select ISO values and shutter speed. There are now four custom function buttons to the right of the 3-inch LCD together with a responsive joystick.
The hybrid viewfinder is the X100F's most attractive physical feature. You can use it as a digital viewfinder to preview white balance or exposure changes and switch back to optical when you're focusing manually or working in low light. Using the viewfinder puts little strain on the battery, which has a decent charge and is capable of shooting more than 300 photos before needing a refill.
The X100F takes pictures of outstanding quality. Its APS-C sensor is large for a compact, offering 24.3MP stills in either JPEG or RAW. It isn't a sports shooter due to an 8fps burst mode and 91 AF points, but the X100F gets the job done if a specific moment needs capturing. Its low-light performance is above average; you can expect to use ISO values as high as 6,400 in dim situations and easily deal with the noise in post.
Fujifilm included its trademark film simulation modes to help you produce photos with a distinct cinematic look. You can look forward to claustrophobic shots of high-rises, traffic scenes with lots of bokeh, or dreary monochrome pics torn straight from a noir movie.
Are There Drawbacks?
The X100F isn't a camera for video enthusiasts. Its output of 1080p at 60fps looks solid but feels dated in an era where 4K is becoming the norm. Fujifilm's menu system could use some refinement and clarification. Some frequently-used settings like flash activation are hard to get to, forcing you to fiddle with the camera while you could be shooting.
Tech Specs
Dimensions: 5.0 x 2.9 x 2.1 in.
Weight: 16.5 oz.
Lens: non-zoom
35mm eq.
Sensor: APS-C X-Trans CMOS III
ISO range: 200 – 12,800
Max still resolution: 24.3 MP
Max video resolution: 1080p, 60fps
The Pros
Beautiful and functional design
Excellent hybrid viewfinder
Film simulation modes add charm and creativity to stills
Good overall image quality and low-light performance
The Cons
Video limited to 1080p
Convoluted menu system
4. Canon PowerShot SX70 HS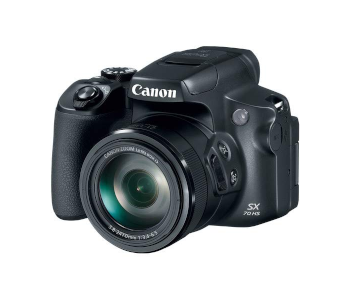 View on Amazon
Editor's Rating: 4.3/5
The cameras we've reviewed so far all perform well, but none of them can hold a candle to DSLR and mirrorless cameras equipped with telephoto lenses. The PowerShot SX70 HS is the perfect choice if you're after a superzoom that that's easy to operate. It can shoot macro photography and is worth buying if you expect to mostly work in favorable light.
Overview of Features
The SX70 HS is a bridge camera, meaning that it has a body akin to a DSLR but with a fixed lens. It's much lighter than most regular DSLRs and doesn't become front-heavy when you extend the 65x optical zoom lens out. Its DSLR-like appearance also means you can grip the camera firmly.
For a model in its price range, the SX70 HS has an outstanding viewfinder. It has the same 2.36 million dot resolution seen on more expensive models and displays the view in vivid color. It's accompanied by an LCD you can flip to the side and use to see how you look when vlogging. The camera has an eye sensor that automatically switches between the two to conserve the battery. Said battery can put out 350 images per charge, 400 if you aren't using the viewfinder and are shooting in Eco mode.
Its 1/2.3-inch sensor is coupled with the DIGIC 8 processor, allowing for 20.3MP shots at a respectable speed of 10fps. The SX70 HS's autofocus system has only 9 points, but these snap into action quickly and can be moved for better positioning. Keeping autofocus on lowers the burst speed to 5.7fps but makes for sharper action shots.
The massive zoom lens lets you capture far-away subjects in remarkable detail. Better yet, it allows you to focus on things that are right in front of it to produce macro photos of considerable clarity. Pictures are sharp and bright in optimum conditions regardless of zoom. You can always bring out more detail in high-contrast shots if you turn on the Auto Lighting Optimizer.
Video quality is decent but unremarkable. However, videos do take advantage of excellent five-point digital image stabilization and can be shot in time-lapse mode even in 4K. Sadly, slow-motion isn't available on lower resolutions.
What We Didn't Like
The SX70 HS is a poor choice if you shoot in low light frequently. Its maximum ISO is limited to 3,200 and comes with considerable noise. The viewfinder's usability is diminished in low light as well since uniform blotches of dark color replace details. There's no touchscreen either.
Tech Specs
Dimensions: 5.0 x 3.6 x 4.6 in.
Weight: 21.4 oz.
Lens: 65.00x zoom
21-1,365mm eq.
Sensor: 1/2.3-inch CMOS
ISO range: 100 – 3,200
Max still resolution: 20.3 MP
Max video resolution: 4K, 30fps
The Pros
Fantastic zoom lens at a reasonable price
Can shoot macro photos with no quality loss
Capable digital image stabilization
Records 4K time-lapse videos
The Cons
Performs poorly in low light
No touchscreen
5. PANASONIC LUMIX ZS80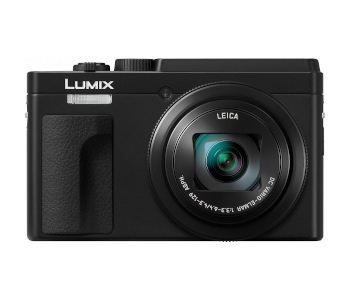 View on Amazon
Editor's Rating: 4.2/5
Do you like the idea behind the SX70 HS but find the camera too large? Panasonic has an enticing alternative in the ZS80, a compact camera with a 30x optical zoom. It's travel-friendly, boasts outstanding 4K video for the price, and even has a touchscreen.
Overview of Features
You wouldn't think that such a small camera is a capable superzoom judging from its appearance alone. The ZS80's body is mostly made from metal, it is very light, and has a patch to the side of the lens you can grip tightly. The control layout is logical and uncluttered, making for quick access either physically or by using the touchscreen. The adjustment ring is also noteworthy as rotating it changes not only the zoom level but settings like focus or photo modes too.
The viewfinder is the biggest improvement the camera has over its predecessor, the ZS70. It now has double the resolution and a crop factor of 0.53. You might inadvertently touch the LCD with your nose while using it since the camera is so small. However, touch autofocus can be disabled if you don't mind adjusting more settings manually.
The ZS80's sensor is small, leading to low-light performance comparable to the SX70 HS. That being said, its performance under normal circumstances is great. We especially liked that the default color profile was vivid while not looking artificially enhanced. The camera does a good job of maintaining white balance in most situations, as well. The various photo modes are a welcome addition, especially if you cycle through them with the ring. Doing so lets you enhance scenes quickly and with little effort.
One surprising feature of the ZS80 is its video quality. UHD footage is punchy and detailed, even if you zoom out all the way. Clips shot indoors tend to have overexposed highlights, but nothing a little editing magic can't fix. The ZS80 comes into its own when you need to combine video with its superzoom capabilities. The results are sharp videos of distant landscapes or people. The latter remain steadily in focus thanks to eye-tracking AF that stays glued to subjects regardless of zoom.
What's Bad About It?
This is another camera whose tiny sensor makes shooting in bad light difficult. Upping the ISO doesn't help either since its maximum is 3,200. Switching to values close to it causes noise, and removing it also decreases the detail. You'll have to deal with Panasonic's customer service if something goes wrong. Their reputation is less than stellar as long response times and inaction are some of the most common complaints.
Tech Specs
Dimensions: 4.4 x 2.7 x 1.6 in.
Weight: 11.5 oz.
Lens: 30.00x zoom
24-720mm eq.
Sensor: 1/2.3-inch CMOS
ISO range: 80 – 3,200
Max still resolution: 20.3 MP
Max video resolution: 4K, 30fps
The Pros
A capable superzoom in a compact body
Lens ring can be customized to access various functions
Improved viewfinder
Great video quality for the price
The Cons
Bad low-light performance and loss of detail after denoising
Poor customer service
6. Best Budget Option – Nikon Coolpix A1000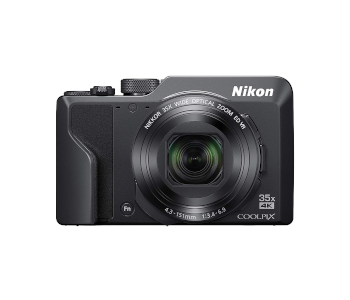 View on Amazon
Editor's Rating: 4/5
The last camera we're reviewing is another superzoom, this time by Nikon. The A1000 is a budget-friendly model with a dependable viewfinder, 35x zoom, and intuitive sharing options. You'll love it if you're a bird watcher looking to take stunning avian photos or want an inexpensive yet well-rounded camera to take along on your next vacation.
Overview of Features
The A1000 is among the bulkier compacts on review. You'll easily find space for it in a travel pouch, but pocketing the camera might be a problem because of its finger grip and the lens which protrudes out slightly. On the other hand, the A1000 is comfortable to hold and has room enough for a portable flash.
The camera's control scheme is extensive but logical. We particularly liked that there's a quick-reach function button along with framing assist and a zoom rocker next to the lens. The top holds the mode selector along with a multifunction dial whose featured setting changes depending on mode selection. The back is home to a 3-inch adjustable screen, as well as buttons that handle recording and menu navigation.
The A1000 has the smallest viewfinder we've tested. Its resolution is 1.16 million dots, and it has a diameter of 0.2 inches. That makes the viewfinder worse at showing you intricate details than the competition. Still, the difference isn't so vast that we'd count that against it. The viewfinder is otherwise responsive and quick to zoom out slightly when you need a framing assist.
Expect to get solid picture quality out of the A100 when shooting during the day. The camera handles contrasts well, displaying slight chromatic aberration only when the subject is highly backlit. Images taken at three-digit ISO values are crisp while going into the 1,000s produces grain. You can shoot in RAW or JPEG and export the images either cropped to 2MP through Bluetooth or with their quality intact via Wi-Fi.
Are There Drawbacks?
The A1000 has an 8fps burst mode. Completing the burst causes the camera to freeze while processing. This can take upwards of 10 seconds, depending on the format you're using. The screen articulates upward and downward, but can't flip out completely.
Tech Specs
Dimensions: 4.5 x 2.8 x 1.6 in.
Weight: 11.6 oz.
Lens: 35.00x zoom
24-840mm eq.
Sensor: 1/2.3-inch CMOS
ISO range: 10 – 6,400
Max still resolution: 16 MP
Max video resolution: 4K, 30fps
The Pros
Compact camera with a serviceable viewfinder at an excellent price
Useful controls next to the lens
Easy to transfer images through Bluetooth and Wi-Fi
The Cons
Screen doesn't flip out fully
The camera freezes for an extended period after shooting in bursts