5 Best 360 Cameras for Virtual Tours in 2019
3D Insider is ad supported and earns money from clicks, commissions from sales, and other ways.
The real estate industry has seen some revolutionary changes in the last few years that have been brought about by modern technology. Nowadays, it's no longer enough to have nice videos of the interior of a house or apartment. The latest trend – and probably the new standard in the industry – is to allow potential customers to take a "virtual tour" of the property.
If you're interested in sprucing up your sales strategies with a virtual tour, then you're going to need to invest in a good 360 camera. In this article, we take a look at the best 360 cameras in the market today. If you've never bought or used a 360 camera before, then you've come to the right place.
What is a 360 camera?
Simply put, a 360 camera captures panoramic photos and videos from a single position. A 30 camera can pan both vertically and horizontally, creating a photo that is fully navigable and makes the viewers feel like they are actually at the location where the photo was taken.
360 photos are not a thing that only came along because of 360 cameras. Before 360 cameras were a thing, professionals have been able to do 360 photos using a DSLR camera mounted on a custom panoramic rig.
While this technique achieved just about the same effect as 360 cameras do nowadays, it took a much longer time to edit and stitch the photos semi-manually. Panoramic rigs were also expensive, as were the high-end DSLR cameras at that time. Depending on the photographer's level of experience, creating a single 360 panoramic photo can take between 30 minutes to 1 hour.
360 cameras have made the process of creating 360 panoramic photos much simpler. Instead of having to pan a special tripod manually, you only need to set up a 360 camera where you want it, and it should handle the rest of the steps with minimal intervention needed. Stitching of the images is done automatically. In most cases, you can get your finished 360 images in less than five minutes.
What should I look for in a 360 camera for virtual tours?
There are a lot of 360 cameras out in the market right now, and some of them might prove too complex and unnecessarily expensive if all you need to do is to create virtual tours for your real estate properties. If this is the specific niche you're interested in, then the following are the factors you need to consider when buying a 360 camera.
1. Image quality
Many 360 cameras have put more focus on their panoramic video capabilities, adding in features such as video stabilization and high framerates. These aren't necessary when choosing a 360 camera for virtual tours, and may make your camera more complicated than you need it to be.
All you need to look at is how good the images taken by the camera are. The first thing to consider is image resolution – basically, the higher, the better. A 360 camera which has the option to shoot in High Dynamic Range (HDR) Mode, which can help give your photos a more vibrant look.
2. Ease of workflow
Your measures may vary when it comes to how complicated you want the workflow of your 360 camera to be. For those with no photography experience, a camera which requires minimal intervention from the user will be suitable. However, there are also those who would like to take on a more active role in post-processing. Just don't forget that you might need to make additional investment for a post-processing software like Adobe Lightroom should you choose the latter option.
3. Stitching quality
The quality of the stitched panoramic image can make or break a 360 camera. It may capture the best images and have a quick and easy workflow, but poor stitching will make all that work worthless.
Unfortunately, there's really no technical specs that will let you know how well a 360 camera does its stitching. Your best bet would be to check out examples of their output. Look for telltale signs of poor stitching – discontinuous lines, distorted features, or inconsistent lighting.
The top 5 best 360 cameras for virtual tours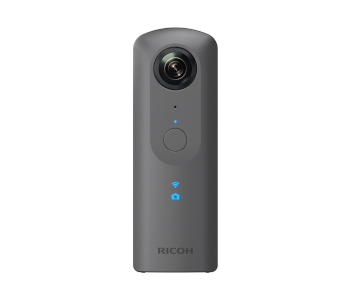 For our top pick, we're going with the flagship product of the Ricoh brand, who have been in the 360 camera game for a long time. Their latest release, the Theta V, is their best one yet and comes with all the technical specs and features to make your virtual tours stand out.
The Ricoh can capture footage in stunning 4K resolution and has an improved Qualcomm Snapdragon image processor with enhanced white balance and exposure. The 360 images captured with the Theta V also have a much more dynamic look and more vibrant colors because of the automatic HDR mode.
The Theta V does come with a couple of great features that you might not need for virtual tours such as a 360-degree microphone for audio recording and six-axis video stabilization. These features certainly make the Theta V more expensive than you might like, but it also means that you can use the Theta V to capture some action footage, should you have a thirst for adventure in your life.
Viewing the quality of your stitched images is made easy with the ability of Theta V to pair with your smartphone. Creating a 360-degree image and reviewing it on your phone literally only takes several seconds, so you can just as quickly take another shot if you're not satisfied with the results. The companion mobile app even comes with a quick sharing function, should you need to collaborate with other people for your virtual tours.
The biggest drawback of the Ricoh Theta V is that it's steep price tag. At almost $400, it's one of the most expensive 360 cameras in the market right now. If you have the budget, however, we recommend going for it. It's an excellent piece of hardware that's a worthwhile investment for your real estate sales.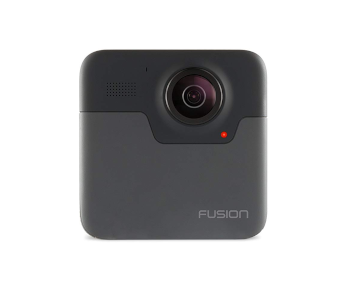 It may be quite surprising, but this 360 camera coming from the undisputed top brand of action cameras is one of the more affordable options. It's not the cheapest, but it certainly delivers value for your money.
First off, GoPro is not a brand that has been known for 360 cameras. However, they have built a solid reputation for their rugged and super tough action cameras. The GoPro Fusion is cut from the same cloth. With GoPro's trademark durability and weatherproofing, the GoPro Fusion is a 360 camera that is sure to last you years and years.
The GoPro Fusion is one of the few 360 cameras that can capture 5.2K videos and 18MP stills. It also gives you the option of capturing in RAW mode, which offers all of the post-processing options available, although the workflow will be longer, and the resulting files will be larger.
As such, the workflow of the GoPro Fusion isn't exactly beginner-friendly, especially if you are going to resort to shooting RAW files. It is possible to instantly view the output of the GoPro fusion in your smartphone using the companion app, but it will still need to be processed using the GoPro software to be in a format that you can share.
Overall, the GoPro Fusion is an excellent buy for delivering excellent quality at a somewhat affordable price. The quality of the hardware is unquestionably good, but its software leaves quite a lot to be desired. If GoPro can improve the documentation or the performance of this 360 camera's firmware, then they have a solid chance of rising to the top of this market.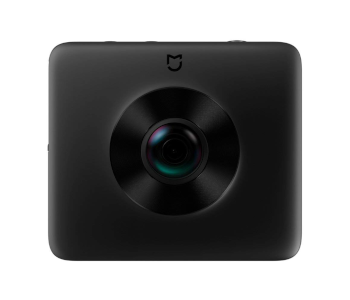 The Xiaomi Mijia is one of the most budget-friendly 360 cameras we've seen, and it's won us over for having a solid set of features despite the price. Like the GoPro Fusion, the Xiaomi Mijia has been constructed well enough to be used as an action camera – it has an IP67-rated waterproof build and six-axis stabilization technology. It's even great for night photography with its long exposure feature.
That being said, there are a few concessions that had to be made to make the Xiaomi Mijia this affordable. Its resolution is limited to 3.5K videos and 24 MP images. These specs are still absolutely excellent for shooting virtual tours, though.
What impressed us the most about the Xiaomi Mijia is its very user-friendly workflow. By eschewing all the fancy photography and editing options, Xiaomi was able to make this 360 camera's workflow as quick and simple as possible. Capturing a 360-degree image can be done with a press of a button – absolutely no manual stitching is needed.
The Xiaomi Mijia also comes with a bracketing mode, which takes three photos of the same angle at three different lighting conditions. These separate shots are then combined to make the lighting of the composite shot as consistent as possible. For a panoramic image that hardly requires any effort from the user, the quality of the output of the Xiaomi Mijia is surprisingly good and free from stitching artifacts.
The budget-friendly price tag and simple workflow make the Xiaomi Mijia our best recommendation for beginners or for real estate agents with minimal photography and image editing experience. It doesn't produce the most dynamic or the clearest images, but it's not bad for the price and the level of effort that it demands.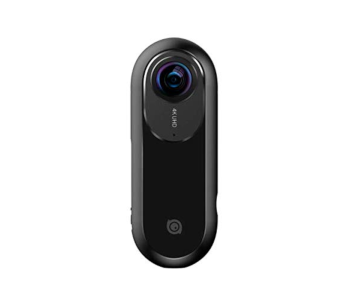 Insta360 has earned a pretty good reputation in the 360 market industry. The product we're featuring here isn't from their latest generation, but we think that it delivers on all the essential features without being too expensive. The Insta360 ONE costs less than $200 but has just about everything you need to capture amazing virtual tours.
The Insta360 ONE captures videos in 4k resolution and stills at 24 MP – technical specs that make it one of the best in class. This 360 camera also comes with InstaOne's trademark stabilization technology, called Flowstate Stabilization, although you're probably not going to need it to shoot virtual tours.
When paired with a smartphone, the Insta360 ONE starts to really flex its best features. Through the app, you can simply tap on the best parts of your 360-degree footage, and the app smooths out these details. Aside from its cinematic editing capabilities, the app also allows you to check on the quality of the camera's output in real-time.
Where the Insta360 ONE disappoints is in the workflow options that it offers. Its software leaves a lot to be desired, crashing quite often and failing a lot while exporting files. You also have to buy the Insta360 software platforms to edit the camera's output, which may be an additional expense that not many users expect.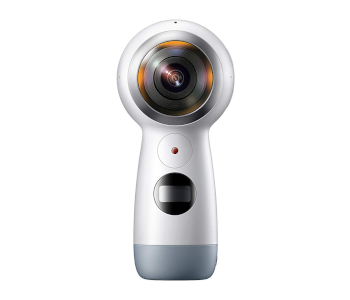 The Samsung Gear 360 was an excellent 360 camera back when it was launched. Although it's now a little long in the tooth, it's still not a bad buy if you're looking for something cheap but reliable.
The age of the technology in the Samsung Gear 360 is easily apparent in its technical specs. With a video resolution of 4K and image resolution of 15 MP, there are certainly a lot of beefier alternatives in the market today. The Samsung Gear 360 was designed for adventure with its ergonomic handle and IP53-rated water resistance.
The major drawback of the Samsung Gear 360 is the fact that you are not going to get the most of it if you don't use it with a high-end Samsung phone. The Samsung VR app was designed for real-time viewing and quick sharing of the output of the Samsung Gear 360. All the images and videos that you captured with the Gear 360 can even be revisited using the Samsung Gear VR. Come to think of it – this could be a good gimmick to include in your sales pitch when meeting a client.
Although the output of the Samsung Gear 360 can still be downloaded and edited with the PC software if you don't have a good Samsung phone, the software feels very clunky and incapable. The stitching quality on the PC software also turns out lower compared to what the mobile app can do, for some reason.
Again, the Samsung Gear 360 is a model from two years ago which is certainly outdated compared to the other models in this list. However, old technology is also cheap. If you're on a budget and you find a Samsung Gear 360 being sold somewhere, then you might as well snag it up.
Final thoughts
Virtual tours aren't the next big thing anymore – they are the big thing right now in the world of real estate. It's already been proven as a very effective marketing tool. If you work in the real estate industry, offering virtual tours for the properties you are selling is the best way to show off how good your properties are without having to physically drive your clients over.
With so much selling potential in virtual tours, a good 360 camera is a worthwhile investment for any real estate agent. Fortunately, the 360 cameras available nowadays are sophisticated yet user-friendly – perfect for the real estate agent who is focused on results.