6 Best Vlogging Cameras Under $100
3D Insider is ad supported and earns money from clicks and other ways.
All you need to start your vlogging career is a good internet connection and a video camera. If you've already spent hundreds of dollars on a top-tier smartphone, you're all set. If you haven't and don't intend to spend much in the beginning, a budget-friendly camera is the first thing you should invest in. You can buy one for less than $100 and get video quality good enough to attract a following, provided your content is up to snuff of course.
Less expensive cameras are easier for beginners to master since they control almost all settings automatically. This lets you concentrate on creating content and putting yourself out there while gradually learning about the finer points of videography. They're a sound investment for anyone who's taking their first steps as a vlogger. If your career doesn't pan out, your wallet won't take a hit. If it does, you can always get something more expensive later.
These are the six best vlogging cameras you can get without spending $100. We've included point-and-shoots, camcorders, and even action cams. Whichever kind of vlogger you're planning to be, our budget picks will get you off to the best possible start!
Budget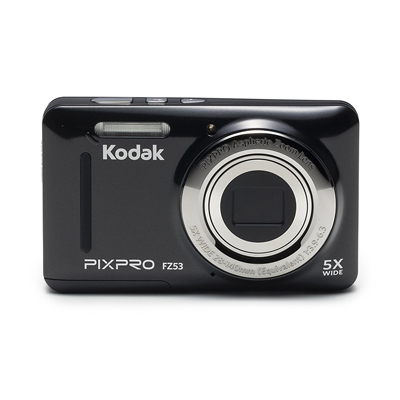 Kodak PIXPRO FZ53
3.7/5.0
Zoom: 5x optical, 6x digital
Resolution: 720p, 30fps
Megapixels: 16.1
Lots of adjustable photo settings, intuitive menu system.
Check Amazon
Best Value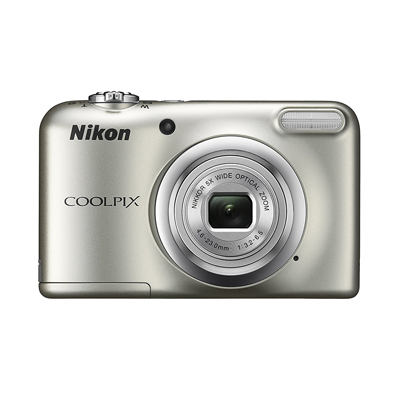 Nikon COOLPIX A10
4.5/5.0
Zoom: 5x optical
Resolution: 720p, 30fps
Megapixels: 16.1
Decent video performance and excellent for selfies.
Check Amazon
Top Pick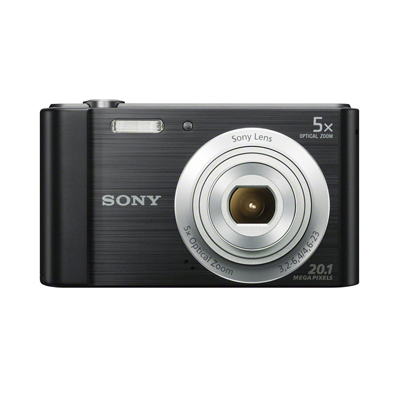 Sony Cyber-shot DSC-W800
4.7/5.0
Zoom: 5x optical, 10x digital
Resolution: 720p, 30fps
Megapixels: 20.1
Lightweight, built-in flash and excellent sensor.
Check Amazon
6 Best Vlogging Cameras Under $100 Comparison Table
| Make and Model | Rating | Video resolution | Zoom | Batteries | Price |
| --- | --- | --- | --- | --- | --- |
| Sony Cyber-shot DSC-W800 | 4.7 | 720p, 30fps | 5x optical, 10x digital | Rechargeable Li-ion | Check Price |
| Nikon COOLPIX A10 | 4.5 | 720p, 30fps | 5x | 2XAA | Check Price |
| Canon PowerShot ELPH 180 | 4.4 | 720p, 25fps | 8x | Rechargeable NiMH | Check Price |
| YI Lite Action Camera | 4.4 | 4K, 20fps, 1080p, 60fps | N/A | Rechargeable Li-ion | Check Price |
| BAIZE HD Digital Video Camera | 4.0 | 1024p, 25fps | 18x digital | Rechargeable Li-ion | Check Price |
| Kodak PIXPRO FZ53 | 3.7 | 720p, 30fps | 5x optical, 6x digital | Rechargeable NiMH | Check Price |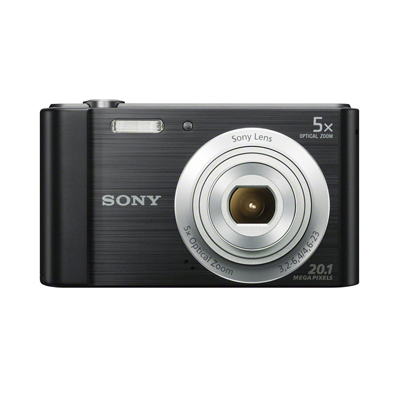 View on Amazon
Editor's Rating: 4.7/5.0
Vloggers who like to take frequent trips while carrying as little as possible will love Sony's least expensive camera, the Cyber-shot DSC-W800. It weighs barely anything, fits inside even a women's jeans pocket, and can take good-quality photos or videos. This is the perfect camera to have at your side when you're recording bursts of activity or stitching together a photo story to share with your followers. It doesn't have the bells & whistles more advanced Sony cameras boast, but the W800's surprising variety of features and low price point make it the undisputed winner in the budget category.
Overview of Features
The W800 is a featherweight point-and-shoot camera designed for portability and ease of use. It has a hard plastic body with a metallic sheen and built-in flash. The rechargeable Li-ion battery is good for 200 shots and has a dedicated compartment next to the SD card slot. Navigating the camera's menus is easy thanks to a four-directional keypad and 2.7-inch LCD screen. The menus are straightforward and there's even an Easy mode which makes the icons bigger and helps newbies get their bearings.
The Super HAD CCD sensor is responsible for vibrant photos and good contrast in both photo and video modes. There's a 5x optical zoom extendable to 10x digital with some loss of quality. The W800 has good image stabilization and a Xenon flash that eliminates problems caused by shooting in dark conditions. All of these plus a quick auto-focus and a variety of photo modes makes the W800 a capable camera that's better at photography than all but high-end smartphones
Video performance is adequate for vlogging as clips are shot in 720p at 30 fps. Many cameras in the sub-$100 price range struggle with whiteout and blotchy dark shadows, but the W800's advanced sensor lets it record in high-contrast settings without quality loss. The default field of view is suited for making videos and the overall image quality will fool many of your followers into thinking they're actually watching 1080p footage!
What We Didn't Like
This camera isn't suited for action shots. It can shoot a maximum of 1 frame per second in continuous mode. You'll need to take care not to drop it as the W800 is fragile. This is made harder by the fact that there's barely any purchase for your right hand in the front.

Tech Specs
Dimensions: 3.8 x 2.2 x 0.8 in
Weight: 4.7 oz.
Batteries: Rechargeable Li-ion
Sensor: 1/2.3-inSuper HAD CCD
Zoom: 5x optical, 10x digital
Max video resolution: 720p, 30fps
Megapixels: 20.1
ISO range: 100 – 3,200
The Pros
Lightweight
Built-in flash
Excellent sensor
Above average video quality for the price
The Cons
Very slow continuous shot speed
Thin plastic casing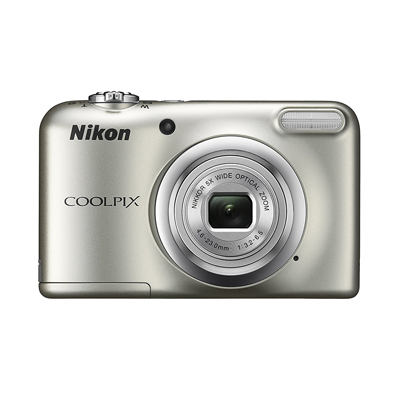 View on Amazon
Editor's Rating: 4.5/5.0
Many vloggers maintain a social media presence on different sites, Instagram being the most prominent. If you need an affordable camera that produces usable video footage for your vlogs while also being excellent at creating selfies, Nikon's Coolpix A10 is the one to get! It' a compact, lightweight point-and-shoot which has six effect modes, good face detection options, and the ability to shoot videos in HD at 30 fps.
Overview of Features
The A10 is an ergonomic camera that fits well in the hand and feels more solid than other models at its price point. Corners have been cut on its exterior design since the hand grip isn't textured, but you'll still find enough purchase for a comfortable grip and steady shots. The control scheme is straightforward as frequently used features like video recording or scene selection have dedicated buttons next to the LCD screen. The camera runs on two AA batteries so you can bring spares and don't have to worry about finding a power source.
A 16.1 MP CCD sensor and 5x optical zoom ensure that pictures taken with the A10 are both vibrant and in focus. Its Smart Portrait mode is the standout feature as it makes snapping portrait shots more intuitive. When it's active, the A10 focuses on faces and even alerts you when someone is blinking. For artistic photography, there are six scene choices. These include standards like sepia, but there's also the Selective Color mode that leaves parts of the shot black & white, giving it a Schindler's List feel.
Videos are of acceptable quality – colors are reproduced accurately and contrast is good in well-lit conditions. Onboard image stabilization is active in video mode and helps greatly when you're moving and recording at the same time. The camera's microphone is excellent for the price as well. Low light performance isn't great though, so stick to using the A10 in environments with plenty of light.
Are There Drawbacks?
The A10's SD card slot is located in the same compartment as the batteries. This means you'll need to remove the batteries each time you want to take out the SD card. The LCD screen has a poor viewing angle and displays washed-to colors, so it might be hard for you to judge how some shots turned out until you transfer the images to a computer.

Tech Specs
Dimensions: 3.8 x 2.3 x 1.1 in
Weight: 5.7 oz.
Batteries: 2 x AA
Sensor: 1/2.3-in CCD
Zoom: 5x optical
Max video resolution: 720p, 30fps
Megapixels: 16.1
ISO range: 80 – 1,600
The Pros
Compact and portable
Good value for the money
Decent video performance
Excellent for selfies
The Cons
Getting to SD card requires removal of batteries
LCD screen has poor viewing angle and contrast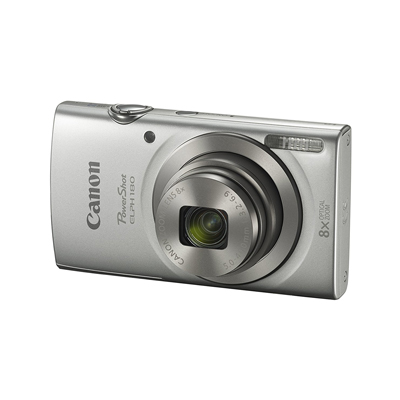 View on Amazon
Editor's Rating: 4.4/5.0
Continuing our trend of ultra-lightweight vlogging cameras is Canon's PowerShot ELPH180. At just 4.4 oz., you'll barely know you're carrying it even after an active day of shooting. The camera boasts a powerful optical zoom, friendly controls anyone can get comfortable with quickly, and crisp 720p video. Get the ELPH 180 if you'd like a reliable point-and-shoot you can whip out in seconds and record events as they unfold.
Overview of Features
The ELPH180 is a no-frills camera aimed at beginners. Its small frame makes it ideal for journaling vacations, parties, and other memorable events. The design is minimalistic and lacks a bulge for a more secure right-hand grip. Even so, the camera is small and light enough to be held comfortably. It comes in either silver or red and is quite stylish. The NiMH rechargeable battery can take 220 shots before dying, more if you activate Eco mode.
Users new to a camera's photography aspect will have an easier time learning the ropes thanks to Smart Auto mode. If enabled, this will let the ELPH 180 adjust the focus and exposure settings for the current shot automatically. There's also an Auto Zoom mode which tracks a subject and adjusts the zoom level if the person you're shooting moves. There are scenes like toy camera and fish eye to play around with too.
Video is recorded in the .MOV format in 720p at 25fps. The ELPH 180 is good at maintaining color fidelity and keeping subjects in focus. It will perform well in optimum conditions but videos may become grainy in dim light.
What's Bad About It?
The ELPH 180 doesn't have image stabilization. This is surprising since it does have a telephoto lens capable of 8x zoom. Expect shaky footage unless you're using a tripod. There's also no manual flash control. If the camera judges there's enough light in the scene, it won't use the flash. This may lead to unusable portraits since faces can remain dark if they aren't lit up by the detected light source.

Tech Specs
Dimensions: 3.7 x 2.1 x 0.9 in
Weight: 4.4 oz.
Batteries: Rechargeable NiMH
Sensor: 1/2.3-in CCD
Zoom: 8x optical
Max video resolution: 720p, 25fps
Megapixels: 20
ISO range: 100 – 1,600
The Pros
Powerful optical zoom
Small form factor
Easy to use
Stylish
The Cons
No image stabilization
No manual flash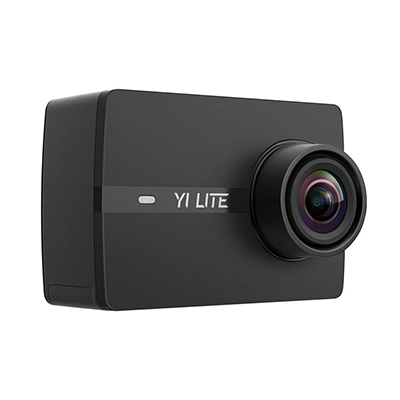 View on Amazon
Editor's Rating: 4.4/5.0
Do you produce action-packed content but don't have the budget for a GoPro? Xiaomi's Yi Lite Action Camera can do almost anything on older HERO can at only a fraction of the price! It is capable of shooting 4K video, has a responsive touchscreen, and can be controlled through a well-designed smartphone app. This is the perfect choice for the adventurer who wants to record every thrilling experience from a first-person view and share it with her fan base straight away.
Overview of Features
The Yi Lite is a square-shaped action camera with a single on/off button on top. It comes with a transparent casing that's waterproof down to 33 feet along with a tripod mounting kit. There's no GPS or voice control, but the Yi Lite does have a bright 2-inch touch-operated LCD display. It runs on a 1,200-mAh rechargeable battery good for a whopping four hours of continuous recording.
Although it can record in 4K, the Yi Lite does so only in 15 or 20 fps depending on whether you're using NTSC or PAL. It's much better at 1080p, producing stunning videos at a smooth 60fps. The fish-eye lens has a 150-degree field of view to capture everything in front of you and to the sides with minimal barrel distortion. You can use this action camera to shoot time-lapses as well as slow-motion footage since its 720p mode supports a framerate of 120fps.
Useful as it is on its own, the Yi Lite becomes an even better investment once you connect it to your smartphone. The camera has built-in Wi-Fi and can be remotely controlled through the Yi app. This shows a live feed of the camera on your smartphone and lets you tweak exposure settings, resolution etc. Sharing photos and videos through sites like YouTube and Instagram is supported as well.
Are There Drawbacks?
Its performance may be fantastic, but the Yi Lite's durability is poor. The plastic housing is flimsy and won't survive a fall, so you'll want to keep the camera in its waterproof housing at all times. Audio quality isn't good either – recordings are prone to bursts of static and audio even cuts off at the end of each clip.

Tech Specs
Dimensions: 2.6 x 1.2 x 1.7 in
Weight: 2.5 oz.
Batteries: Rechargeable Li-ion
Sensor: 1-Chip CMOS
Max video resolution: 720p, 30fps
Megapixels: 16
ISO range: 100 – 1,600
The Pros
Excellent image quality
Versatile companion app
Various recording modes and resolutions to choose from
Intuitive touchscreen
The Cons
Poor audio quality
Fragile without waterproof housing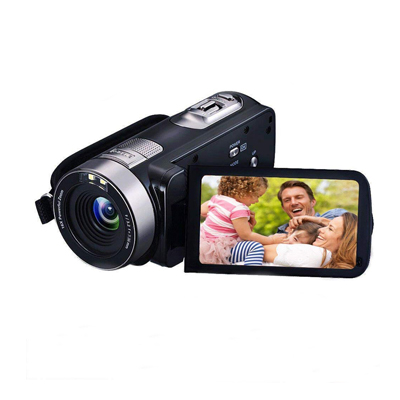 View on Amazon
Editor's Rating: 4.0/5.0
None of the cameras we've reviewed so far had an essential feature for most vloggers – a detachable LCD screen. The HD video camcorder by Baize not only has one, but it boasts FullHD resolution, a powerful digital zoom, and even night vision! This camcorder should be your first budget choice if you produce content in poor lighting such as forests or abandoned buildings.
Overview of Features
Baize's camcorder showcases all the design advantages this type of camera has over point-and-shoot models. It has a hand grip for easier and more stable transportation. You can flip out and rotate its LCD screen 180 degrees to review what your fans see. You can also control it remotely so there's no need to get up and adjust settings when a session has already started. The camcorder weighs in at 9.2 ounces but has good ergonomics and doesn't feel heavy.
The camcorder's max resolution is 1080p. It has good white balance and handles transitions from darker into lighter environments well. The picture becomes grainy in low light conditions like sunsets or poorly-lit rooms. When there's no light at all, you can turn on an infrared light and transform the camcorder into a night vision camera. This mode lets you record in complete darkness up to a distance of 30 feet.
Videos you record can be paused. This will resume a recording to the same file when you press the record button again, saving time spent editing and cutting down on the number of created clips. These are saved to an included 32GB SD card. You get two Li-ion batteries and can hook the camcorder up to a power source through a USB cable to recharge the active one while working.
What We Didn't Like
This camera has 18x digital zoom, but picture quality worsens quickly the more you zoom in. It isn't a good option if your vlogs center on audio or you have loud music playing in the background since recorded audio sounds bad, especially if it is loud.

Tech Specs
Dimensions: 3.8 x 2.2 x 0.8 in
Weight: 9.2 oz.
Batteries: Rechargeable Li-ion
Sensor: CMOS
Zoom: 18x digital
Max video resolution: 1080p, 25fps
Megapixels: 24
ISO range: 100 – 3,200
The Pros
Flippable LCD screen
Night vision mode
Affordable
Comes with two rechargeable batteries
The Cons
Picture becomes very grainy when using digital zoom
Poor audio quality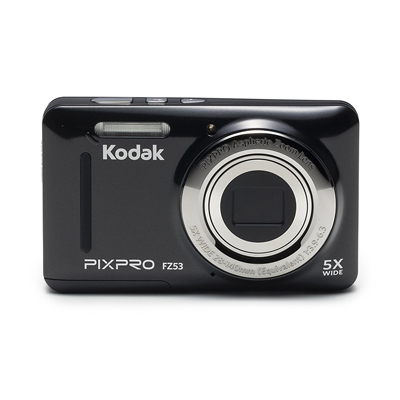 View on Amazon
Editor's Rating: 3.7/5.0
Kodak is another well-known camera manufacturer with an intriguing budget pick, the PIXPRO Z53. This camera stands out from others we've reviewed because of its many scene modes and the ability to control most shooting aspects manually. It's also the lightest point-and-shoot in the guide. Its video quality is decent but worse than our top picks. This is the camera to get if you're a budding photographer who needs a cheap yet versatile camera mainly for photography purposes but wants to record her experiences in vlog form too.
Overview of Features
The FZ35 is a sleek-looking little camera with a metallic sheen available in black, blue, or red. It has a prominent lens along with a strip for finger placement in the front. Recording and shooting are done through buttons on the top while navigation and scene selection are left to a handful of buttons in the back. The 2.7-inch LCD screen lets you access a functional menu system but suffers from the same viewing angle issues as that of Nikon's model.
This is a handy learning tool for beginners. On one hand, there's the auto mode that take care of every setting for you. On the other, you can manually adjust the white balance, focus point, and exposure settings if you want. Automatic mode is accompanied by 20 scene modes which include staples like black & white or color pop but also situation-specific presets like fireworks or museum.
Videos are saved in the QuickTime format at 30fps in a resolution of 1280×720. The focus responds well to moving subjects and zooming while recording is smooth as well. You'll want to shoot in bright locations though as low-light quality is poor. The FZ35 is best used as a stationary camera to capture close-up footage since refocusing is noisy and can be captured on video in quiet settings.
What's Bad About It?
The rechargeable NiMH battery is weak. It can take only 150 shots before needing a recharge. Image stabilization is only digital and not enough to fully compensate for shaking hands. This is especially pronounced when zoomed in since images and videos are blurry if the camera isn't perfectly still.

Tech Specs
Dimensions: 3.6 x 2.2 x 0.9 in
Weight: 3.7 oz.
Batteries: Rechargeable NiMH
Sensor: 1/2.3-in CCD
Zoom: 5x optical, 6x digital
Max video resolution: 720p, 30fps
Megapixels: 16.1
ISO range: 80 – 1,600
The Pros
Lots of adjustable photo settings
Smooth zoom
Very light
Intuitive menu system
The Cons
No optical image stabilization
Short battery life
Audible focus