6 Best Vlogging Cameras Under $300
3D Insider is ad supported and earns money from clicks and other ways.
It's easier than ever to start your vlogging career with capable cameras being part of even the cheapest smartphone. This might be enough at first, but any vlogger who wants to come off as a professional will soon find that smartphone cameras have limitations. Their sensors are small so they can't capture finer details. If you ever need to zoom in on something, the loss of quality is huge. Finally, microphones in smartphones just weren't designed for high-quality recordings.
Investing in a camera aimed towards blogging will eliminate all of these problems! The $100 – $300 price range is appealing to many professional vloggers as the cameras found in it have a good balance of video quality and features on one side and accessibility on the other. Some focus on delivering high video quality while others are just as capable at producing stunning photos.
Below you'll discover the six best vlogging cameras you can get without spending more than $300. The selection is diverse as there are point-and-shoots, action cameras, and camcorders at this price point that should satisfy vloggers whether their focus is on fashion, tech, travel, or anything in-between. Find out more about each in the review section and pick the vlogging camera that will define your creative career.
Budget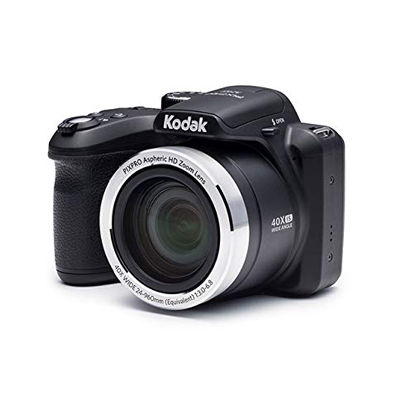 Kodak PIXPRO AZ401
3.8/5.0
Zoom: 40x
Megapixels: 16
Powerful optical zoom, solid results in good lighting.
Check Amazon
Best Value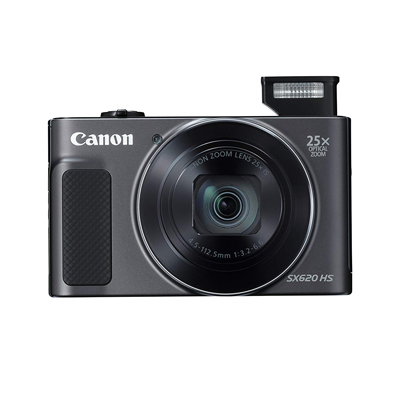 Canon PowerShot SX620
4.5/5.0
Zoom: 25x
Megapixels: 20
Lightweight & portable, excellent image stabilization.
Check Amazon
Top Pick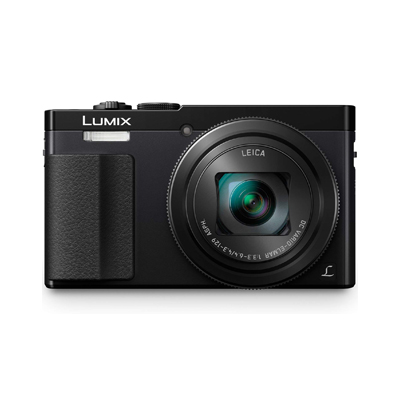 Panasonic Lumix ZS50
4.8/5.0
Zoom: 30x
Megapixels: 12
Good low-light performance, can be controlled via app.
Check Amazon
6 Best Vlogging Cameras Comparison Table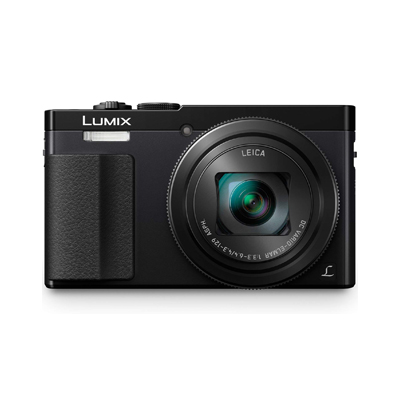 View on Amazon
Editor's Rating: 4.8/5.0
If you're a vlogger that specializes in exploring exotic locales and experiencing the finer things in life, you need a camera which excels at three things. It needs to capture your surroundings accurately, have an excellent zoom, and be small enough to fit in your pocket. Panasonic's Lumix ZS50 is a compact super-zoom camera fit for travel. It's brimming with settings you can adjust manually and shoots crisp 1080p videos at a smooth 60fps.
Overview of Features
For a pocket-sized camera, the ZS50 is quite heavy. That's due to the excellent 30x zoom lens along with the electronics that support its 1/2.3-inch sensor and electronic viewfinder. It is easy to control though since it has an intuitive dial at the back as well as a lens control ring on the front. The function of both can be customized. Left at default, they'll quickly adjust shutter speeds and aperture size depending on the current mode.
Footage taken with the ZS50 is crisp and stable, even when zoomed all the way in. Its maximum video resolution is 1080p at 60fps in AVCHD or 30fps in MP4. The camera is excellent for low-light conditions as there's little noise on high ISO settings. Colors are balanced accurately and the autofocus is responsive.
You can shoot photos in either JPEG or RAW formats. If you use the former with locked autofocus, the ZS50's burst mode shoots 10 pictures per second. This number gets lower if you switch to RAW. Optical image stabilization makes sure that pictures aren't blurry, and the jump shot feature lets you capture the perfect mid-air moment with good accuracy.
The ZS50 has Wi-Fi and is compatible with the Panasonic Image App. Vloggers will find this particularly useful as the app lets them control the camera's zoom, exposure levels, and more through their smartphone. Saved footage can then be transferred to the phone or exported directly to a handful of social media sites.
What's Bad About It?
The battery needs to be charged while inside the camera and uses a proprietary jack instead of USB.This model doesn't come with GPS. You can add location info from the Panasonic Image App, but onboard GPS would have made the process much quicker.

Tech Specs
Dimensions: 2.5 x 4.4 x 1.4 in
Weight: 8.6 oz.
Sensor: 1/2.3″ CMOS
Zoom: 30x
Max resolution: 1080p, 60fps in AVCD, 1080p, 30fps in MP4
Megapixels: 12
ISO range: 80 – 6,400
The Pros
Compact
Good low-light performance
Can be controlled via app
Customizable ring controls
The Cons
No GPS
Proprietary charger port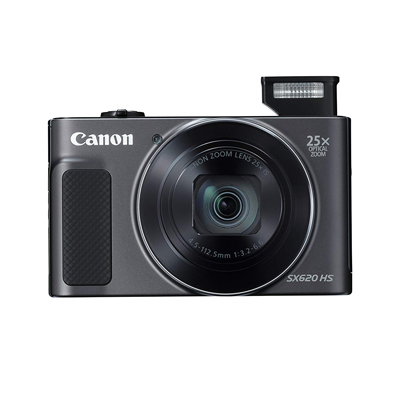 View on Amazon
Editor's Rating: 4.5/5.0
Are you an experienced vlogger and would like to branch out into photography as well? Vloggers who are thinking of amassing an Instagram following will love the Canon PowerShot SX620 since it has a beginner-friendly approach to photography while sporting some high-end video features. It has a strong 25x zoom, fantastic image stabilization, and it's so small & light that you'll be able to record all day and not even notice it.
Overview of Features
The SX620 is a stylish point-and-shoot with a 3-inch LCD screen at its back and a prominent lens in the front. Its control scheme is straightforward and the photo experience is aimed at beginners since there are no manual or in-depth program modes. Still, Auto mode makes for fine 20.2-megapixel photos. There's also Creative Shot mode which overlays photos with fun filters, giving them an artsy look your Instagram followers are sure to enjoy.
Vloggers who like shooting small video snippets and weave them into a story will be thrilled with the SX620's Hybrid video mode as it does just that. As long as you're fine with the mode's 4-second clip limit, you'll be able to back each picture you take up with a short video entry.
The SX620's main draw as a vlogging camera are its excellent image stabilization capabilities. It has face tracking that keeps the image focused on your subject and does a good job of following them even if they're moving. Best of all, the feature works flawlessly in both photo and video modes, resulting in smooth clips even if you're shooting without a tripod!
Videos are shot in MP4 format with a framerate of 30fps. They're sharp and full of detail, meaning you won't have to spend much time in post to touch them up. Performance in low-light settings is adequate, and good contrast eliminates both blotchy dark spots & glare.
Are There Drawbacks?
This model doesn't have an electronic viewfinder. This may not be the camera for you if you've got large hands. To fit both its controls and the 3-inch screen, the controls had to be made smaller. They fit closely together which makes it difficult for people with thicker fingers to select the one they want without pressing its neighbors.

Tech Specs
Dimensions: 2.2 x 3.8 x 1.1 in
Weight: 6.4 oz.
Sensor: 1/2.3″ CMOS
Zoom: 25x
Max resolution: 1080p, 30fps
Megapixels: 20
ISO range: 80 – 3,200
The Pros
Lightweight & portable
Excellent image stabilization
Creates sharp videos of excellent quality
Beginner-friendly
The Cons
No EVF
Small and tightly-spaced controls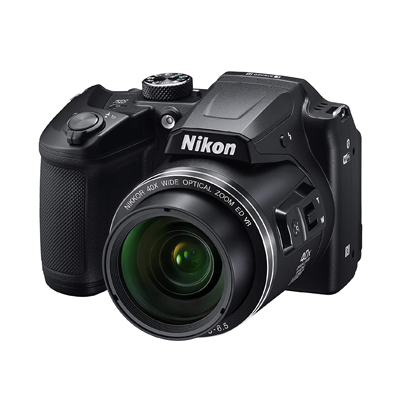 View on Amazon
Editor's Rating: 4.4/5.0
Do you want a camera that takes good-quality videos but has more heft to it than our top picks? In that case – try a bridge cam. These bridge the gap between point-and-shoot models and DSLR-s, combining the fixed lens approach of the first with the second's better performance. Nikon's B500 is a great choice for vloggers who want to improve their photography skills and share photos with their audience on the go. It has excellent stabilization, performs well in photo & video mode, and keeps a constant connection to your phone for easier picture sharing via Nikon SnapBridge
Overview of Features
This is the bulkiest camera we've tested. Unsurprising since it's a bridge cam with many qualities of a true DSLR. It's also the heaviest camera on review, which you should consider if you're doing a lot of vlogging on the move. Its design includes a prominent textured grip for your right hand to compensate for this and even allows you to record one-handed with good stability. The B500 runs on AA batteries, meaning you'll want to have some handy at all times. On the bright side, it uses the batteries sparingly.
Switching between photo and video modes is easy thanks to a dial on the camera's top. There are some similarities with the PowerShot SX620 like an expressive Creative mode and the Short Movie Show which lets you stitch smaller clips together into a fun story. The B500 doesn't overwhelm you with choices in any of these modes, but you can tinker with ISO and color balance settings to fine-tune your creations.
You can shoot videos in either 1080p or 1080i formats, both at 30fps. The camera's image stabilization coupled with its comfortable grip makes for smooth videos. The onboard microphone is if great quality as well so you won't need to bring an external one when recording on location. Videos are sharp and feature good white balance. For best results, it's recommended that you record them in optimum lighting conditions.
What's Bad About It?
The B500 is a solid jack of all trades but lacks depth of video and photo features, so you might tire of it if you outgrow its basic functionality. Like some other models we've reviewed, its poor performance in low light is an issue. This can be fixed with the built-in flash when taking photos, but you'll need plenty of light for videos to turn out well.

Tech Specs
Dimensions: 3.8 x 4.5 x 3.1 in
Weight: 19.1 oz.
Sensor: 1/2.3″ CMOS
Zoom: 40x optical, 80x digital
Max resolution: 1080p, 30fps
Megapixels: 16
ISO range: 125 – 6,400
The Pros
Stable footage, even when held
Powerful optical zoom
Long battery life
Can transfer images to smartphone while shooting
The Cons
Poor low light performance
Lacks more advanced features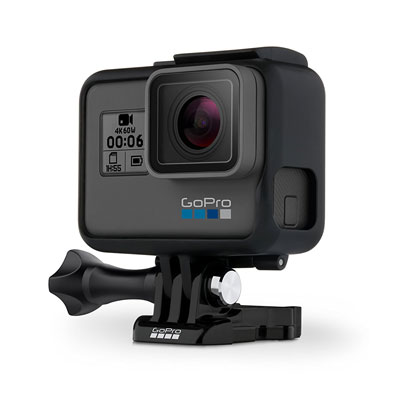 View on Amazon
Editor's Rating: 4.4/5.0
GoPro makes the best action cameras on the planet, and the HERO6 Black reigned supreme as their most advanced model until recently. Now that the HERO's 7th incarnation is out, it has received a price cut, bringing it just under $300! If your vlogs involve kayaking, diving, or other wild & dynamic adventures that deserve to be captured in 4K at a blazing 60 fps, the HERO6 Black is hands down the best tool at your disposal in this price range.
Overview of Features
The HERO6 Black is a compact, waterproof action camera designed to record your adventures in the thick of things. Its rugged case is rubberized and is easy to grip. There's only one button that turns the action cam on and off. The rest of its functions are accessed either through its small touchscreen or via voice commands. The latter are especially effective during intense bursts of activity you want to record without fiddling with the screen. There's a sleep mode that puts voice commands on stand-by to drain the battery less but wakes as soon as you say the activation word.
The HERO6 is most famous for its outstanding picture quality and industry-leading image stabilization. Thanks to GoPro's proprietary G1 processor, you can shoot videos in 4K at 60fps. Also noteworthy is the ability to record 1080p at a whopping 240fps, which makes for fascinating slow-motion footage.
Video quality is superb. We were most impressed with how quickly the HERO6 Black transitions from dark to light environments without quality loss. You can shoot a scene with the sun directly in front of you and still get usable footage! If you mount the camera on a helmet or harness, expect no shaking thanks to its advanced image stabilization. Even holding it in your hand will cause the video to shake only if you're intentionally moving your arm a lot.
Getting recorded footage out there is almost as easy as shooting it. The HERO6 Black supports 5GHz Wi-Fi and can be controlled through your smartphone. There's also the Quik feature which you can use to edit videos and make content on-the-fly by creating montages backed up by a decent selection of music tracks.
Are There Drawbacks?
Only digital zoom is supported, so you'll have to compromise between zoomed shots and picture quality. The Li-ion battery lasts for 2 hours of recording at best. Its runtime gets shorter the more features you use, so you'll need to keep GPS, Bluetooth etc. disabled during intense recording sessions.

Tech Specs
Dimensions: 1.8 x 2.4 x 1.3 in
Weight: 4.1 oz.
Sensor: 1-Chip CMOS
Zoom: Digital
Max resolution: 4K, 60fps
Megapixels: 12
ISO range: 100 – 6,400
The Pros
Rugged and easy to use
Excellent image quality regardless of lighting
Good companion app
Voice-controlled
The Cons
Poor battery life
Digital zoom only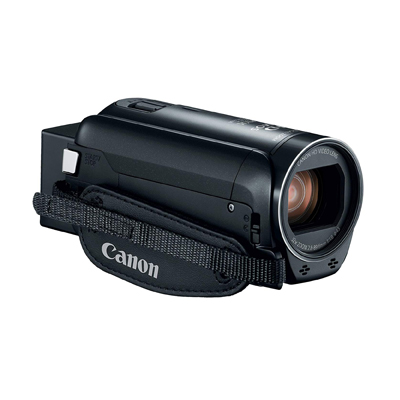 View on Amazon
Editor's Rating: 4.2/5.0
Editing and post-processing take up a large portion of any serious vlogger's time. Cannon's VIXIA HF R800 helps speed this up by having capable onboard video editing software that lets you touch up, crop, and delete scenes even before shooting for the day is complete. Don't let its retro look fool you – this is a state-of-the-art camcorder with superior image quality and a host of features to make your vlogging experiences easier and more engaging.
Overview of Features
Although they've largely gone out of fashion since smartphones became the norm, the HF 800 is proof that camcorders still have a place in a videographer's arsenal. Its sleek cylindrical shape makes it easy to shoot dynamic scenes, and a hand strap adds to its already impressive stability. There's a flip-out LCD touchscreen on the left which you can position towards the lens and see what it sees.
The built-in microphone is nothing special, but thankfully the HF R80 has 3.5mm mic and headphone jacks so you can attach an external mic to it for better audio quality. The camcorder takes 32 and 64 GB SD cards. If you need extra storage, you can buy the Connect Station CS100 separately. It has 1TB of photo & video storage. Files are transferred onto the device automatically and wirelessly if you tap it with the camcorder!
The maximum video output is 1080p at 60fps. A feature called Highlight Priority Mode is used to filter out glare and keeps details intact in daylight and other brightly-lit situations. The HF R800 has 32x optical zoom extendable to 57x with advanced zoom. Although the latter is digital and leads to some quality loss, image stabilization keeps even zoomed-in scenes from shaking.
What We Didn't Like
The HF R800 has no Wi-Fi, so you can't transfer the content onto your vlog quickly if you're shooting on location. We don't recommend this model if you mostly film under dim light as poor lighting conditions lead to a lot of detail loss and sub-par image quality.

Tech Specs
Dimensions: 2.1 x 2.3 x 4.6in
Weight: 8.5 oz.
Sensor: 1/4.85″ CMOS
Zoom: 32x optical, 57x advanced
Max resolution: 1080p, 60fps
Megapixels: 2
The Pros
Excellent stabilized zoom
Smooth 60fps video
Built-in video editing software
Performs well in bright light
The Cons
No Wi-Fi
Bad image quality in low light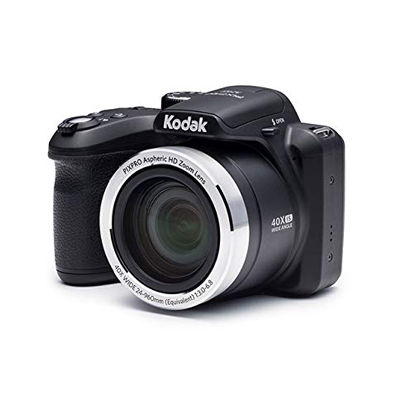 View on Amazon
Editor's Rating: 3.8/5.0
Last up is a camera for vloggers who deliver rolling commentary while scoping out a scene and seamlessly zooming in on various points of interest. The AZ-401-BK is part of Kodak's Astro Zoom line which specializes in delivering crisp video at high zoom levels. It's got a few quirks, but the appealing price tag and fair video quality make it a good deal for anyone who's looking to stat their vlogging journey off without breaking the bank.
Overview of Features
Its bigger size and 15.4 ounces of weight mean you won't be carrying the AZ401-BK in a pocket, but it is still small enough carry around in a pouch without being a hindrance. It comes in three stylish colors and has a padded grip for extra right hand support.
This is another camera aimed at beginners and its control scheme is straightforward. Unlike Canon's SX620 though, it lets the user switch from auto mode to a number of manual options and grow as they become more familiar with the camera and photography in general. The 3-inch LCD is a big help as it's easy to navigate with the directional pad and is clearly visible even in sunlight or at odd angles.
The camera's CCD sensor limits video output to 720p at 30fps. This is ideal if your vlogs mostly center on yourself and the surrounding area but will do for the occasional dynamic scene as well. A powerful 40x optical zoom adds depth to videos, just be sure to place the camera on a tripod as the image stabilization isn't enough to compensate for shakiness when zoomed all the way in. General video quality is fair. Footage is a bit on the soft side, but colors are portrayed accurately and anything you record in a well-lit environment will look professional.
What We Didn't Like
Battery life is this AZ401-BK's number one drawback. It takes four AA batteries which are enough either for 280 shots or less than an hour of video. Replacing them can get expensive since they drain so fast, so you'll want to get rechargeable ones immediately. This camera doesn't have Wi-Fi and isn't usable in dim light because turning up the ISO settings makes the footage grainy.

Tech Specs
Dimensions: 3.2 x 4.5 x 3.3 in
Weight: 15.4 oz.
Sensor: CCD
Zoom: 40x
Max resolution: 720p, 30fps
Megapixels: 16
ISO range: 80 – 3,200
The Pros
Affordable
Powerful optical zoom
Good LCD screen with intuitive interface
Solid results in good lighting
The Cons
Very short battery life
Poor performance in low light
No Wi-Fi