6 Best Vlogging Cameras of 2019
3D Insider is ad supported and earns money from clicks and other ways.
The internet has ushered in a new golden age of entertainment – anyone with an idea, a cellphone, and determination can start to vlog in hopes of attracting droves of fans and making it big. Drive and talent aren't enough to get noticed though, not if your videos look like everyone else's. You'll need a quality vlogging camera to start making content that's a cut above the rest.
In this comprehensive guide, we're taking a look at the 6 best vlogging cameras of 2019 as well as what you'll need to know to choose the right one. We've covered everything from DSLRs to action cameras. No matter what and where you blog about, one of the cameras on our list will breathe life into your unique content with professional-grade video quality.
Budget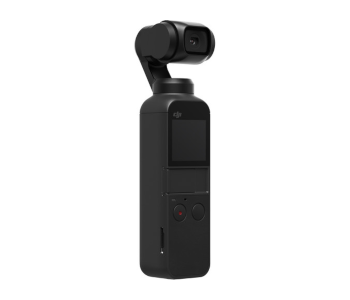 DJI Osmo Pocket
4.2/5.0
Sensor: 1-Chip 2/3″
Megapixels: 12
It springs right into action, light and portable.
Check BH
Best Value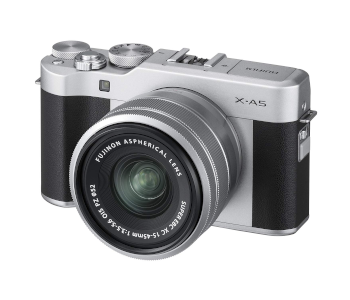 Fujifilm X-A5
4.6/5.0
Sensor: APS-C CMOS
Megapixels: 24.2
It has a good low light performance and light transition.
Check Amazon
Top Pick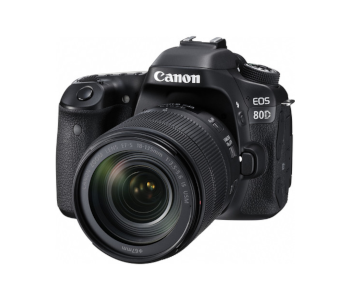 Canon EOS 80D
4.9/5.0
Sensor: APS-C CMOS
Megapixels: 24.2
Has an excellent autofocus and an intuitive user interface.
Check BH
What to Look for in a Vlogging Camera
Camera Type
Low-Light Performance
Focal Length
Image Stabilization
Audio Options
Additional Features
Vlogging Cameras Comparison Table
Make and Model
Rating
Type
Resolution
Price
Canon EOS 80D
4.9
DSLR
1080p, 60fps
Check Price
Fujifilm X-A5
4.6
Mirrorless
4K, 15fps
1080p, 60fps
Check Price
Sony Cyber-shot DSC-RX100 VI
4.6
Compact
4K, 30fps
1080p, 120fps
Check Price
Canon PowerShot G7 X Mark II
4.5
Compact
1080p, 60fps
Check Price
GoPro HERO7 Black
4.4
Action cam
4K, 60fps
1080p, 120fps
Check Price
DJI Osmo Pocket
4.4
Gimbal stabilized camera
4K, 60fps
1080p, 60fps
Check Price
1. Best Overall – Canon EOS 80D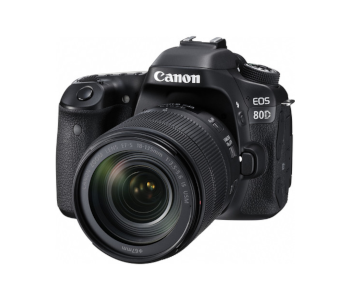 View on BH
Editor's Rating: 4.9/5
Canon's 70D was one of the most successful vlogging cameras ever created and many prominent vloggers still swear by it. Not wanting to rest on old laurels, Canon has released an even better model, the 80D. This outstanding DSLR is lighter, has better autofocus, and performs exceptionally well in low light situations. It's an intuitive and forgiving vlogging camera with outstanding video quality. This is reflected in its price, but the quality boost your channel is getting by upgrading to it alone is worth the investment.
Overview of Features
The 80D is a well-designed DSLR with a focus on creating high-quality videos in unforgiving conditions. The first piece of evidence that supports this is its LCD screen. It can be fully articulated to let you view a clip as you're recording. It has a responsive touch interface that's both logically laid out and free from lag. Best of all, its surface has a fingerprint-resistant texture and is visible in sunlight.
The camera's maximum video resolution is 1080p at 60fps in the MP4 format. Vloggers who don't like fiddling with video settings will find its auto white balance and ISO selection a blessing as the 80D gets both right every time. Sharp and quick autofocus is another of the camera's highlights. It uses Dual Pixel CMOS AF to keep subjects in focus even if they're moving erratically.
An APS-C CMOS sensor and DIGIC 6 image processor are at the core of the camera's video capturing hardware. The sensor is large enough to allow more light to be registered in low light conditions and the processor cleans the image up more, allowing for higher ISO values without degradation. This results in noiseless, detailed video even when there's barely any lighting.
The 80D excels at previewing and sharing your videos. Its Live View mode lets you check out what the video will look like if you start recording with the current settings, giving you a chance to make last-minute corrections to color balance or exposure levels if you aren't satisfied. This won't be the case often though as the camera is capable of shooting accurate HDR videos, albeit at 30fps.
Controlling the 80D remotely and sharing your creations is easy with the Canon Camera Connect app. It turns your smartphone into a secondary viewfinder and is used to transfer pictures or videos to the phone. There's also the option of directly uploading videos to popular social media sites so you can get your content up there faster if there's nothing to edit.
What We Didn't Like
This is the most expensive camera on our list. Since it is a DSLR, it's also cumbersome and might require even more investment if you aren't happy with the kit lens.

Tech Specs
Dimensions: 5.5 x 4.1 x 3.1in
Weight: 44.8 oz. with battery and kit lens
Sensor: APS-C CMOS
Focal length (35mm equivalent): 29 – 216mm
Resolution: 1080p, 60fps
Megapixels: 24.2
ISO range: 100 – 16,000
The Pros
Excellent autofocus
Great quality in low light
Easy to share videos over Wi-Fi
Intuitive user interface
The Cons
Expensive
Kit lens could be better
2. Best Value – Fujifilm X-A5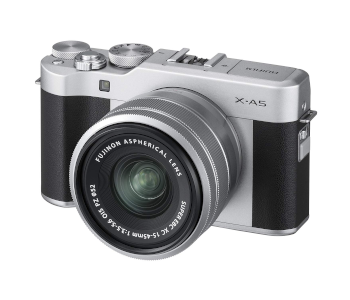 View on Amazon
Editor's Rating: 4.6/5
Fujifilm's X-A5 is ideal for beginner vloggers who need an inexpensive camera that's easy to control yet produces videos of exceptional quality. It has the ability to shoot 4K videos albeit only at 15 fps, has a flip-out screen, and good auto balance to compensate for shifting light conditions. It's a good choice for both studio and outdoor work, and a bargain considering its quality specs.
Overview of Features
The X-A5 is a mirrorless camera that sports a classic design complete with a silver body, textured grips, and a prominent kit lens. It has a dial on top for quick exposure setting cycling as well as a set of menu navigation buttons to the side of its screen which let you quickly navigate its menus. The screen can be flipped out and performs almost as well in direct light as the 80D's. Considering the price, its kit lens is better and features crystal clarity along with a two-speed motorized zoom.
The camera's maximum resolution is 4K, but you'll be using 1080p at 60 or 30fps for your vlogs as 15 frames is much too jittery. Still, the increased sensor size gives 1080p footage more sharpness and better quality. The X-A5 excels when shooting naturally-lit scenes and in interiors with good lighting. It reproduces colors accurately without user input. Low light conditions see a slight decrease in quality, but the autofocus remains snappy in tracking subjects. If you want to use the focus manually, you can just touch the screen to start tracking the selected point.
Vloggers with an Instagram following will appreciate the X-A5's Bluetooth and Wi-Fi connectivity along with a remote viewfinder accessible via Fujifilm's app which allows for seamless photo sharing. The camera's audio is nothing special, but it does have a microphone jack so you can drastically improve how your videos sound. Note that the jack has a diameter of 2.5mm so you'll need to buy a 3.5mm converter for most microphones.
What's Bad About It?
The X-A5 doesn't have a movie preview mode. This makes it harder for inexperienced vloggers to judge whether they're shooting with the correct settings. The menu buttons are made of low-quality plastic and might stop working with heavy use.

Tech Specs
Dimensions: 4.6 x 2.7 x 1.6in
Weight: 17.5 oz. with battery and kit lens
Sensor: APS-C CMOS
Focal length (35mm equivalent): 22.5 – 61.5mm
Resolution: 4K, 15fps
1080p, 60fps
Megapixels: 24.2
ISO range: 200 – 12,800
The Pros
Great value for the money
Beginner-friendly
Good low light performance and light transition
Microphone jack
The Cons
Unusable 4K video
No movie preview
Flimsy buttons
3. Sony Cyber-shot DSC-RX100 VI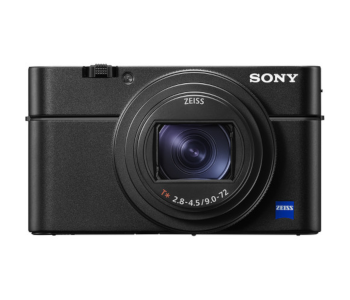 View on BH
Editor's Rating: 4.6/5
Are you a travel vlogger who spends as much time filming landscapes as people? Sony's RX 100 series has a new model to help you make stunning videos without developing a hernia from a full day of shooting – the VI! This light compact camera has a fantastic built-in zoom lens full-fledged DSLR-s wouldn't be ashamed of, a tiltable touchscreen, and improved autofocus.
Overview of Features
The RX100 VI is the first camera in the RX series with a touchscreen which can also be tilted. The tilt extends to 180 degrees upward for selfies and vlogs centered on you as well as 90 degrees downwards for when you're recording concerts and other crowded events and need to shoot over others. Optical zoom extends to 8.5x and digital goes up to 32x with some graininess. If you use Sony's hybrid Clear Zoom mode, you can zoom in 16x and still get good quality footage.
This is a true 4K shooter capable of recording at 30fps. The sensor's resolution is actually bigger so the image is downsampled without cropping. This results in more detail and sharper footage. You can also record slow-motion videos in 180p at 120fps. 4K videos are limited to a length of 5 minutes so the camera doesn't overheat, but 1080p has a more forgiving 30-minute limit.
Excellent autofocus is another of the camera's strengths. Its phase-detection AF takes just 0.03 seconds to find its target and is quick to snap to another even when you're zoomed all the way in. It's especially good at tracking faces and eyes, so you should remain in focus no matter how far away the camera is if you use it remotely with the Play Memories app.
While you could let the DSC-RX100 VI handle everything in auto mode, the camera supports full manual configuration while shooting video. This means you can change everything from exposure compensation through ISO modes to aperture and shutter speeds and instantly see what effect this will have. If that's not enough, you can also manually tweak the saturation and contrast levels or change the picture's color profile.
The DSC-RX100 VI connects to smartphones through Wi-Fi, Bluetooth, and NFC. This is where having an NFC-enabled smartphone comes in handy as all it takes to either transfer photos or engage the remote viewfinder is tapping the phone on a specific spot on the camera.
Are There Drawbacks?
The DSC-RX100 VI's internal microphone is passable, but it won't do in crowded places or windy environments. There's no microphone jack, so you'll either have to film in quiet locations or add commentary later. This is another expensive model; if you aren't hung up on 4K and having a compact camera with exceptional zoom, the G7 X Mark II is a good alternative.

Tech Specs
Dimensions: 4 x 2.3 x 1.7 in
Weight: 10.7 oz. with battery and memory card
Sensor: 1-inch CMOS
Focal length (35mm equivalent): 24 – 200mm
Resolution: 4K, 30fps
1080p, 120fps
Megapixels: 20
ISO range: 125 – 12,800
The Pros
Excellent zoom
Outstanding video quality
Light and portable
In-depth video customization options
The Cons
No microphone jack
Expensive
4. Canon PowerShot G7 X Mark II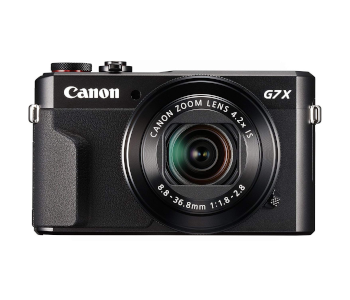 View on Amazon
Editor's Rating: 4.5/5
The G7 X series of compact cameras is the most popular among prominent YouTube vloggers. PewDiePie, Logan Paul, Zoella, Jenny Marbles…the list goes on and on. The camera's popularity is unsurprising given how much you're getting for a reasonable price. Expect smooth videos regardless of camera shake, accurate colors, and a cinematic feel that's easy to create or tweak.
Overview of Features
The Mark II is almost identical to the original G7X, the most noticeable difference in appearance being a rubberized grip. In Canon's defense, not much needed to be changed – the articulating touchscreen is great at making sure you're in the shot, its back isn't cluttered with buttons, and the control ring is still the quickest way of accessing exposure settings. The biggest improvements can be found under the hood in form of an improved image processor and better battery.
Like Sony's compact model, the G7 X Mark II has a 1-inch CMOS sensor, which is four times as big as you'd expect from a camera of this size. Coupled with Canon's DIGIC 7 processor, it delivers low-light performance almost on par with the 80D, impressive given it costs only half as much. DIGIC 7 is also responsible for a quick burst mode of 8 shots per second as well as the camera's instant boot-up.
Although it lacks 4K, the G7 X Mark II delivers jaw-dropping video quality in FullHD at 60fps. Like the more expensive RX100 VI, it has full manual settings as well as auto and partial auto modes. It's the camera you want at your side when something interesting is happening and you have a split-second to capture the event since automatic color and white balance adjustments are spot on. Image stabilization is top notch as well so you can walk while filming and get smooth footage even when your arm begins to tire.
What's Bad About It?
If you mount the camera on a tripod, you can't get to the battery and SD card since their compartment door can't be opened. This is especially annoying on longer shoots as you're bound to run either out of space or juice. There's no microphone jack either, so you'll have to be content with mediocre onboard audio.

Tech Specs
Dimensions: 4.2 x 2.4 x 1.7 in
Weight: 11.3 oz. with battery and memory card
Sensor: 1-inch CMOS
Focal length (35mm equivalent): 24 – 100mm
Resolution: 1080p, 60fps
Megapixels: 20
ISO range: 125 – 12,800
The Pros
Great image stabilization
Good low-light performance
Decent battery life
Responsive controls
The Cons
Battery and SD card are inaccessible while mounted to tripod
No microphone jack
5. GoPro HERO7 Black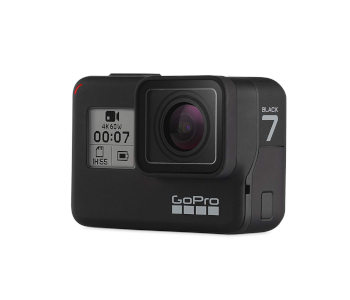 View on Amazon
Editor's Rating: 4.4/5
Vloggers who want to capture their adventures in crystal clarity know that GoPro's HERO series of action cameras is the best in the world at doing so. The 7th iteration of the Hero was released in September of 2018, almost exactly a year after the hugely successful HERP6 Black. While much of what made the HERO6 a best-seller stays the same, the newest model offers improved image stabilization, a more streamlined interface, and the ability to live-stream your videos with ease.
Overview of Features
The HERO7 Black is a small yet rugged square-shaped camera designed to keep up with an active lifestyle and record what you're experiencing first-hand. Its casing is rubberized and waterproof so surfing or diving with it aren't out of the question. It has a 2-inch touchscreen, but can also be controlled via smartphone or voice commands. The menu system has been revamped to make access to new features like Timewarp easy while being more intuitive overall.
The camera's video recording capabilities remain unchanged and it still has the excellent G1 processor capable of processing 4K videos at 60fps. What has changed drastically for the better is how these videos are stabilized and presented. For starters, you can now record in linear mode. The video gets cropped but the fish eye-effect caused by the wide-angle lens is eliminated! This makes the newest HERO suitable for recording less adrenaline-packed activities like daily check-ins or interviews.
The HERO5 Black was the first to introduce electronic image stabilization which was improved upon in the HERO6, but you could still experience rumbles and shakes if the terrain you were traversing was uneven or if you were panning quickly. Now the stabilization feels smoother and more natural than using a gimbal, turning what would have been a shaky mess into footage your followers will stare at in amazement.
Live-streaming is the HERO7 Black's most vlogger-oriented feature. The GoPro app has been updated to let you stream content with the tap of a button directly to Facebook or to YouTube with a simple workaround. Filming in portrait mode is now supported natively as well and the menus adjust themselves when you turn the camera. You could shoot slow-motion videos at 240fps before, but now there's also the Timewarp feature that speeds up videos 2 to 30 times.
What We Didn't Like
If you've got a HERO5 or older or this is your first action camera, then getting the HERO7 is a no-brainer. Owner of the HERO6 might not find enough reasons to upgrade though. A thing we really wish had changed is the HERO's lackluster battery. Sadly, it's the same as that in HERO5 & 6, meaning it can record for less than an hour before running dry.

Tech Specs
Dimensions: 2.4 x 1.3 x 1.8 in
Weight: 4.1 oz.
Sensor: 1-Chip CMOS
Resolution: 4K, 60fps 1080p, 120fps
Megapixels: 12
ISO range: 100 – 6,400
The Pros
Outstanding image stabilization
Excellent 4K videos
Easy to control and stream
Rugged and waterproof
The Cons
No compelling reason to upgrade if you've got the HERO6
Short battery life
6. Best Budget Option – DJI Osmo Pocket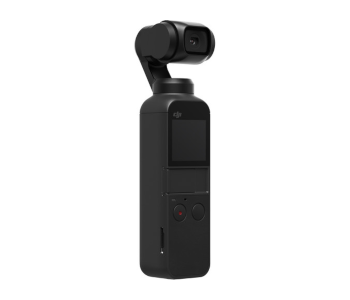 View on DJI.com
Editor's Rating: 4.4/5
A camera you can whip out, start recording and get stable footage anytime, anywhere has long been the dream of active vloggers. DJI aims to make this a reality with its simplistic yet highly versatile gimbal assisted camera – the Osmo Pocket. It's all about counteracting shakes & jitters caused by walking and improper camera handling. Add superb portability and a price fit for the mainstream, and the Osmo Pocket starts to look and feel like the next big thing in vlogging culture.
Overview of Features
Even though they share a similar philosophy, the Osmo Pocket and HERO7 Black are nothing alike design-wise. The Osmo Pocket looks like a stick with a small camera on top. It has a 1-inch screen for on-the-fly scene adjustment and a simple interface consisting of only two buttons for recording control and mode selection. The design features smooth edges and a slight texture that makes the Osmo Pocket comfortable to hold. At 4.1 oz. it is as light as the HERO7 and fits in almost every pocket, although you'll want to carry it in its case when not in use.
The Pocket's main selling point is its built-in gimbal. It has a 3-axis stabilization system which keeps videos steady. Sudden movements, quick panning, and rough off-road rides have no impact on the smoothness of the Pocket's footage. The gimbal is also adjustable by pressing the mode button. Its first mode counteracts walking, sudden movements etc. The second stabilizes the Pocket so that it can film in a smooth up and down motion. The last mode stabilizes everything around a central point, mimicking an action camera's ability to keep you in focus no matter how unpredictable your movements get.
The camera is great at keeping faces in focus thanks to intelligent face-tracking autofocus. When you shift attention to your surroundings, it can also competently lock onto moving vehicles or animals. Its maximum video resolution is an impressive 4K at 60fps The Pocket is good at photography too – it takes 12MP stills and can combine nine of them into a panorama shot.
Once you've created a vlog, the Pocket's accompanying app lets you tweak and share it with your fanbase. You get cables which connect the Pocket to either Android or iOS phones, turning it into an extended external camera. The phone then acts as a much-needed bigger viewfinder and gives you access to more advanced features like exposure correction and creating stories out of clips by combining them, adding music and text etc.
Are There Drawbacks?
Since it is so small, you can't rely on the Pocket's screen alone in assessing whether things are in focus. It does a good job at quick & dirty takes where quality isn't an issue, but you'll need to take your phone out if you want videos to look more professional, which partially reduces the Pocket's portability.

Tech Specs
Dimensions: 4.8 x 1.5 x 1.1 in
Weight: 4.1 oz.
Sensor: 1-Chip 2/3″
Resolution: 4K, 60fps
1080p, 60fps
Megapixels: 12
ISO range: 100 – 3,200
The Pros
Outstanding image stabilization
Springs right into action
Light and portable
Good companion app
The Cons
Potentially fragile
Small viewscreen