Vlogging Equipment: List of What You Need to Start
3D Insider is ad supported and earns money from clicks and other ways.
Vlogs have become a popular way of blogging via video. People around the world use vlogs to make short stories, a web series, and videos that convey a message or a story. The growth in internet usage and social media has led to an exponential increase in the number of vloggers around the world.
Vlogging is not just about building a community or a fan following. It is also about earning income and creating a career. Some vloggers might create videos as a hobby, but some might actually look at vlogging as more than a fun activity.
If you are a vlogger who is serious about making your channel a sustainable one and if you are planning to practice vlogging as a full-time profession, then you need to make professional-quality videos.
Professional quality videos require the right kind of equipment. Many vloggers started their journeys with mobile phone cameras. However, as they became serious about vlogging, almost all of them moved on to dedicated equipment meant for making videos.
This article will talk about the different pieces of gadgets and tools that a vlogger should have when making videos (or editing them). You will be amazed at the level of planning and effort that goes into creating even the most basic looking videos.
A vlogger obviously needs a good camera to capture footage. But, having a decent camera is only a small part of the entire operation. Besides a camera, vloggers need a microphone, a camera holding tool (could be a gimbal or a tripod), a set of lenses, lighting equipment, accessories, drones, and software programs for post-processing of the video footage.
Camera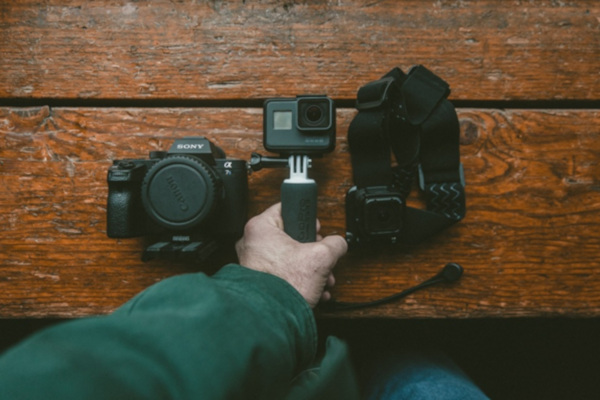 First, let us talk about the most talked-about piece of vlogging equipment – the camera. You can either go with an action camera like GoPro, a DSLR, or single-lens camera. Many vloggers around the world seem to like using the Canon G7X Mark II camera. This camera seems to tick all the boxes that a vlogging camera demands.
It has a decent lens, to begin with (f 1.8 24-100mm). Being a single-lens camera, there is no need to carry bulky lenses with you. The design of the camera is also quite reasonable and traveling with it is easy. The camera also has excellent image stabilization, which makes your videos less shaky, and prevents your viewers from getting a headache that shaky videos cause.
Another excellent feature that the Canon G7X offers is a flip screen. That allows you (the vlogger) to see what the video is recording. You can adjust the camera and tweak the angles as you speak/film yourself. Vlogging involves a lot of self-filming and hence knowing that is getting recorded is a must.
For those who like a rugged and compact camera, then a GoPro would be a good choice. Vloggers who are into action/adventure activities or want to have a camera which is discrete or can be used in politically unstable areas will like using the small GoPro cameras.
The GoPro 7 and 8 series are great picks. They have touch screens, can be hooked up with your phone (so that you can see what the camera sees), and have excellent image stabilization capability. You literally do not need a gimbal with the latest GoPro models.
Those who want to go all out and use a DSLR can look at Nikon, Canon, or any other major camera brand. The DSLR is the bulkiest of all the camera options, but it is also the most professional. The quality of the video, the resolution, and the sound (via external microphone) will be worth the money and the trouble.
Microphone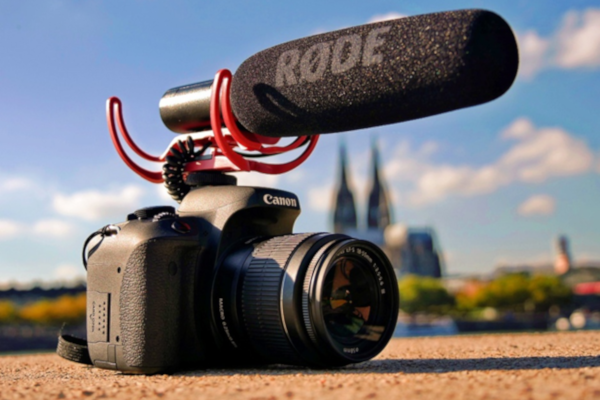 While all cameras that are recommended for vlogging have an in-built microphone, it may be a good idea to use an external one for better audio quality. A dedicated microphone can give you much better sound than any in-built microphone.
Rode is a well-known company for external microphones. You won't go wrong with one of their microphones. The Rode Videomic Pro is a good option.
In order to cut out the noise of wind blowing across the microphone, you can use a microphone muffler. It looks like a hairy/furry surface and it covers the body of the microphone.
You can also opt for a small rubber microphone or a lapel microphone which can be mounted on your body. You may have seen such microphones on TV shows where the person wearing the microphone has wiring taped to their body/clothing. The microphone is often affixed to the shirt button area or the front collar area. Sometimes, there is also a microphone receiver box tucked into the back pocket of the pant.
Lenses
If you are using a DSLR, then you can choose a lens from among various options. The lens allows you to control the zoom and the aperture. The choice of the lens is just as important as the choice of the camera body.
A wide-angle lens is highly recommended for YouTuber vloggers. The wider the angle, the more details get included in the frame. You should look for something between 18mm and 100mm in order to get a reasonably decent frame size.
If you like taking pictures along with your video, then you should also invest in a prime lens. A prime lens is great for people and street photography.
Tripods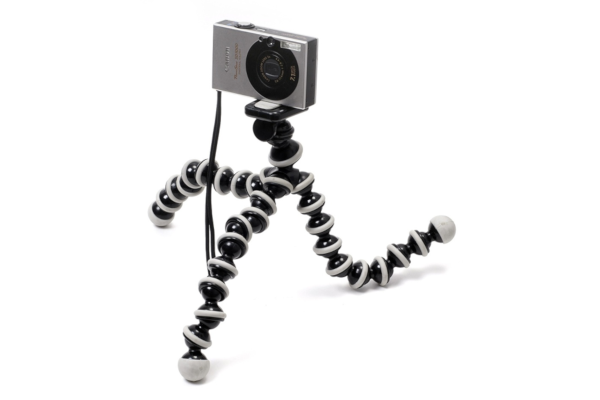 Tripods allow you to place your camera correctly and speak in front of it with your hands-free. Some tripods can also be used as a handgrip for you to hold the camera in your hands and talk while you walk. Tripods also allow you to take still videos from different angles.
One of the most popular tripods among vloggers is the Joby Gorillapod. It is a versatile and flexible tripod. Its arms can be bent and twisted as per your requirements. You can make it stand on its legs like a regular tripod. Alternatively, you can make it clasp a railing or a surface by bending the arms and locking them to something steady.
The Joby Gorillapod can also be adjusted to stand on an uneven surface. This tripod can be easily stored in a backpack and does not weight a lot. You can buy the Gorillapod for various weight limits. Depending on the combined weight of your camera and microphone (and anything else that you plan to mount on your camera), you can purchase the appropriate model.
If you are looking for a conventional tripod, then Manfrotto has some decent options. If you are planning to use a GoPro, then getting the GoPro 3 Way Mount Tripod could be a wise decision. The 3 Way Tripod will allow you to use the tripod as a selfie stick, a handheld grip or a tripod on a flat surface.
Gimbal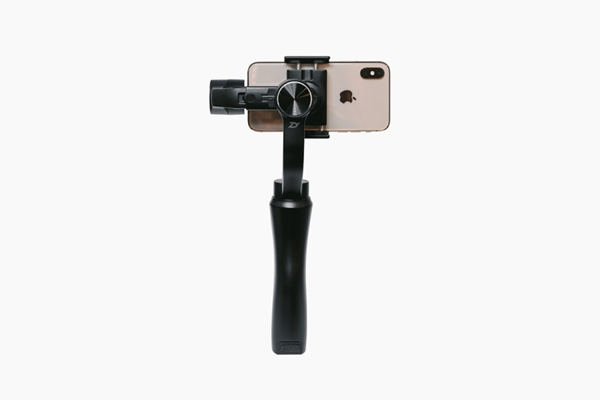 If your camera does not have very good image stabilization and if you feel that your videos are somewhat shaky, then using a gimbal will solve your problem. This issue will especially be prevalent when you use older GoPro models.
If you plan to buy a gimbal, then have a look at Feiyutech and Zhiyun. Both of these companies specialize in making gimbals for various camera models and mobile phones. Their gimbals receive positive reviews and are quite easy to use.
Drones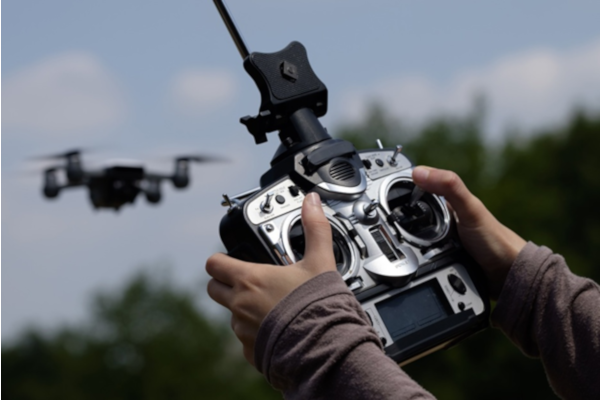 Aerial videography adds a wow effect to your videos. It makes videos popular especially if the aerial footage involves nature and landscapes. Drones are a cost-effective way of incorporating aerial footage into vlogs.
DJI is the undisputed leader in the drone industry. DJI's Phantom and Mavic series of drones are most commonly used by vloggers. Bear in mind that you will have to invest a substantial amount of money in a decent drone. The cost will almost be comparable to the cost of your primary camera (sometimes even more).
Before you fly your drone, familiarize yourself with the rules and regulations. The FAA has clear guidelines and rules regarding drone registrations and no-fly zones. You need to be aware of these details in order to stay out of trouble. If you are a travel vlogger, then research the drone laws regarding your destination country.
Accessories
There are multiple supporting accessories which you will need along with your camera, tripod, and filming equipment. Firstly, you need a set of micro SD memory cards. The cards should preferably be a Class 10 card.
The higher the class, the faster will be the recording of the video from the camera to the SD card. This is important if the camera is shooting high-resolution videos at high frame rates. Such videos are large in size and hence the rate with which they get written on the memory card should be high enough. You want your camera to process the video and store it in real-time as you record content.
You also need a good external hard disk to store all your videos. This is especially important if you do not plan to store everything on your desktop or are traveling. High-resolution videos take up a lot of space. Edited videos of the raw footage will take additional space.
Another great investment to make is a portable LED light. Some of these light kits are mountable on a tripod or your camera. Some others are used with a regular tripod and they stand on a flat surface. You can even buy handheld LED lamps which can light up a dark room at night.
Lighting is one of the most important elements of photography and videography. If you are filming in a dim-light situation or a night-time scenario, then you will appreciate having a bright LED lighting module which will make your videos look good.
Software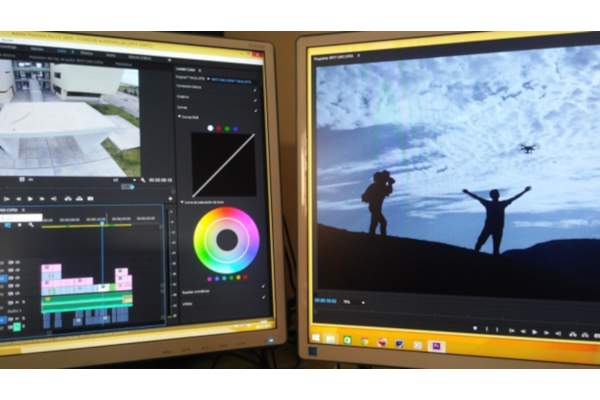 Shooting videos is only half the job. The other half is post-processing. You will spend as much time (or more) on editing your videos as you will capturing all the footage. Lining up the clips, blending them in, adding background music, etc. takes a lot of effort.
You need to have the right video editing packages to make great videos. Apple users will probably feel comfortable using Final Cut Pro X. Adobe Premiere and Lightroom are the most popular choices among most vloggers around the world. Getting an account with Adobe Creative Cloud will give you access to these software packages.
For those vloggers who do not want to spend money on video editing tools, there are some free options available. Lightworks can do basic editing and you can download it for free. Shotcut, Openshot, and Hitfilm Express are some alternate free-to-download options.
Choosing the video editor which you are comfortable with is very important. After all, it is this software that will really take your videos to that next level and make all your clips look cohesive and smooth.
Conclusion
The information above should get you started in your vlogging journey. We have listed out almost every piece of equipment that you need to create professional vlogs. Always remember that no matter how much equipment you use, the best vlogs are the ones which have the right story unfolded in the right manner.
It is not necessary to buy everything that is mentioned in this article. If your budget is a bit short, then prioritize and buy only the equipment that is bare essential. Once your viewership grows, you can add equipment gradually.