VR vs FPV Headset for Drones: What's the difference?
3D Insider is ad supported and earns money from clicks, commissions from sales, and other ways.
This simple guide covers all you need to know about VR vs FPV headsets for drones. Makers often brand the term "immersive experience" around on their sales pages. It sounds impressive, but what does it mean—exactly? Well, it relates to flying drones in First Person View—usually shortened to FPV. Drone fliers can only have an "immersive" experience by wearing VR goggles or FPV headsets.
FPV lets pilots see what the drone's camera sees in real-time. You can do this via LCD screens on remote controllers (RC) and computer monitors. The most common, though, is on mobile devices like smartphones and tablets. But it's goggles and headsets that really put you in the virtual pilot's seat.
VR Headsets Defined
First off, sellers often use the term VR and FPV interchangeably when selling goggles. There are differences, though, and this introduction explains what they are.
So, VR or FPV? The next two sections define and breakdown the pros and cons of each. VR stands for Virtual Reality, and that translates to a computer-generated interactive experience. The simpler and cheaper VR headsets have always been a good choice, but now the cost of FPV goggles is falling. Another attraction of VR "mobile" headsets is their plug-n-play cross-compatibility.
Mobile headsets are shells with integral lenses that can accommodate most regular smartphones. VR headsets work with third-party VR apps such as Litchi, as one example. The app splits the phone's screen into two halves, one for each eye. Such setups are inexpensive and provide an excellent introduction to the immersive FPV experience. They may also offer head-tracking of various degrees.
Pros and cons of VR Headsets
The pros of VR headsets include:
Considerably cheaper than FPV headsets
More compact and portable than FPV headsets
Basic apps provide up-down head tracking
Better apps provide full 360° control
The cons of VR headsets include:
Not all drones and drone brands work with third-party apps
Split screens usually result in poorer image quality
Third party apps can't usually change vital settings
Using third-party apps may void a drone's warranty with some brands
FPV Headsets Defined
First Person View FPV headsets cost more but offer extra benefits. They have low latency which means less delay compared to VR headsets. In fact, there's no noticeable delay to the pilot when an FPV headset uses an HDMI cable. That's especially useful when flying fast, or through and around obstacles. It's also why FPV headsets are the preferred option for drone racing events.
The viewing quality is noticeably superior with FPV headsets. They're also independent of mobile phones or controllers. This separation allows changes to various settings directly from the device. The higher quality and functionality of an FPV headpiece comes at a cost, though. They use more power than VR products, so most pilots also factor extra batteries into the price.
Some regular drones can fly fast but that's not their main attraction. Speed, agility, and acrobatic ability typically appeal to racing quads. Only FPV headsets will do for serious race enthusiasts.
Pros and cons of FPV Headsets
The pros of FPV headsets include:
Low latency (little or no lag) with HDMI cables
More accurate for high-speed racing and dodging obstacles
Better, cleaner image quality than VR headsets
Independence from phones and controllers allows access to settings
The cons of FPV headsets include:
Bigger and bulkier to wear; not as portable
Use lots of battery power to function
Understanding Interpupillary Distance (IPD)
Interpupillary Distance—IPD for short—is easier to grasp than it sounds. IPD means the exact distance between the center of a person's pupils. It's significant because this distance differs between people. Drone goggles must let the wearer's pupils sit correctly within the product's exit pupils. Some products have a fixed IDP whereas others have an adjustable IPD. The latter is the better option.
Field of View (FOV)
The FOV is the area (amount) you can see through the goggles. It ranges with FPV and VR headsets from 25% to 45% depending on the product. Some drone pilots prefer a larger FOV as it offers a more immersive experience. Others like a narrower FOV because they don't have to dart their eyes around as much to take in the view. There's no perfect angle of view as it's more of a preference.
The Conclusion
Consider FPV headsets if budget isn't an issue and you want the ultimate FPV experience. Also, choose FPV headsets if you're into competitive drone racing for the reasons outlined above. Ponder the standalone VR options if you're on a tight budget or new to flying in First Person View. VR products are smaller, lighter, and don't need extra hardware to run. They're basically headsets with smartphones.
Make sure the product is compatible with your model. Reach out to one of the quadcopter community forums if you're unsure. Moreover, look at any warranty issues that may conflict with new drones.
Budget
Arris VR-009 Mini FPV Goggles
4.4/5.0
Product Weight: 7 ounces
Field of View: Not specified
Built-in battery, USB charging, fast auto search, double antenna, bright LCD.
Check Amazon
Best Value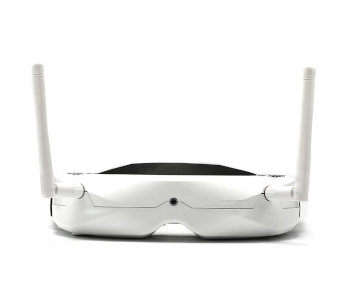 Skyzone SKY02S Goggles
4.6/5.0
Product Weight: 6.91 ounces
Field of View: 60 degrees
Different faceplates, bright screens, head tracking, DVR function, playback.
Check Banggood
Top Pick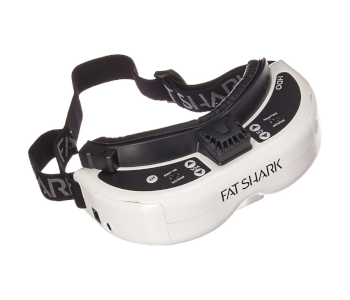 Fat Shark HDO FPV Goggles
4.7/5.0
Product Weight: 6.6 ounces
Field of View: 37 degrees
Zipper carry case, leather face padding, USB charging battery pack.
Check Amazon
About this FPV VR Goggle Guide
This guide reviews various headsets for all budgets. All products are the result of extensive research and real user feedback. I also took the opinions of industry experts into consideration as well as my own. Each mini-review highlights the products main tech specs, its best points, and any downsides.
The first three on the page are Best Budget, Best Value, and the Top pick, in that order. The headsets and goggles below those are by price order, lowest to high.
The table below shows the headsets as they appear in the reviews
FPV Headsets Comparison Table
1. Arris VR-009 Mini FPV Drone Goggles | Best Budget
View on Amazon
Editor's Rating: 4.4/5
The best budget pick goes to the Arris VR-009 Mini FPV quadcopter goggles. They're small, ultra-lightweight, and comfortable to wear over extended periods.
Best feature 1: Ultra-lightweight
Best feature 2: Low power consumption
Plus points: Built-in battery, USB charging, fast auto search, double antenna, bright LCD
Minus points: Too small for some wearers
Excellent Choice for First-Time FPV Pilots
The Arris VR-009 Mini cost less than 50 dollars at the time of writing. They're an excellent choice for those jumping into the world of First Person View (FPV). The 3" 480×320 dot LCD screen is bright and comfortable on the eyes. It's a low power consumption product with a working current of 360~400mA. The goggles have enough features to provide a rewarding first-time experience.
The battery is a built-in 3.7V/1200mAh LiPo and charges via universal USB charging. The supersensitive built-in 5.8GHZ Race Band receiver has 40 channels and fast auto-search. A double antenna setup helps to make the signal more stable than a single arrangement.
The Not So Good
The Arris VR-009 Mini FPV goggles are small, hence "Mini" in the title. They're okay for most users, but folks with larger facial features may find them uncomfortable after a while.

Tech Specs
Dimensions: 7 x 7 x 3.6"
Product Weight: 7 oz.
Resolution: 480 x 320
Field of View (FOV): 16.9 degrees
Screen Size: 3 inches
Head tracking: None
Range: 984 ft. (300 meters)
Battery: Built-in 3.7V 1200mAh LiPo
Working time: 2.5 hours
The Pros
Ultra-lightweight and comfortable
3″ high brightness LCD screen
Affordable price tag
Low power consumption
Built-in rechargeable battery
Universal USB charging interface
Fast auto search
Double antenna arrangement
The Cons
Size too small for some heads
2. Skyzone SKY02S 48CH V+ 3D FPV Goggles | Best Value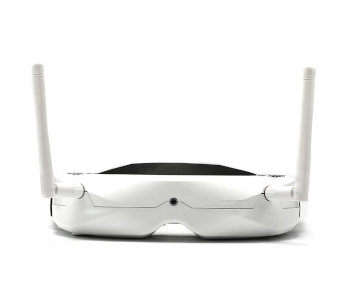 Banggood
Editor's Rating: 4.6/5
Best Value First Person View (FPV) Goggles go to Skyzone SKY02S V+ 3D 5.8G 48CH. They come in two available colors, black or white. The goggles are also 3D capable.
Best feature 1: Front mounted camera
Best feature 2: 3D capable
Plus points: Different faceplates, bright screens, head tracking, DVR function, playback
Minus points: No fan, battery not included
A Serious Fatshark Contender?
Skyzone is a lesser known brand than Fatshark. Despite that, these 3D goggles with parallel lenses look like worthy challengers. The front-facing camera is convenient and practical. There are six essential control buttons located on the top with three either side. Pan and tilt head tracking is possible although some see that as a gimmick rather than a useful function.
The bottom has the image adjustments and access to the various physical connections. There are image adjustments, an HDMI in, USB, earphones, video in and out ports, and a 32GB SD card slot. The Skyzone SKY02S has a handy built-in 40-channel receiver. The frequency displays on the screen which seems much brighter than Fatshark and a tad shaper too.
The Not So Good
There's a smart carry case included and a few faceplates to accommodate different wearers. Despite this, the Skyzone goggles are not quite as comfortable as Fatshark products. There's no fan either—a standard feature on Fatshark and some other brands. The other downside is that the product doesn't include a battery. Make sure you have one charged and ready to go if you choose these goggles.

Tech Specs
Dimensions: 9.7 x 7.2 x 4"
Product Weight: 6.91 oz.
Resolution: 640 x 480 (VGA)
Field of View (FOV): 60 degrees (diagonal)
Head tracking: Yes
Battery: 7.4V 800mAh LiPo (not included)
Working time: Depends on battery
The Pros
Decent rival to Fatshark
Convenient front camera
3D capable
Various faceplates
Ultra-bright screens
Head tracking
DVR function, playback
The Cons
No integral fan
Battery not included
3. Fat Shark HDO FPV Goggles | Top Pick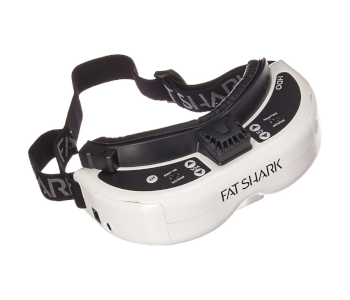 View on Amazon
Editor's Rating: 4.7/5
Fatshark continues to dominate FPV goggles and for good reasons. The Top Pick goes to the Fat Shark HDO FPV Goggles. The review looks at why these cost so much more than many other products.
Best feature 1: Adjustable IPD (Interpupillary Distance)
Best feature 2: Ventilation fan
Plus points: Zipper carry case, leather face padding, USB charging battery pack
Minus points: FPV module (receiver) not included, no 3D mode, smaller FOV
The Value of Fatshark's HDO Goggles
This is Fat Shark's flagship HDO. They also happen to be the first ever FPV goggles to use an OLED display. The resolution is 960 x 720 (1024 x 800 screen), and that's significant. The product comes with comfortable leather foam face padding and a smart carry case. Fatshark's ventilation fan helps to prevent misting when there's a temperature clash.
The Interpupillary Distance or IPD is adjustable (see introduction for more on IPD). The goggles have an SD card slot so that you can record all the FPV footage to a memory card. That's especially useful if you crash your drone and need to locate it. Playback is also handy for FPV racers who like to go back and analyze their flight performance.
The newer HDO goggles cost around 100 dollars more than the HD3 model, but they have better displays. The resolution is also an improvement at 1080p support with HDMI.
The Not So Good
The Fat Shark HDO FPV goggles don't come with an FPV module (receiver), so that's an extra cost. It's not all bad as detachable modules allow choices. FPV headsets with inbuilt receivers are not upgradable. The HDO goggles don't have a 3D mode, and that will matter to some. The 37° field of view (FOV)—though not a con as such—is not going to be big enough for a few FPV pilots.

Tech Specs
Dimensions: 6.5 x 3 x 3"
Product Weight: 6.6 oz.
Resolution: 960 x 720
Field of View (FOV): 37 degrees
Head tracking: Yes
Battery: 7.4V, 1800mAh Li-Po
Working time: 1.5+ hours
The Pros
OLED (organic light-emitting diode) display
Adjustable IPD (Interpupillary Distance) control 59–69mm
Ventilation fan
Zipper carry case
Leather face foam padding
USB charging battery pack
The Cons
FPV model (receiver) not included
No 3D mode
Small FOV
4. Eachine EV100 72CH FPV Beginner Goggles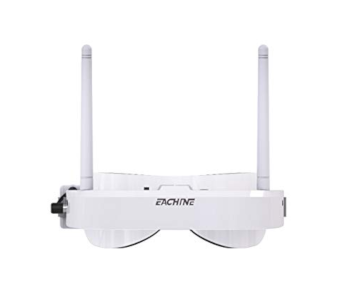 Banggood
Editor's Rating: 4.5/5
These are the Eachine EV100 First Person View FPV goggles. They're a popular, affordable brand for first-time FPV pilots and folks on tighter budgets. Try not to confuse affordable with cheap here.
Best feature 1: Lightweight and comfortable
Best feature 2: Built-in fan
Plus points: USB charging port, earphone jack, full lens adjustments, on-screen channel display
Minus points: Small resolution screen, no DVR, poor stock dipole antennas
Fatshark Killers?
Some call the Eachine EV100 Fatshark killers, but I think that's going too far. However, they are great value at less than 100 dollars (at the time of writing). They're comfortable and light, weighing in at around 165 grams. There's a thick foam face pad for a light-tight fit and a built-in cooling fan to prevent misting. The goggles have a USB charging port and an earphone jack on the side.
On the bottom are two pupil adjustments to allow wearers to fine tune the focus for their eyes. Another surprising feature for such inexpensive FPV goggles is the in/out lens focus. These combined lens corrections give left to right and forward to back adjustments.
The EV100 also shows what channel you're using on its FPV screen. That's a feature usually reserved for higher end goggles. They're better than box options in the same price category and a perfect first choice. But Fatshark killer? No, not even close.
The Not So Good
The screen has a smaller resolution than costlier models, and it's noticeable. The downside to smaller screens is a less immersive FPV experience. The goggles don't have DVR either. That means there's no option for recording FPV flight missions. The stock dipole antennas are ok but only just. It's possible to upgrade using better third-party antennas (recommended).

Tech Specs
Dimensions: 6.59 x 2.99 x 1.18"
Product Weight: 7.79 oz.
Resolution: 720 x 540
Field of View (FOV): 28 degrees diagonal
Head tracking: None
IPD: 58 to 68mm adjustable
Battery: 7.4V 1000 mAh LiPo
Working time: 2 hours
Charging time: 1.5 hours
The Pros
Lightweight and comfortable
Simple design, easy to use
Built-in cooling fan
USB charging port
Earphone jack
Full lens adjustments left to right and front to back
On-screen channel display
The Cons
Small resolution screens
No DVR
Poor quality stock dipole antennas
5. V2.0 FXT VIPER HD FPV Goggles for RC Drone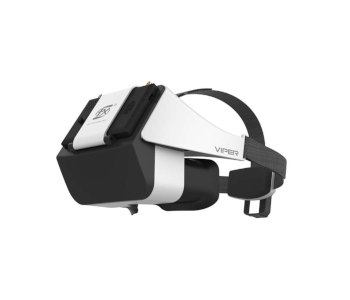 Banggood
Editor's Rating: 4.4/5
These FPV goggles are from FXT and an upgrade from V1.0. They're priced around the mid-range mark. Most FPV pilots find the lightweight, ergonomic design comfortable to wear.
Best feature 1: Optimal safety watching distance
Best feature 2: Built-in diversity receiver
Plus points: Carry case, ergonomic design, detachable LCD screen, built-in refractor, DVR
Minus points: Some light leakage, cumbersome after a while, low average DVR
Why Consider the FXT VIPER HD FPV Goggles
These goggles arrive in a smart, protective, semi-hard shell case. There's an adjustable overhead strap that's more comfortable than wraparound support. Folks who wear glasses can use the VIPER HD FPV Goggles with comfort. The detachable 5" LCD screen has an 85% non-reflective finish. The product has an HDMI input as well as an AI input. There's also a built-in DVR and a 32GB SD memory card slot.
Another nice touch is the tiny integrated speaker at the back of the unit. The built-in mirrors deliver the FPV image to the eyes in a similar way to how a periscope works. They do a pretty good job too. The battery sits at the back of the unit and distributes the weight evenly. The First Person View image is clear and on a par with other FPV goggles in its class.
There's a lot to like with this product considering its price. Everything works as it should do and the controls are straightforward. The use of mirrors and lenses works well for increasing the focal distance. The cost is about right, but they're not going to please everyone as the next section explains.
The Not So Good
Light leakage is a common complaint and mainly evident around the nose and upper cheek areas. Still, the light is minor and easy to ignore once you focus on the ride. Most folks find the goggles comfortable, but others think they're awkward. Some even say they're ugly and embarrassing to wear, but that's subjective of course. The final con is the DVR which is on the low side of average.

Tech Specs
Dimensions: 9.6 x 9.6 x 6.6"
Product Weight: 20.4 oz.
Resolution: 800 x 480
Field of View (FOV): 45 degrees
Screen Size: 5 inch
Head tracking: None
Battery: Not included
The Pros
Safety viewing distance
Built-in diversity receiver
Protective carry case
Unique, ergonomic design
Detachable LCD screen
Built-in mirrors
DVR
Supports prescription spectacles
The Cons
Some light leakage
Cumbersome to wear after a while
Unique design but not cool-looking
Low average DVR quality
6. Dedicated DJI First Person View FPV Goggles
View on Amazon
Editor's Rating: 4.5/5
Owners of DJI quads can use cheaper third-party goggles. Even so, most choose the DJI headset given a choice. But is the superior build, comfortable design, and high-tech features worth the price tag?
Best feature 1: Quality build, comfortable design
Best feature 2: Low lag transmission
Plus points: High resolution, dual speakers, no latticing, head tracking, touchpad
Minus points: Heavy, app connectivity issues
Why DJI Pilots Love DJI FPV Goggles
DJI googles are big, but they look super cool, unlike some box-style FPV headsets. The product arrives in two pieces, i.e., headband and goggles. There's even a MicroSD cable in the box. The headset has dual built-in speakers that deliver clear sound to both ears. There's also a 3.5mm headphone jack if you prefer to use earbuds. Next to the audio jack is a MicroSD card slot and a micro HDMI port.
Wearers get a seamless FPV experience via the goggle's large, high-quality screens. The image is always clean, detailed, and sharp (no latticing). That's thanks to the tightly-packed pixels. The reliable connection provides 360° coverage and low lag transmission. These dedicated goggles exist to work with certain drones. Pilots can access DJI's Intelligent Flight Features via the touchpad.
Flexible viewing preferences, cross-drone compatibility, and the DJI GO 4 app deliver FPV harmony. There's also head tracking (HT) that works with supported drones. HT gives control of the camera gimbal movements and lets pilots steer the drone. You can also use the goggles to take off and land. However, you still need the controller for full control of the drone.
The Not So Good
The combined weight of headband and goggles is around two pounds. The design is such that the weight distributes evenly. The glasses sit in front of the face rather than strapped to it like other designs. That's good, but it's still 2lbs, and you certainly know it's there. The other con is that some users report sporadic connectivity issues with the DJI GO 4 APP.

Tech Specs
Type: DJI dedicated FPV goggles
Dimensions: 11.3 x 11.1 x 7.2"
Product Weight: 35 ounces (includes DJI headband)
Resolution: 1920 x 1080
Field of View (FOV): 85 degrees
Screen Size: 5 inches
Head tracking: Yes
Battery: Built-in 9440mAh LiPo
Working time: 6 hours
Charging time: 4+ hours via Micro USB
The Pros
High-quality build
Comfortable design
Feature-packed, user-friendly controls
Low lag transmission
High resolution
Adjustable IPD 58–70mm
Dual speakers
Zero latticing
Head tracking feature
Touchpad
The Cons
Heavy headset
App connectivity issues
7. Epson Moverio BT-300 FPV Smart Glasses for DJI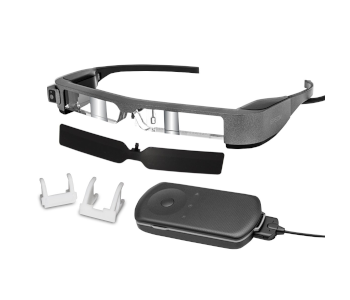 View on Amazon
Editor's Rating: 4.3/5
Last on the list is the unique Epson Moverio BT-300 FPV Smart Glasses for DJI. They're said to be the perfect complement to DJI drones. So, can they live up to the high price tag and hype?
Best feature 1: Super Lightweight
Best feature 2: Prescription glasses-friendly
Plus points: Portable, Android-based system, easy to record, preloaded DJI 4 app
Minus points: Learning curve, No IPD control, cost
Redefining First Person View (FPV)
These futuristic-looking glasses are impressive at first glance. Epson thinks they redefine first person view, but I say not so fast. There's a lot of remarkable technology going on here, but it's not perfect—yet. More on that later. These smart glasses are so light and portable compared to typical FPV goggles. They're also eyeglasses-friendly in that they fit comfortably over most prescription spectacles.
Epson's Moverio BT-300FPV Smart Glasses come packed with technology. They have a built-in ambient light sensor and a front-facing 5MP camera to the wearer's right side. The camera captures 1080p real-time footage at 30fps (frames per second).
On the left lens is a binocular for see-through viewing. The beauty of a transparent display is twofold. Pilots can view all the vital flight data and maintain a visual line of sight (LOS) of their drone. Left of that lens is a 9-axis motion sensor.
DJI Quadcopter Compatibility
The smart glasses work on the Google Android system which gives them extra versatility and appeal. For example, you can use them to browse the Web, stream content, and even play some games. As FPV glasses, though, the included controller has the DJI GO App preloaded. Mounting clips provide a secure connection between the dedicated BT-300FPV GPS controller and the DJI remote.
The BT-300FPV controller works seamlessly with the DJI Inspire 1 & 2, and Phantom 3 & 4 remotes. It can also work with Mavic Pro quadcopters but needs different clips (sold separately). So, is this augmented reality of the sky what FPV pilots have longed for? That depends who you ask (see below).
The Not So Good
The Epson Moverio BT-300 FPV Smart Glasses sound like the ideal FPV solution for DJI drones. For some they are. Others think they have a way to go before they make the grade. Yes, it's easy to wear and record with these glasses. Alas, it's not so easy to adjust the eyes to the new way of viewing. Some find the learning curve—and the need to retrain the eyes—frustrating and awkward.
Those who persevere find the glasses comfortable to wear and the Si-OLED display awe-inspiring. For me, the biggest letdown is no IPD (Interpupillary Distance) adjustment. Epsom says the glasses handle a wide range of IPD. That may be so, but user-adjustable IPD is undoubtedly better (see intro). There's no Lens-to-eye adjustment either, but there is a nose piece that pushes them out further.
My last gripe is the price. They cost over 700 dollars at the time of writing this review, and that's a fair chunk of change. They are technologically advanced, and the experience is incredible. Despite that, some critics think they need a few tweaks and enhancements before they're perfect.
The good news is that Epson Moverio are "future-ready." That means downloadable updates should continue to refine these Smart Glasses for DJI drones. Watch this space for any news.

Tech Specs
Type: Smart Glasses for DJI Drones
Dimensions: 7.52 x 7.01 x 0.98"
Headset Weight: 2.5 oz.
Transparent LCD Resolution: 720p
Field of View (FOV): 23 degrees (diagonal)
Screen Size (Projected Distance): 40″ at 2.5m, 320″ at 20m
Head tracking: None
Range: Depends on the controller
Battery: Built-in rechargeable LiPo in the controller
Working time: 6 hours
The Pros
Lightweight, comfortable fit
Ultra-portable
Prescription glasses-friendly
Glasses controller preloaded with DJI GO App
Android-based system
Maintain a clear line of sight (LOS)
Easy to record
Clear, real-time 1080p footage
Preloaded DJI 4 app
The Cons
Learning curve
Eye adjustment may take time
No IPD control
High price tag