6 Best Wacom Tablet Picks for 2020
3D Insider is ad supported and earns money from clicks, commissions from sales, and other ways.
Wacom is the company that transformed the digital art world by introducing the first graphics tablets more than twenty years ago. Sketch artists, video & photo editors, 3D sculptors, and many more users quickly embraced the novel workflow Wacom's tablets offered as they were much more convenient than a trackpad or mouse.
Graphics tablets have a touch-sensitive drawing area and use special pens to translate your wrist's movement onto the digital canvas. The pens are indispensable since they react to varying pressure levels, letting you draw lines of different thickness & strength or precisely define brush sizes without having to keep adjusting values with a keyboard or mouse. You can choose between tablets with screens that mimic your monitor's view or ones without, which are better for photo retouching and any kind of work where you don't want to obstruct the view.
These are the six best Wacom tablets currently on offer. The company produces models of varying sizes and price points, so finding the right one for your budget and needs isn't hard. Get a Wacom tablet and see why many creatives swear by its excellence.
Budget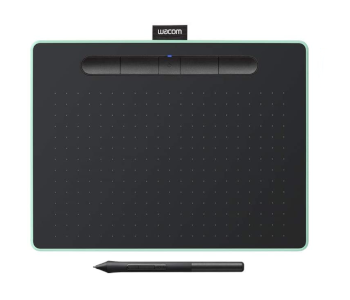 Wacom Intuos M
4.1/5.0
Weight: 0.9 lbs.
Pressure levels: 4,096
Thin profile and bezels make it more portable.
Check Amazon
Best Value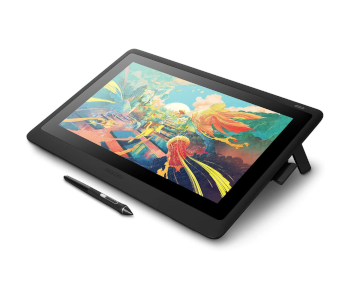 Wacom Cintiq 16
4.5/5.0
Weight: 4.2 lbs.
Pressure levels: 8,192
Large and bright display for the price.
Check Amazon
Top Pick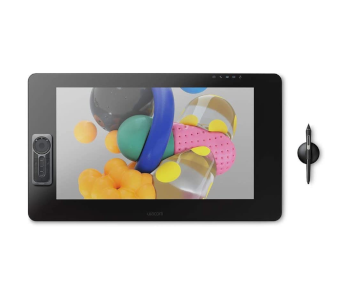 Wacom Cintiq Pro 24
4.8/5.0
Weight: 15.9 lbs.
Pressure levels: 8,192
Etched glass screen with no parallax.
Check Amazon
Wacom Tablets Comparison Table
1. Best Overall – Wacom Cintiq Pro 24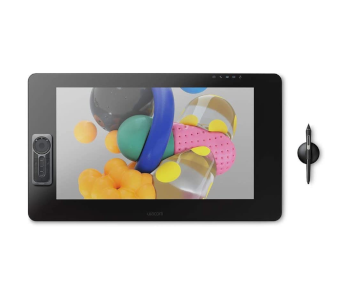 View on Amazon
Editor's Rating: 4.8/5
The Cintiq Pro series is Wacom's top-tier line aimed at professional artists who need their tablet to step up to the most demanding challenges. We've selected the 24-inch version of the Pro since it's the perfect blend of features and price. You can also get a model with the same screen size that has touch functionality or a 32-inch version if you need the extra screen space. Both are more expensive, but neither tops the 24" pro in terms of versatility and features.
Overview of Features
The Cintiq Pro 24 is a beautiful graphics tablet precision-engineered for the best possible drawing experience. It has a 23.6.inch screen bordered by a wide bezel that makes it easier to rest your hand when you're working near the edges of the screen. Wacom uses a special kind of etched glass on the display that flawlessly simulates paper and offers just the right amount of resistance.
Inspecting the Cintiq Pro 24's sides reveals an abundance of ports. You've got several USB 3.0 and one USB-C connection as well as HDMI 2.0 and DisplayPort for connecting it to your PC. or Mac. There's also an ingenious solution for physical controls, the FlexKeys remote. It has eight customizable buttons and a scroll ring. Best of all, you can place the remote wherever you like or attach it to either bezel with magnets.
Top-tier Wacom tablets arrive with the Pro Pen 2, the most advanced one to date. It's superbly balanced and has 8,192 pressure levels for unprecedented accuracy. The pen doesn't need charging since moving it on the screen generates power. It's a pleasure to work with and has no trouble with gradual thickness shifting or smooth falloff when you're making swift short strokes.
The screen is bright and beautifully vibrant. Wacom did an excellent job with minimizing the parallax effect, so drawing on it feels almost like you're using real paper. The screen is a detailed 4K display that reproduces over a billion colors with 99% Adobe RGB accuracy. The subtlest shifts in hue or shade are easy to spot, and you can be sure that art created on this tablet will look consistently impressive on any display.
What We Didn't Like
The Cintiq Pro 24 doesn't come with a stand. It has two sturdy legs that prop it up at an angle, but you'll have to purchase a stand or the Flex Arm separately if you want to use it in any other position. The fans that keep the tablet from overheating kick in every so often depending on the brightness. The brighter the screen and the more you use it, the longer and louder they work. This can be distracting.
Tech Specs
Dimensions: 26.7 x 15.5 x 1.9 in.
Weight: 15.9 lbs.
Diagonal screen size: 23.6 in.
Resolution: 4K
Color Gamut: 99% Adobe RGB
Pressure levels: 8,192
Buttons: 8 physical, 4 touch, and a control ring
Pros
World-class color fidelity
Etched glass screen with no parallax and 4K resolution
Versatile remote
Abundance of connection options
Cons
Loud fans
Doesn't have a stand
2. Best Value – Wacom Cintiq 16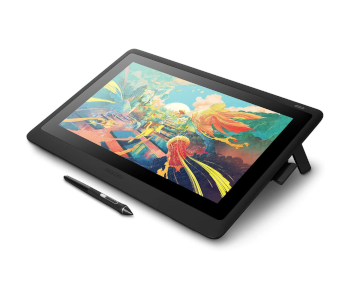 View on Amazon
Editor's Rating: 4.5/5
Hobbyists and budget-conscious artists don't need to spend a couple of grand to get a great Wacom drawing tablet. The Cintiq 16 cuts down on screen size & resolution but retains some of the Pro's main features, like its excellent pen and immersive drawing experience. It's well worth the investment and should satisfy all but the pickiest users.
Overview of Features
The Cintiq 16 is a smaller, less capable version of the 24 Pro. There are similarities, like a wide bezel and a matte screen that handles glare well. You also get the same Pro Pen 2 and can look forward to a similar drawing experience. The tablet takes up less space and is thinner, so users with little desk real-estate will come into their own.
The display has a resolution of 1920×1080 and a stated brightness of 250 nits, which it exceeds when tested. The contrast ratio is also good at 1000:1. A color gamut of 72% NTSC or 74% Adobe RGB sounds bad on paper, but the Cintiq 16 covers 96% of the sRGB space, meaning that it is accurate enough for the vast majority of mundane art creation purposes.
Setting the Cintiq 16 is a matter of connecting it to HDMI & USB type-A ports and installing Wacom's drivers. You need to remember to use both connections, or else the tablet won't work. Drawing on it feels pleasant and produces accurate results. There's more parallax than on the 24 Pro you won't notice if this is your first display tablet.
What's Bad About It?
The Cintiq 16 has no physical buttons. This severely limits its customization options since you can only configure the pen's buttons and need to access any other command from the screen. The tablet arrives with a cumbersome X-cable that plugs into it on one end and has three connectors on the other, one for power and two for interfacing with computers. Their cables can easily get tangled and are a hassle to position.
Tech Specs
Dimensions: 16.6 x 11.2 x 0.4 in.
Weight: 4.2 lbs.
Diagonal screen size: 15.6 in.
Resolution: 1920×1080
Color Gamut: 72% NTSC
Pressure levels: 8,192
Buttons: None
Pros
Excellent value for the money
Large and bright display for the price
Comes with the Pro Pen 2
Straightforward setup
Cons
No physical buttons
Four-pronged cable tangles easily
3. Wacom Mobile Studio Pro 16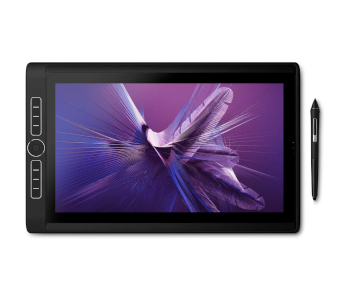 View on Amazon
Editor's Rating: 4.6/5
Wacom built almost every tablet on our list with the assumption that you'd be using it with a desktop computer or laptop. As such, they don't work on their own. Not so with the Mobile Studio Pro 16, a Windows tablet that you can work on anywhere without being tethered to other hardware. It has powerful specs, seamlessly runs full versions of even the most demanding programs, and performs to the high standards Wacom sets for its Pro tablets.
Overview of Features
The Mobile Studio Pro 16 is designed to be everything you need to make art on the go. It has an Intel i7 processor, a 4GB Quadro graphics card, a 512 GB SSD, and 16GB of RAM. You can get twice as much RAM and an SSD with four times the capacity if base specs aren't enough. The tablet's basic version performs admirably under strenuous tests as it can have several browser tabs open and still run the full version of Adobe's Photoshop without hiccups.
The tablet is more portable than other Wacom display tablets but less so than ordinary ones or laptops. Its large bezels extend the advertised 16-inch diagonal, so you'll need to have a laptop bag that takes bigger models to carry it with you. On the other hand, the Mobile Studio Pro 16 has an excellent stand that lets you prop it up at various angles.
You'll see the telltale signs of the Pro line in the tablet's build quality and abundance of ports. Its display is another 4K beauty with the same surface as our overall winner's. There are three USB-C and one USB 3.1 A port along with an SD card reader and an audio jack. You'll also find eight responsive ExpressKeys on the left bezel with a fingerprint reader in the middle. Speaking of security, the tablet has a Kensington security Slot that lets you tie it to tables and other heavy objects with a sturdy steel cable.
The display's color quality is slightly weaker than the 24-inch Pro's as it can reproduce 90 percent of the Adobe RGB color gamut. Coupled with its sharp 4K resolution, this lets you see and create minuscule details that would be impossible on weaker displays. Its only drawback is a low max brightness; rivaling tablets from Apple and Microsoft are better equipped for outdoor environments. However, this doesn't impact the screen's performance as it and the Pro Pen 2 make for a responsive and accurate duo.
Are There Drawbacks?
The Mobile Studio Pro 16 is by far the most expensive graphics tablet on review. The price is understandable since you're getting a fully-functioning tablet with powerful specs, but the pill might be hard to swallow for many even so. The tablet gets hot with use. You'll want to place it on a flat surface instead of your knees when running demanding apps or working for long stretches to avoid discomfort.
Tech Specs
Dimensions: 16.5 x 10.2 x 0.8 in.
Weight: 4.6 lbs.
Diagonal screen size: 15.6 in.
Resolution: 4K
Color Gamut: 90% Adobe RGB
Pressure levels: 8,192
Buttons: 9
Pros
An excellent graphics tablet and powerful computer in one
Solid port selection and security measures
Lots of ExpressKeys to configure
Sharp screen with excellent color quality
Cons
Very expensive
Heats up over time
4. Wacom One Digital Drawing Tablet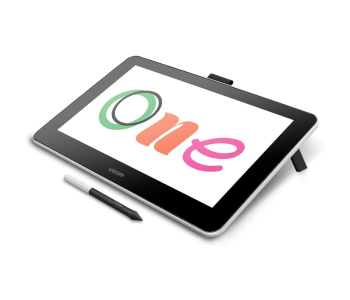 View on Amazon
Editor's Rating: 4.4/5
The One Is Wacom's entry-level display graphics tablet aimed at casual users looking for a new way of approaching their digital workflow. It has fewer features than tablets in the Cintiq line but performs with Wacom's customary excellence. It comes with useful software like Bamboo Paper, which adds value to an already cost-effective product.
Note: Do not confuse this display tablet with the Wacom One, the company's most basic offering.
Overview of Features
The One is a small white display tablet with a 13.3-inch screen bordered by black bezels that are half an inch wide. You'll find a pen holder on its top. Next to it is the USB-C slot where you plug in the X-cable we've already mentioned while reviewing the Cintiq 16. There's room on the bottom for several nibs and a tool that helps you remove them from the pen along with a stand you can use to prop the tablet up to 19 degrees.
This model ships with the Wacom One Pen. It's slimmer and feels cheaper than the Pro Pen 2, but this model is not without its charms. It has 4,096 pressure levels, which won't make a noticeable difference on the One's HD display. You get to customize one button instead of the Pro Pen 2's three, but at least there's no need for batteries.
The display is slightly dimmer than the Mobile Studio's at 200 nits and not suitable for outdoor use in sunlight. However, it has an anti-glare coating that successfully combats reflections from lights and can be viewed at a 170-degree angle from all sides. The One is unique in that it works with Android phones, mostly from Samsung's Galaxy lineup. The screen works well even when producing content for such small displays.
Unlike the regular Intuos, the Wacom one comes with the full version of Bamboo Pro. You'll love using Bamboo Pro if you're a student or avid note-taker since it turns the One into a digital notebook. There are many page styles to choose from, and you can easily manage or share multiple notebooks with devices connected to your Wacom account.
Are There Drawbacks?
The Wacom One has more pronounced parallax than other display tablets on review. While it's not nearly as bad as on some third-party models, the issue is visible enough that you'll have to learn how to position the pen to compensate for it. The X-cable you get with the One is as complicated to use as on the Cintiq 16.
Tech Specs
Dimensions: 14.5 x 8.9 x 0.6 in.
Weight: 2.2 lbs.
Diagonal screen size: 13.3 in.
Resolution: 1920×1080
Color Gamut: 72% NTSC
Pressure levels: 4,096
Buttons: None
Pros
A capable display tablet at a modest price
Svelte pen with great responsiveness
Comes with full version of Bamboo Paper
Screen has decent colors and excellent viewing angles
Cons
X-cable connection is awkward
Visible parallax
5. Wacom Intuos Pro M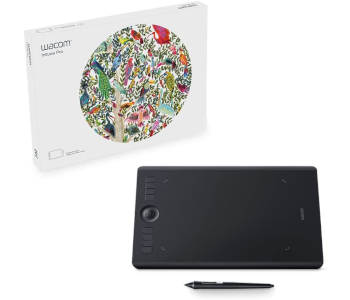 View on Amazon
Editor's Rating: 4.3/5
Intuos Pro is Wacom's gold standard for screenless drawing tablets. They're less expensive and more portable than Cintiq models but have a slightly longer learning curve since working with the tablet while looking at the changes on your monitor doesn't come naturally at first. We've chosen the medium version of the Intuos Pro as its drawing area is big enough for detailed work without making your desktop feel cramped.
Overview of Features
The Intuos Pro is a stark departure from Wacom's screen models. It's light, small, and easier to carry around than the Mobile Studio 16. You can draw on its surface or use texture sheets for a more paper-like feel. These are optional and come in three roughness levels. You connect the tablet either wirelessly through Bluetooth or using USB-C. The cable has a 90-degree angle that makes it sit flush against the tablet and minimizes the chances of tangling.
You'll find eight ExpressKeys on the left and a touchpad among them. The pad has a button that toggles between two functions. This will come in handy in situations when you want to toggle between zooming and selecting a brush size quickly. You can use Wacom's configuration software to assign commands or macros to the keys, configure the Pro Pen 2, or adjust how the Intuos Pro's drawing area corresponds to your display.
The Intuos Pro is a quality tablet, so drawing on it feels natural and responsive. You might need to adjust the Pro Pen 2's sensitivity if you feel that it shifts between thicknesses too abruptly, but once that's done, you're good to go. There's no noticeable lag when you're using it with a USB commotion, and pen movements are shown on your screen faithfully.
What We Didn't Like
Wacom's pen nibs wear out quickly. We'll only mention it here, but the same applies to the standard Intuos. You only get ten replacement nibs, which wouldn't be a problem if the Intuos Pro didn't have a rough surface that wears them down. Expect a maximum of two to three months of use before you need to invest in replacements. The drivers are known to act up. You may need to disable and re-enable them each time you turn your computer on, which gets annoying fast.
Tech Specs
Dimensions: 13.1 x 8.5 x 0.3 in.
Weight: 1.5 lbs.
Active drawing area: 8.7 x 5.8 in.
Pressure levels: 8,192
Buttons: 8 and a control ring
Pros
Large drawing area
Responsive buttons and clever touchpad
Rough surface simulates paper well
Connects wired and wirelessly
Cons
Nibs wear out frequently
Drivers sometimes cause issues
6. Best Budget Option – Wacom Intuos M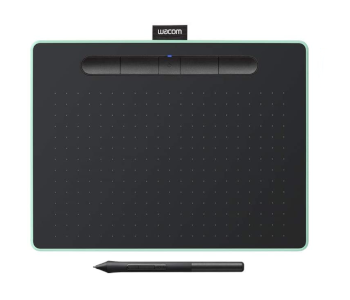 View on Amazon
Editor's Rating: 4.1/5
Are you a novice who needs a graphics tablet to further her skills but don't want to spend much? The regular medium-sized Intuos is your best bet in that case. It doesn't have all the bells & whistles of the Pro model and is $100 cheaper. You're likely not to miss features like tilt support and additional pressure levels anyway, especially if you aren't an illustrator and are working with small to mid-sized screens.
Overview of Features
The regular Intuos is a simplistic tablet with a matte black drawing area. It's smaller than the pro version since the bezels are thinner. This is good news since the differences in drawing area size are minimal, yet the standard Intuos takes up less space and is easier to transport. It has four ExpressKeys instead of eight, and the trackpad between them is replaced by a simple on/off button. The keys are gently recessed and act as a convenient place to keep your pen.
Speaking of the pen, it's less capable than the Pro Pen 2 but still more advanced than the one you got with the previous-gen Intuos. Its pressure sensitivity is double that of its predecessor, allowing you to draw with more finesse. It's rubberized and as comfortable to hold as the Pro Pen 2 but lacks the advanced model's eraser and tilt support. You likely won't even notice if you're a 3D artist or photo retoucher.
What does it feel like to draw on the standard Intuos? Not much different than on the Pro version, that is to say, great! The drawing surfaces are similar, and you won't notice the reduced pressure sensitivity unless you use the Intuos with a 4K display where it becomes apparent. The tablet lacks the Pro version's touch responsiveness, which you won't miss if you've never used it to begin with.
What's Bad About It?
Wacom is cheap with the Intuos's nib replacements. You only get three additional nubs that could wear out in as little as a month if you use it heavily. The tablet is bundled with three pieces of art software that will get you into the groove. You get a two-year license for Clip Studio Paint Pro along with 90-day trials of Corel's AfterShot Pro 3 and PainterEssentials 7. These inflate the tablet's price artificially and can be hard to access since the site where you redeem them is sluggish.
Tech Specs
Dimensions: 10.4 x 7.8 x 0.4 in.
Weight: 0.9 lbs.
Active drawing area: 8.5 x 5.3 in.
Pressure levels: 4,096
Buttons: 4
Pros
Thin profile and bezels make it more portable
Upgraded pen
Four configurable keys that act as a pen holder
Has Bluetooth
Cons
Comes with few replacement nibs
Additional software bloats price and is hard to access