Drones for Sale at Walmart
3D Insider is ad supported and earns money from clicks and other ways.
Walmart sells drones at their 4,672 stores in the United States. Unfortunately, in-store selection is limited to 5 drones. These drones, and hundreds more are also available for purchase on Walmart.com. More information on the five drones available in stores is listed in our reviews below.
1. DJI Phantom 3 Standard
The DJI Phantom 3 Standard is an excellent drone. DJI is the most well-known brand in drones and they control over 70% of the market. In fact, DJI is the gold standard against which other drones are compared. The DJI Phantom 3 Standard retails for $499. Walmart has it on sale right now for $400.
This is a great camera drone. You will be able to take high-quality footage with 2.7K HD videos and 12 megapixel photos. It has advanced gimbal stabilization to make sure your photos are not blurry from the movement of the drone's propellers. The DJI Phantom 3 Standard has a 720p HD real time feed that can be sent directly to your phone or VR headset. You can fly for 25 minutes and get an automatic warning as your battery runs low.
This drone is packed with features. It has GPS which enables it to do all kinds of things like a 1 click return to home function. It also comes with a follow me mode to let the drone capture videos of you while you do crazy things.
Drone Features
Fly for up to 25 minutes
Range of up to 1 kilometer
Max speed of 35 MPH
12.1 MP Camera
2. Yuneec Breeze 4K
The Yuneec Breeze 4K sells for around $300 at Walmart stores. It has a built-in 4K video and 13 MP photo camera. It has a 720p live feed just the like the DJI Phantom 3 Standard. It also has follow me mode and auto take-off and landing. This is a decent drone for people looking for extra features and willing to pay a bit more. It's an okay alternative to DJI.
Drone Features
Fly for up to 12 minutes
Range of up to 1000 meters
Max speed of 12 MPH
4K camera with 13 MP stills
3. Promark GPS Shadow Drone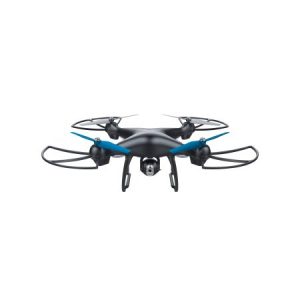 Promark drones appear to be white label quadcopters made exclusively for Walmart. They are not sold outside of Walmart except at a handful of places.
The Promark GPS Shadow drone retails for $179. As the name implies, it has GPS flight features integrated into it. This allows the drone to have a one click return to home function, geo-fencing to limit the drone's flight to a small area, and follow me mode to set the drone to automatically fly next to you. The follow me feature is particularly popular as it lets you bike or snowboard for example, while the drone films you from the air.
The drone has a 720p camera that can live stream and directly save to your phone. The best part is that the drone comes with a VR headset so that you can fly using the drone's camera as your eyes. Just put on the goggles and see from the drone's perspective. It also comes with an LED lithium battery that can be swapped out.
Drone Features
Fly for up to 12 minutes
Range of up to 1640 ft (500m)
Max speed of 20 MPH
720p camera. 90 degree articulating and 120 degree wide-angle lens.
4. Promark Virtual Reality Drone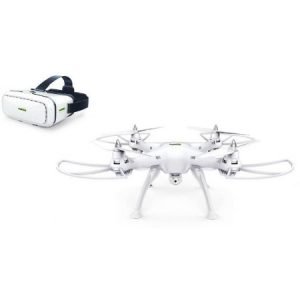 The Promark Virtual Reality drone is extremely similar to the Promark GPS Shadow drone except for the fact that it's missing GPS capabilities. It retails for $50 cheaper at $129.
The lack of GPS eliminates geo-fencing, return to home, and follow me modes from the drone. Many drone enthusiasts find these functions to be overkill. The Promark Virtual Reality drone has auto take-off and landing which can be helpful to kids. It also has headless mode which prevents the drone from turning right when you push left on the controller by keeping the drone always positioned in the same direction as you. It has propeller guards to prevent injury and damage to the drone during crashes. All of these features are also in the more expensive Promark GPS Shadow drone.
You can do 1-click 360 degree flips with this drone. Walmart recommends the drone for people aged 12 and up.
Even though it's $50 less, you still get a controller and a virtual reality headset with this drone. Overall, this is a good drone for people looking to save money or who aren't interested in the extra features that GPS provides.
Drone Features
Fly for up to 12 minutes
Range of up to 300 meters
75-degree articulating 720p camera
5. Vivitar Air Defender Drone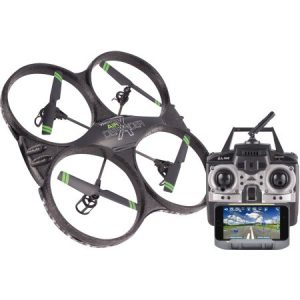 The Vivitar Air Defender is another drone that might be made exclusively for Walmart. At only $79 this drone is affordable. Even with it's low price it packs quite the punch. It has a 16.1MP camera and an impressive 20 minute flight time. For comparison, most drones in this price range have flight times of 12 minutes or less.
The crash resistant frame protects the propellers and makes it a great drone to learn to fly with. When you first learn how to fly a drone crashes are inevitable. The drone has 32 LED lights that make it a pleasure to fly at night. It takes a 32 gb micro SD card that is not included.
This is the perfect drone for people who want to zip through the sky, do some flips, and potentially take photos. It's cheap and you get a lot for the money.
Drone Features
Fly for up to 20 minutes
Range of up to 200 meters
13.1 MP WiFi Enabled Camera
Conclusion
Overall, Walmart has a decent selection of drones for beginners. At only $79, Walmart drones can make the perfect gift. If you want a broader selection visit their website and get one delivered to your house in two days.
Image from Tomo News