6 Best Waterproof 360 Cameras of 2019
3D Insider is ad supported and earns money from clicks, commissions from sales, and other ways.
360 cameras have introduced a completely new approach to photography and videomaking. Footage created with them bridges the gap between art and reality, allowing us to relive past moments as if we were there again. That is until the rain starts pouring or you're shooting near water.
That's why it's crucial to go for a waterproof model when shopping for a 360 camera! Getting one lets you capture spectacular underwater scenes without fear of damaging your equipment. Waterproofing isn't only useful for aquatic adventures, either. It allows you to use the camera in less than favorable weather conditions and not worry about snow, mud, or puddles. Such cameras are also dustproof, which makes them great for shooting in dry environments.
These are the six best waterproof 360 cameras you can get. While there are other excellent models out there, they aren't waterproof without a case. This article focuses on cameras you can start using in water straight out of the box. Pick one you like, and never let moisture keep you from that perfect shot again!
Budget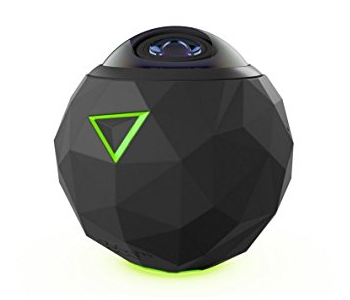 360Fly 4K
4.2/5.0
Waterproof depth: 33 feet
Photo resolution: 16MP
It can go down as deep as VIRB 360.
Check Amazon
Best Value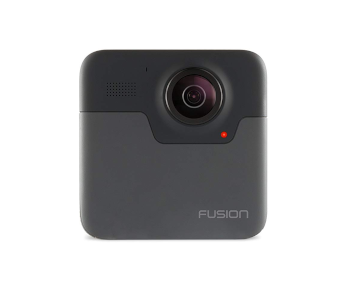 GoPro Fusion
4.4/5.0
Waterproof depth: 16 feet
Photo resolution: 18MP
This is easy to handle on land and underwater.
Check Amazon
Top Pick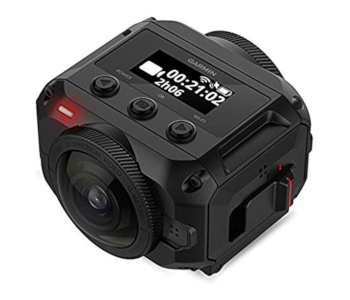 Garmin VIRB 360
4.7/5.0
Waterproof depth: 33 feet
Photo resolution: 15MP
Comprehensive mobile app and desktop software.
Check Amazon
Waterproof 360 Cameras Comparison Table
1. Best Overall – Garmin VIRB 360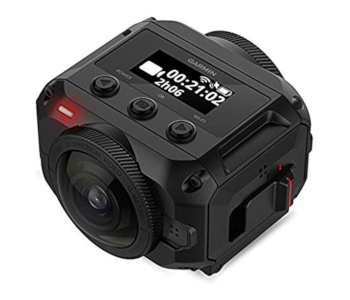 View on Amazon
Editor's Rating: 4.7/5
Garmin's VIRB 360 has been out for a while now, but the camera's excellent build quality and continually improving software suite keep it in the lead. It's the most robust model for consumer markets, comes with accessories that substantially expand its functionality, and offers features like HyperView even GoPro struggles to counter. You'll have to dig deep into your wallet to get one, but the stunning 360-degree underwater footage is well worth it.
Overview of Features
The first thing you'll notice about VIRB 360 is its unconventional appearance. It is squatter than other 360 cameras, opting for an interface located on the top and side while giving its two lenses plenty of room to capture a spherical view of the world. There's a simple LCD screen that shows its remaining battery life and Wi-Fi signal strength. You can also use three handy buttons to turn the camera or video recording on and off as well as take pictures without having to reach for your phone.
VIRB'S build quality is superb. It is resistant to dust and will survive an accidental fall without a scratch, thanks to its high-quality plastic housing. The camera is waterproof down to 33 feet and doesn't need a case. It does come with other interesting accessories, however. We particularly liked its tripod which turns into a grip if you fold it. There's also a GoPro accessory mount that increases the number of compatible accessories exponentially.
Videos shoot with the VIRB 360 are of remarkable quality. Its maximum resolution is 5.7K at 30fps. You can use 4k for 360-degree mode as well, or use either lens as a traditional action camera and record in 1080p at higher framerates. Photos are taken by extracting frames from the video feed and have comparable quality.
Garmin doesn't disappoint on the software front either. The mobile apps for iOS and Android are responsive. They turn your phone into a viewfinder, let you capture standard footage as well as time lapses, and export everything to choice social media sites.
Desktop support comes in the form of VIRB Edit, a powerful tool that helps you create and export videos. The camera can't stitch together 5.7K internally, but VIRB Edit does so automatically as you transfer the files. You can play with different stabilization methods, overlay statistical data like depth, position, or acceleration, and choose which part of a scene to show for maximum effect.
What We Didn't Like
The camera's battery is rated at 60 minutes of moderate use. However, expect to get less than 40 minutes out of it if you're recording in 5.7K. This is the most expensive camera on review, and you might find that the difference between it and other highly-placed models doesn't justify the cost.
Tech Specs
Dimensions: 1.5 x 2.8 x 2.3 in.
Weight: 5.6 oz.
Waterproof depth: 33 feet
Photo resolution: 15MP
Video Resolution: 5.7K 30fps
Battery life: 60 minutes
The Pros
Built for prolonged underwater use and other rough conditions
Exceptional video quality
Great set of accessories
Comprehensive mobile app and desktop software
The Cons
Quickly drains battery when shooting in 5.7K
Expensive
2. Best Value – GoPro Fusion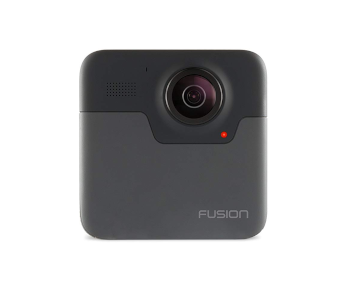 View on Amazon
Editor's Rating: 4.4/5
Fusion was GoPro's first attempt at a 360 camera. They got many things right, build quality and over-capture being chief among them. Other aspects of the camera needed work and were addressed with the release of GoPro MAX. Becoming an older model also means the Fusion is now cheaper, so much so that it's an amazing deal now considering everything you get. It's the perfect buy if you dive in the shallows or spend your days on snowy slopes.
Overview of Features
GoPro is known for making rugged cameras, and Fusion is no exception. It's noticeably bigger than a HERO model but has a similar design complete with a tough rubberized casing. The monochrome information display is there too. Fusion doesn't have a touchscreen, so you'll need to frame shots with your phone. The rubberized case handles shock well and lets you use Fusion at a depth of 16 feet.
Fusion's package contains several welcome accessories. The most useful is a tripod that you can hold either as a grip or extend so that the camera sits well above ground. Each of the two lenses records separately, which is why GoPro includes two high-speed SD cards from SanDisk. There's a standard tripod screw on Fusion's bottom, and it's compatible with other accessories too.
Fusion shoots some of the most stable 360-degree videos out there, unsurprising given the company's track record. Their resolution is 5.2K at 30fps and can be downgraded to 3K if you want 60fps smoothness. Unlike VIRB 360, you can take dedicated 18MP photos along with extracting them from frames. The battery lasts longer as well, 70 minutes, even if you're shooting in 5.2K.
Over-capture is Fusion's best feature. Turning it on records a 360-degree video but crops that to fit a 16:9 screen. The kicker is that you can use the GoPro app or Fusion Studio to create a video that focuses on any part of the scene. For example, you can set the fusion up to capture a coral reef and then pan or zoom in and follow a school of fish that's passing by. Over-capture records everything around you so that you don't miss the perfect moment.
What's Bad About It?
Editing footage on Fusion's companion apps is slow. You could have a brand new phone or gaming PC and would still need to wait hours for the software to stitch together and produce a 5.2K 360-degree video. As if that wasn't bad enough, the Wi-Fi is unreliable and causes constant disconnects from the app.
Tech Specs
Dimensions: 1.6 x 2.6 x 2.9 in.
Weight: 8 oz.
Waterproof depth: 16 feet
Photo resolution: 18MP
Video Resolution: 5.2K 30fps
Battery life: 70 minutes
The Pros
Easy to handle on land and underwater
Great value for the money
Over-capture feature
Superb video stabilization
The Cons
Slow rendering times
Unstable Wi-Fi
3. GoPro MAX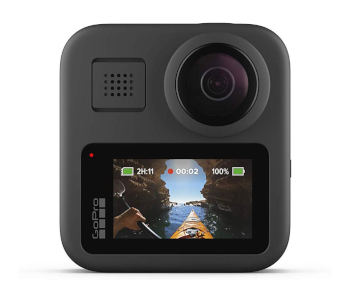 View on Amazon
Editor's Rating: 4.6/5
Fusion was a step in the right direction for GoPro, but it's with MAX that the company finally hits its stride when 360 cameras are concerned. The newer model is superior to the old in almost every way – it has a higher resolution, supports more video &photo modes, and its editing software is more functional than ever. MAX takes everything great about the GoPro HERO experience and enhances it with a 360-degree outlook.
Overview of Features
MAX retains the GoPro aesthetic, but its design differs from Fusion's. It's large for a 360 camera, partially because there's a 1.6-inch touchscreen that acts as the viewfinder. Other outward features like the two-button operation, a separate info screen, and a rubberized exterior remain the same. Waterproofing is an aspect that hasn't been improved either as MAX works flawlessly down to 16 feet. On the other hand, the battery is now much beefier and can keep the camera recording for close to two hours.
There are many similarities between MAX and the eighth version of GoPro's HERO action camera. It takes advantage of HyperSmooth, GoPro's signature stabilization, to deliver smooth footage even if your hands are shaking. Smoothness is further enhanced by horizon leveling, which keeps the shot parallel to the horizon regardless of movement. MAX can now shoot time-lapses and record wide-angle videos in SuperView.
Both photos and videos can take advantage of new special features. For videos, MAX has the aforementioned SuperView mode. It extends the maximum viewing angle of HERO cameras by 26 degrees, giving you a broad overview that still looks good on conventional phone screens or monitors. Photos can now be taken in a new panorama mode that covers 270 degrees. That means you don't have to pan the camera awkwardly but get a seamless panorama shot with a single button press!
We love how MAX stitches videos together automatically without having to connect to a computer or phone. This makes your workflow much faster once it's time to edit. You can do so on your phone in a limited way or jump over to GoPro Studio and fiddle with a more advanced version of over-capture. We particularly enjoyed working with the app since using it as a remote control or setting up a live stream to Facebook is quick and simple.
Are There Drawbacks?
MAX isn't a camera suitable for filming at night or in dark underwater areas. Less light leads to worse image quality and hurts HyperSmooth's ability to stabilize the shot. There's some stitching in the top and bottom central parts of videos and photos. It's less noticeable if you're shooting remotely with a smartphone but may look weird if you're using a selfie stick.
Tech Specs
Dimensions: 2.5 x 2.7 x 1 in.
Weight: 4.4 oz.
Waterproof depth: 16 feet
Photo resolution: 16.6MP in 360 mode, 5.1MP in Hero mode
Video Resolution: 5.6K 30fps in 360 mode, 1440p 60fps in Hero mode
Battery life: 110 minutes
The Pros
Improved performance over GoPro Fusion
Has touchscreen
SuperWide and Pano modes
Can create time-lapses
The Cons
Noticeable stitching in specific situations
Poor low-light performance
4. MADV XiaoMi Madventure 360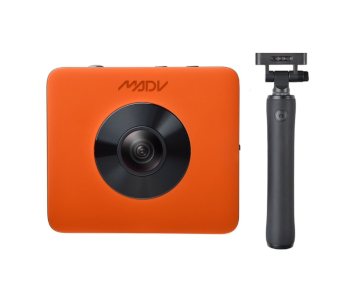 View on Amazon
Editor's Rating: 4.3/5
Are you searching for a reasonably-priced alternative to GoPro's Fusion that fits better inside your pocket? Look no further than the Madventure 360. This bright, thin camera takes superb 360-degree photos and produces videos of decent quality. Better yet, it features a host of editing options that help bring out the best in your content.
Overview of Features
Madventure 360 is a bright orange camera that looks like a thick tile. Its two lenses protrude slightly from the sides, but the camera has a lean profile overall and can be easily pocketed when not in use. There are buttons for regulating power and Wi-Fi, as well as taking pictures on its top face. The bottom is home to a tripod mount along with ports for an SD card and battery charger. Madv doesn't give you as many accessories as some other manufacturers, but those that you do get a – tripod and an extendable selfie stick – are useful.
The camera has an IP rating of 67. That means it's impervious to dust and can be submerged in 3 feet of water for half an hour and still work fine. While you won't be taking the Madventure 360 scuba diving, you don't have to worry about splashing on the beach or river rapids. The battery lasts for 75 minutes of 4K recording, 90 if you turn the Wi-Fi off. It takes as long to recharge fully.
Madventure 360 excels at taking 360-degree photos. Its two lenses have a combined resolution of 24MP, enough to produce spherical images of good quality and depth. Moreover, the app presents you with several advanced adjustment options. These include ISO levels, EV compensation, and white balance. Tinkering with them will drastically improve the vibrancy and fidelity of your photos and isn't hard to master.
What We Didn't Like
This camera's maximum video resolution is 4K. While that's plenty for regular videos, 4K stretched out across a sphere results in soft footage with noticeable detail loss. The problem is exacerbated due to the camera's low dynamic range. It has trouble in contrasting scenes that may appear washed out or have chromatic aberration in areas where light and darkness meet.
Tech Specs
Dimensions: 3.1 x 1 x 2.7 in.
Weight: 3.8 oz.
Waterproof depth: 3 feet
Photo resolution: 24MP
Video Resolution: 4K 30fps
Battery life: 75 minutes
The Pros
Slim design ideal for pockets
Great image quality
Extensive image adjustment options
Long-lasting battery
The Cons
Low max resolution given its price
Low dynamic range
5. Xiaomi Mi Sphere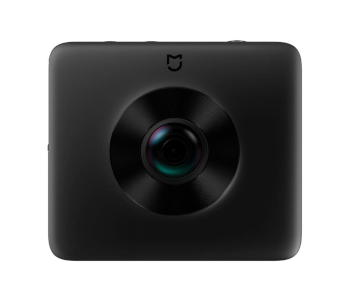 View on Amazon
Editor's Rating: 4/5
Mi Sphere is another 360 camera from Xiaomi, this time sold under the company's popular Mi brand. While it shares many features with the Madventure 360, this camera has a few tricks up its sleeve that may convince you to pick it up instead. The best argument to do so is its attractive price, but features like in-depth photo customization and good low-light performance are impressive as well.
Overview of Features
Design-wise, Mi Sphere looks almost identical to the Madventure 360. The most prominent differences are its black plastic casing and an even smaller width. Apart from making it easy to store the camera even in women's jeans pocket, a slim profile means that the lenses are close. That makes it easier for the camera to merge their outputs and results in almost invisible stitching.
The Mi Sphere is another photo-centric 360 camera. Its 24MP resolution produces clean and detailed photos that put more expensive competitors to shame. You can shoot JPEGs if you're in a hurry, but RAW is also supported thanks to a series of firmware updates. Taking RAW images captures much more data and lets you bring out the best in them during editing.
You may further enhance photo appearance with bracketing and an array of in-app adjustment options. Turning bracketing on makes the camera take a succession of three photos, each with a different exposure. That allows you to combine them in a separate program and achieve an HDR-like effect. The adjustment options are similar to those found on the Madventure 360, so ISO, exposure, shutter speed, and white balance.
Videos shot with the Mi Sphere have a resolution of 4K at 30 frames per second. We've already discussed 4K's limitations in the context of 360-degree videos, and it applies here as well. However, the dynamic range isn't as low, and the camera performs well in low light, considering its price.
What's Bad About It?
You'd think that the Mi Sphere should be higher up based on our review. It would have been, were it not for its overheating problem. You can expect 10-15 minutes of continuous recording before the camera needs to cool down unless you're shooting in cold conditions. This is another model with connectivity issues. Its app frequently reports Wi-Fi connection loss, which is frustrating since there's no other way of framing the shot.
Tech Specs
Dimensions: 3 x 0.5 x 2.7 in.
Weight: 6.7 oz.
Waterproof depth: 3 feet
Photo resolution: 24MP
Video Resolution: 4K 30fps
Battery life: 60 minutes
The Pros
Excellent portability
Good low-light performance
Host of advanced photo editing options
Continuously updated with new features and fixes
The Cons
Runs very hot when shooting for extended periods
Suffers from connection issues
6. Best Budget Option – 360Fly 4K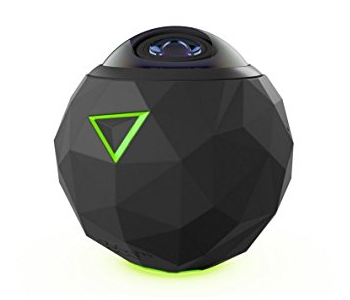 View on Amazon
Editor's Rating: 4.2/5
All the 360 cameras we've talked about so far produce spherical footage by combining the output of two lenses. The 360Fly 4K is different; it uses a single lens with a 360-degree view to make videos and photos that require no stitching. The camera can shoot from a POV mode akin to a traditional action cam, comes with a fantastic editing app, and is both fun & easy to use.
Overview of Features
360Fly 4K is the easiest camera to recognize because of its distinct round shape. Even though it has more in common with a soccer ball than other 360 models appearance-wise, the camera is still fun to use and easy to hold thanks to a cool-looking triangle texture. Using its physical controls is intuitive too; there's only one button and a triangular light that changes color when recording is on and blinks if the battery is getting low.
The accessories you get with this camera are basic. There's a carrying case and a converter that makes it compatible with GoPro add-ons. Its magnetic charging base is the standout. The base features magnets set up in a circular pattern. Placing the 360Fly 4K on it locks the camera in place and starts charging automatically. The underside of the camera has a tripod mount, but you'll also want to invest in a selfie stick since holding it in your hand will result in visible fingers.
We love how the 360Fly 4k comes to life in lots of different ways. Pressing its button is most straightforward, but you could also use the app. Better yet, there's a setting that makes It respond to noise and a built-In motion sensor you can activate to turn the 360Fly 4K into a surveillance device.
The 360Fly companion app is among the best we've tested. It starts by explaining how to connect the 4K to your phone through Bluetooth and Wi-Fi. It then offers you a choice of shooting modes and diverse editing options. Videos are shot either in 360 or a first-person mode that scales the resolution down to 1080p but produces decent action cam footage. Photos are taken either individually or in bursts. There's also a time-lapse mode with variable speed settings.
Editing footage is simple thanks to the app and an accompanying desktop program called 360Fly Director. The app is surprisingly robust as far as editing goes. It lets you trim videos, add filters & music, and play with the payback settings for parts of your video. Director takes things a step further by adding the ability to merge multiple videos. Watch Me is another of its noteworthy features. It works similarly to Garmin's Hyperframe and produces a 16:9 video that you put together from 360-degree footage.
Are There Drawbacks?
The 4K in this camera's name is misleading. It shoots in 2,880×2,880 rather than a standard 4K resolution. The reduced resolution makes for mediocre image quality made worse by pronounced chromatic aberration. The single-lens approach means the lower part of the image is taken up by the 360Fly 4K's body. While less irritating than total darkness, this still looks worse that footage stitched together from two cameras.
Tech Specs
Dimensions: 2.4 x 2.4 x 2.4 in.
Weight: 6 oz.
Waterproof depth: 33 feet
Photo resolution: 16MP
Video Resolution: 2,880×2,880 30fps
Battery life: 60 minutes
The Pros
Single-lens design eliminates stitching
Excellent companion software
Goes down as deep as VIRB 360
Lots of editing options
The Cons
Mediocre video quality with visible purpling in high-contrast areas
Bottom segment of footage is taken up by the camera.