6 Best Waterproof Cameras in 2020
3D Insider is ad supported and earns money from clicks, commissions from sales, and other ways.
Smartphones might have overshadowed the lower end of the consumer camera market, but they're still inferior when it comes to taking pictures in harsh conditions. You wouldn't want to expose one to spray & sand on the beach, and dunking it in water to snap photos of the wildlife within isn't a possibility either. That's where specialized cameras are still a better solution.
Cameras designed to be completely waterproof fall under either the compact or action cam category as these are the two types best suited for underwater exploration. They're built to much more exacting standards than ordinary cameras since they have to withstand the elements and the mounting pressure being deep underwater comes with. Superior weather sealing doesn't need to have a massive impact on image & video quality, though.
Our guide covers the six best waterproof cameras you can get today. Some of them focus on delivering an all-around solid performance while others excel at video. Whichever you choose, your aquatic adventures are sure to become even more exhilarating.
Budget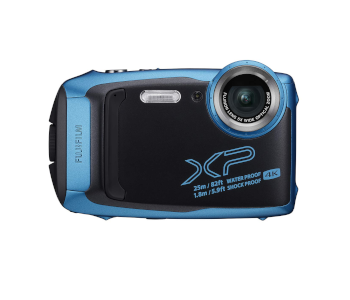 Fujifilm FinePix XP140
4.2/5.0
Type; Compact camera
Waterproof to: 82'
This can go deeper than more expensive models.
Check Amazon
Best Value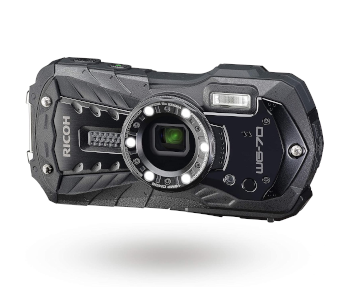 Ricoh WG-70
4.4/5.0
Type; Compact camera
Waterproof to: 45'
Has a decent low-light performance.
Check Amazon
Top Pick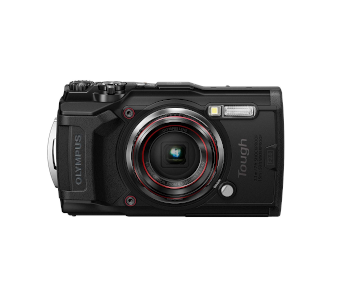 Olympus Tough TG-6
4.7/5.0
Type; Compact camera
Waterproof to: 45'
Fast lens makes it a good performer in low light.
Check Amazon
Waterproof Cameras Comparison Table
1. Best Overall – Olympus Tough TG-6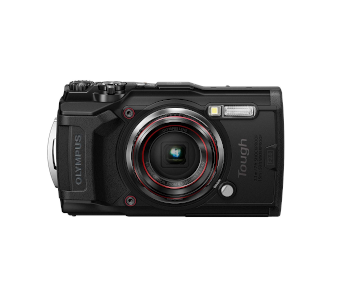 View on Amazon
Editor's Rating: 4.7/5
The sixth camera from the Tough line by Olympus has everything you want for a seamless underwater shooting experience and much, much more. It's among the best-protected waterproof cameras, has a host of additional sensors that enrich your images with useful data, and a long-lasting battery to boot. It's also a more capable camera than most rivals, sporting RAW capture, a bright stabilized lens, and optical zoom perfect for macro shots.
Overview of Features
One look at the TG-6 is enough to convince you of its ruggedness. The weather sealing is extensive, and both the I/O and battery compartments feature double locks that prevent accidental opening. You can dunk the TG-6 in 45 feet of water, drop it from 6 feet, or leave it out in the dust without fear of it affecting its internal components.
The TG-6's underwater features are extensive and impressive. Having the right white balance is crucial to aquatic photos, and the TG-6 offers three levels that compensate for your current depth. Its close focusing distance s just 1cm. Combine that with ordinary and underwater microscope modes, and you've got a camera capable of delivering stunning close-up images of a seabed, corals, and slower fish.
The camera is equally comfortable on land and in water. It has a compass, GPS, altimeter, thermometer, and pressure gauge. You may add readings form all of them to an image's metadata and create maps complete with routes and precise locations for each photo. Leaving location tracking on drains the battery, which can take a respectable 340 shots otherwise.
Olympus opted to stick with a modest 12MP sensor. You won't notice the lack of pixels on social posts much, and you get a lens with a max aperture of f/2.0 in compensation. The bright lens is a tradeoff we'd happily accept as it lets you snap pictures that are bright enough even in deeper waters without having to resort to altering the ISO or shutter speed.
The TG-6 supports 4K at 30fps. Video quality is OK and benefits from the lens's built-in stabilization for more fluid results. You can record audio and use wind reduction, or drop the resolution to 1080p and record silent slow-motion clips at 120fps.
What We Didn't Like
The TG-6 is a camera intended for a broad audience, but its convoluted menu system isn't suitable for less experienced users. Simultaneously, it lacks some features pros depend on, like being able to use EV compensation in all of its modes. Be sure to buy a screen protector as soon as you get the camera as the LCD isn't as rugged as the rest of it and will scratch easily.
Tech Specs
Dimensions: 4.4 x 2.6 x 1.3"
Weight: 8.9 oz
Type: Compact camera
Waterproof to: 45'
Sensor: 1/2.3″ CMOS
Burst: 20fps
Battery capacity: 340 shots
ISO range: 100 – 12,800
Max still resolution: 12 MP
Max video resolution: 4K, 30fps
Pros
Exceptional build quality and sensor array
Abundance of underwater shooting modes, including macro
Fast lens makes it a good performer in low light
Can shoot 4K
Cons
Menu system is confusing for newbies
Screen scratches easily
2. Best Value – Ricoh WG-70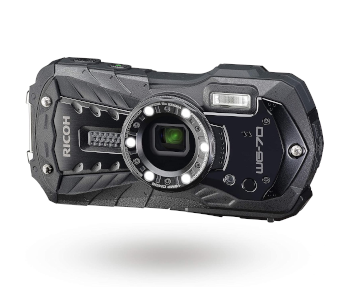 View on Amazon
Editor's Rating: 4.4/5
Do you want a camera as waterproof as the TG-6 but care more about photo resolution than video? The Ricoh WG-70 comes from a long line of heavy-duty underwater cameras and fits these requirements perfectly. Its 16MP sensor is good enough for producing small-format, quality prints, and the camera's build ensures it will stay safe & dry even if you accidentally mishandle it.
Overview of Features
The WG-70 is definitely the most polarizing camera on review when it comes to aesthetics. You'll either love or hate its jagged industrial look. Whatever your sentiments, it's design is functional, especially the narrowing in the middle that makes gripping the WG-70 and using it one-handed easy. Its max depth is 45 feet, just as the TG-6's, and the camera can withstand temperatures well below freezing while being dust and shockproof.
Its physical interface is sparse and easy to get to grips with, especially the on/off and shutter buttons on top. The four-directional pad makes navigating the menus and switching settings easy, and a green button underneath h it can be customized to access frequently-used adjustments quickly. The 2.7-inch LCD isn't the sharpest, but it has an outdoor mode that makes it bright enough to view during sunny weather.
The WG-70 continues Ricoh's tradition of putting a ring light around their waterproof cameras. It's invaluable when you're in dark conditions and want to get an adequately lit close-up of a sea anemone or other such creature. You may choose between regular macro and microscope modes, the difference being that the former has a minimum focusing distance of 10cm while the latter brings that down to one.
You'll get the most out of your WG-70 when shooting in Program Auto mode, where you can manually adjust the ISO and exposure compensation. Its lens is a 24-140mm equivalent with a max aperture that goes from f/3.5 to f/5.5. While it doesn't let in as much light as the TG-6, you can use the WG-70 for low-light shots and get acceptable results at ISO 1,600 or less.
What's Bad About It?
The WG-70 has seen few improvements over its predecessors. A single scene mode is the only thing that's entirely new, while 1080p video and a lack of sensors continue to make the camera less competitive for videographers and nature lovers. The lens is soft and prone to chromatic aberration at higher apertures.
Tech Specs
Dimensions: 4.8 x 2.4 x 1.2"
Weight: 6.8 oz
Type: Compact camera
Waterproof to: 45'
Sensor: 1/2.3″ CMOS
Burst: Not specified
Battery capacity: 300 shots
ISO range: 125 – 6,400
Max still resolution: 16 MP
Max video resolution: 1080p, 30fps
Pros
Great value for the money
Excellent build quality
Produces well-lit underwater macro shots thanks to a flash ring
Decent low-light performance
Cons
Insignificant updates from its predecessor
Lens is soft at wide apertures
3. GoPro HERO9 Black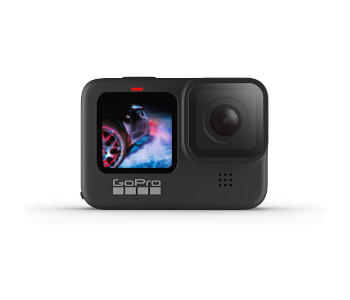 View on Amazon
Editor's Rating: 4.6/5
GoPro has been consistently releasing annual updates for the HERO section camera series for years, and the ninth camera in the series is the best one yet. It builds upon the excellent image stabilization and accessibility of the HERO8 Black and adds a second screen along with a bigger battery and 5K video. Almost everything about the camera has been updated for the better, making it a worthy upgrade if you've got the cash to spend.
Price cuts to older-generation GoPro cameras are another reason why you should celebrate the HERO9 Black's launch. Now you can get the HERO8 Black and HERO7 Black at even better prices.
Overview of Features
If you've been keeping up with GoPro cameras, you'll notice that the HERO9 Black is larger than the last four models. That's mostly due to the inclusion of a second, fully capable screen in the front. It's a welcome upgrade and an essential feature for vloggers who want to frame their shots or take selfies. You can set the screen to display battery and mode information like on previous models or turn it of altogether.
Changes in size didn't have an impact on the HERO9 Black's waterproofing. You can still use it safely in 33 feet of water or less. Its buttons protrude out more, though, making them easier to operate underwater or when wearing gloves. The rear screen is slightly bigger now and has better visibility during sunny weather.
It's been a while since a HERO has received a resolution bump, We're happy to report that the HERO9 Black now supports 5K at 30fps. 4K at 60fps is now the sweet spot between performance and quality, as the max setting takes up a lot of SD card space. The already excellent image stabilization has been improved even more with the introduction of HyperSmooth 3.0. It works on all resolution and applies digital stabilization no other manufacturer can recreate.
The HERO9 Black is a capable camera for photographers this time around. It can capture 20MP stills, has several focal ranges, including a fixed 27mm equivalent, and it can take one-time bursts of 25fps. Best of all, you can pause videos at any time and extract 14.5 MP stills. You may then transfer them from the memory card or share them wirelessly through GoPro's intuitive app.
GoPro has finally upgraded the HERO9 Black's battery life! It now lasts 30% longer, letting you capture close to two hours of video at the highest quality before running dry.
Are There Drawbacks?
The HERO9 Black is expensive without offering important waterproofing-related updates over older models. We'd suggest getting the HERO8 Black at a discount if you want an action camera and aren't interested in the newer model's advanced features or activities not related to water. The touchscreen is larger but has a noticeable delay when executing commands.
Tech Specs
Dimensions: 2.8 x 2.2 x 1.3"
Weight: 5.6 oz
Type: Action cam
Waterproof to: 33'
Burst: 25fps
ISO range: 100 – 6,400
Max still resolution: 20 MP
Max video resolution: 5K, 30fps
Pros
Exceptional video quality for an action camera
Solid build quality and waterproofing
Significant improvements to photo quality and image stabilization
Better battery life
Cons
Expensive
Laggy touchscreen
4. Nikon W300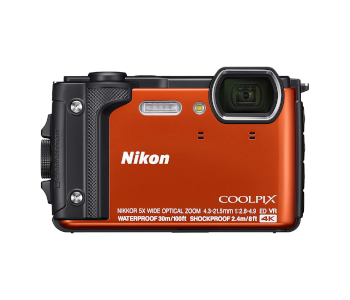 View on Amazon
Editor's Rating: 4.6/5
The W300 is the TG-6's closest competitor in the waterproof compact camera segment and a worthy alternative with a few minor shortcomings. It's better equipped to handle the sea's depths and produces sharper images with a greater resolution. It doesn't perform as well as our winner in low light, though, and a single dedicated underwater shooting mode makes it less versatile under sea level.
Overview of Features
The W300 looks like a hybrid between a compact and an action camera with its lens positioned to the left. However, that configuration leaves room for a more substantial grip and makes grasping the camera more comfortable. It's even more rugged than the TG-6; expect the W300 to withstand depths of 100 feet and drops from eight, not to mention freeze and dust protection.
Looking at the W300's back reveals a busy right side filled with controls. These include a zoom rocker, a directional pad, and four dedicated buttons for playback, menu, delete, and mode selection. The W300 also has several buttons. One turns the flash into a flashlight while the other is called Action Control and lets you select five frequently used controls by shaking or tapping the camera.
Picture quality on the W300 is excellent for such a small sensor. JPEGs shot with the best settings are crisp and retain lots of detail, so you can switch from recording marine life to snapping pictures of intricate dock buildings. It's a solid performer when you need to track pets or people if you turn continuous autofocus on. Lastly, a burst speed of 7.5fps coupled with image stabilization lets you capture clear photos of moving subjects.
The W300 has a lot to offer video shooters as well. Its Vibration Reduction system works in movie mode, letting you record smooth footage without camera shake. Its max resolution is 4K UHD at 30fps, or you can drop it to 1080p to double the fps count. Slow-motion and time-lapse are also supported. You'll have to bring the resolution down to 640×480 or 720p to use the former.
An abundance of sensors and connectivity options is another reason to like the W300. It has GPS, a barometer useful for gauging depth, and an electronic compass. You can embed GPS and sensor data onto images and share them wirelessly either through Wi-Fi or Bluetooth. SnapBridge comes in handy for the latter as it automates photo transfer to your phone.
What We Didn't Like
Experienced users will be disappointed with the W300's lack of advanced settings and a full manual mode. The battery is rated for 280 shots and drains fast if you turn the GPS on or start recording movies.
Tech Specs
Dimensions: 4.4 x 2.6 x 1.1"
Weight: 8.1 oz
Type: Compact camera
Waterproof to: 100'
Sensor: 1/2.3″ CMOS
Burst: 7.5fps
Battery capacity: 280 shots
ISO range: 125 – 1,600
Max still resolution: 16 MP
Max video resolution: 4K, 30fps
Pros
Outstanding build quality
Excellent picture quality and subject tracking
Lots of sensors
Wireless image transfer Is easy to use
Cons
Short battery life
No manual settings
5. DJI Osmo Action
View on Amazon
Editor's Rating: 4.4/5
The Osmo Action might be DJI's first action camera, but the practice they've had designing cameras for drones shows. It had a second screen a year and a half before the HERO9 Black came out. Its underwater performance is comparable, while the price is much more appealing. We'd pick the newest HERO over DJI's action cam if perfect stabilization is a must, but they're closely specced for underwater use otherwise.
Overview of Features
The Osmo Action adopts the standard action cam aesthetic with a light-gray housing and a prominent lens on its top right. Newer GoPro cameras have built-in mounting points, while the Osmo Action has a harness attachment that accomplishes the same. It can go three feet deeper down than a GoPro, though.
The lens captures a wide angle of view and has an interchangeable glass panel you can swap out for ND filters or polarizers on bright days. The front screen is its main physical feature. It's 1.4 inches in diameter and ideal for vlogging or selfies. You can watch how videos and photos will look on it in 16:9 mode or take advantage of its full area by switching to 4:3.
DJI incorporated an intuitive gesture system into the 2.2-inch touchscreen that spans most of the Osmo Action's back. Switching recording modes, adjusting resolution, or viewing the gallery are all done by swiping the screen in a cardinal direction. You can also connect the camera wirelessly and use the Mimo app to turn your phone into a remote screen & shutter.
The Osmo Action's video quality is on par with that of the HERO8 Black since its max resolution is 4K, 60fps. Unlike a GoPro, DJI's camera can capture both images and videos in HDR. You'll love using this feature in caverns or any other place where strong contrast ordinarily limits detail. Alternatively, you can switch to a flat profile that preserves detail and allows advanced users to recover it during post-processing.
Image stabilization on the Osmo Action is known as RockSteady and visibly helps reduce camera shake. It won't remove the wobble you get while walking like newer GoPros, but using RockSteady makes videos much less jarring. The Osmo Action also supports time-lapse videos. You can record 1080p footage at 240fps and even preserve the sound.
What's Bad About It?
The Osmo Action has a mediocre battery. It gets hot and won't last an hour if you're recording at max settings. Reducing the fps to 30 in 4K mode almost doubles the runtime, though. Turning RockSteady on introduces a slight lag on the LCD. It's not a deal-breaker, but some users might find the lag annoying.
Tech Specs
Dimensions: 1.7 x 2.6 x 1.4"
Weight: 6 oz
Type: Action cam
Waterproof to: 36'
ISO range: 100 – 3,200
Max still resolution: 12 MP
Max video resolution: 4K, 60fps
Pros
Useful front screen
Can capture HRD and flat video
Excellent time-lapse options
Intuitive menu system
Cons
Image stabilization introduces screen lag
Mediocre battery life
6. Best Budget Option – Fujifilm FinePix XP140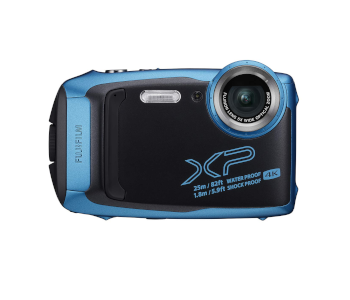 View on Amazon
Editor's Rating: 4.2/5
Our most affordable underwater suggestion is a camera from Fujifilm. The FinePix XP140 is ideal for teens, vacationing families, and anyone else who wants to take stunning shots at the bottom of the ocean without knowing much about photography. Great build quality lets the FinePix XP140 go deeper than most rivals, and an abundance of scene modes opens up endless creative possibilities.
Overview of Features
The FinePix XP140 is built for effortless one-handed use. You'll notice this everywhere, from its deep grip and dedicated thumb rest to the textured shutter button and the layout of its controls in the back. Fujifilm offers the camera in several fun color combinations. Practical buyers and parents might be best served with the bright yellow version since it's the easiest to spot whether you're on the beach or the slopes.
A 3.3-inch screen dominates the back of the FinePix XP140. It's not touch-sensitive, but it has a resolution of close to a million dots and displays images & menus with good clarity. To its right are sparse but well-organized controls. The D-pad is the highlight since its sides double as quick adjustment controls for exposure settings, a self-timer, and a mappable control of your choice.
The FinePix XP140 performs well for a compact camera with a small sensor. We were pleased with its white balance both in the water and out, and it has no trouble rendering landscapes or architectural photos with vibrant, pleasing colors. The lens has the same focal range as the W300, but don't expect the same level of detail once light conditions become complicated.
Being a Fujifilm camera, the FinePix XP140 has access to the company's famous film modes. These bring diverse color balancing effects to scenes and allow you to achieve a vintage look. You may also choose among several more outlandish filters with trippy results. Instax printer users may hook the camera up to their device and print stills directly after taking them.
Are There Drawbacks?
The FinePix XP140 is not a good fit if you're looking for an underwater video camera. It shoots 4K but only at 15fps, which looks slow and unpleasant. 1080p is available but unremarkable. Portraits of close subjects are hit and miss since the focus tends to jump between subjects and the background erratically.
Tech Specs
Dimensions: 4.3 x 2.8 x 1.1"
Weight: 7.3 oz
Type: Compact camera
Waterproof to: 82'
Sensor: 1/2.3″ CMOS
Burst: 10fps
Battery capacity: 240 shots
ISO range: 100 – 12,800
Max still resolution: 16.4 MP
Max video resolution: 4K, 15fps
Pros
Can go deeper than more expensive models
Above-average image quality considering its specs
Great layout and handling
Lots of scene and film modes to choose from
Cons
Underwhelming video performance
Has trouble focusing on nearby subjects