7 Best Waterproof Drones of 2019
3D Insider is ad supported and earns money from clicks and other ways.
What is a waterproof drone and why would you want one? And what's the difference between a waterproof and a water-resistant drone? If you know the answers to these questions then jump straight to the waterproof drone reviews. Keep reading if you don't know enough or would simply like a refresher on the reasons why waterproof drones make so much sense.
Budget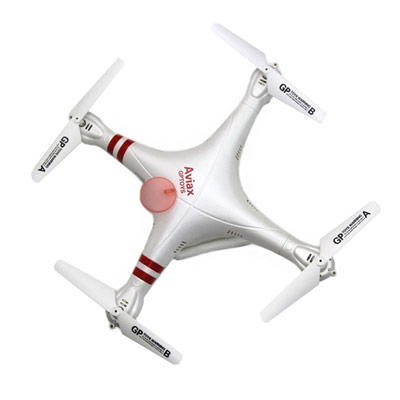 GPTOYS H2O Aviax RTF
4.2/5.0
1.6 lbs
Flight time 8-10 minutes
Can fly safely indoors and outdoors. Takes off from water.
Check Amazon
Best Value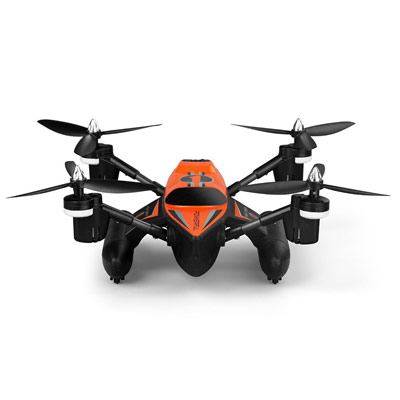 Goolsky Q353 Triphibian
4.8/5.0
11 oz
Flight time 7 minutes
Can use on land, air, and water. 100% waterproof.
Check Amazon
Top Pick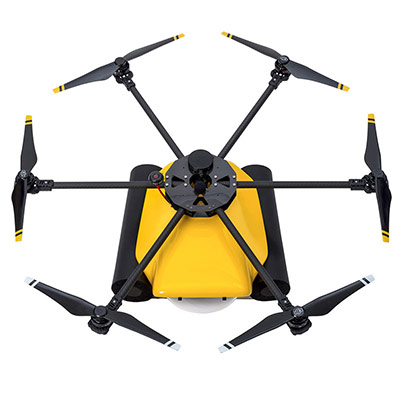 THE QUADH2O™ KIT
4.9/5.0
3.5 lbs
Flight time 8-12 minutes
Water-safe high-end drone that's easy to fly.
Check Amazon
The Real Benefits of a Waterproof Drone
Waterproof Vs Water-Resistant
About My Guide
Some of you reading here will just want to film close to water and not have to worry about getting your precious drone wet. Others will want to be more adventurous and film because of the water. This may include things like water sports, sea fishing, and other water-orientated activities. Then there are the professionals who need to film on or near water as part of their business.
I've included waterproof and water-resistant drones from each category to add balance and variety. I have not based these solely on my own thoughts. I've read users reviews and the opinions of industry experts before making this list. The reviews are quite short and easy to follow.
You won't find any unnecessary technical jargon here or long-winded explanations that major in minor points. I also list the key specs along with any pros and cons at the end of each piece.
Best Waterproof Drones Comparison Table
1. GPTOYS H2O Aviax RTF Waterproof Drone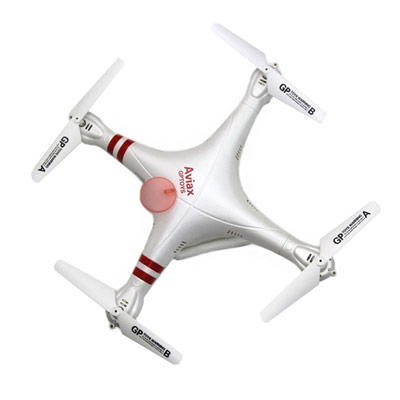 View on Amazon
Editor's Rating: 4.2/5
It's small, it's cheap, it's great fun, and it's waterproof. Let's take a look at what else the GPTOYS H2O Aviax 2.4GHz 4CH 6 Axis Gyro waterproof drone has going for it.
Best feature 1: Takes off from water's surface
Best feature 2: Suitable for indoor and outdoor flying
Plus points: Launch by hand,orientation markers, spare battery, extra props
Minus points: A little underpowered
One of the great things about this little quadcopter is that you can relaunch it if it crashes into the water. That's a lot better than having to retrieve your floating craft which may not always be possible anyway. It's a stable flyer in windy conditions too and even better with the prop guards off. Launching the drone is simple either from the ground, water, or by hand.
There is also a headless mode and orientation markers. This makes light work of knowing where the drone is and which way it's heading at any given time.
What's in the Box
Waterproof quadcopter
Transmitter
2 x 3.7 (1S) 650 mAhLiPo batteries
USB battery charger
GB memory card
SD card reader
Spare set of propellers (8 pieces total)
Landing gear
Screws and screwdriver
English language user manual
The Not So Good
There's really not much to complain about considering what you get for the money. If I had to nitpick I would have to say the craft is a little underpowered.There are no other negativesaside from that.

Tech Specs
Dimensions: 8.8 x 8.8 x 5.5″
Product Weight: 1.6 lbs. (725g)
Camera: Potential to add (not included)
Flight time: 8-10 minutes
Flight range: 100m (328 ft.)
The Pros
Excellent value quad
Takes off from water
Can fly safely indoors and out
Hand launch
Spare parts included
Headless mode
3D loops
Cruise control
2. GoolskyJJRC H31 Waterproof Drone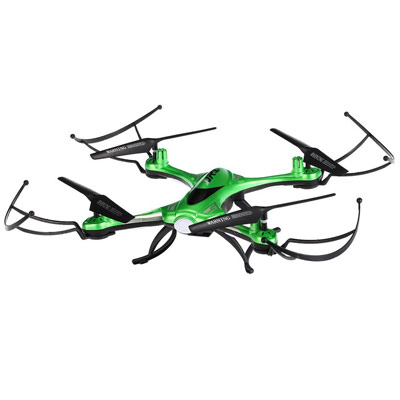 View on Amazon
Editor's Rating: 4.5/5
The GoolskyJJRC H31 waterproof drone is easy to use and great fun to fly. It's affordable too, and its sporty design is especially attractive to younger pilots. However, the title is a tad misleading.
Best feature 1: Simple to set up out of the box
Best feature 2: Easy and safe to fly
Plus points: Robust, stable flyer, impressive flips, headless mode, one-key return, affordable
Minus points: Sinks in water with motors off, exaggerated range
The initial set up of this sporty little quad is quick and easy. All you do is fix the tiny screws into place and then attach the blade protectors and landing gear—that's it. Flying the GoolskyJJRC H31 is easy but if you're a complete novice you'll still have a few crashes and collisions. The good news is it's robust and can withstand a good few bangs without breaking.
You'll get to see what a stable little flyer this is with some practice. The headless mode and one-key return functions give new pilots confidence as they learn. It's a great quadcopter for the beach and other places where there's water. However, it's more water resistant than waterproof so take heed.
What's in the Box
Here's what you get with a new GoolskyJJRC H31 waterproof drone:
JJRC H31 quadcopter
Transmitter
Extra set of props
Prop guards
Landing gear
Screwdriver
Sunglasses
12screws
English/Chinese user manual
The Not So Good
The GoolskyJJRC H31 has the word "waterproof" in its title but it's not! It's more water-resistant than waterproof. If the drone falls into the water there's a good chance it'll fill up and sink. Be sure to keep the motors running if it lands on water. This will help to keep it afloat and give you time to retrieve it. The other negative is the exaggerated range. The claim is 70m (230ft) but you can expect nearer to 30m.

Tech Specs
Dimensions: 9.3 x 13.6 x 4.5″
Product Weight: 2.2 oz. (64.1g)
Camera: Can attach (not included)
Flight time: 7 minutes
Flight range: 70m (230 ft.)
The Pros
Affordable and fun
Water-resistant
Simple to set up, easy to fly
Robust build, stable flyer
Headless mode
One-key return
The Cons
Will sink in water with motors off
Water-resistant, not waterproof
Exaggerated range
3. Braha Aqua Drone 2.4 GHz Waterproof Drone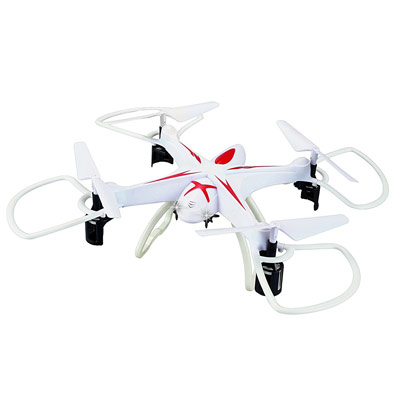 View on Amazon
Editor's Rating: 4.3/5
The Braha Aqua Drone is my third 2.4 GHz waterproof RC quadcopter. It's also an affordable craft selling for less than 50 bucks at the time of writing.
Best feature 1: Safely fly indoors and out
Best feature 2: 6-Axis Gyro Stabilization System
Plus points: Water resistant, reasonable flight time, fast charging time, stable flyer
Minus points: Very little user feedback yet
I was reluctant to add this waterproof quadcopter simply because of the lack of user feedback. Still, it does seem to check the right boxes. It's another little quad that's safe to fly indoors and outdoors. The 6-axis gyro stabilization makes it a flexible and stable flyer with precise hovering and easy control.
Water Resistance
I wouldn't expect this particular drone to stand up to full submersion for long. It's another water-resistant—not totally waterproof—quadcopter. That means it's fun and safe to fly around wet places but not onto and under water. It should be fine in wet weather conditions though.
The flight time is around 10 minutes which is quite good for a quad in its class. The battery recharging time is even more impressive at 60 minutes or less.
The Not So Good
There's not much user feedback for the Braha Aqua Drone from verified buyers yet. I included it here because of its spec sheet and because Braha is active in radio controlled products more generally.

Tech Specs
Dimensions: 20 x 3.5 x 14″
Product Weight: 1.8 lbs. (816g)
Camera: N/A
Flight time: 10 minutes
Flight range: Not specified
The Pros
Affordable drone with impressive features
Can fly indoors and outside
6 Axis Gyro Stabilization System
Water resistant
Good average flight time
Fast charging time
The Cons
No feedback yet from verified purchasers
4. Parrot Hydrofoil MiniDrone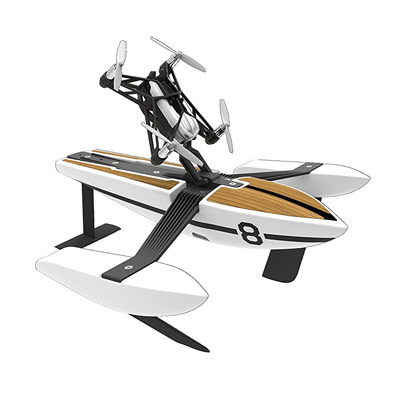 View on Amazon
Editor's Rating: 4.7/5
The Parrot Hydrofoil MiniDrone really is a fun craft that takes you on land, water, and in the air. Keep reading if being a captain as well as the pilot of your own craft intrigues you.
Best feature 1: Hydrofoil MiniDrone
Best feature 2: Embedded VGA mini camera
Plus points: Moves fast across the water, shock resistant, acrobatic flips & stunts, fast charging
Minus points: Learning curve, instructions could be better, battery life
You can cruise through the water with speeds of up to 6.5 mph as the captain. And when it's time to leave for the skies you just take over the pilot controls and away you go. If that isn't enough fun, well, this puppy even comes equipped with an inbuilt mini VGA camera. This is one of those big boys' toys so kids will have a battle on their hands trying to get the Hydrofoil MiniDrone away from dad's control.
It's as at home in the air as it is in the water but then this is two parts of the same craft. The top airspeed is somewhere in the neighborhood of 11 mph. Once airborne you can perform acrobatic stunts as with any other capable quadcopter. It's all app controlled and the app is pretty cool.
The Not So Good
There's a learning curve but it's not too bad as long as you exercise a little patience. There are a few complaints that the instructions could be clearer, especially for novice users. Also, be aware that the instructions may refer to an older app than the one you actually need to download.
The short 9-minute maximum battery life is going to put a dampener on things. My advice is to make sure you invest in at least one spare battery to extend the fun. The good news is the battery charging time is super-fast taking less than 30 minutes with a 2.6A charger (not included).

Tech Specs
Dimensions: 13.4 x 12.6 x 5.5″
Product Weight: 8.6 oz. (244g)
Camera: Embedded mini VGA
Flight time: 9 minutes
Flight range: Not specified
The Pros
Hydrofoil Mini Drone (boat and plane capabilities)
Impressive design
Embedded mini VGA camera
Durable (shock resistant)
Stunt capable
Intuitive FreeFlight 3 app
Fast charging time
The Cons
Learning curve
Instructions could be clearer
Low average battery life
5. Goolsky Q353 Triphibian 2 Air-Ground-Water Quad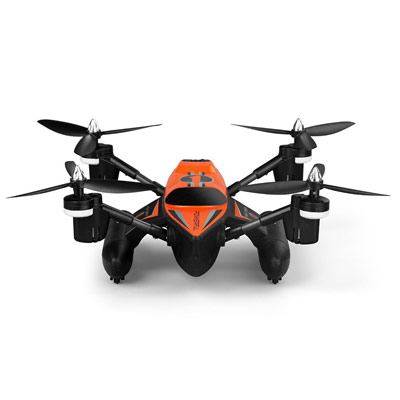 View on Amazon
Editor's Rating: 4.8/5
Meet the Goolsky Q353 Triphibian Air-Ground Water quadcopter. We're now into a new price category but it's only just over the 100 bucks mark. This is another captain/pilot drone that's heaps of fun.
Best feature 1: Air, Land & and Water capable
Best feature 2: Water recovery feature
Plus points: 100% waterproof, bright color, control range, headless mode, LED flashing lights
Minus points: Short flight time, long charging time
If you've got the money to spare then this puppy is worth every single penny. It's just so much fun you won't want it to end. Believe me, I've been there. This drone really is waterproof unlike some of the others that are only water-resistant, despite claims to the contrary. It moves like a hovercraft on the water and flies just like a quadcopter should fly in the air—stunts and all.
Crash Landing on Water
Another cool thing about this versatile quadcopter is its water-recovery feature. If it lands on the water upside down it quickly recovers and flips itself up to the right way. That's pretty neat. And the bright orange color makes it easy to spot too. The color is one of those small details that can make a big difference. It's especially handy with the 450 feet control range.
A couple of other features worth a mention include the headless mode and LED flashing lights. There's also one-key return and a hovering mode. The product arrives with a spare set of propellers, 2.4G transmitter (mode 2), a charger set, and a full English manual.
The Not So Good
The maximum flight time—in ideal conditions—is around seven minutes. That's quite disappointing but quite typical. The long 90-minute charging time is more of a disappointment though. My advice is to make sure you carry spare batteries around. The fun isn't going to last very long if you don't.

Tech Specs
Dimensions: 20.9 x 13 x 5.4″
Product Weight: 11 oz. (323g)
Camera: N/A
Flight time: 7 minutes
Flight range: 150m. (450 ft.)
The Pros
Can use on land, air, and water
100% waterproof
Water recovery (flip) feature
Bright orange color easy to see
Decent control range
Headless mode
Flashing LED lights
One-key return
The Cons
Short flight time
Fairly long recharging time
6. THE QUADH2O™ Water Safe Drone KIT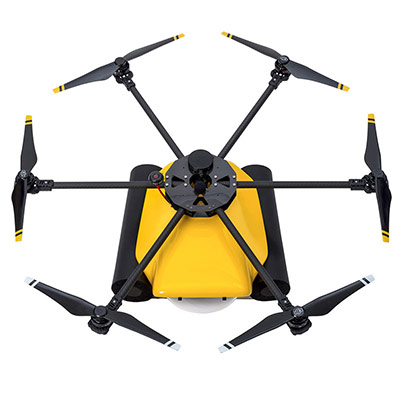 View on Site
Editor's Rating: 4.9/5
TheQUADH2O™ is quite different from everything on this page thus far. It's more expensive for one, but that's not the only difference. It's also a kit and a great project for those of you who love to build.
Best feature 1: Simple to construct, easy to fly
Best feature 2: Build your own or have experts build it for you
Plus points: Choose all your own components
Minus points: None (see end of review for details)
This is an incredible project that comes with everything the enthusiast needs to get started. It couldn't be further away from Ready-To-Fly (RTF) so skip this review if building your own drone doesn't appeal. Or, if you really want this craft, there's another option. It's also possible to let the company know what you want/need and let their experts put together a custom model for you.
What's so Special About the QUADH2O™ KIT
Drone enthusiasts get to own a high-end drone that has everything they want and nothing they don't. There needn't be any compromises, for example:
Choose your favorite motors
Choose your favorite flight controller
Choose your own FPV gear
Tweak the QuadH2O waterproof drone so it meets your precise requirements
The company recommends certain components like flight controller and motors. These are just suggestions, though, and the final choices are yours and only yours. The end result will be a high-end drone that's fast, powerful, agile, and water safe.
The Not So Good
There's nothing to report. This is because the end result is down to you. Once you decide to go with the QUADH2O™ KIT you get to check your own boxes and end up with the ultimate craft.
Tech Specs
Dimensions: W21 x H10 x L14″ (24″ diagonal)
Product Weight: 3.5 lbs. (1.6kg)
Camera: Capable but camera choice is down to the user
Flight time: 8-12 minutes
Flight range: Depends on the setup
The Pros
Water-safe high-end drone
Easy to build for enthusiasts
Build your own or have an expert assemble a custom kit on your behalf
Easy to fly
The Cons
Nothing to report. Any disadvantages are down to userspersonal choices
The tech specificationsareapproximate only. Thefinal build depends on the user'sown specs.
7. SPLASH DRONE 3 AUTO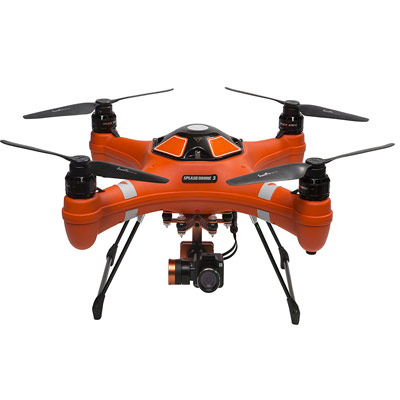 View on Amazon
Editor's Rating: 4.4/5
Looks are subjective, but the Swellpro Waterproof Splash Drone 3 is a beauty. It's also a quad with specific uses and characteristics. If it has what you want, then it's going to make your shortlist.
Best feature 1: All-weather waterproof drone
Best feature 2: Modular design
Plus points: Waterproof 4K HD camera, Durable waterproof frame & motor, all-in-one RC
Minus points: No prop guards, no obstacle avoidance, tiny access panel, gimbal
This drone is an all-weather waterproof drone. This is perhaps the world's only waterproof quadcopter than can film 4K video above and below the water. The only problem—and one that's unavoidable—is when the drone leaves the water droplets form on the lens.
The modular design makes it easy to modify and adapt to different requirements and conditions. It does have a durable waterproof frame and motor, but don't get complacent. I'd still suggest a thorough cleaning after using the quadcopter in and around salt water in particular.
The Ongoing Updates Saga
There have been some rocky reviews with the first releases of the Swellpro Waterproof Splash Drone. There have been some updates since then and further updates continue to iron out a few shortcomings. This is a fantastic waterproof HD camera drone—in theory at least. If it's within budget and fits in with your needs and expectations then definitely check out the latest version.
The Not So Good
I was really hoping there wouldn't be any disadvantages to report. Due to the complexity of this drone, it's not without a few drawbacks. The absence of prop guards is not a major setback for experienced pilots. Even so, it would have been nice to have the choice. Obstacle avoidance would definitely have been a welcome feature but it doesn't have any.
Battery life is average at best and that's a major disappointment (see specs below). A couple of other gripes include the tiny access panel and the unimpressive gimbal response.
The concept is amazing, and the drone and its transmitter are awesome-looking pieces of kit. But this is not a cheap quadcopter. If it interests you, as it did me, check its update status before you part with any hard-earned bucks. I'd say go for it the moment SwellPRO has fixed those teething problems.

Tech Specs
Dimensions: 24 x 7 x 19″
Product Weight: 14 lbs. (6350g)
Camera: Waterproof 4K HD
Flight time: 15 minutes
Flight range: Not specified
The Pros
All-weather waterproof drone
Modular design
Waterproof 4K HD camera
Durable frame
All-in-one controller
Can film underwater
The Cons
No obstacle avoidance
No prop guards
Small access panel
Below average gimbal performance