The Best Waterproof Fitbits of 2019
Although most fitness trackers available nowadays already come with built-in water resistance, that wasn't always the case. Up until a few years ago, even the ever-popular Fitbit brand had not outfitted their fitness trackers with water resistance. If you want to track your performance while diving or doing laps in your favorite swimming pool, then a waterproof fitness tracker or a Fitbit is a necessity.
Not all waterproof Fitbits are made equal, so we came up with this list of the best options that you can choose from today. Take note that we are focusing on waterproof models or those that you can safely wear while out swimming. These models are built for more than just a slight drizzle.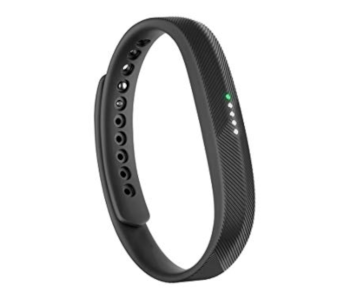 Editor's Rating: 4.6/5.0
The Flex 2 was the first fitness tracker that Fitbit released that was designed for swimming. Three years after its release, the features of the Flex 2 may seem dated, but it's still an interesting and reliable piece of technology. It has also gotten much cheaper over the years, which makes it the perfect waterproof Fitbit for people on a budget.
Another factor that keeps the Flex 2 pocket-friendly is its simplicity. It's a basic and compact wristband that can track the number of steps you take, the distance you have traveled, the calories you have burned, and the number of minutes you spent doing physical activity.
With its slender design, the Flex 2 is more discreet than most Fitbit trackers. Instead of a fully functioning touchscreen interface, the Flex 2 has a simple LED screen that flashes dots when it's time for you to move or if you receive a notification on your phone. It can also let you know how close you are to your daily goals by a series of vibrations. It does NOT have the more advanced functions found in most of the later Fitbit models, such as a heart rate monitor or a GPS tracker.
Since this article is focused on waterproof Fitbits, it bears mentioning that the Flex is waterproof up to a depth of 50 meters. It can track your swimming workouts and can be safely worn on the beach or while showering. You can also wear the Flex 2 while you sleep, as it can be used to monitor sleep quality.
Being the earliest waterproof Fitbit, the Flex 2 may lack the level of sophistication and interaction of the later Fitbit models. However, it's an excellent option for people who have a limited budget but need a waterproof fitness tracker.
Tech Specs
Battery life: 4 to 5 days
Weight: 0.83 oz.
Waterproof: up to 50 meters
The Pros
Affordable
Very discreet due to the narrow design
Can be worn as a band, bangle, or pendant
The Cons
Does not have a touchscreen display
Does not have a GPS tracker and a heart rate monitor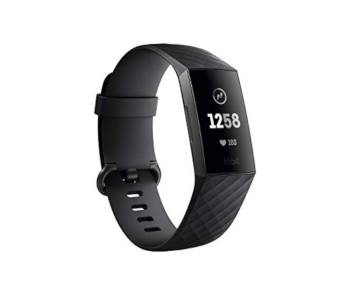 Editor's Rating: 4.8/5.0
The latest product from Fitbit, the Charge 3, is also one of their most popular ever. This is hardly surprising as the Charge 3 offers almost everything that we can ask for a fitness tracker. It comes with a larger screen compared to its predecessors but is still smaller and lighter than a regular smartwatch.
Compared to the Flex 2, the Charge 3 provides much finer controls on the device itself. It has a full touchscreen interface that can help you navigate through its many features. It also has an inductive button on the left edge, which is mostly used to wake the screen. This is a nice upgrade that will reduce the number of times that you'll have to pull out your phone to start an exercise or to track your daily fitness goals.
The Charge 3 also comes with the PurePulse heart rate monitor and an SpO2 Pulse oximeter. The additional sensors greatly help in 24/7 fitness tracking and can even act as guides for relaxation breathing exercises. Aside from outdoor running and cycling, the waterproof design of the Charge 3 makes it a good tracker for swimming. The Charge 3 still does not come with its own GPS module, and instead relies on the GPS of your phone to track movement and distance traveled while exercising.
Tech Specs
Battery life: 6 to 7 days
Weight: 1.02 oz.
Waterproof: up to 50 meters
The Pros
Very discreet due to narrow design
Has a touchscreen display
Has a heart rate monitor and oximeter
The Cons
Does not have a GPS tracker
Expensive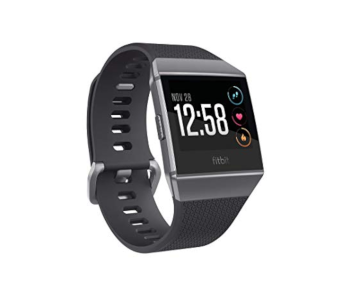 Editor's Rating: 4.4/5.0
The Ionic was Fitbit's first foray into the smartwatch market, which means it has much more features compared to their usual fitness trackers. It has not lost the tracking capabilities for which Fitbit has been known for, including calories burned, steps taken, distance, heart rate, and special tracking modules for different exercises. Since it has a larger touchscreen, you can more easily monitor the status of your goals without having to look at your phone every time.
In addition to fitness tracking, the Ionic has been equipped with full-on smartwatch capabilities. It basically acts as an extension of your phone, notifying you if there are incoming texts or emails, allows you to read them on the screen, and alerts you of calendar appointments. You can even stream music on the Ionic via Pandora or Deezer and play it through Bluetooth headphones. This means that you can listen to your favorite music while working out, even if you don't bring along your phone.
The Fitbit Charge also comes with an NFC chip that works for Fitbit Pay, a contactless payment system. Support for this system isn't as common as we'd like yet, but it's a nifty little feature that could get bigger in the next few years.
As with the other Fitbit fitness trackers, the Ionic is waterproof up to a depth of 50 meters. It has built-in exercise monitoring for swimming. It's also one of the few Fitbit products that come with a built-in GPS, which really drives home its independence from your smart phone.
If there's a major critique of the Fitbit Ionic, it's the price. At more than $200, it's the most expensive Fitbit product. The price tag of the Ionic became even more glaring when Fitbit released the Versa not long after, which is a smaller and more affordable smartwatch. Being Fitbit's first smartwatch, the Ionic also suffers from long response times – something which they improved on in the later models.
Tech Specs
Battery life: 5 days
Weight: 7.04 oz.
Waterproof: up to 50 meters
The Pros
Smartwatch capabilities
Has built-in GPS
Can stream music and can store files locally
Has NFC chip for contactless payments
The Cons
Expensive
Controls have slow response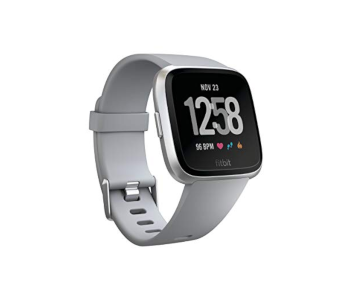 Editor's Rating: 4.6/5.0
The Versa was the second smartwatch from Fitbit. Naturally, it was an improved version of the Ionic. It's cheaper, smaller, and was dubbed by Fitbit as a "smartwatch for all." There were a few features from the Ionic that Fitbit had to omit on the Versa, most notably the built-in GPS and the NFC chip. If these aren't so important to you, then you'll appreciate how much leaner the Fitbit Versa is.
With its "Squircle" watch face, the Fitbit Versa looks much more like the Apple Watch. It's certainly more friendly-looking, although others may appreciate the more professional look of the Ionic. Liberal use of aluminum in the construction of the Versa has made it one of the most lightweight smartwatches in the market. It's also very comfortable, and you can even choose from a wide range of interchangeable straps that Fitbit offers.
As with the other Fitbit fitness trackers, the Versa comes with a variety of exercise modules that are designed to track your performance across different physical activities. You can track the number of steps you make, how many miles you have ridden on your bicycle (through your phone's GPS, of course), and even how many laps you have swum. The Versa doesn't just come with waterproofing up to 50 meters, but its touchscreen display is bright enough to be seen even underwater.
One department where the Versa suffers is in battery life. The Versa needs to be recharged every 3 or 4 days, which is a significant downgrade from the 5-day battery life of the Ionic. This can be an inconvenience, although we imagine it's one that you can get used to after a while.
Tech Specs
Battery life: 3-4 days
Weight: 5.12 oz.
Waterproof: up to 50 meters
The Pros
Cheaper than the Ionic
Lightweight and compact
Screen is bright enough even underwater
The Cons
Short battery life
Does not have built-in GPS
Does not have an NFC chip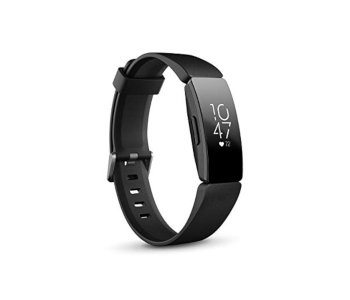 Editor's Rating: 4.5/5.0
The Fitbit Inspire HR is one of the latest fitness trackers to be released by Fitbit and also one of their most affordable. It's a return to form for Fitbit who have gone back to their fitness tracking roots after the release of the Charge 3. The Inspire HR version is the higher-end version of the latest line of fitness trackers, so it's a bit more feature-rich and expensive.
The Inspire HR is one of the best-looking fitness trackers to come out of the Fitbit brand. It's narrow and sleek, especially the black version. It's also very small and light, which is particularly important if you're wearing it while exercising. In addition to touchscreen controls, the Inspire HR has a dedicated button for waking up and going back to the home screen, much like the Charge 3. The touchscreen of the Inspire HR is still not as responsive as a smartwatch, which can be particularly frustrating when you're trying to view your performance in the middle of exercising.
As expected, the Inspire HR comes with a waterproof build. It SmartTrack feature works for swimming, as it can recognize and record the number of laps you've taken, your swimming speed, and the total distance and time of your swim.
The Inspire HR does not come with its own GPS but instead uses your phone's GPS to track the total distance you have traveled. It can be used across a wide range of activities including running and cycling and will even automatically start tracking your exercise should you forget to do it. It has sleep monitoring features and can even help you relax with a couple of guided breathing exercises. Female users will certainly appreciate the added feature of monitoring menstrual cycles.
While the Fitbit Inspire HR isn't the most feature-rich fitness tracker in the market, nor is it the most affordable, it's a solid entry to usher the next generation of fitness trackers from Fitbit. Its visual appeal is already a huge upgrade from its predecessors, while it features just gradually improve on the solid functionality of older Fitbit trackers. It was also released at a lower cost than the older products from Fitbit, and this bodes well for those looking for budget-friendly fitness trackers.
Tech Specs
Battery life: 4-5 days
Weight: 0.64 oz.
Waterproof: up to 50 meters
The Pros
Budget-friendly price tag
Sleek and professional design
Feature-rich
The Cons
Does not have built-in GPS
Touchscreen controls are slow to respond
Final thoughts
A few years ago, fitness trackers were far from common and were considered novelty items – something that only serious fitness buffs or hipster would wear. Nowadays, people are much more health-conscious, and fitness trackers help them stay aligned with their goals. The market for fitness trackers has grown by quite a lot in the past couple of years, and so have the range of product offerings.
Most of the popular fitness trackers available nowadays already come with some degree of water-resistance. For swimmers, fitness trackers with real waterproof construction are highly recommended. The fitness trackers from Fitbit that we have listed above certainly fit the bill. Not only are these fitness trackers waterproof to a depth of 50 meters, but they also come with special tracking technology for swimming. At this point, we just fully expect future releases of Fitbit to come with some swim-proof feature, so you're not likely to run out of options.