6 Best Waterproof Walkie-talkies of 2019
3D Insider is ad supported and earns money from clicks, commissions from sales, and other ways.
Would you like to stay in touch even when you're hiking in the pouring rain or chasing after your next big catch? Walkie-talkies are a cost-effective way of maintaining communication with your group, but ordinary ones weren't built to handle moisture or salt. Extreme conditions call for advanced solutions, which is why you need to go waterproof!
Waterproof walkie-talkies are built to withstand the elements. Even the most basic won't be affected by a rainstorm or snowfall. More advanced models can survive being underwater of varying depths and still let you signal for help if the worst happens. Some even float and are easy to recover without further endangering your life.
We've reviewed six of the best waterproof walkie-talkies on the market. While they all perform well, there are differences in their waterproofing levels, which non-standard features they have, and how much they cost. This review will make it easier for you to pick the ideal waterproof walkie-talkie for your next adventure.
Budget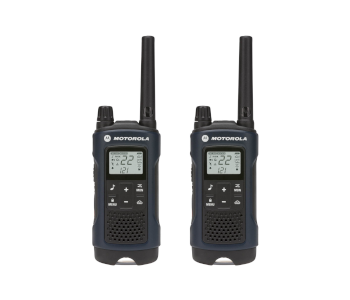 Motorola Talkabout T460
4.3/5.0
Waterproofing: 3.7
Battery: 4.5
Exceptional value for the money.
Check Amazon
Best Value
Retevis RT6 2-pack
4.5/5.0
Waterproofing: 4.4
Battery: 4.5
It has an emergency light and alarm.
Check Amazon
Top Pick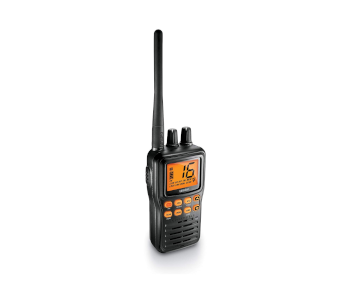 Uniden MHS75
4.7/5.0
Waterproofing: 4.8
Battery: 4.6
This can monitor four channels at once.
Check Amazon
What to Look for In a Waterproof Walkie-talkie
Weatherproofing
Power
Weather Updates
Channels & Privacy Codes
Waterproof Walkie-talkies Comparison Table
1. Best Overall – Uniden MHS75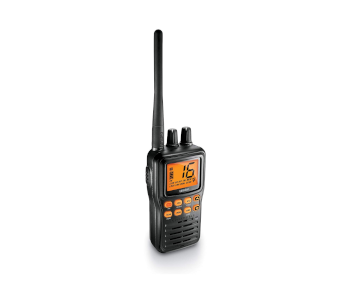 View on Amazon
Editor's Rating: 4.7/5
Being aware of any incoming storms is a matter of life and death when you're at sea. That's why you need a waterproof marine radio like Uniden's MHS75 to stay on top of the weather. Other than being a walkie-talkie with great battery life, the MHS75 can tune into Coast Guard and weather channels, receive NOAA reports, and has variable antenna strength.
Overview of Features
The MHS75 has a rugged build suitable for wet and salty climes. It has an IP rating of 8, meaning you can submerge it in 5 feet of water for half an hour and continue using it without issue. It even operates underwater! The walkie-talkie is light enough to be buoyant though, so you'll easily find it on the water's surface if you drop it. The screen, as well as its control keys, are backlit for smoother operation at night.
One of the MHS75's best features is its battery life. The Li-ion cell lasts for 12 hours with normal use. This can be extended by lowering the MHS75's wattage. There are three steps to choose from – 5, 2.5, and 1 watt of power depending on your range requirements.
Quad Watch is another essential feature which lets you monitor four channels at the same time. These include two Coast Guard channels, a weather report channel, and a direct link with another walkie user. Memorizing custom channels is also easy since the MHS75 has an automatic search function which cycles through available signal strengths and frequencies in search of stations. Once it picks up a broadcast, you are given a few seconds to memorize the frequency before it moves on.
What We Didn't Like
The MHS75 comes with a DC charger. This means you'll only be able to charge it from your car's cigarette lighter unless you spring for an AC/DC alternative. You can hang the MHS75 by its back clip. The plastic the clip is made of is rigid, however, so you'll need to be careful when applying pressure to it or else the clip will break.


Tech Specs
Dimensions: 5.9 x 3.2 x 6.1 in
Weight: 1.4 lbs.
IP rating: 87
Battery Life: 12 hours
The Pros
Excellent waterproofing
Can monitor four channels at once
Rugged appearance with easy-to-read light-up screen
Long battery life
Effective frequency memorization
The Cons
Only has DC charger
Clip is prone to breaking off
2. Best Value – Retevis RT6 2-pack
View on Amazon
Editor's Rating: 4.5/5
Why buy just one walkie-talkie when you can get a two-pack at an excellent price? The Retevis RT6 is a dustproof and waterproof walkie-talkie with useful features like an alarm and flashlight. It sports clear communication, the ability to memorize a large number of channels, and it can be submerged in 4 feet of water for 30 minutes. This is a deal you shouldn't pass up on, considering you're getting two such capable walkies for less than $80!
Overview of Features
The first thing you'll notice about the RT6 is how small and light each walkie is. This makes them ideal for groups on outdoor trips who want to communicate with each other yet want to travel as light as possible. Fishing adventures or kayaking trips are great uses too as the RT6 is rated at IP67. This means it is entirely dustproof while being able to survive your boat rolling over and immediately signal for help.
The walkie's buttons are big for its size and easy to read too. Its screen can be lit up in three different colors, so it's easier to view either at night or in direct sunlight. Retevis values our safety and has included both a flashlight and an alarm. The flashlight works in either continuous or SOS modes while the alarm is easy to access and can be heard from far away.
The RT6 uses three scanning methods to identify 99 percent of radio frequencies in the MURS and GMRS ranges. It can memorize 128 of them too! The walkie is loud and has a good-quality speaker, so the person at the other end is easy to understand. It also comes with a waterproof earpiece you screw in separately if you don't want to disturb others with radio chatter.
What's Bad About It?
The 1,800 mAh Li-ion battery the RT6 comes with lasts 10 hours. Unfortunately, some units ship with a defective battery which Retevis will be glad to replace. While the radios are straightforward to program, the visual instructions provided in the manual are of no help.


Tech Specs
Dimensions: 5.2 x 1.6 x 2.6 in
Weight: 6.4 oz.
IP rating: 67
Battery Life: 12 hours
The Pros
Dust as well as waterproof
Two walkies for an excellent price
Emergency light and alarm
Screen is visible in any lighting
The Cons
Certain sections of manual are confusing
Might arrive with defective battery
3. Midland GXT1000VP4 2-pack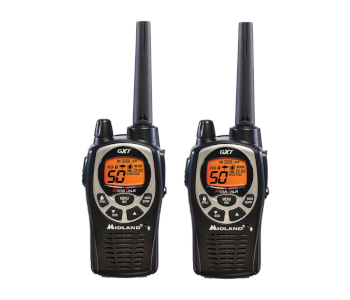 View on Amazon
Editor's Rating: 4.4/5
Walkie-talkies have a serious drawback – you need one free hand to use them. That's where the VOX feature of Midland's GXT1000VP4 comes in. With it on, you only need to start talking for the walkie to transmit your message! That's just one of the GXT1000VP4's many outstanding features. You also get whisper mode, support for 140 whisper codes, variable signal strength, and more.
Overview of Features
Midland makes robust and ergonomic walkie-talkies, and the GXT1000VP4 is no exception. These are the smallest and lightest walkies on review, yet they're both comfortable to hold and brimming with features. There are only six rubberized buttons to free up clutter. The screen features an orange backlight and a large display with great contrast, so it's easy to check at a glance or fiddle with settings.
The GXT1000VP4 is geared towards hands-free use. There's the VOX function, but also vibrating alerts and a booming speaker that's just shy of the maximum lawful loudness. You also get two pairs of earphones with solid performance. Conversely, the GXT1000VP4 has whisper mode which makes hushed speech audible, so you don't get discovered or alert your prey.
Privacy codes are another useful feature aimed at direct individual and group communication. Usually, the transmissions you send and receive are heard by anyone tuned to the same frequency. Privacy codes mute any transmission that doesn't carry an identifying code, allowing you to engage in private conversation without eavesdroppers. You can link other walkie-talkies to one of ten call sounds, so you always know who's trying to reach you.
This is another walkie-talkie with enhanced survival features. These include a maximum range of 36 miles, an SOS siren that broadcasts your distress on emergency channels, and access to NOAA weather reports.
What We Didn't Like
The GXT1000VP4 isn't as waterproof as other tested models. Its rating is JIS4, meaning that it can withstand direct splashes. This means that you'll have no trouble if the GXT1000VP4 is exposed to rain, but you shouldn't submerge it in a body of water. This is another model with a long recharge time. Its battery lasts 11 hours yet takes 12 to recharge, and a whole day when you're charging it for the first time.


Tech Specs
Dimensions: 4 x 2.4 x 1.4 in
Weight: 4.8 oz.
Waterproof rating: JIS4
rating: 67
Battery Life: 11 hours
The Pros
Great for hands-free communication
Lots of privacy codes and individual call alerts
Small and light
Lots of survival features
The Cons
Long recharge time
Won't work if submerged in water
4. TYT Upgraded MD-390 UHF DMR Digital Radio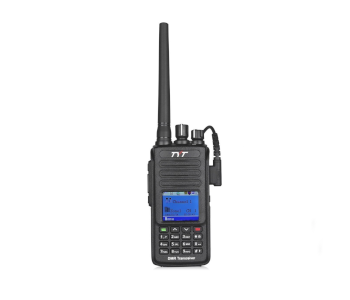 View on Amazon
Editor's Rating: 4.2/5
Do you need a waterproof walkie-talkie that also comes with advanced programming & communication options? If so, you'll be glad you spent a few bucks extra on the TYT MD-390! This small yet rugged DMR radio can take a beating or get wet, has enough memory for 1,000 channels, and is easy to program without using your PC. It is pricier and has a lesser IP rating than our overall winner, but the MD-390's other features make it a fantastic alternative.
Overview of Features
Appearance-wise, the MD-390 looks similar to Retevis' RT6. They share the same small build, a screen that has good visibility & three background colors, and the same IP rating. The MD-390 has more accessories though. You get a stubby as well as a whip antenna with it. Both screw in securely into the waterproof SMB jack you can also use with external antennas to boost the walkie's performance.
You can program the MD-390 directly using its study keys. The package contains a USB cable that lets you connect the walkie to a PC and program it from there. Doing so directly is more limited than the PC option but lets you set up everything to start using the MD-390 effectively. The walkie can store 1,000 channels and switch between digital & analog modes. Digital mode allows you to send and receive text messages too.
This is the waterproof walkie-talkie with the best audio quality we've tested! The built-in speaker is especially good at faithfully reproducing highs, meaning you'll hear everything from gruff male voices to piercing cries for help with outstanding clarity. The MD-390 is loud as well, so much so that you can easily hear it over a lively conversation or roaring rapids. The MD-390 supports multiple communication modes. It can talk to a single person, a group which has set their walkies to group mode, or to anyone listening in when tuned to the same frequency.
Are There Drawbacks?
The battery is good for 12 hours but takes ages to recharge. The MD-390 is advertised as having a GPS function. This works only some of the time and isn't a reliable replacement for a standalone GPS device.


Tech Specs
Dimensions: 5.2 x 2.4 x 1.4 in
Weight: 9.1 oz.
IP rating: 67
Battery Life: 12 hours
The Pros
Excellent audio quality and loudness
Can be programmed without PC
Supports three communication types
Works with external antennas
The Cons
Takes a long while to recharge
GPS function isn't reliable
5. BaoFeng GT-3WP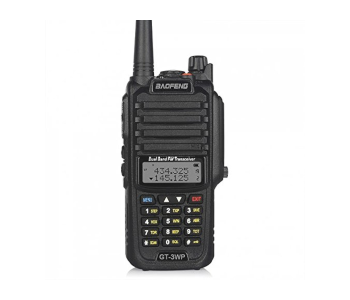 View on Amazon
Editor's Rating: 4/5
Being waterproof doesn't make a walkie-talkie resistant to wear & tear. If you expect hard trails and need a model that can take a beating, get BaoFeng's GT-3WP. This petite model is built like a tank, has a powerful antenna, and can be programmed without using a computer. It comes at an attractive price as well, so getting more than one won't leave a dent in your wallet.
Overview of Features
It's clear from the moment you see it that the GT-3WP is built to last. The walkie is heavy in hand and has a hard metal casing that won't crack if you accidentally drop it onto the pavement. Its protection extends to the volume dial and antenna base, shielding these delicate components from impact. The GT-3WP has the same IP rating as TYT's MD390, meaning it is impervious to dust and will work if submerged in water after thorough drying.
The walkie's keyboard is a combination of a standard numerical pad and two separate buttons – menu & exit. These substitute other buttons and are programmed to perform multiple actions each. This might be confusing at first, but BaoFeng supplies you with an in-depth manual which details how they're used in different situations.
Audio quality is above average and on par with models that cost twice as much. Voices sound true to life, and the microphone captures yours faithfully as well. Earphones and a microphone are part of the GT-3WP's accessory package and fit snugly as you need to screw them in to maintain waterproofing. The mic even has a push to talk option so you can keep the GT-3WP attached to your belt with the supplied clip and talk freely at the same time.
What's Bad About It?
This model uses a proprietary BaoFeng programming cable which may not be part of the package, especially if you're buying from an online store. Be sure to verify that the cable is part of the purchase or buy it separately before committing. The belt clip is of inferior quality. It is made from flimsy plastic and is prone to breaking.


Tech Specs
Dimensions: 4.3 x 2.3 x 1.3 in
Weight: 18 oz.
IP rating: 67
Battery Life: 10 hours
The Pros
Outstanding durability
Well-written and helpful manual
Dustproof
Microphone with push-to-talk feature
The Cons
Might not come with a programming cable
Flimsy belt clip
6. Best Budget Option – Motorola Talkabout T460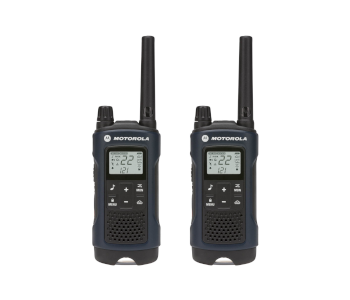 View on Amazon
Editor's Rating: 4.3/5
Last up is, without exaggeration, an incredible deal by Motorola, a two-pack of their Talkabout T460 walkies. They cost less than $35 apiece yet offer a wide array of features more expensive models lack like privacy codes, NOAA weather reports, and a flashlight. As long as you don't outright soak them in water, Motorola's walkies will be trusted companions in rain or snow.
Overview of Features
The Talkabout T460 has a minimalistic design with a good grip and an ergonomically pleasant feel. There are only six large keys used to navigate the menu system and quickly access frequently used features like NOAA reports or the volume. The antenna is fixed and can't be replaced, but it does cover a vast spread of frequencies and has a range of 30 miles under ideal conditions.
In spite of being affordable, the Talkabout T460 has some high-end features like VOX voice-activated control and privacy codes. You can set call announcements with 20 sounds to distinguish different callers. The walkie will also vibrate when contacted to alert you if you otherwise wouldn't hear it. Lastly, there's the built-in LED. While not as bright as a dedicated torch, it will help you find your way in the dark or cast light on a map for easier navigation.
The Talkabout T460 has two power sources. You can either use the included NiMH rechargeable battery or power it with 3 AA batteries instead. Charging the battery up takes 5 hours, and it lasts twice as long while a fresh set of AAs is good for 26 hours before needing replacement.
Are There Drawbacks?
These walkies have an IP rating of 54. This means they're splashproof and larger debris won't get inside them, but you'll need to be careful not to dunk them into water or the internal components may not recover. The speaker and microphone are of poor quality. The volume is low, and your voice can sound muffled to others.


Tech Specs
Dimensions: 7.5 x 2.3 x 1.4 in
Weight: 6.7 oz.
IP rating: 54
Battery Life: 10 hours
The Pros
Exceptional value for the money
Powered by either rechargeable or AA batteries
Privacy codes, vibration alerts, and VOX facilitate easy and secure communication
Has LED light
The Cons
Won't withstand dunking in water
Quiet and hard to understand for others