Instant and Free Webcam Test
3D Insider is ad supported and earns money from clicks and other ways.
Click here to test your webcam!
Welp, your webcam doesn't work…
We have the easiest way to check to see if your webcam is working properly. All that you need to do is click the red camera icon above and then allow your camera to be used when the browser prompts you. You should be able to see your face immediately after accepting.
Make sure you select "Allow" when you click the red icon. Otherwise, we won't be able to check to see if your webcam is properly functioning.
Anyone who has been to the site before and granted us permission to use the camera should instantly see it working. If you see yourself, then your camera is working. If you declined to give us permission to use your camera then you can change this setting by clicking the camera icon on the top right hand side of your browser: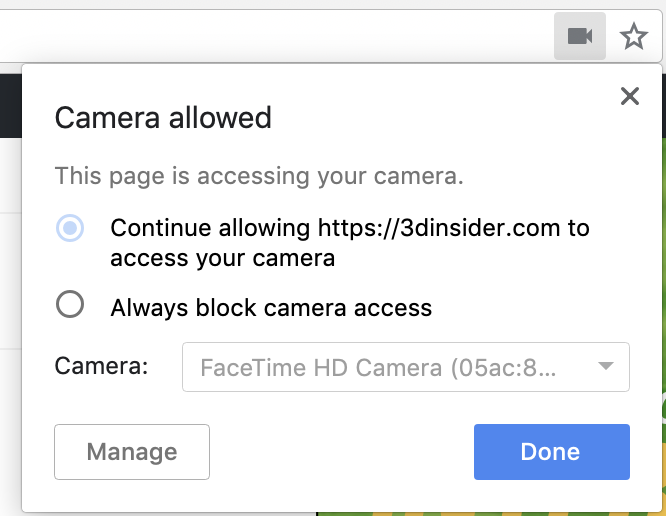 We do not store your camera feed or any audio from your computer. The code is simply run locally on your computer. This means that we never see any of your personal data.
Diagnosing Webcam Issues
If you are having a hard time getting your webcam to work then you should follow these steps to diagnose it:
Safari: Safari does not properly work with virtually every webcam test. This is because it does not support much of the code required for it to work. Please install a different browser like Firefox or Chrome to test your webcam.
Internal vs external: Is your webcam built-in to your computer or is it something that you had to purchase by yourself. If it's not built-in to your machine then make sure that it's plugged-in to your machine. You also need to check that you have installed any software that came with it for your computer to recognize it. Simply lookup the name and model number of your webcam in Google followed by "driver" to find the software necessary to use it.
Always check to see that your webcam is turned on.
If you have check to see if your webcam is plugged in, turned it on, installed the drivers, and tested it with either Firefox or Chrome and your webcam is still not working, then it's time to try it on a different computer. You slowly need to figure out what is causing the issues by testing things one-by-one. If the webcam fails on a different computer too, then it's probably time to get a new one.