Wedding Photography Equipment Guide – Everything You Need to Have
3D Insider is ad supported and earns money from clicks, commissions from sales, and other ways.
Wedding photography equipment is similar for every artist, but it's rarely the same. That's because photographers—like all artists—develop their own techniques and styles. They all carry cameras, lenses, flash lighting, and a range of accessories. But they don't all use the same equipment or shoot in the same way, and that's what makes them different.
This guide looks at the essential equipment that fills the compartments of a photographer's gadget bags. I also include examples for each category and highlight why they're popular for weddings.
Essential Gear of a Wedding Photographer
You don't need an extensive range of equipment to get started as a wedding photographer. It helps to have more choices, but you can get by with less if you choose with care. You can then invest in extra gear once your jobs start to pay for themselves.
Here's what a professional wedding photographer's kit bag looks like:
Cameras: primary camera and at least one backup
Lenses: prime lens, wide-angle, medium zoom, telephoto
Speedlight, also called a hot shoe flash or flashgun
Diffusers to soften the harshness of flash lighting
Accessories & extras, e.g., tripod or monopod, filters, memory cards, batteries, etc.
Invest in the Best
Professional photography—in all its forms—demands semi and pro-level equipment. Quality gear is a wise investment that should last for many years with proper care and maintenance. Try not to skimp if you're serious about competing in this lucrative market. There's some decent secondhand gear and refurbished cameras if the budget is tight, but always be mindful of quality.
The rest of this page looks at each of the 5 categories in turn.
#1 Cameras for Wedding Photography
Wedding photographers need cameras that have interchangeable lenses. The primary choice is either Digital-SLRs or one of the new Mirrorless options. Let's look at each of these in turn.
DSLR VS Mirrorless for Wedding Photography
I could write an entire chapter on one verses the other, but I'll avoid that for the sake of brevity. Instead, use the tables below for a side by side comparison of DSLRs and Mirrorless cameras.
Digital-SLR PROS
MIRRORLESS PROS
Huge range of available lenses
Most have a more robust construction
The larger form looks more professional
More comfortable to hold for bigger hands
Eye-level optical viewfinders (OVF)
OVF is sharper than electronic viewfinder (EVF)
OVF is easier to see in low and bright light
Better battery life or shots per charge
Closed mirror/shutter better protects the sensor when changing lenses on a DSLR
Smaller, thinner, and lighter bodies
Take less space in the camera bag
Better silent shooting
Shoot more frames per second (fps)
Wider autofocus (AF) coverage
Repairs and maintenance less complex
More cameras with in-body image stabilization
Digital-SLR CONS
MIRRORLESS CONS
Heft: larger, thicker, and heavier bodies
Take up more space in the camera bag
Silent shooting modes not as quiet as mirrorless
Shoots fewer frames per second (FPS)
Narrower autofocus (AF) coverage
Repairs and maintenance more complex
Fewer cameras with in-body image stabilization
Fewer native lens choices, but getting better
A little less rugged than DSLRs
Smaller form looks less professional
Balance issues when attaching DSLR lenses
Less comfortable to hold for larger hands
No optical viewfinder (OVF) only electronic (EVF)
EVF is not as sharp as OVF
EVF is harder to see in bright sunlight
EVF is harder to see in low-light
Shorter battery life, but getting better
Sensor exposed when changing lenses
The Closing Gap Between DSLRs and Mirrorless
Today's smaller high-end mirrorless cameras can be just as capable as their bigger DSLR counterparts. However, the low-profile form doesn't look as professional to the uninitiated consumer. You may have to educate potential clients about your mirrorless gear if photography is your job. Mirrorless camera technology gets better each year—so much so, that the differences are fast becoming blurred.
—————————————————————————————————————–
1. Nikon Z 6 Mirrorless Camera | Best Budget
View on Amazon
Editor's Rating: 4.8/5
There are good reasons to choose the mirrorless Nikon Z 6 as a wedding camera. This one comes with a NIKKOR Z 24mm-70mm f/4 S lens. Or, you can buy only the body and choose your own glass.
Nikon Z6 Camera Highlights
The Nikon Z6 has a BSI CMOS 24.5MP FX-Format sensor. It also has an eye-level electronic viewfinder, a large 3.2" articulating LCD touchscreen, and a flash shoe. Its vibration reduction technology offers 5-stop stabilization with any lens using the FTZ Adapter (optional). Another useful feature is the camera's top-mounted OLED display that provides quick access to camera settings.
Wedding photographers need rugged equipment, and the Z 6 here doesn't disappoint. It boasts a weather-resistant magnesium-alloy build that's also protective against fine dust. The ergonomic design and deep grip make the Nikon Z 6 a comfortable camera to hold for extended periods. The only negative is that some users may find it a tad heavy for a mirrorless camera.
This feature-packed mirrorless camera is a superb primary or backup camera for weddings and events. The battery life isn't the best, but overall, it's an exceptional product that checks a lot of boxes.
Tech Specs
Brand Name: Nikon
Camera Type: Mirrorless
Sensor: 25MP Full-frame BSI-CMOS
Viewfinder: Built-in electronic type
Video Resolution: 4K
Max Shutter Speed: 1/8000s
Stills: 25 megapixels
Card Storage: XQD
Battery: EN-EL15b lithium-ion
Battery Life: 330 shots
Screen: 3.2" LCD tilting touchscreen
Camera Weight: 23.81 oz.
Dimensions: 5.28 x 3.98 x 2.68"
The Pros
Affordable wedding/events camera
Rugged and weather-resistant
Comfortable ergonomic design
Dust-resistant body
Eye-level viewfinder
Top-mounted LCD panel
Flash sync port
Large tilting rear touchscreen
Built-in Wi-Fi connectivity
Fast max shutter speed
External mic/headphone ports
Time-lapse Recording
Impressive low-light ISO
AE Bracketing
Remote control via smartphone
The Cons
Low average battery life
Heavy body for its class
2. Canon EOS 5D Mark IV Full Frame DSLR | Best Value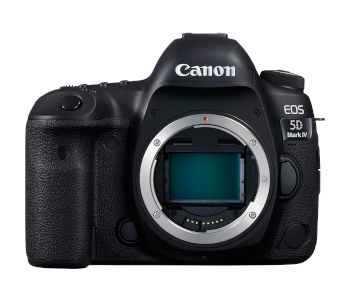 View on Amazon
Editor's Rating: 4.7/5
Canon's EOS 5D Mark IV is a pro-level Full-frame Digital-SLR and a superb wedding camera. This gentle beast can produce some incredible images when equipped with the right lenses.
Canon 5D MIV Highlights
The Canon EOS 5D Mk IV is a workhorse with a 30MP full-frame CMOS sensor. It sports a built-in eye-level viewfinder, a large, 3.2" rear LCD touchscreen, and a top LCD panel. The camera records 4K video at 30fps and even captures tack-sharp 8MP photos from 4K vids. It's an excellent outdoor camera too. That's thanks to its rugged weather-sealed and dust-resistant magnesium alloy body.
Other 5D Mark IV standout features include built-in Wi-Fi, NFC connectivity, and a flash hot shoe. The dual SD card slots are a welcome addition for wedding photographers on extended shoots. The long battery life gives around 900 shots on a single charge. A dedicated autofocus (AF) mode helps to speed things up, with quick access to regularly used options.
The negatives for this camera are its heft, no articulating screen, and no image stabilization. Still, Canon offers over 70 native lenses with Optical Image Stabilization (OIS). You can also find 80+ lenses for the 5D MIV with effective weather sealing.
Tech Specs
Brand Name: Canon
Camera Type: Digital-SLR
Sensor: 30MP Full-frame CMOS
Viewfinder: Built-in optical
Video Resolution: 4K
Stills: 30 megapixels
Card Storage: Supports UHS-I
Battery: LP-E6N lithium-Ion
Battery Life: 900 shots
Screen Type: 3.2" LCD touchscreen
Camera Weight: 31.39 oz.
Dimensions: 5.94 x 4.57 x 2.99"
The Pros
Professional-grade DSLR
Tack-sharp stills, 4K video
External mic/headphone ports
Eye-level viewfinder
Flash hot shoe
Large rear touchscreen
Top-mounted LCD panel
Dual memory card slots
Dedicated autofocus button
Weather-sealed body
Dust-resistant
Fast 1/8000s shutter speed
Built-in WiFi, NFC connectivity
Remote control via smartphone
Long battery life
The Cons
No articulating screen
No image stabilization
Heavy camera body
3. Nikon D850 FX-Format Digital-SLR | Top Pick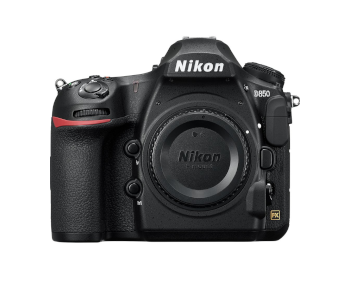 View on Amazon
Editor's Rating: 4.9/5
The Nikon D850 is a formidable FX-Format Digital-SLR for wedding photographers. It boasts a 46MP full-frame BSI-CMOS sensor, an incredible battery life, and a whole range of pro-level features.
Nikon D850 FX-Format Highlights
Nikon's D850 has its critics, but they are few in numbers. Most wedding photographers see it as the ultimate multimedia DSLR. Not only does it deliver robust stills, but it's also a highly-capable movie-making tool. Its quality is off the charts compared with other DSLRs. Nikon uses tough magnesium alloy parts in the build. It's weather and dust-resistant—perfect for working in harsh conditions.
The camera has a reasonably deep and comfortable grip covered in anti-slip material. At the rear is a large, bright, 3.2" LCD articulating touchscreen. There are also several function buttons and an eye-level optical viewfinder. Along the top are a useful LCD panel, a flash hot shoe, and various finger-tip controls. The buttons are illuminated too, which makes it easier to shoot in low light.
The price is a negative if you're just starting and want the Nikon D850. It's not overpriced, but it is expensive. The body is heavy due to its high-quality build. Lastly, it's a Nikon DSLR, so there's no sensor-based stabilization. Over 70 of Nikon's lenses offer optical stabilization, but they cost more.
Tech Specs
Brand Name: Nikon
Camera Type: Digital-SLR
Sensor: 46MP Full-frame BSI-CMOS
Viewfinder: Built-in optical
Video Resolution: 4K
Stills: 46 megapixels
Card Storage: Supports UHS-II
Battery: EN-EL15a lithium-Ion
Battery Life: 1840 shots
Screen Type: 3.2" LCD tilting touchscreen
Camera Weight: 35.80 oz.
Dimensions: 5.75 x 4.88 x 3.11"
The Pros
High-end wedding DSLR camera
Long battery life (1840 shots)
Fast, 7.0fps continuous shooting
Weather-sealed body
Dust-resistance
Built-in WiFi & NFC connectivity
Large touchscreen display
Top-mounted LCD panel
Flash hot shoe
Illuminated Buttons
Eye-level viewfinder
Time-lapse recording
Smooth, ultra-HD video
External mic/headphone ports
Dual memory card slots
Remote control via smartphone
The Cons
No image stabilization
Heavy camera body
Price
Think carefully about style and needs before you decide on any DSLR or mirrorless camera. You may also want to do comparison tests between the models on your shortlist.
2 Lenses for Wedding Photography
A brilliant camera with a substandard lens will let you down every time. Stock (brand) lenses can be expensive, and that's because they're usually exceptional. Even so, there are some remarkable third-party lenses that compete well, and usually for a lot less money. Lenses come in different sizes, focal lengths, speed (apertures), and features.
A wedding photographer's lens collection usually consists of at least 3 chunks of glass:
Prime Lens (standard to medium telephoto)
Wide angle
Medium zoom
#1 The Photographer's Prime Lens
Prime lenses have fixed focal lengths, so they don't zoom. That makes them lighter and shorter than the zoom alternatives, with faster maximum apertures ranging from f/1.2 to f/2.8. Fast lenses produce a shallower depth of field (DOF) and faster shutter speeds. They're perfect lenses for wedding portraiture as they can totally blur out busy or cluttered backgrounds.
The 50mm prime is the most affordable lens for wedding photographers on a budget. Those with have a bit more to spend may want to opt for the more versatile 85mm. Below are a few options:
50mm Prime Lens Examples
Here are 3 excellent examples of high-quality 50mm prime lenses. These products are fast, accurate, and dependable. The 50mm focal length is ideal for low-light shots and incredible bokeh.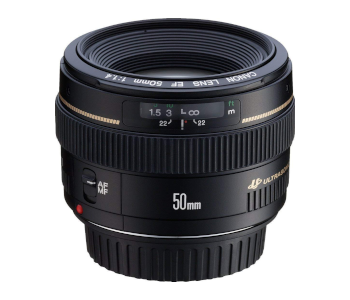 Editor's Rating: 4.7/5
Canon's EF 50mm fixed focal length lens is ideal for a wide variety of wedding shots. It has a fast f/1.4 aperture that can throw those distracting backgrounds right out of focus. It's also a superb lens for shooting in lower light conditions without the need for flash. The ultrasonic autofocus motor (USM) is buttery-smooth, quick, and has near-silent in operation. The minimum focusing distance is 17.8".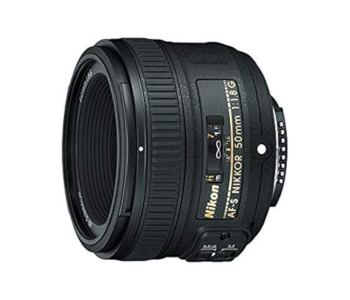 Editor's Rating: 4.9/5
The Nikon AF-S FX NIKKOR 50mm f/1.8G uses a newly developed optical arrangement. It includes the Nikon Silent Wave Motor (SWM) and an aspherical lens element. The lens has an M/A switch on the side. That lets you alternate between manual and autofocus mode with no noticeable time lag. Nikon optimized this exceptional lens with edge-to-edge sharpness for use with its FX and DX DSLRs.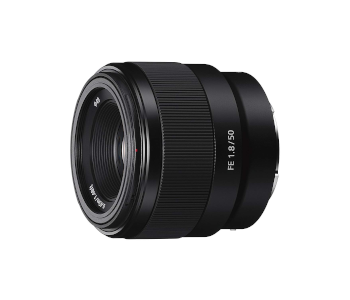 Editor's Rating: 4.6/5
Sony's FE 50mm is a fast, F1.8 standard prime lens that can produce outstanding bokeh effects. It's an ultra-compact, lightweight product that's perfect for Sony's full-frame E-mount cameras. This standard prime has something called double-gauss configuration. What that does is suppress field curvature and lens distortion. Other highlights are fast, accurate AF, and a solid metal mount.
#2 85mm Prime Lens Examples
Below are 3 examples of exceptional, fixed 85mm prime lenses. No wedding photographer should leave home without one. They're fast, lightweight, tack-sharp, and truly versatile.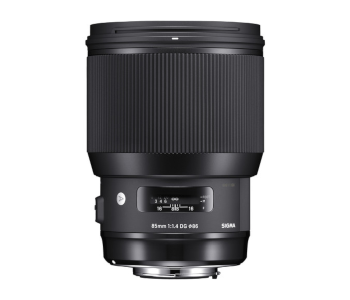 Editor's Rating: 4.5/5
Meet the Sigma 85mm f/1.4 Prime DG HSM Art, short telephoto lens. Creative wedding photographers can produce stunning artistic photos with this beauty. Its fast, f/1.4 maximum aperture makes it an ideal choice for low-light work. It can also throw backgrounds out of focus to isolate the subject. Other features are the Super Multi-Layer Coating and brass bayonet mount.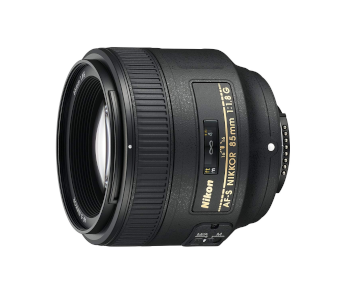 Editor's Rating: 4.9/5
Nikon designed its AF-S 85mm short-telephoto f/1.8G fixed lens for its FX and F-mount cameras. This NIKKOR lens is also compatible with DX models. The wide maximum aperture makes it a valuable tool for shooting in failing or tricky light, and for producing shallow depth of field. It sports Nikon's Silent Wave Motor (SWM) that guarantees fast, precise AF with full manual override.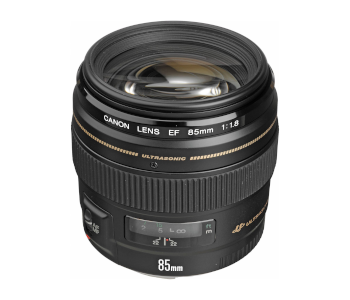 Editor's Rating: 4.8/5
The EF 85mm f/1.8 USM is a bestselling lens by Canon. It's a remarkable chunk of quality glass for the company's EF-mount DSLRs. It's also compatible with APS-C models. The fast f/1.8 aperture gives you full control over the depth of field (DOF) and more options for working in low light. It's a brilliant choice for wedding portraiture. Other highlights are the fast, precise USM motor and manual focus override.
——————————————————————————————————————-
#3 The Photographer's Wide-Angle Lens
The wide-angle lens can be invaluable for weddings and other events with lots of people. It's the only way for the photographer to capture a large group from a close range. It can be a prime lens or a wide-angle zoom, the latter being the most versatile.
Wide-Angle Examples
Below are three superb examples of wide-angle lenses. They add variety and some interesting perspectives to photos. No wedding album is complete without a handful of wide-angle shots.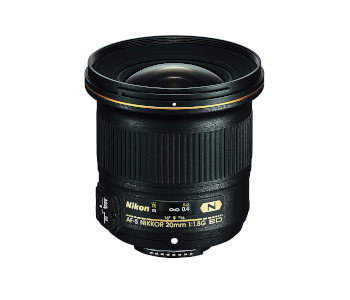 Editor's Rating: 4.7/5
Nikon's AF-S FX NIKKOR fixed 20mm f/1.8G ED is a prime example of an ultra-wide-angle lens. It's the one to pull out when you need to capture large groups or wedding architecture. The lens is compatible with Nikon's F-mount, FX-format, and DX cameras. Its bright f/1.8 maximum aperture makes it ideal for shooting in low light conditions. And the Silent Wave Motor (SWM) is quiet, fast, and accurate.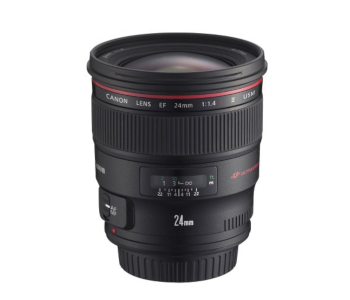 Editor's Rating: 4.6/5
The Canon EF 24mm – f/1.4L II USM wide-angle lens is another worthy addition to any gadget bag. It's a superb low-light performer in dark churches that don't allow flash, and for indoor receptions. You can use it on Canons DSLRs with EF-mounts and APS-C models. Canon's Ultrasonic Motor (USM) powers the autofocus in virtual silence. There's also manual focus override for when you need it.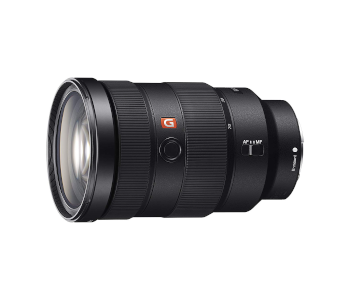 Editor's Rating: 4.5/5
Sony's FE 24mm–70mm is a workhorse for many wedding photographers. The wide-angle to short telephoto portrait range makes it a versatile choice. You can cover a lot of photos of groups and individuals, indoors, and outside with this puppy. It's constant f/2.8 aperture, and focus hold button keeps performance consistent across the range. This lens has protection from dust and moisture.
——————————————————————————————————————-
#4 The Photographer's Medium-Zoom Lens
The medium zoom lens is another valuable product for weddings and other events. It's the one that many a budding wedding photographer keeps on their camera early in their career. No zoom can compete with a fixed prime lens, but the results can be very satisfying and salable all the same.
Medium-Zoom Examples
The medium-telephoto zoom is an invaluable lens for formal wedding portraits of the happy couple. It also captures memorable shots of the bridal party more generally. The ones with the widest apertures let photographers manipulate the depth of field to keep the emphasis on the main subjects.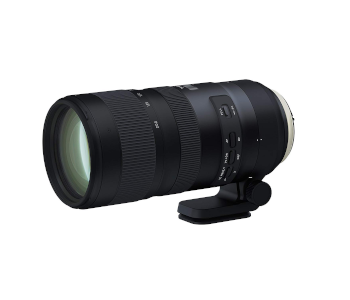 Editor's Rating: 4.7/5
Tamron's SP 70mm–200mm F/2.8 Di VC USD G2 is a superb third-party medium zoom for Canon cameras. Tamron designed it for the full-frame EF-mount, but it also works with APS-C models. The constant f/2.8 aperture makes it a superb low-light lens and a consistent performer across the range. This piece of quality glass has VC image stabilization, a USD AF motor, and weather-resistance.
Editor's Rating: 4.6/5
Meet the Nikon AF-S Nikkor 70mm–200mm f/2.8E FL ED VR Zoom Lens. It boasts cutting-edge optics and sleek design. The lens has innovative on-body controls, exceptional low-light performance, and flawless focus. It's compatible with both FX and DX image sensors. Other highlights are the constant f/2.8 maximum aperture, image stabilization, SWM, and 4 focus buttons to engage AF or AF lock.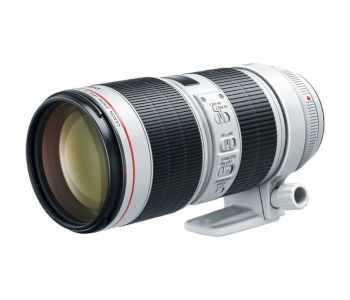 Editor's Rating: 4.9/5
The last zoom example is the weather-resistant Canon EF 70-200mm. It's the company's f/2.8L IS III USM Lens. The constant aperture ensures reliable performance throughout its range. Canon designed this versatile lens for its EF-mount DSLRs, but it's compatible with APS-C models too. It has optical image stabilization and an 8-blade rounded aperture that produces beautiful bokeh effects.
3 The Importance of Flash
Wedding photographers avoid built-in popup flash like the plague. Its light is harsh and unflattering and unlikely to sell any photos. Natural light is the way to go. But when a flash is necessary, it's better to opt for an on-camera Speedlight. Also, use the camera in manual mode for more creative control. Wedding photographers who know how to handle lighting have the most impressive portfolios.
Know Your Lighting Inside Out
Weddings are fast-moving events. Budding photographers should get plenty of off-job practice using flash. There's nothing more embarrassing or frustrating than fiddling around with the lighting. You need to know your gear inside out, how it works, and how to produce the desired results quickly.
Here are the 5 most significant advantages of flashguns over built-in pop-up types:
Off-camera lighting gives wedding photographers more control
More powerful than built-in flash; can connect multiple units
Control over the light's direction
Wide range of modifiers, e.g., snoots, soft boxes, umbrellas
Stroboscopic effects—ideal artistic effects
Your Flash Collection
Your camera bag needs to contain a versatile main flashgun and a backup just in case. You can mount it on the camera's hot shoe or use it off-camera for even more control. A quality flash unit is not cheap, but it is an essential tool of the trade. Moreover, it can pay for itself many times over, so it's a wise investment. Let's look at two worthy examples for Nikon and Canon cameras.
Nikon SB-5000 AF Speedlight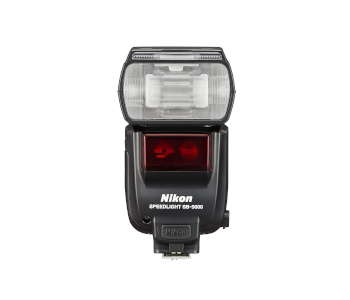 View on Amazon
Editor's Rating: 4.5/5
The Nikon SB-5000 AF Speedlight is an excellent product. It boasts exceptional through-the-lens (TTL) performance. This unit also runs cooler than most of its rivals, thanks to its advanced cooling system.
SB-5000 AF Speedlight Highlights
The effective cooling system is good for 100 successive shots. Nikon's SB-5000 AF Speedlight has a rotating head. You can choose flash angles in controlled click-stops from -7 to 90°. That's what you want when there's a need to bounce the light. The focal length covers a range from 24–200mm. The unit has manual power and can work as a slave and master unit with RF and IR.
Other highlights include wireless remote control, 98ft radio triggering, and a backlit LCD panel. Users get to customize settings. There's also an 'Info' button that gives fast access to frequently used settings. The SB-5000 AF also has flash-ready LEDs and auto color filter detection. You can update the firmware via a regular computer whenever it's due.
Tech Specs
Brand Name: Nikon
Coverage: FF 24mm to 200 mm
Mount: Hot shoe
Wireless Channels: 4
Wireless Groups: 6
Angle of Coverage: 12° to 84°
Bounce Head: -7° to +90°
Swivel Head: Full 360°
Flash Duration: 1/980 to 1/30820/sec
Recycle Time: Arox. 1.8 to 2.6/sec
Exposure Control: Manual/i-TTL
Flash Modes: Multiple
Flash Compensation: 3 to +3 EV
Wireless Operation: Radio, Optical Pulse
Battery: 4 x AA
Dimensions: 2.9 x 5.4 x 4.1"
Weight: 14.81 oz.
The Pros
Superb Speedlite for weddings
Radio control wireless Lighting
Cooling System (100 shots)
Compatible w/ Nikon i-TTL
Tilts and rotates
Control & mix
Backlit rear LCD
Customizable settings
Handy Info button
Flash-ready LEDs
Auto color filter detection
Update firmware via computer
The Cons
No built-in wireless adapter
LCD panel could be brighter
Primitive menus
Canon Speedlite 600EX-RT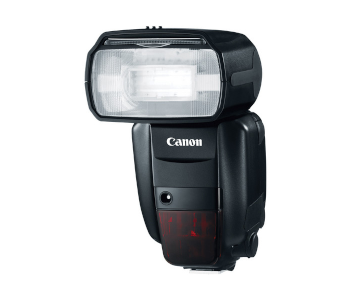 View on BH
Editor's Rating: 4.9/5
The Canon Speedlite 600EX-RT is about as good as they get. Consider this exceptional flash if you have the compatible Canon camera. It's a versatile workhorse for weddings and events.
Canon 600EX-RT Highlights
What sets the Canon Speedlite 600EX-RT apart from the competition is its built-in WiFi. That means you don't have to rely on radio triggers. And no trigger means one less piece of gear taking up valuable space in the camera bag. Not only that, but triggers need batteries and setting up, and they can fail too. These things combined make the wireless 600EX-RT worth its weight in gold.
Impressive Feature Set
Canon's Speedlite 600EX-RT has an impressive feature set. It comes equipped with 7 personal functions and 18 custom functions. It also has optical transmissions as well as radio. There are manual power settings and an auto power-off function. The flash unit transfers the color temperature data directly to your camera. This Speedlite has a retractable bounce card built-in and much more.
Tech Specs
Coverage: Full-frame
Mount: Hot shoe
Wireless Channels: 4
Wireless Groups: 5
Exp. Control: E-TTL/E-TTL II, manual
Angle of Coverage: 12° to 94°
Bounce Head: -7 to +90°
Swivel Head: 360°
Flash Duration: 1/430–1/550/sec
Recycle Time: Approx. 0.1–5.5/sec
Battery: 4 x AA
Dimensions: 3.1 x 5.6 x 4.9"
Weight: 14.99 oz.
The Pros
Dust and weather-resistant
Reliable Speedlight
Uses radio wave communication
AF assist beam
Dot-matrix LCD w/ backlit button
Filter holder for gelatin filters
18 custom functions, 7 personal
180-degree full swivel
Zoom flash head
The Cons
Quite expensive
Needs newer camera bodies to exploit all the features
4 Diffusers and Flash Modifiers for Weddings
Every wedding photographer out in the field prefers natural lighting where possible. Unfortunately, that's wishful thinking, unless you live in a highly predictable climate. But clever flash lighting and reflectors can also bring photos to life, so it's a vital skill. That can include bouncing, diffusing, and directing light. There are flash modifiers to cover all needs. Let's look at a few options.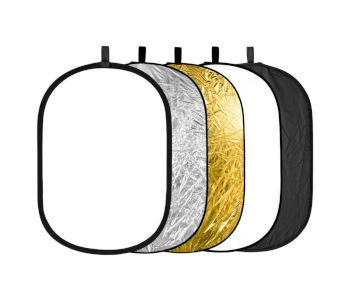 Editor's Rating: 4.7/5
The humble 24 x 36" reflector can transform an otherwise dull shot into a gorgeous portrait. This portable set from Neewer has five circular, collapsible reflectors for easy storage. You get five different types, i.e., gold, silver, black, white, and translucent. Gold adds warmth and silver helps to brighten the subject. The white directs light into the shadows, while black blocks out any unwanted light.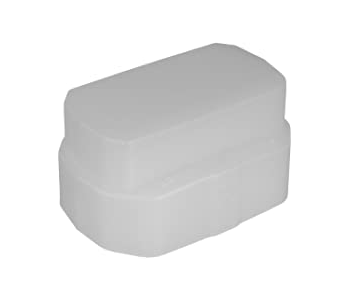 Editor's Rating: 4.5/5
The flash diffuser is an affordable yet highly effective tool that fits over flashguns. It works by softening the light and reducing shadows, reflections, and red-eye. The result is a more flattering light that produces professional looking portraits. There are several options available for the different flash units, many of which only cost 20 dollars or less.
Editor's Rating: 4.7/5
This collapsible diffuser fits effortlessly over the most popular on-camera flash heads. The light sphere only takes seconds to attach and remove. It works by diffusing the harsh light created by auxiliary flashes to produce a soft, uniform illumination. It's more expensive than the Sto-Fen Omni-Bounce above, but it's a better, more versatile product. The Lightsphere should last a lifetime with proper care.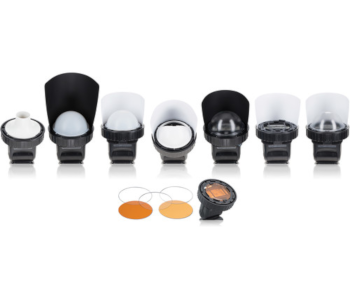 Editor's Rating: 4.8/5
This is a Modular System and a superb set of light controls for speed lights. You control it with single twists to create the desired lighting effect. You get 1 snoot, a half dome, 1 white, and 1 clear full dome. There are four bounce cards as well. They include a 6" black bounce card, 6" white, 4" black, and a 4" white. The set also has 3 clear gel disks, full CTO, and half CTO gels.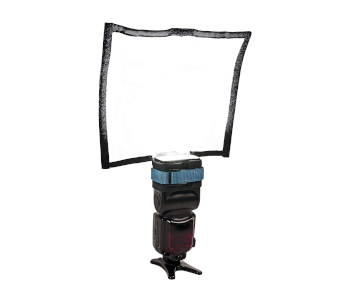 Editor's Rating: 4.5/5
The lightweight 5" x 9 ROGUERELG2 FlashBender 2 weighs only 2.2 ounces and packs flat for travel. It makes for a perfect bounce flash reflector, snoot, or gobo. The FlashBender is incredibly versatile and only takes seconds to attach to most accessory flash brands. It works with both on and off-camera flash. The great thing about this reflector is that you can shape it to manipulate light and shadows.
Wedding Photographers Accessories and Extras
The accessories you use depends on your work and photographic style. It's something you can expand on as you find your way as a competent wedding photographer. However, there are a few spares and accessories that all events photographers carry. Let's take a look.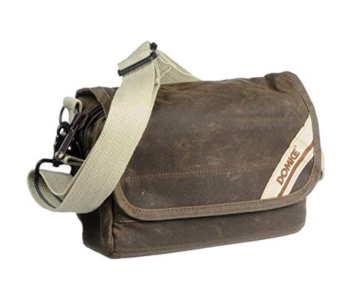 Editor's Rating: 4.7/5
Camera bags are personal, and there's no one size fits all. Wedding and outdoor photographers should invest in something rugged and waterproof, though. The F-5XB hip or shoulder camera bag by Domke is an excellent example. It has 5 pockets, generous compartments, and removable divider walls. It's made from ultra-tough, cotton canvas, and treated with wax that resists inclement weather.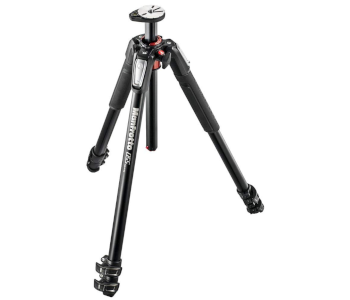 Editor's Rating: 4.6/5
Tripods come in lots of different sizes, weights, and flexibility. It's worth investing in a quality product, one that's dependable and built to last. You don't want cheap clips or fragile plastic swiveling parts to break on you in the middle of a wedding shoot. Consider the Manfrotto MT055XPRO3 or something similar. It's an outstanding multi-purpose aluminum tripod that can support weights close to 20 lbs.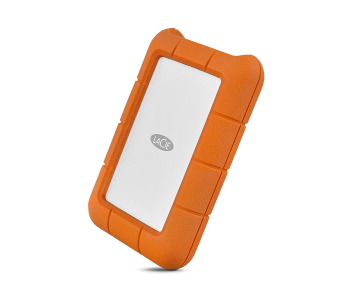 Editor's Rating: 4.4/5
Portable hard drives can be an invaluable accessory for any out-and-about photographer. You can opt for the newer SSD drives like G-Technology's durable 1TB G-DRIVE that has an IP67 rating. Many photographers still prefer something from the LaCie HDD range, like its Rugged Thunderbolt USB-C. This one is the 2TB portable HDD with the distinct orange cover. Other capacities are available.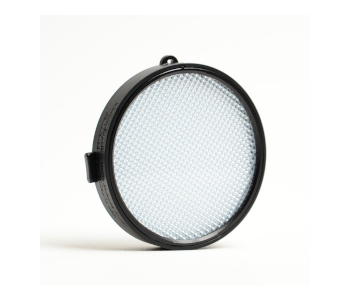 Editor's Rating: 4.7/5
It's true, a lot of modern cameras come equipped with an Auto-White Balance (WB) feature. Even so, many semi-pro and professional photographers still prefer to customize WB on the fly. The US-made ExpoDisc 2.0 is worth consideration. It lets you set the white balance in seconds. These gels can save busy photographers a lot of post-editing time too.
A few other accessories you may want to consider include:
Wedding Drone Videography
Wedding photography has come a long way since grandma's day. We have better cameras, faster lenses, low digital photography costs, and built-in special effects. There's also the quick, convenient post-editing process. Now there's a growing demand to get a few aerial shots into the album.
Drone photography adds a whole new perspective to documenting that once in a lifetime event. It's easier than it may first appear. Small, pocketable, and portable drones can now shoot in smooth, cinematic-quality 4K video. They can capture tack-sharp 20MP aerial photos that add something special to any wedding album. We'll do an entire piece dedicated to wedding drone photography soon.
For now, you may want to explore some of the favorite drones for events photography.
DJI Mavic 2 Zoom & Mavic 2 Pro | Mavic Mini | Mavic Air | Autel Robotics EVO | Parrot Anafi
OK, that's it for now, but my guide here is a work in progress. I'll update this page periodically as new equipment and useful gadgets come out.
________________________________________