Which Fitbit is Waterproof? – Full List of Wearables
3D Insider is ad supported and earns money from clicks, commissions from sales, and other ways.
Are you searching for the best Fitbit that is waterproof, but so far can't seem to find options that interest you? Fitbits are a brilliant device that will help you track workouts. The Fitbit comes with multiple features so that you can track your daily routine and improve your health. In this helpful article, we will dive in on the details, which will help you select the best Fitbit for yourself.
What is a Fitbit?
A Fitbit is a smart device that tracks your day-to-day activities and helps you to improve your health in the long run. Fitbit creates two main products: smartwatches and fitness trackers. The brand is known for its fitness bands that come in four lines Charge, Alta, Flex, and Ace. When selecting a Fitbit model, have in mind what your goals are and the features you'll need. However, most Fitbit products have one common goal: monitor your day-to-day life.
Waterproof Fitbit
Not all Fitbits are waterproof so you need to consider your intended uses and choose a model accordingly. The older Fitbit models are water-resistant, which means splashes of water and sweat won't damage the device. Submerging a water-resistant Fitbit is not ideal because there is a chance the device will break.
The newer Fitbit models are almost fully waterproof. There are different types of waterproof ratings, and some are better than others. IPX7 and IP68 are by far the best rating, which will protect the chipsets inside the Fitbit. Most of the Fitbit products can be submerged in water up to 50-meters. Therefore, if you're looking for a tracking device for swimming, read the product description to see if it's fully waterproof.
Waterproof Fitbit Safety Advice
Fitbit offers notes on waterproof safety on their website for each of their products. After using the Fitbit for swimming or getting it wet, Fitbit recommends drying the band because it's better for your skin. Don't use the Fitbit in a hot tub or sauna as the heat can damage the pieces inside. Also, submerging the Fitbit way deeper than the specified amount can damage the device due to pressure.
Looking to Buy a Waterproof Fitbit?
There are multiple features to look into when selecting a Fitbit. Every Fitbit is designed for a purpose, so make sure you know what you need. In this section, we will go over some of the top Fitbit products and dive into their pros and cons.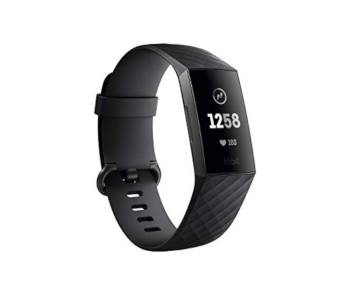 The Fitbit Charge 3 is of the better products because of rich feature list. The device will monitor your heart 24/7, which helps track calorie burn, optimize workouts, and uncover health threats. The real-time heart rate zones show you if you're in the fat burn, cardio, or peak zone. Therefore, making it easy to track weight loss and get your optimal peak performance. Also, you can see how many calories you're burning throughout the day.
The Charge 3 connects to your smartphone's GPS to monitor distance during outdoor runs. The device automatically recognizes exercises like runs, swims, elliptical, and records them in the Fitbit app. You can choose over 15 exercises so that you can set goals and get real-time statistics.
The built-in battery delivers running times up to 7-days. The Charge 3 has a stylish design, and you have multiple options to choose from. The case is waterproof up to 50-meters so that you can take it swimming.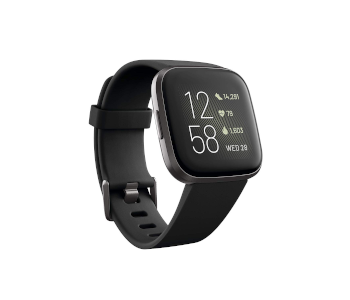 The newly released Fitbit Versa 2 Smartwatch is an amazing choice because it has multiple functions. The large display screen makes it easier to see all the details. The premium screen uses a hi-res corning gorilla class, which is ultra-durable. The always-on display mode makes it easy to use while working out. The tapered silicone band is lightweight, flexible, and durable.
The Fitbit Versa 2 Smartwatch has 24/7 heart rate tracking that shows your calorie burn, optimized effort during workouts, and resting heart rate. The smartwatch also shows you how many steps you take, floors climbed, active time in light, and REM sleep.
Download the Fitbit application to see tracking data and get motivation with guidance. The breathing sessions better your mood and are healthier for your heart. Furthermore, the app has on-screen workouts, which will guide you through each move.
Advantages of Purchasing a Fitbit
There are many reasons to purchase a Fitbit product. A smart health device can help customers improve their lives by giving the necessary information and statistics. Let's go deeper on the advantages of purchasing a Fitbit:
Music: you can use apps such as Spotify and create playlists of your favorite songs.
Sleep score: an app will track your sleep pattern and give you a better understanding of how to improve your sleep cycle.
Multi-day battery: the built-in battery provides 6-day plus battery life, so you won't have to charge the device often.
Fitbit pay: you can make secure purchases on millions of stores right from your wrist.
Fitbit application: get tracking data, guidance, and motivation to improve your health. Includes exercises and helps you do correct movements.
Cardio fitness score: get a personalized cardio fitness score and tips on how to improve your fitness levels.
SmartTrack: Fitbit device automatically detects if your working out and starts tracking.
24/7 heart rate tracking: the heart rate tracking will show you calorie burn, optimize workouts for best results, and see your resting heart rate.
Real-time pace and distance: connect to your smartphone's GPS to see real-time pace and distance.
Bluetooth: connect with your wireless headphone to the Fitbit device to enjoy your workouts more.
Conclusion
To summarize, when purchasing a waterproof Fitbit make sure you know what you're going to use it for. There are two main Fitbit devices: smartwatches and fitness trackers. The smartwatch is an excellent choice for people who want to have more features and don't mind a bulkier design. The Fitbits come with multiple features such as heart rate monitor, sleep score, SmartTrack, Fitbit pay, and more.
Not all Fitbits are waterproof – especially the older models. Therefore, if you're looking to use it for swimming, make sure to purchase one of the newer models. The latest Fitbits have water-resistance up to 50-meters. After using it in water-based areas, make sure to wipe it clean so it doesn't cause rashes on your wrist area.