Why Are Foldable Drones So Popular?
3D Insider is ad supported and earns money from clicks, commissions from sales, and other ways.
Nowadays, foldable drones are so common that it's hard to imagine a time when they were the exception rather than the norm. As drones continue to appeal to the mainstream market, it's easy to see how foldable drones will continue to be the driving force behind this surge in popularity.
As we put a close to the year 2020, let's look back at the last two years to remember how the commercial drone market has become dominated by foldable drones. Why are these drones insanely popular? Have they rendered larger drones irrelevant?
The popularity of foldable drones
In a nutshell, a "foldable" drone is one that has propeller arms that fold inward. In the context of this article, however, we're further restricting this definition only to drones that are considered "ultraportable." This excludes large drones, such as the Yuneec Typhoon series, that also have foldable drones but are still best transported at the back of a car.
Most drone enthusiasts will probably remember the DJI Mavic Pro as one of the first foldable drones released in the market. The brand certainly has long-lasting appeal, mostly because it kicked off the entire DJI Mavic series of foldable drones – a line that still released new and successful drone models until today.
However, there was another major brand that released a foldable drone at almost exactly the same time – GoPro. The GoPro Karma was billed as an 'end-to-'end storytelling solution which also happened to be a drone that was small enough to carry inside a standard backpack. Much like the Mavic Pro, the GoPro Karma had foldable arms that made it a lot more compact for storage.
Although GoPro announced the Karma a few weeks earlier than the Mavic Pro, it had one major disadvantage. The Karma drone did not come with a camera. Instead, you had to attach a GoPro camera to the drone. At the time, the latest GoPro Hero cameras were even more expensive than the Karma drone.
It was likely this reason, among a few others, that gave the Mavic Pro the edge over the Karma in terms of sales and long-lasting appeal. About two years after, DJI launched the Mavic Air, which was a smaller and cheaper version of their foldable drone. It turned out to be one of the most popular drones ever released by the global drone giant.
The rest, as they say, is history. Alongside the continued release of Mavic drones, other brands also came out with their own take on the foldable drone form factor. These brands included not only major names like Parrot and Autel but also those that catered to the lower budget market such as Holy Stone and Snaptain.
Benefits and limitations of foldable drones
Why are these foldable drones so popular? If you've ever owned or used one, then you have probably come up with your own reasons. At the risk of generalizing the mainstream drone market, here are just some of the reasons why we think consumers often go for foldable drones:
Easy to carry around
Nowadays, drones are no longer just for the early adopters and professional users. They are as legitimate pieces of consumer electronics like digital cameras and smartphones. Obviously, drones are still in the early stages of the adoption curve, but the development of foldable drones have greatly accelerated how quickly they are accepted by the mainstream market.
Now that drones can fit inside a regular backpack, they are much easier to bring along on trips, hikes, or even on afternoons spent at the beach or park. Foldable drones appeal greatly to recreational users who want a different way of capturing scenery. Aspiring photographers have also been using these camera drones as a means to diversify their photography skills.
Inexpensive
Although the first foldable drones weren't exactly designed to be exceptionally cheap, they turned out to be a means for drone brands to appeal to more recreational users. Taking advantage of this trend, drone manufacturers released models that were deemed a little more budget-friendly.
Nowadays, you can get a foldable drone from a major brand like DJI for less than $500. This has made entry to drone technology a lot more accessible, even for those who aren't as heavily invested in the technology. Without a doubt, the low price range of foldable drones has contributed greatly to the massive surge in the popularity of drones in the last couple of years.
Agile
Even when their propeller arms are unfolded, these ultraportable drones are still much smaller than their previous-generation counterparts. This has made foldable drones excellent for navigating through tight and enclosed spaces. Even for professional users, foldable drones are the go-to models if they need to fly drones to shoot an indoor event or to inspect a restricted space.
Despite all these merits, we aren't likely to see large drones fade away completely. As agile and user-friendly as they are, foldable drones can't do everything. For more enterprise-geared users, these are the reasons NOT to use a foldable drone.
Limited payload capacity
Being quite small, foldable drones practically have no capacity to carry a payload more than what has already been attached to them. For this reason, foldable drones typically have no provision for exchangeable payloads, although third-party companies offer this service.
What is non-negotiable, however, is the fact that these foldable drones simply do not have the lift to carry exceptionally heavy payloads. If you need to use top-of-the-line cameras or sensors like those from the Zenmuse line, then you will need to use large drones like the DJI Inspire 2.
Limited wind stability
No matter how "smart" drones become, they will always be vulnerable to the elements. Strong winds are something that drones typically have to deal with all the time. Drones are designed to combat these through stabilization methods. However, smaller drones are still more prone to getting knocked out by a particularly strong gust of wind.
For applications where stability is extremely important, then larger drones might still be more preferable. These include industrial inspection of critical infrastructures, such as power lines and signal towers.
Less professional-looking
Now that foldable drones have become incredibly common, their mere looks already evoke a mainstream appeal. This can be a negative point if you're using your drone for professional services, such as mapping or industrial inspection. There's still something about large drones such as the Yuneec Typhoon H or the DJI Phantom 4 Pro that make them feel more appropriate for professionals.
Some notable foldable drones available today
Coming up with a comprehensive list of all the portable drones available in the market right now will be a virtually impossible task. There are probably hundreds of models out there if you consider low-priced brands. Just to get a sampling of what foldable drones can do, here are some notable representatives.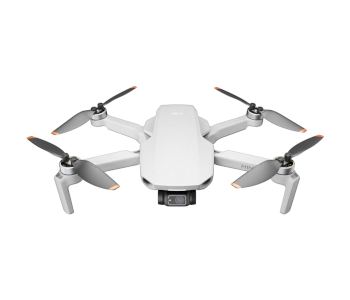 The 2nd iteration of the DJI Mavic Mini retains its most important selling point – it's so light that it does not need to be registered with the FAA. Despite being roughly the size of a smartphone, the Mini 2 comes with a 4K camera mounted on a 3-axis gimbal. This pretty much puts it on par with many high-end camera drones that are heavier or more expensive.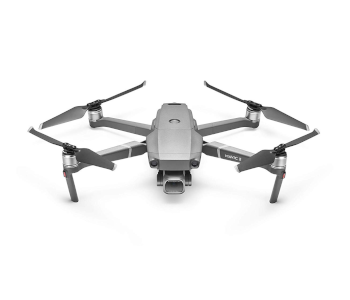 The Mavic 2 Pro was launched around 2 years ago as the flagship DJI Mavic drone. With a 1-inch CMOS sensor and Hasselblad camera, the Mavic 2 Pro quickly made its stake as one of the best camera drones in the market and the best one in the ultraportable drone segment. It was also the first DJI drone to have an omnidirectional obstacle avoidance system.
Although its position at the top has been challenged since then, the Mavic 2 Pro still represents a huge leap in the technology of foldable drones.
The Evo 2 was Autel's answer to the DJI Mavic 2 Pro – a professional-grade ultra-portable drone with an amazing camera. It has a LOT going for it. Not only does the base model shoot in 8K resolution, but the Evo 2 has alternate versions that come with either an adjustable aperture or an FLIR Boson thermal sensor. The Autel Evo 2 exhibits how the market for ultraportable drones isn't just limited to camera drones anymore. The Evo 2 drones also represent probably the biggest threat to the dominance of the Mavic drones in the foldable drone market.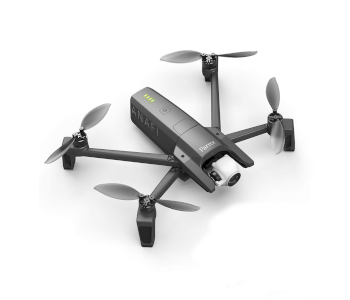 The Parrot ANAFI may seem like a strange choice to round up this list, given how it's a model that was released in the early days of foldable drones. What the ANAFI represents is a far simpler time when all a drone needed to succeed was a good camera and a high-quality design. At the time of its launch, the 4K recording capabilities and 21 MP-equivalent sensor made the ANAFI one of the best foldable drones. You can still buy a Parrot ANAFI today, although it's value for money has diminished through the years.
From the Parrot ANAFI to the Autel Evo 2, we can very clearly see the trend of the evolution of foldable drones. They are no longer the novelty they once were. Nowadays, a drone brand simply has to offer a foldable drone model if they want to stay relevant.
It's also quite clear that the foldable drone segment is one of the most competitive areas in the drone market. Right now, DJI and Autel are the hottest names in foldable drones. However, we can't imagine brands like Yuneec, Parrot, and Skydio resting on their laurels.
Should you get a foldable drone?
If you're someone who hasn't flown a drone before, then the one drone that has caught your eye is probably one that's foldable. This is hardly surprising. For many established drone pilots, foldable drones have proven to be their "gateway drug" to the larger world of drone technology. This is the first group of people to which we recommend getting a foldable drone – first-time drone pilots.
The unique characteristic of foldable drones is that they can be incredibly compact and lightweight. You can fit an entire drone into a small case, put that case into your backpack, and still have enough room for accessories, a laptop, and some snacks. This has made foldable drones very popular in the segment of people who like going on hikes, road trips, or vacations. If you're a constant traveler who would like a different way to document your trips, then a foldable drone is something we recommend for you.
There used to be a time when going for a foldable drone meant living with the fact that it had an underpowered camera. That is no longer the case nowadays. As drones like the Mavic 2 Pro, Mavic Air 2, and Evo 2 have proved, foldable drones are every bit as capable as the best camera drones of the past few years. These drones certainly have cameras that are good enough for professional work. A high-end foldable camera is something we can recommend to photography enthusiasts who would like to expand their portfolios.
Probably the only reason NOT to get a foldable drone is if you absolutely need a larger one. These larger drones are likely more expensive and have more advanced hardware. If you're at a level of experience where you're considering drones like the DJI Inspire 2 or Yuneec Typhoon H Pro, then you probably already know exactly what you need. You're far from being a beginner and likely will only benefit from using a foldable drone as a spare drone.
Final thoughts
Will foldable drones become so popular that they will eventually take over the entire drone market? Not likely. No matter how advanced foldable drones become, there will always be a small market segment that will still need the power and customizability of larger drones. Simply put, drones like the M200 series and the Inspire 2 belong in a different league that can hardly be compared to the Mavic drones.
However, we probably won't see a large drone reach the level of popularity that the DJI Phantom 4 Pro did. For a time, the Phantom 4 Pro was THE professional drone. It then got overshadowed with the release of the DJI Mavic 2 Pro which had practically the same specs in a much more compact form factor.
Right now, it's easy to see the appeal of foldable drones. Lots of people flying drones now probably had their start with a foldable drone model. These drones are getting smaller and more advanced, and we're excited to see just how this competitive landscape will change in the coming years.