6 Best Wireless Keyboards of 2020
3D Insider is ad supported and earns money from clicks, commissions from sales, and other ways.
Cutting the keyboard cord a decade ago was risky business. Wireless models back then had fickle batteries, not to mention connection problems that made using such a keyboard feel like playing Russian roulette. Wireless technology has come a long way, however. Today, there are wireless keyboards for every style or device.
Bluetooth and Wi-Fi have made wireless keyboard connection trivial. Now you can type WhatsApp messages on your phone just as confidently as business correspondence from your desktop computer using the same keyboard. Better yet, you may take the keyboard you did it with wherever your voice needs to be heard.
There's a wide variety of styles at your disposal. From keyboards that feel like they were taken straight out of a laptop to tournament-winning mechanical marvels, there's a wireless keyboard out there with your name on it.
This article will help you decide which one to get as it features the six best wireless keyboards currently available. Find out what makes each worth buying and never feel tethered to a single place by your keyboard again!
Budget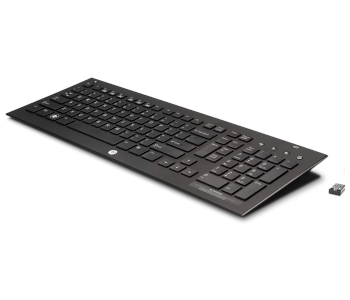 HP Wireless Elite Keyboard v2
4.2/5.0
Backlit: No
Battery life: Not specified
This has quiet ghosting-free keys.
Check Amazon
Best Value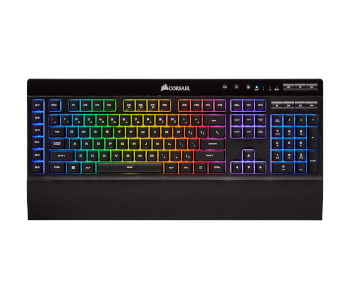 CORSAIR K57 RGB Wireless
4.4/5.0
Backlit: Yes
Battery life: 35–135 days
Has dedicated macro and multimedia keys.
Check Amazon
Top Pick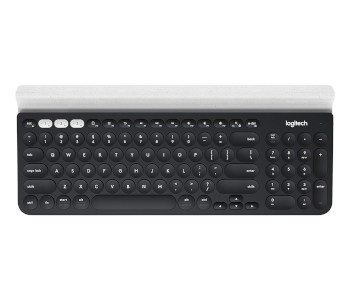 Logitech K780
4.7/5.0
Backlit: No
Battery life: 2 years
Easy to switch between connected devices.
Check Amazon
Wireless Keyboards Comparison Table
1. Best Overall – Logitech K780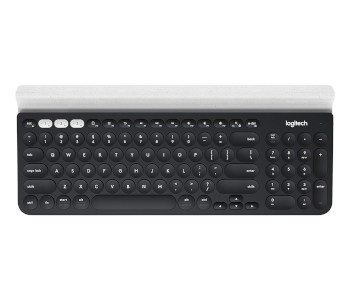 View on Amazon
Editor's Rating: 4.7/5
Do you have multiple smartphones or tablets you frequently use for messaging or internet searches? Trying to locate the right key on their small screens is tedious, especially when you're typing longer responses. Logitech's K780 is here to save the day as it's a wireless keyboard that plays nicely with a wide variety of mobile and desktop devices. It features multiple connection options, is effortless to set up, and has a unique style.
Overview of Features
Logitech gets kudos for designing the K780 in a way that's both functional and attractive. Its circular keys are the first thing you'll notice. They're reminiscent of a classic typewriter but firmly part of a modern aesthetic. The keys have a longer travel time than a MacBook's, making for a satisfying typing experience. Their spacing is spot on as well, so there's no fear of typos after an initial adjustment period. Best of all, the keys are quiet and suitable for office work.
The second thing you'll notice is the K780's rubberized groove. You use it to keep smartphones and tablets in place, which leaves you free to type with both hands while looking at their screens. The rubber is slightly textured and holds your devices firmly in place. You can pair three of them simultaneously by pressing the F1-F3 keys. You also use them to switch between layouts, which comes in handy if you've got a PC and a Mac.
The K780 comes with two AA batteries Logitech claims will last two years if you use it moderately. A believable estimate considering the keyboard's lack of backlighting. You also get Logitech's Unifying Receiver, a USB dongle that you plug into PCs and other devices that don't come with Bluetooth. The Receiver supports six Logitech devices at the same time. You could get some headphones and a mouse and use all three devices while sacrificing a single USB slot.
What We Didn't Like
Logitech went a little overboard in an attempt to save on battery life; there are no indicator LEDs for Caps and Num Lock. There's a program you can install that will notify you of their status on a desktop, but you'll still have to guess when using mobile devices. This isn't a full-size keyboard; the arrow and Home through Page Down keys have either been squished or assigned to the Numpad section. You might need some time to adjust to the layout and tiny arrows.
Tech Specs
Dimensions: 0.9 x 6.2 x 14.9 in.
Weight: 1.9 lbs.
Backlit: No
Rechargeable: No
Battery life: 2 years
The Pros
Unmatched versatility
Unusual yet functional key design
Long battery life
Easy to switch between connected devices
The Cons
No indicator lights for Lock keys
Condensed layout might not be to everyone's taste
2. Best Value – CORSAIR K57 RGB Wireless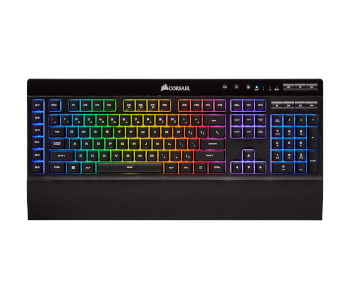 View on Amazon
Editor's Rating: 4.4/5
The K780 is perfect for day-to-day typing but offers little when it's time to get your game on. Corsair's K57 RGB Wireless, on the other hand, is a blinged-out keyboard with extensive lighting and key customization features. It's not mechanical, so you won't disturb the neighbors as you're ramping up a kill count. Even so, the keyboard is pleasant to type on and has a premium feel few other membrane models at its price point can match.
Overview of Features
The K57 RGB Wireless is a full-sized wireless keyboard with a slew of macro keys and dedicated media controls. You'll find the former to the left of Caps Lock while the latter are above the Numpad. Audiophiles will get a kick out of the multimedia controls as it's quick and satisfying to skip tracks or adjust the volume without having to fiddle with your headphones. Lighting brightness and patterns are simple to change, as well.
Even though it has a membrane, the K57 RGB Wireless feels responsive and fun to use. Its keys have a long travel time and are a definite step up from the feel you'd get from any laptop keyboard. They're surrounded by LEDs capable of reproducing sixteen million colors in one of ten preset patterns.
The keyboard connects either through Bluetooth or Slipstream, a dongle similar to Logitech's that operates on 2.4GHz Wi-Fi. The batteries are rechargeable and non-removable. Expect 35 hours of use per charge when the K57 RGB Wireless is lit up, five times more if you turn the LEDs off. It' possible to charge the keyboard and use it at the same time.
You can unlock the K57 RGB Wireless's full potential with the iCUE configuration software. It lets you intuitively create custom lighting patterns, reassign keys, create multiple profiles, and define macro key functions. The interface is straightforward and easy to use, so you won't have trouble configuring the K57 RGB Wireless to suit your needs even if you're a novice.
What's Bad About It?
For some strange reason, the K57 RGB Wireless has symbol keys that are printed in reverse, i.e., the symbol you get when pressing it is etched on top while the one you get with Shift is on the bottom. This is counterintuitive for people used to looking at their keyboard while typing. You have access to profile switching and advanced customization only on the system iCUE is installed on since the K57 RGB Wireless doesn't have internal memory.
Tech Specs
Dimensions: 18.9 x 6.5 x 1.4 in.
Weight: 2.1 lbs.
Backlit: Yes
Rechargeable: No
Battery life: 35–135 days
The Pros
Dedicated macro and multimedia keys
iCUE is powerful yet easy to use
Rechargeable battery that works while charging
Great value for the money
The Cons
Reversed symbol keys
No internal memory for profile storage
3. Logitech G915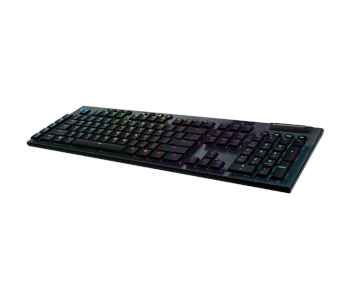 View on Amazon
Editor's Rating: 4.6/5
Are you a gamer who's willing to spare no expense for a rapid-fire response keyboard with some of the best RGB lighting out there? If so, no wireless model is better than the G915 from Logitech. It's a premium keyboard that can be as stealthy or as flashy as you want it to be. Its low-key switches have a low actuation point that ensures lightning-fast reaction times and gives you an edge in twitch shooters. The G915 costs a fortune, but you'll understand why as soon as you start using it.
Overview of Features
The Logitech G915 is one of the best-looking and most sturdily build keyboards on review. Its brushed aluminum body is massive and won't bend under pressure, while the keys are made from quality plastic and are slightly concave for an optimum typing feel. There are five macro keys, along with twelve multimedia and gaming-specific keys. These let you adjust the lighting or disable system keys to prevent unintentional tabbing out during heated gaming sessions. You even get a responsive aluminum volume roller.
We love the Logitech G915's lighting! Each key is individually backlit with a powerful LED that's visible even in daylight. There's little color bleed from under the keys, meaning that you won't get blinded while typing. Set the color profile to all white, and you've got a wonderful office keyboard for use during the day. That's no fun for gaming, though, which is why you can customize each LED or assign colors to key groups at the G Hub.
The G915 offers a unique typing experience thanks to Logitech's partnership with Kalih. Dubbed Logitech GL, the switches come in three flavors – Tactile, Linear, and Clicky. No matter which you choose, the switches offer an actuation point of 1.5 mm, their maximum travel distance being 1.2mm deeper. The keys have a quicker response time than those of most other mechanical keyboards, ensuring you can fire off a command as soon as you think of it.
The keyboard's wireless specs are similar to Corsair's. You may connect it either through Bluetooth or Wi-Fi via the included dongle. The rechargeable battery lasts 30 hours at maximum illumination. You can extend this significantly if you set the Logitech G915 to dim or turn off the lights after a specified point of inactivity and turn it off altogether when not using the computer.
Are There Drawbacks?
The Logitech G915 is larger and heavier than most keyboards. That's not a problem per se, it limits the keyboard's mobility. It's also the most expensive model on review. While it offers a sublime typing experience, the Logitech G915's steep price will be off-putting to all but the most hard-core gamers.
Tech Specs
Dimensions: 20.8 x 7.3 x 1.9 in.
Weight: 3.6 lbs.
Backlit: Yes
Rechargeable: Yes
Battery life: 30 hours at maximum brightness
The Pros
Excellent build quality
Bright individual LEDs with minimal bleed
Comprehensive configuration software
Power-saving features extend battery life
The Cons
Large size limits portability
Very expensive
4. iClever Bluetooth Keyboard with 3-Color Backlight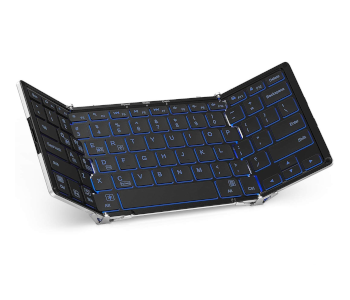 View on Amazon
Editor's Rating: 4.3/5
While all of them are wireless, none of the keyboards mentioned so far placed quite as much emphasis on portability as iClever's Bluetooth Keyboard does. You can fold it into three parts and carry it inside a jacket pocket! The enhanced version comes with a row of function keys and backlighting in three different colors for productive all-nighters. Add generous battery life, and you've got a versatile tool for the best on-the-go typing experience.
Overview of Features
iClever's keyboard has a 60 percent format since it forgoes keys to tie right of Enter to save space. Better yet, it has two hinges that allow you to fold the keyboard up to a width of just 6.5 inches. Combined with a weight of 10 ounces, this makes the keyboard one of the most portable typing solutions on the market. Best of all, the folding ability had no impact on the key layout. The keys are normal-sized and fit together seamlessly when the keyboard expands. If you've ever typed on a laptop, you'll be ready to go right away.
iClever's keyboard has backlighting, a versatile indicator light, and an LED that tells you when Caps Lock is on. You may switch between red, blue, or green backlighting as well as turn it off with a key combination. The lighting is even and has excellent visibility in the dark. It illuminates each key well, to the point that you can easily get by when using the keyboard with a smartphone without an additional light source. The indicator light changes color based on what you're doing. It blinks blue when pairing, glows red while charging, flashes green when you turn the keyboard on, etc.
You can get a lot out of the battery if you use lighting sparingly. It will last a modest five hours with the lights on but can run sixty times longer otherwise. There's a standby time of 90 days, and the keyboard turns itself off after 15 minutes of inactivity to prolong its life. Alternately, you can provide continuous power through its MicroUSB cable. Doing so lets you switch between controlling the wired and another wireless device.
What We Didn't Like
You're out of luck if you're a Mac or Windows 8 user as iClever's keyboard isn't compatible with them. However, you can still use it with iOS devices. Unfolding the keyboard automatically powers it on as there's no dedicated power button. Pressing a key will wake it from sleep mode, but the indicator light doesn't tell you when sleep mode is active, potentially forcing you to repeat the first input.
Tech Specs
Dimensions: 11.4 x 4.6 x 0.3 in. when expanded
6.5 x 4.7 x 0.6 in. when folded
Weight: 10.4 oz.
Backlit: Yes
Rechargeable: Yes
Battery life: 5-300 hours
The Pros
Excellent for anyone looking for a compact and portable keyboard
Versatile backlighting and indicator light
Uses battery sparingly when backlighting is off
Can control two devices
The Cons
Incompatible with Macs and PCs running Windows versions older than 10
No power button or way to tell when it goes into idle mode
5. Microsoft Surface Keyboard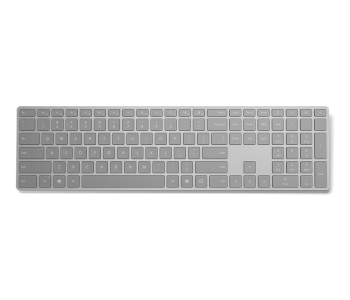 View on Amazon
Editor's Rating: 4/5
The Surface Keyboard is Microsoft's premium accessory for the Surface tablet but works well with any other tablet or laptop that runs Windows 10. It's a cheaper alternative to the $200 cover that makes typing effortless wherever you are. The Keyboard has a beautiful minimalistic style, promptly responds to input, and is easy to pair. It's the model to get if you're looking to improve your productivity and efficiency.
Overview of Features
Microsoft has taken a page out of Apple's book and designed the Surface keyboard with a precise mixture of elegance and functionality. It is light gray with keys whose shade is dark enough for the lettering to be visible even under dim light. Even though it's light, the keyboard is sturdy thanks to a metal base resistant to bending.
The keys mimic a laptop's chicklet style yet have a longer travel time and pleasing tactile feel. Spacing isn't an issue either as there's ample room between keys. Unlike the K780, Microsoft's keyboard retains a standard layout and key sizes, albeit in a more condensed format to preserve space.
This model relies on two AAA batteries for power. They keep it running for 12 months and are accessible from a storage compartment in the back. The compartment also slightly raises the keyboard, making for more comfortable typing. Its cover is held in place with magnets.
Setting the Surface Keyboard up involves switching on the device you wish to pair it with and activating it through Windows settings. Its Bluetooth is always on and stable, delivering a reliable typing experience without lag or communication troubles. While it doesn't have n-key rollover, occasional gamers will find the Surface Keyboard adequate.
What We Didn't Like
This is another keyboard whose Lock keys aren't illuminated, leaving you to guess when either is on. You might want to consider another model if you type multiple hours per day as the keys tend to stop working if pressed hard and repeatedly.
Tech Specs
Dimensions: 4.4 x 0.8 x 16.6 in.
Weight: 0.9 lbs.
Backlit: No
Rechargeable: No
Battery life: 1 year
The Pros
Worthwhile upgrade for Microsoft Surface devices and laptops
Minimalistic yet beautiful design
Easy setup process
Good battery life
The Cons
No way to tell when Caps and Num Lock are active
Keys might stop working with repeated heavy use
6. Best Budget Option – HP Wireless Elite Keyboard v2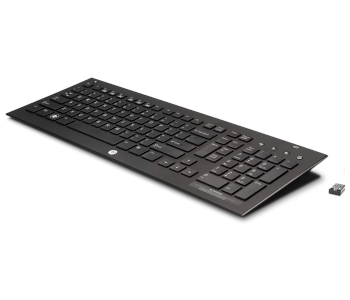 View on Amazon
Editor's Rating: 4.2/5
Our budget pick is a no-frills keyboard from HP. The second version of the Wireless Elite is a well-built and responsive tool you'll love using in the office or taking with you as it fits into most laptop bags. Expect a laptop-style typing experience along with minimal hassle when setting the keyboard up.
Overview of Features
The Wireless Elite v2 is a plain keyboard, but its unassuming appearance is elegant. Each key is cleanly labeled in a nice white font, so locating the right one won't be a problem. There's no wrist rest, but the bottom margin is thick enough to provide some support and ensure correct hand placement. You can further improve the typing experience by lifting up two legs and tilting the keyboard at a slight angle.
Typing on the Wireless Elite v2 feels similar to using the K780. Its actuation point is set at 2mm, and there's a pleasant finality to a key's travel before it springs back up. The keys are divides by slim margins that make each one stand out and minimize typos brought on by ghosting. You can barely hear the scissor switches in a quiet environment, which should translate to silent operation in busy offices.
Setting up and using the Wireless Elite v2 is a cinch. There's a small blue button on its bottom you have to press to initiate pairing. The process takes seconds, and the connection this keyboard maintains is stable thanks to HP's proprietary dongle. You can use it at a distance of 30 feet and even type from an adjacent room. HP doesn't specify the keyboard's battery life, but satisfied users report that the two AAA batteries may last well over a year. There's a handy battery level indicator you can turn on if you want to check the battery status.
Are There Drawbacks?
The Wireless Elite v2 has flimsy feet. You might break them if you're a heavy-handed typer, so consider this before purchasing. There's another, more significant problem; some keys become unresponsive with use. This starts happening around the one year mark, just as the warranty expires. While a replacement isn't expensive if you love the keyboard's feel, HP should consider improving the switch quality.
Tech Specs
Dimensions: 17.3 x 6 x 0.6 in.
Weight: 1.5 lbs.
Backlit: No
Rechargeable: No
Battery life: Not specified
The Pros
Inexpensive yet feels great to type on
Long-lasting battery with level indicator
Stable wireless connection
Quiet ghosting-free keys
The Cons
Flimsy legs
Keys become unresponsive after a while