Top 10 Essential Working from Home Gadgets to Keep You Productive
3D Insider is ad supported and earns money from clicks, commissions from sales, and other ways.
With millions of people still stuck in their homes, a lot of them have found that working from home is not quite as easy as they imagined it would be. With a house full of distraction and without the benefit of physical officemates, many people have struggled with reaching full productivity when working from home.
If you can relate to this problem, then one thing you need to understand is that most work-from-home setups are a far cry from what you would normally get at an office. To stimulate productivity, we suggest getting any of these great gadgets that we have found to work for us and for lots of other people.
If you're the type of person who never thought that they would be spending so much time on their laptops at home, then you probably haven't made much of an investment on a good wireless mouse. The M750 Marathon wireless mouse from Logitech is an excellent choice that isn't so expensive but delivers on performance and quality.
The M705 Marathon is an instant productivity-boosting tool. The ergonomic shape will keep your hands and fingers comfortable even if you need to spend eight hours or more a day working. The unique contour of the most also provides access to thumb buttons that allow you to quickly navigate from one page of a document to another.
On top of these unique features are all the buttons that we have come to expect from a mouse. The hyper-fast scrolling wheel allows you to go through an entire document in a matter of seconds, aided by its almost frictionless design. If you need more customized functions, the wireless mouse also comes with seven programmable shortcuts.
While most wireless mouse have a benchmark of around a year per battery cycle, the M705 quite figuratively can run a marathon with a battery life of up to three years. Getting out of the house is a bit of a chore nowadays, so you might really appreciate how long-lasting this mouse is.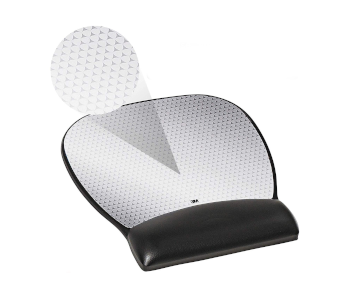 A good mouse isn't enough for a truly ergonomic work-from-home solution. It needs to be complemented by a good mouse pad, and the 3M Precise is a clear favorite. The 3M Precise mouse pad comes in three sizes and we're linking to the largest version.
There are a couple of things about this mouse pad that we really like and puts it a higher tier those cheap alternatives. The most distinct feature of the 3M Precise if the gel wrist rest. Firm but comfortable, the gel rest provides just enough wrist support without feeling like it's actively resisting the weight of your hand and wrist.
The black leatherette covering helps reduce friction to avoid chafing. It has also been treated with an antimicrobial compound to prevent bacterial growth. This is very important if the rest is in contact with your wrist for several hours per day. In case there is significant dirt buildup, the wrist rest can be easily wiped with a wet cloth.
The surface itself of the mouse pad is very unique and smartly designed. By utilizing a micro-grooved surface, the mouse pad enhances the precision of any optical mouse. Not only does this improve a mouse's performance and responsiveness, but it can also help extend the mouse's battery life by up to 50%.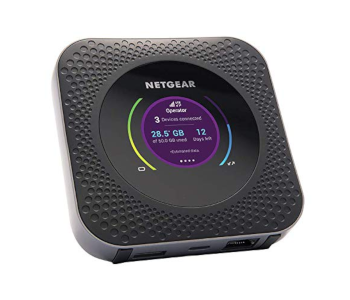 When you're working from home, there are few things that can be as bad as losing your Internet connection. If there's a risk of you not getting to do any work at all if you're disconnected, then it's worth the investment to have some sort of backup.
The Nighthawk from NETGEAR is among the most popular mobile hotspots available today. With a SIM card, this hotspot can connect to a 4G network and provide Internet access via Wi-Fi to a maximum of 20 devices at a total speed of up to 1 Gbps. The 5040 mAh battery can support the mobile hotspot for an entire day, so you can even use it if you're on the go.
The Nighthawk might be a bit larger and bulkier than your usual mobile hotspot but there's a very good reason for that – it also doubles as a power bank and streaming of digital content. Connecting a storage drive to the hotspot will allow for the instant streaming of media and the sharing of files to all computers connected to the network. The large battery can also charge external devices, which could be very useful if you're working outside.
The digital display of the Nighthawk isn't just for show. It provides an easy way to manage the devices connected to the network and to monitor data usage.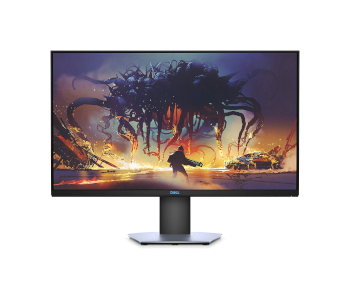 If you're working with a laptop but have the space for a monitor, you should seriously consider getting one. Working with two screens provides an instant and huge boost in productivity, whether you're editing videos or just working on spreadsheets. Of course, the needs of each job vary but we went with an option that's a little on the higher end here.
Nowadays, the very best monitors are those that are labeled as 'gaming monitors.' This S-Series monitor from Dell can display QHD (2560 x 1440) resolution at a refresh rate of 15 Hz. What this means is that the monitor can display high-fidelity images and videos with minimal latency. If you do professional image and video editing, then this is the kind of monitor you should go for.
In terms of ergonomics, this monitor should have exactly what you need. The included mount allows for the height of the monitor to be adjusted, as well as for its face to be tilter, swiveled, and pivoted. No matter how you want to set up your work from home area, this monitor can adapt to your needs.
Admittedly, this gaming monitor is a little on the expensive side. There are lots of cheaper options out there. This 27-inch monitor, also from Dell, has a Full HD display but costs less than half.
Much has been written about how sitting down for too long can be the new cancer. That seems like an exaggerated analogy, but the point is that it's not good for any of us to be sedentary for so long. Now that you're working from home, there's no better time than to come up with your own rules and work while standing up.
Stand up desks are all the rage right now, so we've gone ahead and looked for the best options. This adjustable stand-up desk from VIVo certainly fits the bill with adaptability, durability, and quality. It looks great in just about any setup and has enough space for both a laptop and a second monitor.
What we like about the VIVO adjustable stand up desk is that it doesn't require you to be standing up all the time. The spring-enabled design allows for easy height adjustment so you can from seated down to standing up in seconds. The spring mechanism has a steel construction and is covered by a 3-year warranty, so you don't need to worry about your laptop and monitor assembly being too heavy.
The desk comes with a separate bottom tray for your keyboard and mouse, plus a small slot to hold a phone or tablet. The bottom tray is removable, in case you just want to use the top panel for typing on your laptop.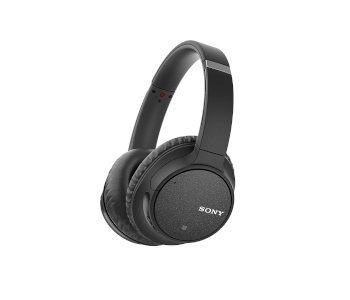 Working from home in an environment that is very noisy is probably a situation that most people have already experienced. Whether it's your kids crying or construction work being done down the street, sometimes you just need to shut out all the noise to concentrate on your work.
To avoid noise-related distraction, we suggest investing in a good pair of noise-canceling headphones. These over-ear headphones are wireless and pair to your laptop or phone via Bluetooth. One battery cycle of these headphones can last up to 35 hours, so you really only need to charge them once or twice a week.
These headphones should satisfy anyone who listens to music casually and for those who work in environments with a lot of chatter. Extremely loud noises can be a problem, and the performance may not be as satisfying if you're looking for music with a lot of punchy bass. As far as clarity and the absence of noise leakage is concerned, there's little to complain about.
The market for noise-canceling headphones is huge right now, and there are certainly models that cost more than twice this model. While the noise-canceling performance of this pair from Sony isn't exactly the best out there, we find that it's the best one at a reasonable price point.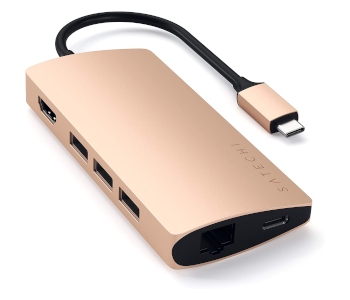 As laptops and notebooks have gotten lighter and thinner, we had to sacrifice the array of input and output ports we've gotten accustomed to. This had led to a problem of new laptops new having enough ports to accommodate the multitude of devices we need. This is relevant whether you're working from home or in an office.
This Multi-Port Adapter from Satechi provides an easy solution to this problem. With a durable and gorgeous aluminum body, this adapter connects to a single USB-C drive and expands it by several magnitudes of order.
To give you a quick rundown of all the ports that this adapter provides, it includes an alternative USB-C port for pass-through charging, a 16-GB Ethernet port, an SD card reader, a microSD card reader, three USB-A ports, and an HDMI port that can support a display of 4K at 30 Hz refresh rate.
At less than 2 ounces, some have considered the Satechi Multi Adapter an essential accessory when they have to work on the go. If you find this version a little too heavy or chunky, Satechi also offers lighter and smaller versions with fewer ports.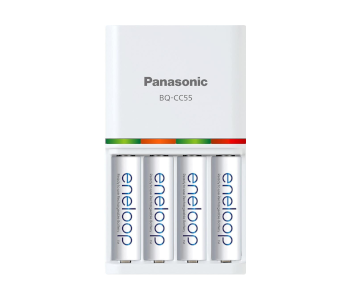 If you work in multimedia, then you probably have a huge dependence on batteries. Between cameras, lighting kits, and even that wireless mouse you use for editing, you likely have a lot of accessories with batteries that constantly need to be replaced.
Nowadays, disposable batteries are a sort of environmental faux pas – you're expected to use rechargeable alternatives, so you don't contribute regularly to the solid waste problem. This Power Pack from the Panasonic eneloop is a great way to start as it should have more than enough batteries for all your devices.
The Power Pack comes with 12 AA Ni-MH batteries and a charger that can accommodate up to four AA or AAA batteries. The battery detection technology automatically shuts down charging once each battery has been charged completely, preserving battery life and avoiding accidents. Speaking of longevity, each battery has been rated to maintain up to 70% of their charge even after 10 years of use.
Adding to the environment-friendly appeal of these batteries is the fact that each battery has been pre-charged using solar power before they reach your hands. This is an officially certified process by the Green Energy Certification Center.
If you're used to having an assistant work with you to set up your appointments and remind you of your daily schedule, then shifting to a work from home setup can be a disorienting experience. To regain this convenience, we suggest getting this Echo Dot Smart Speaker that is compatible with the Alexa digital assistant.
In terms of audio quality, the Echo Dot is a pretty good speaker with a rich stereo sound. However, the appeal of the Echo Dot really does not rely on its sound quality. Instead, what makes the Echo Dot shine is its smart features.
Aided by Alexa, the Echo Dot can be controlled by simple voice commands. You can tell it to play the music you want, scan the news, check the weather, or make any number of searches. The Echo Dot is a great tool if you make and take a lot of calls all day, as you won't even have to touch your phone anymore.
Just like a human assistant, you can ask Alexa to schedule meetings or to remind you if you have prior appointments. If you have a smart home system, you can even sync it to Alexa so you can adjust the thermostat or open your doors without having to get off your seat. The Echo Dot is simply invaluable for the type of person who does not appreciate any interruption while working.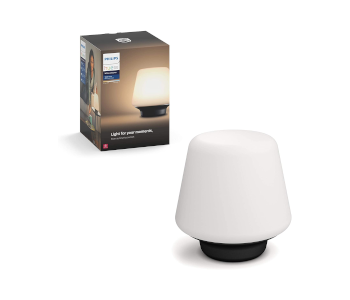 This entry might seem more focused on aesthetics than functionality, but nobody can deny the value of good lighting in building a productive workplace. This smart table lamp from Philips Hue might seem a little on the expensive side. However, we're sure that a lot of people will appreciate the ability to adjust the lamp's warmth.
The smart table lamp can greatly help if you struggle with keeping a regular schedule. The lamp can be scheduled to gradually transition from cool to warm in the early morning, slowly pulling you out of the stupor of sleep. Working under warm light will help keep you alert and focused during the day.
As the workday winds down, the lamp can go back to a cooler setting as a sign that it's time to start relaxing. All these transitions can be scheduled, but you're also free to adjust them manually using the Philips Hue app. All controls are wireless, so you can adjust the warmth of your lights even if you're in another room.
The smart features of the Philips Hue lamp do not end there. It can also sync with any existing smart home systems, allowing you to control it with voice commands. Coupled with a smart speaker like the Echo Dot, these smart devices will really make you feel like you're living in the home of the future. What better motivation can there be to stay focused on work?
Final thoughts
Here's something that a lot of people have come to realize only lately – working from home is hard. When the lines between work and home are blurred, people tend to suffer from increased stress and difficulty sleeping. This also goes both ways, as working from home can make it hard to focus on work.
This emphasizes the importance of building a work from home setup that is conducive to productivity. With just a few accessories, you can encourage yourself to step away from any distraction, work ergonomically, and remain focused on the task at hand.
The key to working from home successfully is to end the workday feeling satisfied with the work that you have done. By getting rid of the feeling that you have left some work undone, this allows you to 'disconnect' from work completely.