World's First 3D Printed Metal Gun Created By Solid Concepts
3D Insider is ad supported and earns money from clicks and other ways.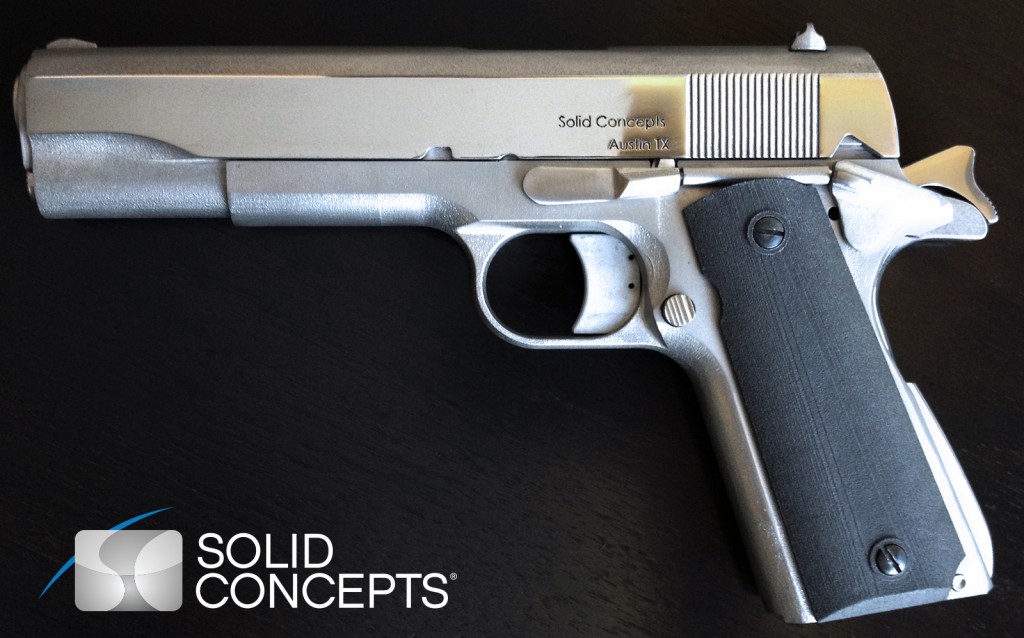 Austin based Solid Concepts has manufactured the world's first 3D printed metal gun. Solid Concepts utilized laser sintering process and powdered metals to create the 1911 classic (45ACP) that handled 50 rounds of successful firing. The gun is composed of 33 17-4 Stainless Steel and Inconel 625 components, along with a Selective Laser Sintered (SLS) carbon-fiber filled nylon hand grip.
"We're proving this is possible, the technology is at a place now where we can manufacture a gun with 3D Metal Printing," says Kent Firestone, Vice President of Additive Manufacturing at Solid Concepts. "And we're doing this legally. In fact, as far as we know, we're the only 3D Printing Service Provider with a Federal Firearms License (FFL). Now, if a qualifying customer needs a unique gun part in five days, we can deliver."
Laser sintering was used to manufacture Solid Concepts gun due to the highly accurate nature of the additive manufacturing process. The gun proves the tight tolerances laser sintering can meet. Plus, 3D Printed Metal has less porosity issues than an investment cast part and better complexities than a machined part. The 3D Printed gun barrel sees chamber pressures above 20,000 psi every time it is fired.
"The whole concept of using a laser sintering process to 3D Print a metal gun revolves around proving the reliability, accuracy and usability of metal 3D Printing as functional prototypes and end use products," says Firestone. "It's a common misconception that 3D Printing isn't accurate or strong enough, and we're working to change people's perspective."
Solid Concepts says that the metal 3D printed gun shows that 3D printing isn't just for trinkets and Yoda heads. They also claim that the firearm debunks the myth that 3D Printing isn't a viable solution or isn't ready for mainstream manufacturing.
The 1911 classic design was chosen because the design is already in the public domain.
We must say that the final product looks incredibly impressive and is a step up from Cody Wilson's Liberator gun. Check out the video below to see the gun in action.
http://www.youtube.com/watch?v=u7ZYKMBDm4M
Warning; 3D printers should never be left unattended. They can pose a firesafety hazard.