6 Best Camcorders for YouTube of 2019
3D Insider is ad supported and earns money from clicks, commissions from sales, and other ways.
Camcorders are versatile yet often overlooked video recording devices, and can be just what you need to upgrade your YouTube channel's visuals. Since they focus on video over photography, camcorders deliver better clip quality than DSLRs and mirrorless cameras in the same price bracket. They also have superior optical zoom and image stabilization.
Camcorders work great when they're secured to a tripod in a studio environment, but they're a real boon for active YouTubers who film outdoors, where dealing with unpredictable subjects and lighting conditions is common.
Our in-depth review of the six best camcorders for YouTube in 2019 includes a diverse selection of models which excel in overall quality, feature sets, and value for the money.
Budget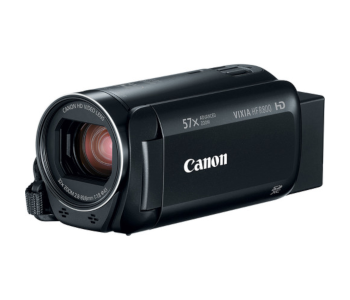 Canon VIXIA HF R800
3.8/5.0
Dimensions: 2.1 x 2.3 x 4.6 in.
Megapixels: 8.3
This camera is affordable, has a good contrast, touchscreen, and easy to use.
Check B&H Photo
Best Value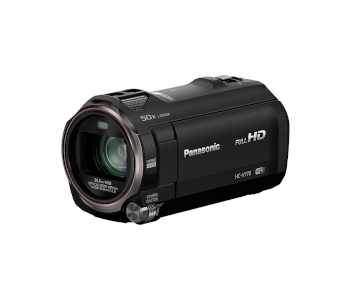 Panasonic HC-V770
4.6/5.0
Dimensions: 2.6 x 2.9 x 5.5 in.
Megapixels: 12.8
Can be controlled via smartphone and has a good onboard microphone.
Check Amazon
Top Pick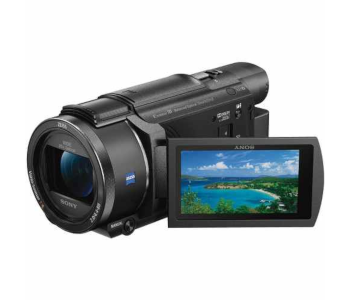 Sony FDR-AX53
4.7/5.0
Dimensions: 2.9 x 3.2 x 6.6 in.
Megapixels: 8.3
Has excellent image stabilization and can take high-quality 4K videos.
Check B&H Photo
Camcorders for YouTube Comparison Table
Make and Model
Rating
Resolution
Zoom
Weight (ounces)
Price
Sony FDR-AX53
4.7
4k, 30fps
1080p, 60fps
20x optical, 30x digital
22.4
Check Price
Panasonic HC-V770
4.6
1080p, 60fps
720p, 60fps
20x optical, 60x digital
12.5
Check Price
PANASONIC HC-WXF991K
4.4
4k, 30fps
1080p, 60fps
20x optical, 60x digital
14.2
Check Price
JVC Everio GZ-R550
4.1
1080p, 60fps
40x optical, 60x digital
10.2
Check Price
Sony HDR-CX405
4.0
1080p, 60fps
720p, 30fps
30x optical, 350x digital
6.7
Check Price
Canon VIXIA HF R800
3.8
1080p, 60fps
32x optical, 57x advanced optical
8.4
Check Price
1. Best Overall – Sony FDR-AX53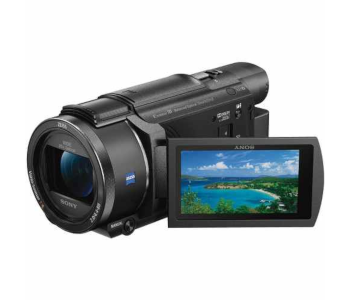 View on B&H Photo
Editor's Rating: 4.7/5
4K is establishing itself in movies and gaming, so it's only a matter of time before it becomes the standard for YouTube videos as well. Smart creators will want to futureproof and invest in a camcorder that will serve them both now and years down the line. The Sony's FDR-AX53 is that camcorder. It records brilliant 4K videos, has the best image stabilization on the market, and packs many professional features for its midrange price. This is the camcorder to get if you're a serious YouTuber with big plans for the future.
Overview of Features
The FDR-AX53 is the heaviest model on the list, but a few extra ounces is a small price to pay for nearly professional-level quality. For example, its viewscreen is touch-operated, has a resolution of 912K for accurate video reproduction, and can even be viewed in bright light. Ergonomics are spot on, too. There are ports for an external mic and headphones if you find that the onboard mic isn't quite good enough.
Superb image stabilization is this camera's greatest selling point, and it's perfect for YouTubers who create their content out in the open and like to interview guests as they walk. This superior image stabilization is possible thanks to a gimbal attached to the excellent Zeiss lens which offers 5-axis stabilization. The FDR-AX53 has 20x optical zoom that's further enhanced digitally to 30x with only slight detail loss.
4K video can be shot at either 25 or 30fps with a bit rate of 100Mbps, while FullHD is recorded at a smooth 60fps. The camcorder excels in faithfully reproducing skin tones, whether in bright studio light or outdoor conditions. Best of all, the FDR-AX53 doesn't disappoint in less favorable lighting, either. There's even an infrared mode for nighttime recording!
The autofocus is quick to zero in on faces and rarely needs adjusting. If you do decide that a scene needs tweaking, there's the adjustable focus lens which can be customized for easier access to your most frequently used settings.
What We Didn't Like
Sony is famous for its complicated and illogical menus, and you'll find them with the FDR-AX53. For instance, you have to traverse three screens just to delete a video. The provided manual isn't clear. And the socket that attaches the FDR-AX53 to a tripod is poorly made. It may cause it to shake (defeating the purpose of the tripod).

Tech Specs
Dimensions: 2.9 x 3.2 x 6.6 in.
Weight: 22.4 oz. with battery
Video modes: 4k, 30fps
1080p, 60fps
Sensor: 1/2.5" Exmor R CMOS
Focal length (35mm equivalent): 26.8 – 536
Megapixels: 8.3
Zoom: 20x optical, 30x digital
The Pros
Excellent image stabilization
Takes high-quality 4K videos
Versatile zoom ring
Great LCD screen
The Cons
Menus aren't intuitive
Low-quality tripod socket
2. Best Value – Panasonic HC-V770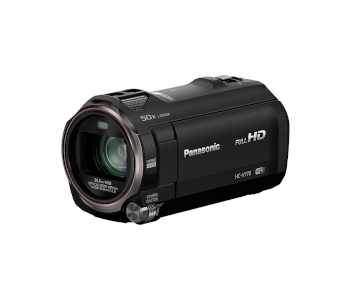 View on Amazon
Editor's Rating: 4.6/5
Camcorders have a definite leg up over smartphones when it comes to video quality, but what if you're used to shooting videos with your phone and find it hard to transition? Enter Panasonic's HC-V770, a capable HD camera which can be controlled from your smartphone! More importantly, the HC-V770 shoots incredible HD footage, regardless of light levels. It is simple to use, comfortable to handle, and offers outstanding value for the money. The manual adjustment dial is easy to use and gives you control over focus, white balance, color saturation, and more.
Overview of Features
The HC-V770 is a versatile camcorder with a focus on convenience and ease of handling. It is lightweight and fits well in the hand. This is further helped by a strap that secures it to your wrist without restricting movement. Zooming, recording videos, and snapping pictures are all easily accessible with one hand.
WiFi lets you control the HC-V770 remotely with an Android or iOS phone. Install the companion app and your phone becomes the camcorder's second viewfinder! You can start and stop recording through it, control the zoom, and snap pictures. This is perfect for when you've set up a scene and want to start a take without having to manually reset recording.
For its sub-$500 asking price, the HC-V770 has superb video quality. This is mainly thanks to the 1/2.3-inch sensor which captures enough light to faithfully record dark scenes without introducing noise. The maximum video resolution is 1080p at 60fps, providing vivid detail. Sound quality is exceptional too! The HC-V770 has a 5.1 recessed microphone that records clear audio even in mildly windy environments.
Are There Drawbacks?
The LCD is this camera's weak point. It is slow to respond, and the menus aren't intuitive. Worse for YouTubers, the LCD displays little information when flipped out. The only stats you'll see are battery life and recording status. There isn't a timer to let you know the video's length.

Tech Specs
Dimensions: 2.6 x 2.9 x 5.5 in.
Weight: 12.5 oz.
Video modes: 1080p, 60fps
720p, 60fps
Sensor: 1-Chip 1/2.3″ MOS
Focal length (35mm equivalent): 29.5 – 612
Megapixels: 12.8
Zoom: 20x optical, 60x digital
The Pros
Excellent value for the money
Can be controlled via smartphone
Good video quality in most conditions
Good onboard microphone
The Cons
LCD screen is slow to respond
Elapsed time isn't shown while recording
3. PANASONIC HC-WXF991K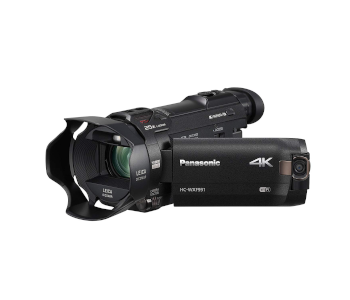 View on Amazon
Editor's Rating: 4.4/5
YouTubers who create dynamic content outdoors face more challenges than those in finely controlled studio conditions. They can't influence the lighting, have to deal with glare, and need a recording device that can capture a situation instantly without having to fiddle with the focus. Panasonic's HC-WXF991K is designed to help you produce great-looking content no matter where you are. It shoots 4K video and features a second rear-facing camera and a protective ocular lens.
Overview of Features
The feature most YouTubers will love about the HC-WXF991K is its second camera. It is located on the edge of the camcorder's LCD touchscreen and offers two-camera coverage through shot-in-shot mode. This lets you record an event as well as your reaction to it simultaneously. The HC-WXF991K has WiFi, and this model can connect to the Internet and three smartphones at once. Two of your smartphones can even act as cameras and show footage in small separate windows!
The ocular lens is another impressive addition. It provides protection from glare so you can shoot accurately. It also tilts upwards, letting you place the camcorder on a tripod or in your lap to film from above (the HC-WXF991K has good 5-axis stabilization to prevent shaking).
Optical zoom is the same 20x as that of our overall winner; digital zoom goes all the way up to 60 (with considerable quality loss). There's also a hybrid zoom which combines the two and delivers usable close-up footage at 25x or 40x, depending on the resolution.
In bright conditions, videos in 4K are recorded at either high-quality 24 or 30 fps. The FDR-AX53 lets you do some preliminary editing by cropping 4K footage, lowering quality to 1080p but saving you time in post. You can even use features like slow motion or dolly zoom to give your videos a cinematic feel.
What's Bad About It?
The FDR-AX53 doesn't perform well in low-light conditions. It has trouble with contrast, and color accuracy falls sharply the darker the scene. Battery life is lacking — a full charge lets you record for an hour, and the battery takes two hours to recharge.

Tech Specs
Dimensions: 2.7 x 3 x 6.4 in.
Weight: 14.2 oz.
Video modes: 4k, 30fps
1080p, 60fps
Sensor: 1/2.3″ MOST
Focal length (35mm equivalent): 9.3 – 111.6
Megapixels: 18.9
Zoom: 20x optical, 60x digital
The Pros
Two cameras in one
WiFi connectivity
Onboard video editing and cinematic effects
Great quality in adequate lighting
The Cons
Poor low-light performance
Short battery life
4. JVC Everio GZ-R550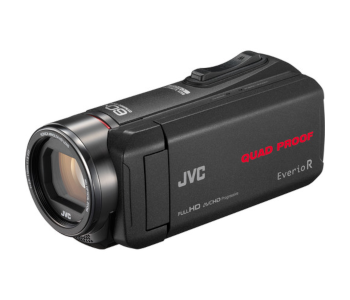 View on B&H Photo
Editor's Rating: 4.1/5
Do you need a rugged and versatile camcorder that can keep up with all of your adventures? The Everio GZ-R550 from JVC can take a beating, is waterproof, and has plenty of internal memory. It shoots good-quality videos you can edit on the spot and is an overall solid choice whether you're outdoors or you create all your content at home.
Overview of Features
The Everio GZ-R550 features what JVC calls Quad Proof construction. You can drop it from five feet up, submerge it in 16 feet of water for half an hour, or even leave it out in the cold, and the Everio GZ-R550 will still work like the day you bought it. Other interesting design features include a rotating touchscreen and a light which helps with recording in the dark. The camcorder is also available in a bright orange color that makes it easier to spot outdoors.
This camcorder is self-sufficient, with 32GB of internal memory that can store three hours of footage (and can be expanded with an SD card); the Everio GZ-R550 also lets you edit videos by cutting them or adding different kinds of filters via the LCD screen. The camcorder is also able to run four and a half hours on a full charge!
Video quality is good given the Everio GZ-R550's price. 1080p footage is shot at 60fps and has excellent color balance. It has a good amount of detail, and no noise in good lighting. The camcorder has one of the better zooms we've tested. At 40x optical, you can to capture distant subjects without losing quality. (You may want to use a tripod — the built-in image stabilization won't be enough to eliminate shaking at such a high magnification.)
What We Didn't Like
Since it can do anything an action camera can, we were surprised at the Everio GZ-R550's lack of WiFi. The LCD display is functional but barely visible on a sunny day.

Tech Specs
Dimensions: 3 x 5.5 x 6.1 in.
Weight: 10.2 oz.
Video modes: 1080p, 60fps
Sensor: 1-Chip 1/5.8″ CMOS
Megapixels: 10
The Pros
Sturdy build
In-camera editing options
Faithful color reproduction
Long battery life
The Cons
LCD screen is unusable in sunlight
No WiFi
5. Sony HDR-CX405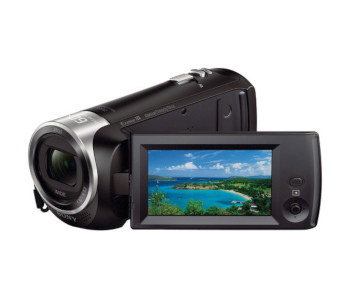 View on B&H Photo
Editor's Rating: 4/5
The camcorders we've reviewed all exceed $400. If you don't want to spend that much and still want a competent camcorder for YouTube videos, why not give Sony's HDR-CX405 a shot? It is featherlight. Its audio and video are decent, and learning how to use it is straightforward. This is the camera for you if you want to jump straight into making good-looking videos without spending a lot of time getting used to controls and making sense of lots of video options.
Overview of Features
At 6.7 ounces, this is the lightest camcorder on the list. Its lightness makes the HDR-CX405 easier to handle while allowing you to shoot for extended time periods without getting tired. Its LCD screen isn't touch-operated, but it rotates around completely so you can record yourself and monitor the recording at the same time. The control scheme features only a handful of buttons and levers — there's the zoom lever on top, a record button in the back, and a navigation joystick along with the preview button next to the screen.
This camcorder is very good at recording people. If you turn its autofocus on, the HDR-CX405 is quick to recognize faces. Eight people can be tracked and recognized at once, and it can even tell the difference between children and adults! Each face is brought into focus and assigned white and color balance values. If you want to show off your artistic side, there are seven filters with which you can enhance your videos.
The HDR-CX405 can record in 1080p at 60fps at a bitrate of 50Mbps. Sony's Intelligent Auto mode does a great job of adjusting colors and contrast levels, resulting in good quality in most settings. It features SteadyShot technology and 3-axis stabilization. Combined with 30x optical zoom, this makes the HDR-CX405 perform better than competing models when you're shooting with it in hand.
Are There Drawbacks?
This is another model that struggles with quality in low light. Its smaller sensor isn't able to gather enough light for noiseless exposure, which results in grainy video. It also shares the FDR-AX53's confusing menu system and lack of a comprehensive manual.

Tech Specs
Dimensions: 2.1 x 2.3 x 5 in.
Weight: 6.7 oz.
Video modes: 1080p, 60fps
720p, 30fps
Sensor: 1-Chip 1/5.8″ CMOS
Focal length (35mm equivalent): 26.8 – 804
Megapixels: 8.3
Zoom: 30x optical, 350x digital
The Pros
Good autofocus, especially when recording people
Accurate color and white balance
Very light
Good image stabilization
The Cons
Poor low-light performance
Confusing menus and lackluster manual
6. Best Budget Option – Canon VIXIA HF R800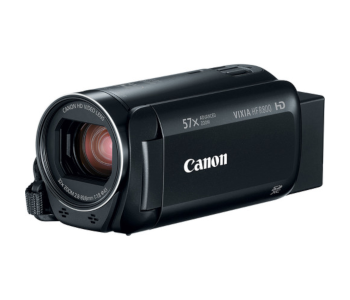 View on B&H Photo
Editor's Rating: 3.8/5
Our last entry is a budget camcorder by Canon. The R800 offers almost everything you'd expect from a full-fledged camera for less than $200. It works well as a novice YouTuber's first purchase or a backup camera you can take to a location shoot if you prefer to leave more expensive equipment at home.
Overview of Features
Even though it's the cheapest model on our list, the R800 comes with features you'd expect from models that cost at least twice as much (above-average optical image stabilization, for example). Unless you sway it violently and intentionally, the camcorder can deal with shaking and records stable footage on the move. There's also a 3-inch touchscreen LCD with a menu system that's light-years ahead of Sony's version in terms of user experience.
Canon designed the R800 to be user-friendly. There are only three physical controls – zoom adjustment, recording, and power. Recording is equally straightforward and starts in Auto mode. It does a good job of figuring out the best settings for the current scene. However, the R800 isn't a good gradual learning tool because manual options are limited.
Video is powered by Canon's DIGIC DV 4 processor and shot in 1080p at 59.9fps. The processor helps eliminate excess noise and brings out the best in the R800's small CMOS sensor. White balance and contrast are adequate, and the camcorder recovers quickly when transitioning from dark to light areas. Color fidelity could be better (everything has a slightly yellowish hue).
What's Bad About It?
This camera doesn't have internal memory and doesn't come with a memory card. Multiple formats are supported, but you'll need to purchase a memory card before using it. You can't charge the battery over USB (only via electrical outlet). Charging takes eight hours, so you'll need to plan ahead if you're shooting in the wild and haven't used the R800 in a while.

Tech Specs
Dimensions: 2.1 x 2.3 x 4.6 in.
Weight: 8.4 oz.
Video modes: 1080p, 60fps
Sensor: 1-Chip 1/4.85″ CMOS
Focal length (35mm equivalent): 38.5 – 1232
Megapixels: 8.3
Zoom: 32x optical, 57x advanced optical
The Pros
Easy to use
Affordable
Good contrast
Has touchscreen
The Cons
No internal memory
Battery can only be charged through an outlet